Welcome to Master the Montessori Life Show hub!
I am so excited to be adding a podcast to our resources of live trainings. They will help you become the Montessori parent and the Montessori Guide (teacher) that you desire and deserve to be!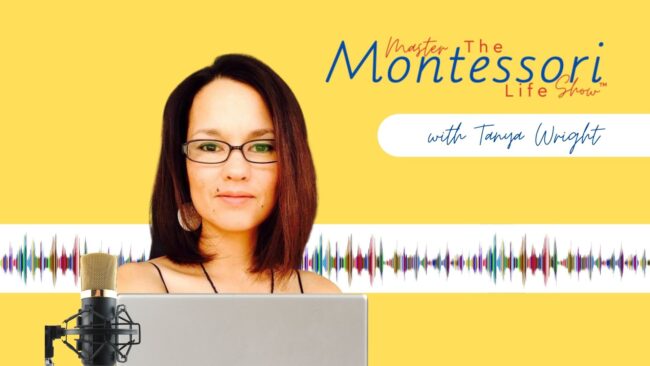 The Master The Montessori Life Show show is LIVE! I am Tanya, your podcast host and your Montessori coach! I have over 15 years of Montessori Philosophy studies and implementation that you need to take advantage of!
Montessori Training is Important
These weekly podcast topics are designed to help listeners understand the core concepts behind Montessori education and the ways in which it can be applied to create an effective learning environment.
Through these topics, listeners will gain insight into common misconceptions about Montessori education, explore the benefits of a Montessori child care system, learn how to motivate students in a Montessori environment, and discover best practices for utilizing followers and leaders within a Montessori group setting.
Furthermore, listeners will accumulate tips for incorporating sensorial experiences into their classroom as well as strategies for promoting creativity and imagination within a Montessori setting.
Go Deeper in your Montessori knowledge
These topics are also intended to help teachers understand the power of choice and free will in the Montessori system; how to create an engaging curriculum that is both challenging and fun; practical approaches for assessing student progress; and how to handle stress using mindfulness methods based on Maria Montessori's discovery approach.
Listeners will also have the opportunity to learn about Montessori video trainings as well as online training sessions they can take advantage of in order to further their knowledge of the Montessori method.
Ultimately, these podcasts will provide listeners with a comprehensive understanding of what it means to successfully integrate the Montessori system into their own classroom or home environment.
By exploring these topics, teachers and parents alike will be able to create truly meaningful learning experiences for their students.
Montessori Podcast Topics
The topics we discuss are all Montessori and some of them include:
The Montessori philosophy
Discipline the Montessori way
Different Montessori subjects
Free ideas
Fantastic resources
Maria Montessori quotes & teachings
Practical life and Sensorial
Personal stories
Latest workshops and showinars
The Montessori Method
Amazing curriculum sales
And other important information
LIVE Training Details
You will learn about so many wonderful Montessori topics in two formats: video and audio. Check out our episodes below and in each, you will find both the video and the audio version for each training.
You can also subscribe to my podcast on the most popular and favorite podcast hubs, such as Apple podcasts, Google podcasts, etc.
Come back often because we add new ones weekly, so come back to check out my latest episodes! You are going to love the topics! They will launch you to grow to your full potential in Montessori.
These live online trainings are for seasoned Montessori's that work at a Montessori school, for new aspiring Montessorians and for Montessori parents!
You want to learn more about Montessori education, Montessori Materials, how to set up your Montessori classroom, Montessori Curriculum and more… you will get it all here… on episode at a time.
Find the schedule to our live online trainings on Facebook and YouTube!
Are you ready for the fun?
—>. CLICK HERE FOR AUDIO TRAININGS ONLY.
Longer Free Trainings (each is 90 minutes long)