Come and decide if, after you read and watch, you think whether Montessori is a fantasy friend or foe.
---
Are you curious about The Montessori Curriculum 3-6 and are you perplexed as to why it does not allow for the inclusion of fantasy?
Pretend play, role playing, and any other form of imaginative play are included.
What about Montessori and imagination? And what about Montessori creativity?
When it comes to claiming that the Montessori Curriculum is devoid of fantasy, there is a common misconception held by many people.
Considering the fact that fantasy and the other things mentioned above are important components of a child's development.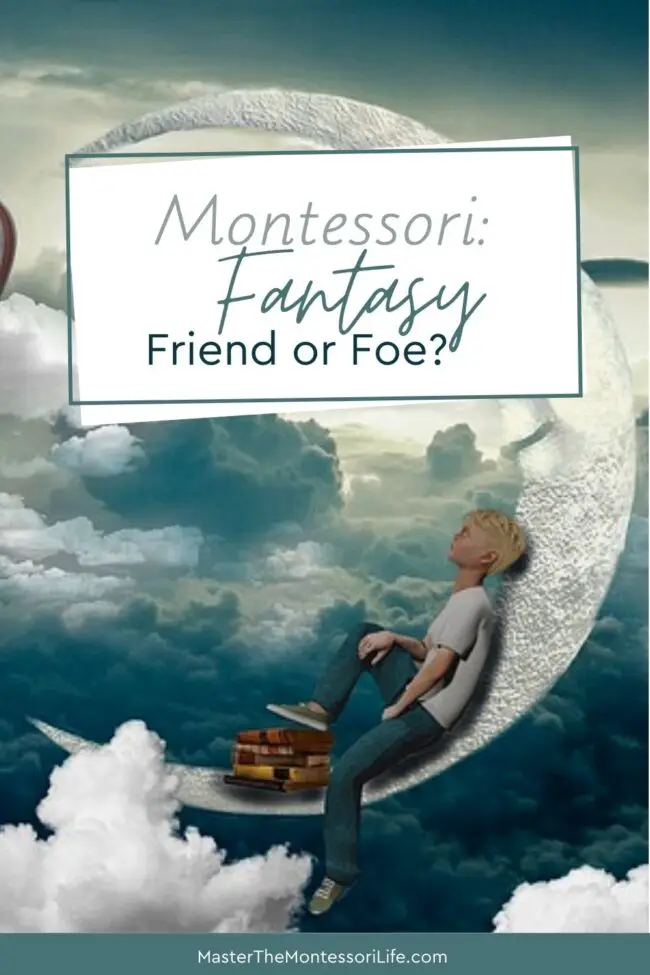 If you are doing Montessori at home or sending your children to a Montessori school, we will cover everything in this post and live training session.
Come and decide whether Montessori is a fantasy friend or foe based on what you've read and seen so far.
What an eye-opening training session on developmental milestones in young children!
You don't want to miss out on this opportunity!
Watch & Listen to the Episode Here:
As you watch or listen to this training, know that you will be able to get more information than what is included in this blog post.
However, I really want to encourage you to take the time to watch or listen and take notes.
Importantly, this will be helpful to you now and in the future.
Truth#1: The Reality of Montessori Origins
The Montessori Method and the Montessori Philosophy were developed by Maria Montessori.
She lived in Italy for more than a century at the time.
If you are familiar with that time period, you are aware that they were at war, that they were poor, and that she worked with low-income children as well as a large number of children with special needs.
The situation with these children was such that they not only required education, but they also required assistance with everything else.
They had to take showers there, eat more than one meal there, and so on, among other things.
She was observing these children, who were living in extreme poverty despite the fact that both of their parents were employed.
Their assistance with showers, cleanliness, learning how to survive, and living was required, so they engaged in a variety of practical life activities to assist them.
I believe that this is the origin of the Montessori approach in its entirety.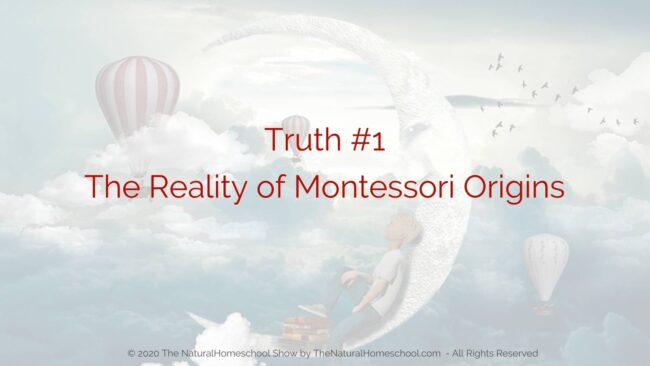 I'm referring to the need for these children to be more self-sufficient in their lives.
They would be required to take their weight and height into consideration.
They made significant contributions on the medical, nutritional, and hygiene fronts.
When you stop to think about it, these children are in desperate need of something tangible, something real, something they can grasp and hold onto.
A lot of it has to do with the Montessori method's origins and the reality that the founders were living in during that time period.
So, if these children are constantly immersed in fantasy and imagination, it is possible that they will be able to escape from the realities of their lives.
However, in the long run, this is detrimental to their interests.
They required a firm grasp of what life was all about, how to survive, and how to live in the present…
We are talking about children between the ages of three and six, or six and younger; we are not talking about older children.
Truth #2: The Kinds of Books that Montessori Recommends
Remember that we are talking about ages 3-6, so plan your Montessori materials and books accordingly.
Truth number two is what kinds of books Montessori is against is another of the misconceptions that people have.
Maria Montessori prefers certain types of books for children in this age group.
They are called "Montessori living books," "no twaddle books," and "non-fiction books."
That also stems from the "no fantasy" and "no imagination" stance in Montessori activities.
But now that you know the origins of the Montessori philosophy, you will understand why she wanted the books to show the world in real life and the real world.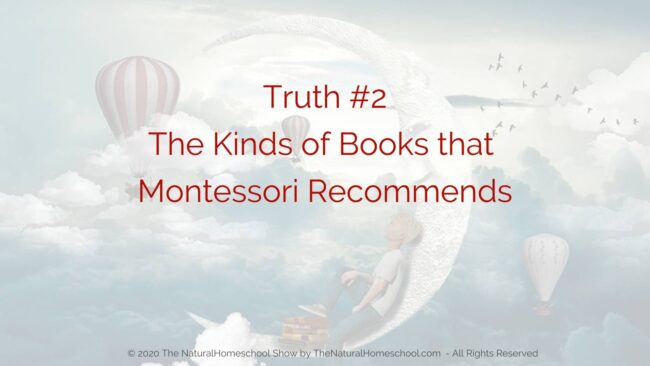 So, Dr. Montessori preferred real photographs over drawings (cartoonish-looking pictures).
She preferred real life stories that can actually happen in real life, not made up stories.
Even if the stories were made up, they would be doable, like they could actually happened in real life.
Also, the characters.
The characters of the story would have to be real, based on reality.
For example, you would not have an elephant talking to a tiger dressed in clothes.
Why?
Because elephants don't talk and tigers don't wear human clothes or have human-like characteristics.
Truth #3: Moving Naturally from Concrete to Abstract
The point at which you'll have a "AHA!" moment will be at this point.
We must make the transition from the concrete to the abstract.
Maria Montessori was adamant about this, and it is something that we should remember.
You needed to start with the concrete and work your way up to the abstract with the children.
This is due to the fact that children operate in this manner.
That is the method by which they learn.
When they think about things, they rationalize them in their heads.
And that is how they make the brains of children work more efficiently.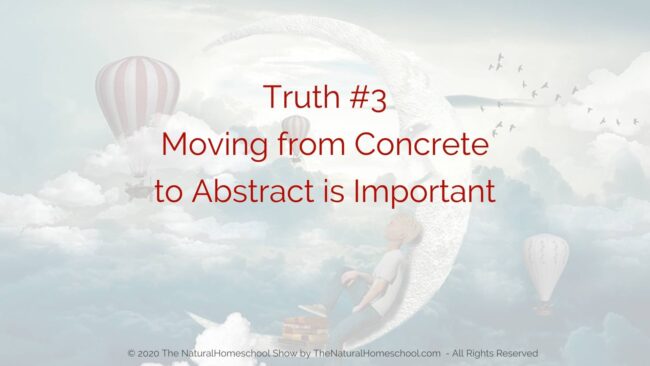 Tangible to Intangible
Children, for example, use their fingers to count when they are young.
They require something tangible that will assist them in rationalizing the situation in front of them.
They prefer to work with objects that they can manipulate, that they can move, that they can measure, that they can observe, and that they can manipulate.
It is for this reason that Montessori has so many hands-on activities.
In due course, they begin to move away from the concrete and toward the abstract.
As far as you're concerned, they're no longer using your fingers for counting.
They no longer require the large bead frame to perform addition and subtraction operations.
They are no longer in need of the manipulative tools for problem solving.
From the concrete to the abstract.
As a result, you begin with only the tangible, the hands-on.
It is only later, as they grow older and their sensitive periods begin to open up to the abstract, that you can begin to transition them away from worksheets and towards written works.
Afterwards, they can simply do their addition and subtraction without the assistance of the concrete.
I mean, we, as adults, don't need the concrete to do addition, subtraction, and multiplication most of the time because we're doing the abstract in our heads, rather than the concrete.
We have a strong understanding of the concrete, so that is what children should be doing, and that is the meaning behind Maria Montessori's decision.
Children require a concrete and firm foundation in reality before they can move on to abstract concepts and ideas.
It is critical to recognize that providing children with manipulatives makes it much easier for them to learn to add and subtract than simply handing them a piece of paper with addition and subtraction problems.
That is something you are certain of.
When dealing with a wide range of subjects, this concept of concrete to abstract can be applied to them all.
Consider the Montessori sandpaper letters for writing pre-writing: how do you progress from this concrete activity to memorizing the shapes of the letters?
Children no longer require a model of a letter in order to remember how to write it or what it looks like when they are learning to read.
In Conclusion
Both reality and fantasy are important, but at their own appropriate time.
Pay close attention to Sensitive Periods in Montessori education.
You will be able to tell when the children are ready to move out of real activities and delve into things such as fairy tales.
We simply need to be aware of this whenever they are open and take advantage of the opportunity.
I hope that these three truths have helped to dispel at least some of that misperception on your part.
Montessori is not anti-fantasy in any way; it just doesn't rely on fantasy in The Montessori classroom.
She is not opposed to the use of imagination and creativity.
On the contrary, in fact!
Once a young child has a firm grasp of reality, or the concrete, it is possible to move on to more abstract concepts and ideas.
They just need to take time distinguishing the difference between the two.
I hope this has been of assistance on how to operate Your Montessori environment!