In this post, live show recording and podcast episode, I am going to share with you 3 favorite Montessori quotes for you to ponder on.
---
I have been reading Maria Montessori's books for many, many years.
I have never heard anyone else express the same enthusiasm for them that I do, this is a particularly exciting topic for me.
Do you want to know why?
Because many people find her books difficult to read and, at times, extremely technical.
After all, they were written in Italian, which happened to be Maria Montessori's first language.
And she was a genius, holding a variety of academic degrees (including a medical degree), which may explain why her books are so technical.
But don't let that deter you from trying to learn more about this educational philosophy!
This is a fantastic educational program that begins at the age of zero and continues through adulthood.
Three of my favorite Maria Montessori quotes will be shared with you in this post, live show recording, and podcast episode, and you can ponder them as you read them.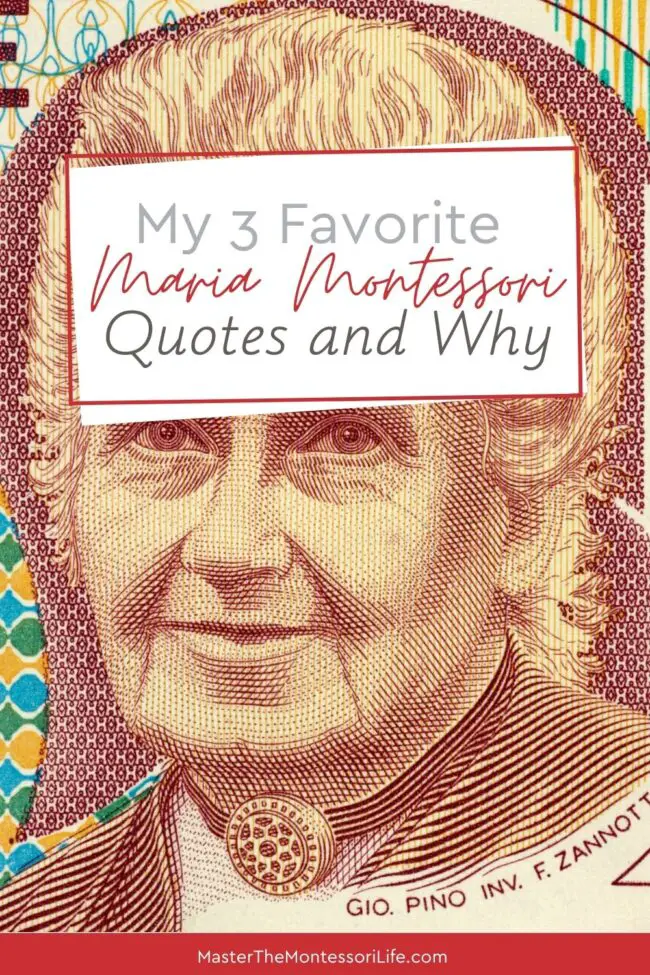 Watch & Listen to the Episode Here:
As you watch or listen to this training, know that you will be able to get more information than what is included in this blog post.
However, I really want to encourage you to take the time to watch or listen and take notes.
Importantly, this will be helpful to you now and in the future.
Quote 1: To Become a Centered, Organized Montessori Guide
"We must help the child to act for himself, will for himself, think for himself; this is the art of those who aspire to serve the spirit."

Maria Montessori
I believe this is an excellent quote because it clearly defines everything for you in one sentence… one quote, one job, and that's it… end of story.
In order to serve the spirit of a child, it is essential to consider how best to guide the child in acting for himself, making decisions for himself, and considering his or her own thoughts and feelings.
As a result, you will feel more in control right away because you will know that you are not required to manipulate the child.
In the classroom, you (the Montessori teacher) are not required to be the center of attention at all times.
But not everything that does not pertain to your job requires you to be completely consumed with anxiety.
To be effective, you must maintain your composure, prepare the environment in accordance with your observations of the child, and assist the child in reaching their full potential.
Take note of this quote and note that it is intended for a centered, well-organized Montessori Guide in the margins.
Quote 2: To Nurture Happy, Normalized Children
"The greatest sign of success for a teacher is to be able to say, "The children are now working as if I did not exist."

Maria Montessori
Quote #2 is specifically for nurturing happy, normalized children because children learn in different ways than adults do.
When we talk about "normalization" or "normalized," we're not talking about a child being normal or not.
We are talking about the child being adjusted successfully in their Montessori environment.
The Montessori learning environment is another term for Montessori classrooms.
When children are normalized, whether you are at a Montessori school or doing Montessori at home,  you, as the Guide, get to be hands off.
These young children are able to go through the routines of the environment without constantly being told what to do or how to do it.
This is a great quote to keep in mind to encourage you in this educational approach.
This is your goal… to build a well-oiled machine with younger children.
Firstly, you will love how children will keep functioning on their own without you constantly being the center of attention.
Secondly, the truth is that you are an instrumental part of the environment, just not the most prominent part of the environment.
Finally, you are constantly working in the background for the for the foreground to be a success.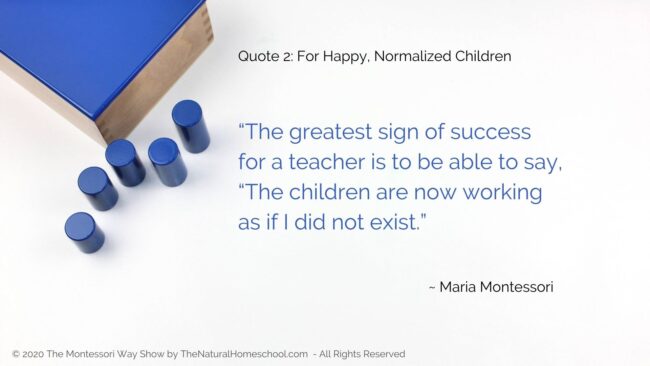 Quote 3: To Create Smooth, Successful Montessori Days
"An education capable of saving humanity is no small undertaking; it involves the spiritual development of man, the enhancement of his value as an individual, and the preparation of young people to understand the times in which they live."

Maria Montessori
On one hand, Quote #3 is extremely important in order to set the stage for some successful Montessori days.
This quote by Maria Montessori was written many decades ago, and it is still relevant today.
Isn't it amazing how timely this is today?
On the other hand, I'd like you to pause for a moment and consider this.
This is something I want to read thoroughly to remind myself that saving humanity is no small undertaking.
Montessori education is not meant to be overwhelming!
It is intended to encourage you… to boost your self-esteem and confidence by informing you that what you are doing is a significant accomplishment.
You have a lot of significance! You are one of a kind! There is a reason why you are here! To clarify, you are contributing to the salvation of humanity, and this is no small feat.
More on Quote #3
What is the justification for claiming that we are saving humanity?
Your goal is to create an entire human being who will be educated for the rest of his or her life, not just in the academics of the day to day and year to year routine.
When you are successful in your Montessori environment, you are saving humanity because when you help these children grow up and prepare to go out into the world, they will have an impact on the world.
And if we have an increasing number of these wonderful, happy, normalized adults who are able to function in society with the addition of things like the Practical Life that we include in the Montessori Method, then we will have a better chance of achieving our goals.
They also have Sensorial, which means that they are more aware of everything, including even the smallest changes in their environment.
And finally, with the grace and courtesy that the Montessori Philosophy encourages and emphasizes so much throughout the curriculum.
Can you see how this has a gigantic potential to change people's lives?
In Conclusion
I hope that this has sparked a great inspiration inside you to want to read Maria Montessori's books!
HERE'S THE RESOURCES MENTIONED IN THIS EPISODE:
Like I said at the beginning of the show, I have a FB group for all things Montessori that you are welcome to join. 
It is called The Montessori Way Prep Room.
If you want to join a homeschool Facebook community, then join The Natural Homeschool Community!
Find more books that can make a big difference, such as Discovery of the Child and Maria Montessori's own Handbook.
How will you try these deep quotes this week in your own life and your Montessori environment?
What was your biggest takeaway from this training?
What is something that you didn't know that are glad you learned today?
You May Also Benefit from these Important Montessori Topics: