Whether you have space for a full garden that can feed your entire family or only have room for a few potted plants, you will want to prioritize these activities for children to learn more about their natural world.
---
Do you like new beginnings as much as I do?
They're a fresh start at doing things better, more beautiful, and more inspiring.
In this training, we are focusing on a branch in Science that studies plants to life: Botany activities in Montessori.
For numerous reasons, I've titled this session "Montessori Garden Ideas for your Montessori Botany Activities."
For one thing, I adore Montessori garden activities, therefore we'll talk about them here.
We have been frequently enjoying Montessori botany studies in our homeschool for years, especially now that Spring is approaching.
You've come to the correct place if you're seeking for this and other gardening ideas for kids.
If you are looking to become a centered, organized Montessori Guide in yourself, nurture happy, normalized children and want to create smooth, successful Montessori days, then you are in the right place!
Let me know in comments what you know about this topic, what you have applied, what you have tried that worked, what you have tried that didn't work and if you have any questions as we get into this training.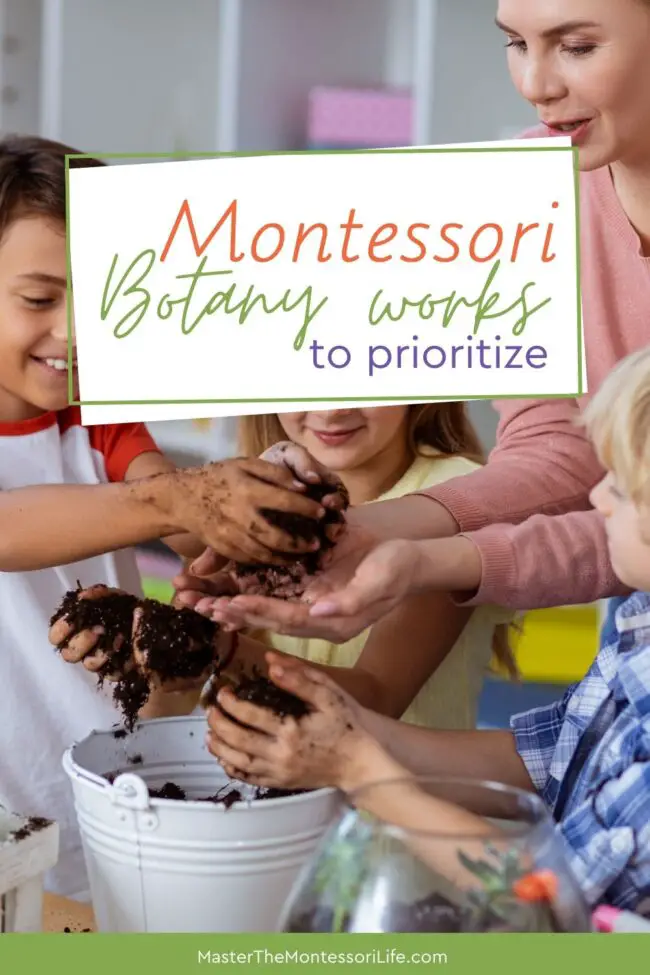 Watch & Listen to the Episode Here:
As you watch or listen to this training, know that you will be able to get more information than what is included in this blog post.
However, I really want to encourage you to take the time to watch or listen and take notes.
Importantly, this will be helpful to you now and in the future.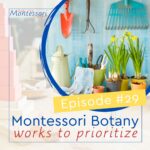 #1 Learn the Nomenclature
Nomenclature means vocabulary.
Teach children the vocabulary.
I like to use Montessori Science Botany puzzles or 3-part cards for this.
Keep in mind to teach them garden tools names and pictures, plant and flower names, fruit and vegetable names, part of the plant names and more.
Include anything that you feel is necessary to maximize learning and to give children the independence to know to use the right terms.
Make the words easy and fun to learn with hands-on activities.
It is not enough for the teacher to love the child. She must first love and understand the universe. She must prepare herself, and truly work at it.

Maria Montessori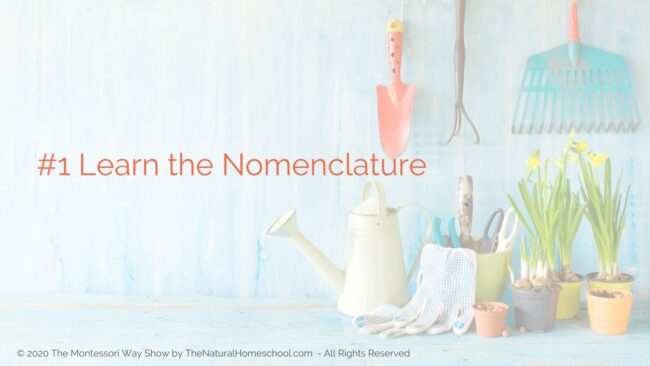 #2 Montessori Botany for Kids
Nomenclature, as well as the processes, are covered in Montessori botany.
What exactly do I mean by that?
You can include the steps that plant seeds go through to grow roots, leaves, and other parts of their bodies until they reach full maturity.
You might also offer instructions on how to plant a plant.
I'd like to turn this into a unit study.
We give the name scientist to the type of man who has felt experiment to be a means guiding him to search out the deep truth of life, to lift a veil from its fascinating secrets, and who, in this pursuit, has felt arising within him a love for the mysteries of nature, so passionate as to annihilate the thought of himself.

Maria Montessori
Because it offers them a strong visual, children learn the steps in gardening best with pictures.
After learning the vocabulary, you'll move on to natural garden steps for planting a plant, as well as the stages of a plant's growth from seed to fruit production.
Here's where you can really let your imagination run wild.
Children can learn about plant growth by using gardening cards, games, posters, or activities.
Why not utilize genuine materials that children can feel, touch, and experience for themselves?!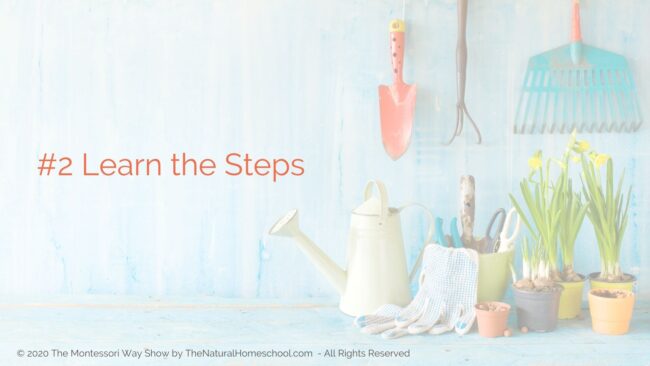 Sale!
Botany Printable Bundle 1
$27.00
Save when you get all 8 activities together!
Montessori-Inspired Botany: Parts of a Plant + Lesson Plan
Montessori-Inspired Botany: Parts of a Tree  + Lesson Plan
How to Plant a Garden Steps & Printable Montessori 3-Part Cards + Lesson Plan
Parts of a Fruit Lesson with printable + Lesson Plan
Gardening Ideas Printable Photo 3-Part Cards + Lesson Plan
Montessori Botany Parts of a Plant Wheel + Lesson Plan
Gardening Tools & Accessories Printable 3-Part Cards + Lesson Plan
Flower Memory Activity + Lesson Plan
It is 40 pages long!
EU readers, CLICK HERE to buy!
#3 Botany Project Ideas
You'll want to take your Montessori Botany curriculum outside to continue with gardening ideas for kids.
Yes!
Plant a fruit and vegetable garden in the Montessori style!
Oh! Consider how much the students will learn as a result of this activity!
If you followed my instructions, your children should now be familiar with the nomenclature of garden tools as well as the procedures involved in developing a plant.
There is no description, no image in any book that is capable of replacing the sight of real trees, and all the life to be found around them, in a real forest. Something emanates from those trees which speaks to the soul, something no book, no museum is capable of giving.

Maria Montessori
Why not truly plant a garden using those tools and following those steps?
I understand that not everyone can plant a large one, but anything will suffice, including a few tiny ones in pots.
The most important thing is that youngsters learn as much as they can through hands-on experiences.
Plants and gardens are wonderful because children can see the results of their labor, whether it's a plant growing from seed, producing fruit, or blooming.
It will be a once-in-a-lifetime opportunity!
Try it with the children!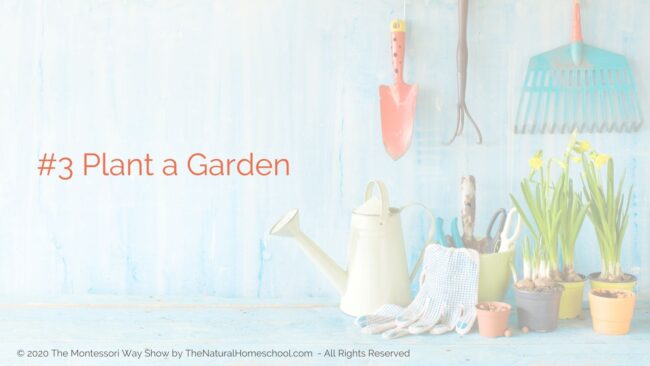 Key Takeaways
Aren't these great gardening activities for kids?!
Some of these activities are giving you so many ideas that I am sure you might consider them for Science experiments or even Science Fair projects!
But don't forget to go beyond what is in front of you and really 'exploit' it.
Remember that a garden for kids also doubles up with Montessori Practical Life.
Resources mentioned in training
Like I said at the beginning of the show, I have a FB group for all things Montessori that you are welcome to join. 
It is called The Montessori Way Prep Room.
If you want to join a homeschool Facebook community, then join The Natural Homeschool Community!
Tree Puzzle – Montessori Puzzle Early Montessori Toys for 3

Montessori Botany Puzzle Activity Set

Elite Montessori Flower Puzzle

Kids Science Toys Montessori Botany Puzzles Activity Set Animals Plants

Montessori Botany 4 Leaf Cabinet with Insets Early Childhood Preschool

Elite Montessori Root Puzzle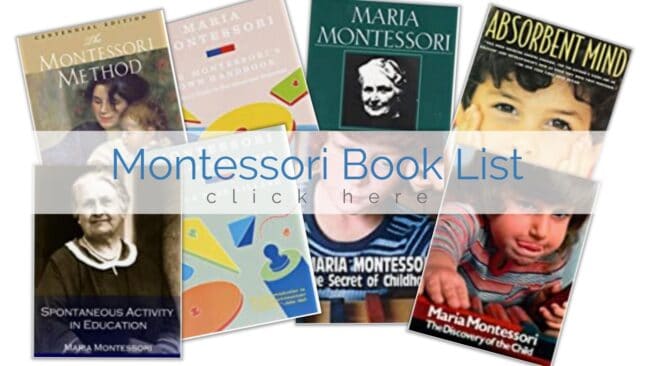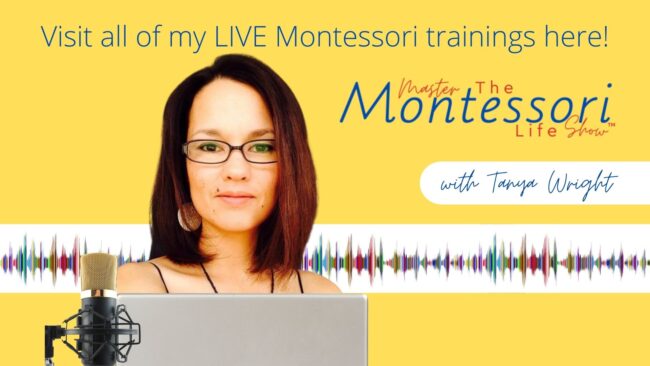 You May Also Benefit from these Important Montessori Topics:
As you learn more about Master The Montessori Life, you will realize just how much I strive to make your life easier.
I also seek to equip you, to inform you and to give you made-for-you options so you can keep moving forward on your Montessori journey without any speed bumps.