Are you ready to wow your child with a fun Montessori Botany activity that will teach them the Montessori parts of a plant?
---
Are you ready to wow your child with a fun Montessori Science activity that will teach them the Montessori parts of a plant?
As Montessori educators, we are always looking for creative ways to help children learn several concepts with one activity.
The more concepts and the least activities the better!
I will go more into this soon and hopefully, it will make sense to you.
So come and find out one of these creative ways that you can have in your Montessori classroom!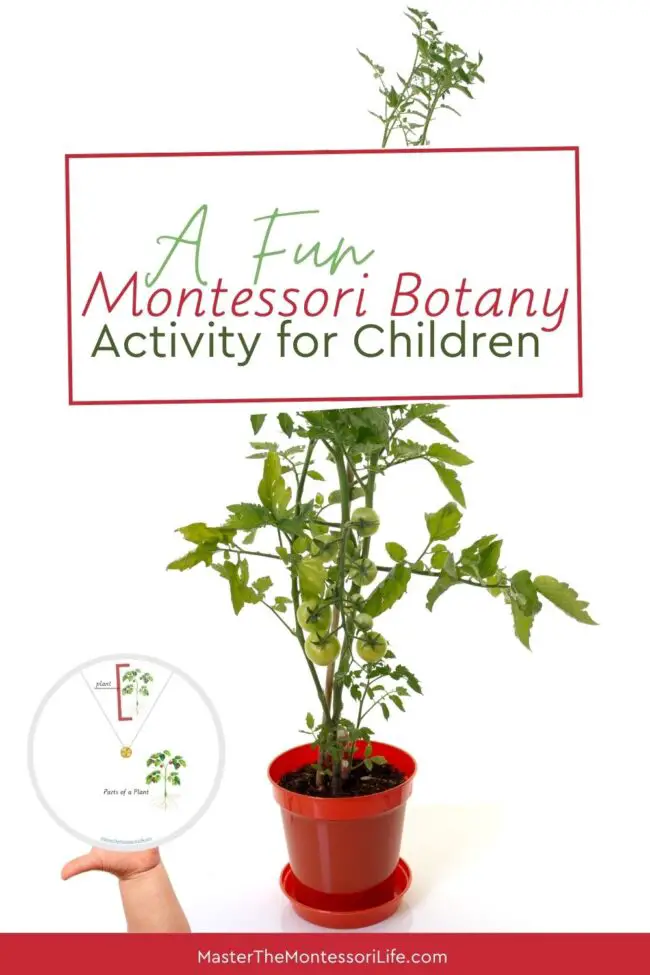 Montessori Science Lessons
Montessori has an amazing array of curriculum topics for the subject of Science.
Thankfully, we can sort them easily by branches of nature study.
If you are wanting to learn about the plant kingdom, then you will focus on the Science branch called Botany.
The topics in Botany has a few original Montessori materials, but we also get some great information on things to pay attention to.
We need to think all about plants and things related to plants, right?
That means that we will be learning about leaves, roots, the parts of a flower, the parts of a tree and more!
There are many activities for kids in Montessori Botany.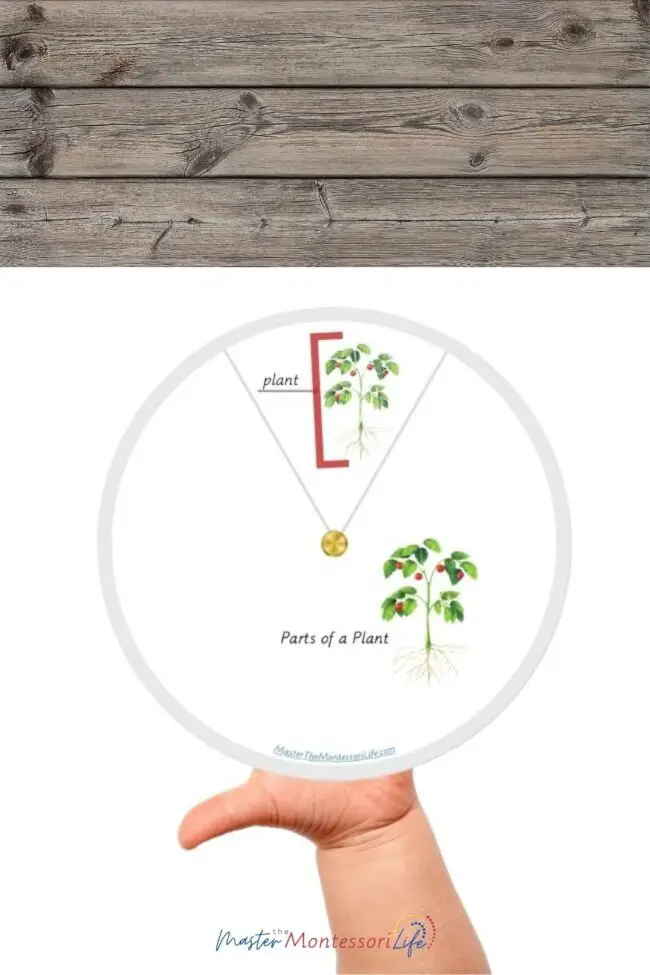 Montessori Parts of a Plant (Tomato)
This wonderful hands-on activity about the parts of a plant can be used at any Montessori school or homeschool.
What I love about it is that it goes beyond 3-part cards, picture cards and nomenclature cards.
But it teaches the exact same thing: the parts of a plant.
Remember that I mentioned that when we make our own activities, that it would be smart to have the child learn as many concepts as possible?
Well, I wasn't meaning teaching the child 20-30 vocabulary words in one activity, to the point that the child will be overwhelmed.
What I meant by that is that I can double up with teaching about the parts of a plant and make the activity in such a way that the child can also practice fine motor skills.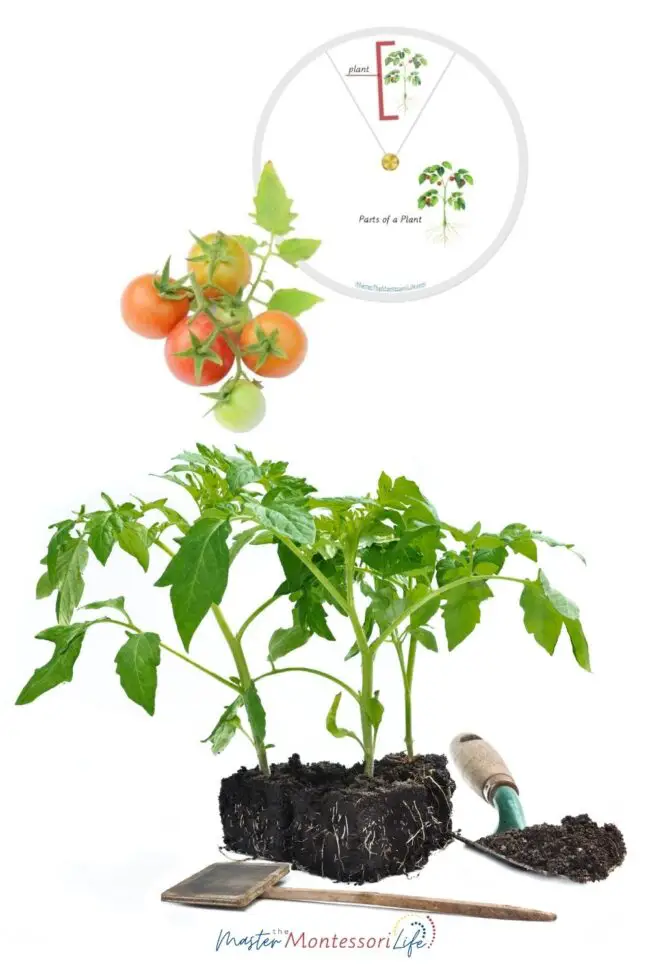 This activity does just that!
There is no need for control cards as the parts of the plant, from bottom to top are in the right order as the top wheel goes around.
It is a great Montessori inspired to include in a unit study, so take that into consideration.
Putting it together is very simple and very quick.
It might even take you less than 5 minutes and it will be ready for you to use immediately!
The open window starts and ends with the picture of the entire plant.
This gives the child a great visual of what all the parts of the plant look together.
As the top wheel is turned clockwise, the child will learn the different parts of the plant.
The parts of the plant start at the bottom, with the roots, and works its way up.
Every part of the wheel has a different part of the plant.
And every part includes:
a picture of the tomato plant
an arrow pointing at the specific part of the plant that will be taught in that section
the nomenclature of that part of the plant.
This sound familiar, doesn't it?
Yes, it is similar to 3-part cards because of the control of error, but it is more hands-on and easier for the younger children.
I will also mention that it provides a unique and different approach to learning these new concepts.
What do you think about this great idea?
You should have seen my daughter's face when I showed her this activity.
She was loving the unique idea of it being a wheel that turns over and over.
And you know what?
She learned so much, too!
Are you excited to start putting together some lovely Montessori Science lesson for your child or your class?
I hope that this has inspired you!
Get this resource and get started as early as tomorrow!
You won't regret it.
Montessori Botany Resources
You can get the blackline master of the two wheels that you need to overlap and put together.
The step-by-step lesson plan is also included!
And don't forget to look at some books that you might want to use during these lessons.
Montessori Botany Parts of a Plant Wheel + Lesson Plan
$2.99
Out of all my years of teaching, I have realized that hands-on activities are the best way for children to learn faster.
This is why I fell in love with the Montessori philosophy.
This hands-on Botany activity will teach your child the parts of the plant in the sequence that they appear on the plant.
EU buyers, go here.
My Garden Planning And Log Book: A guided journal and

Outdoor Science Lab for Kids: 52 Family-Friendly Experiments for the

Botany Passport Sized Mini Notebook

Safari Ltd Life Cycle of a Green Bean Plant

Educational Insights Sprout & Grow Window Plant Growing Kit for

Tree Puzzle – Montessori Puzzle Early Montessori Toys for Toddlers

You might also like:

Acts of Service the Montessori Way

Are you trying to think of Montessori friendly ideas that will get your children into the giving spirit? In this episode, we will be looking at some great acts of service ideas that you can implement anytime, but especially around the holidays.

Practical Life Fine Motor Skills Printable Activity

In this blog post, we'll discuss the importance of fine motor skills and some fun ways to help your child develop them through a Montessori Practical Life activity.

The Role of Montessori Parts of Speech in Language Arts

Montessori Language Arts takes a distinct approach to teaching parts of speech, transforming what could be a mundane subject into an engaging, hands-on learning experience for children.