In this Science activity with detailed pictures, children will learn what erosion and weathering are, how to tell the difference between the two.
---
Weathering and erosion are terms used to describe the effects of air, ice, and water on rock.
We may not be aware of what each of them is, let alone what they look like. How do we distinguish between each of them?
What exactly is erosion? What is the process of weathering?
What does the term "erosion" mean?
What is the cause for rocks to weather in the elements?
When it comes to weathering and erosion, what is the difference?
It is critical to find answers to these and other related questions. You can learn more about it right here!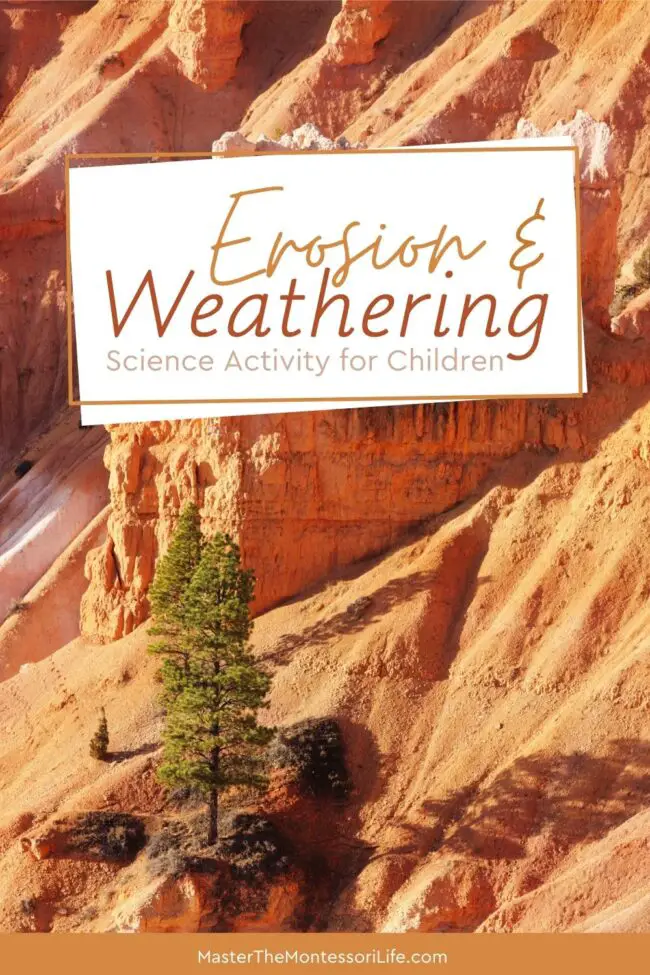 What is Erosion?
In contrast to weathering, erosion is also referred to as "mass wasting" in some circles.
There are several types of erosion.
Some of them are:
This means that the rocks or portions of the rocks are being moved by water, air, or a combination of the three.
Gravity is the dominant force on this planet, and you will see rocks, gravel, and even boulders moving downward as a result of this.
On rock formations, you will frequently see both weathering and erosion occurring in close proximity to one another.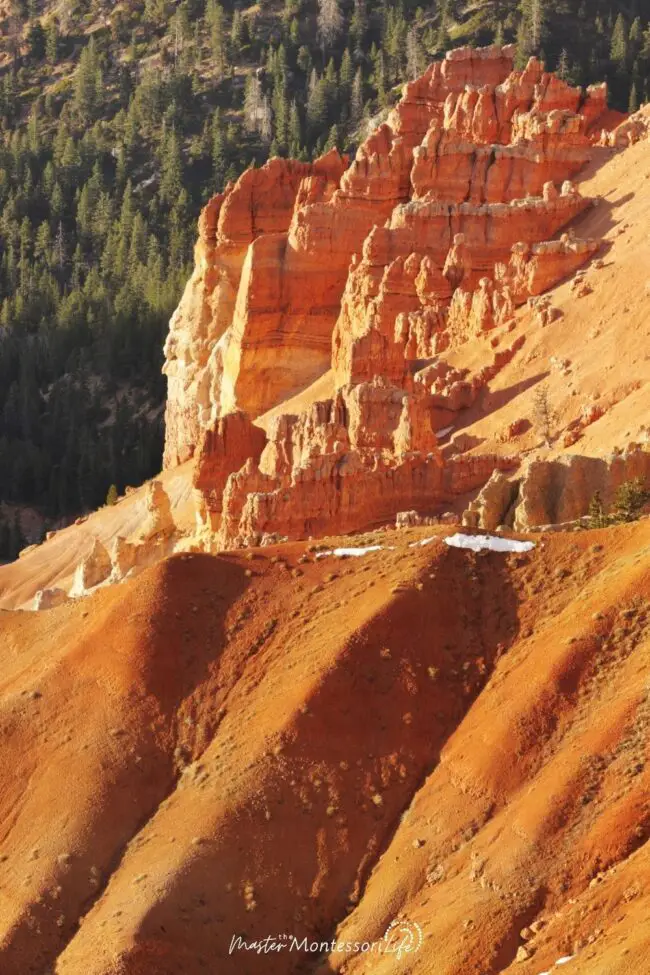 What is Weathering?
Did you know that there are several types of weathering?
Some of them are:
physical weathering (weathering occurs with wind or water)
chemical weathering (weathering involves chemical reactions with certain rocks)
mechanical weathering (the breakdown of rocks).
You can read this link to gain a better understanding of weathering and erosion, and then come back to see how we put our newfound knowledge to use.
Weathering, in its most basic definition, is a change in the chemistry of a rock caused by water or air over time.
Weathering is the process by which rocks change structure as a result of the formation of gaps, gashes, and arches in the rock.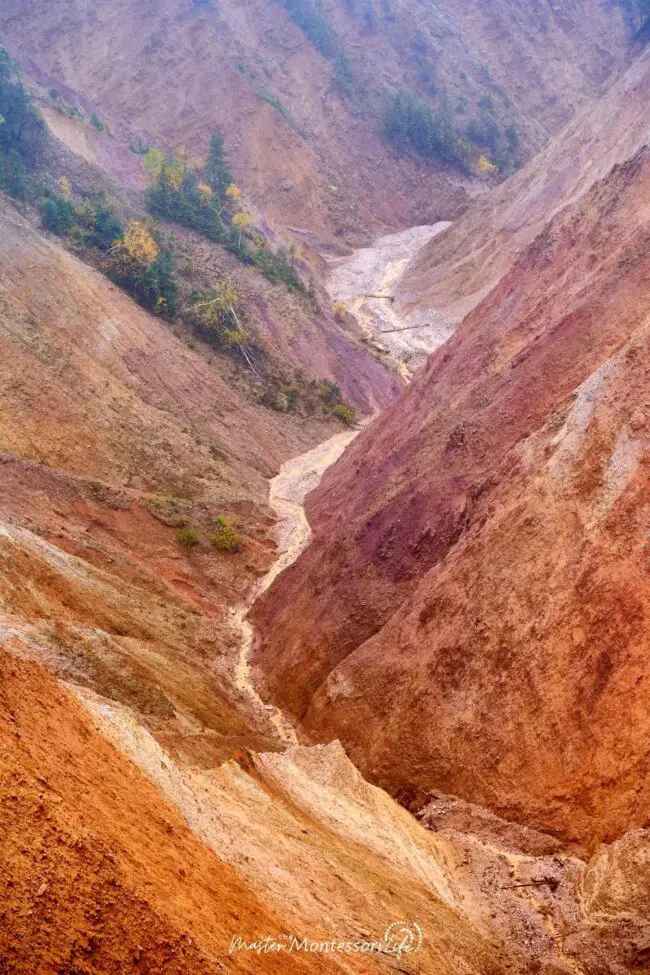 How do Erosion and Weathering Differ?
Introduce your students to the definitions of erosion and weathering at the start of your Earth Science lesson.
Next, display the cards that state, "This is what erosion looks like" and "This is what weathering looks like" to your children.
The arrows are extremely useful in demonstrating exactly what we are talking about.
The third activity is to compare the two cards side by side. Keep an eye out for the differences and similarities.
Can they tell the difference between the two cards by comparing them side by side?
Remember that discussing these issues with them is essential in order to gain an understanding of their thought process and to guide them in the appropriate direction.
The final activity is to take out the two cards (for a total of 12 pictures) that have two arrows on them.
At the top of these cards is the question "Erosion or Weathering?"
Place an arrow next to each arrow on the labels that you printed, so that you can distinguish between which arrow is pointing to the erosion and which is pointing to the weathering.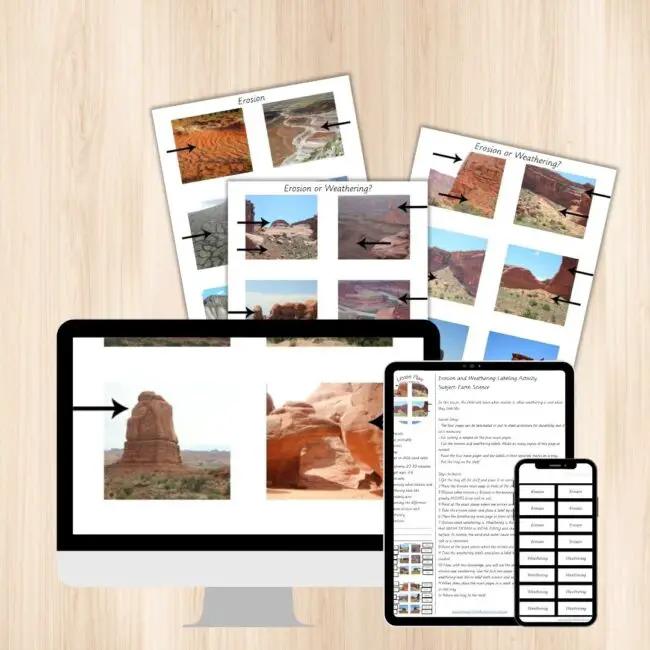 Erosion and Weathering Activity
Here are some activities to incorporate into your lesson plans, which you can find in this post.
Weathering and erosion worksheets PDF are available for you to print and use with your children for a small fee.
The lesson plan is included these Science activities for kids!
Students will gain an understanding of the differences between weathering and erosion processes.
The students will be able to answer the following question at the conclusion of the lesson:
What is the difference between weathering and erosion?
You will also have the opportunity to print out your printable activity so that children can put into practice what they have learned about weathering vs erosion after they have finished the lesson.
We hope you enjoy it and gain a lot of knowledge from it!
The earth's surface has a distinct appearance.
There are many different elements in it, including rocks and sediments, as well as many other elements that can be broken down into smaller pieces of rock with the help of water and other elements such as air and ice, among others.
Some elements, such as water and ice, have the ability to dissolve rock over time, and the air performs its erosion and weathering magic by picking up and transporting particles of soil and rock away from the site.
This Summer, we went on a road trip to the beautiful states of Colorado and Utah.
Most of the images in your free printable set were taken by me during our trip.
We had such a wonderful time and yes, we has an impromptu lesson on weathering and erosion while on the road because we saw so much of it, especially at Arches National Park in Moab, Utah.
Basically, your printable set will be printed with a color printer and then laminate the cards.
Note: you can print the cards on one page each or you can change the layout to print 2 cards per page.
This will save you ink, but the images might end up too small to really learn to distinguish weathering and erosion.
Just something to think about. 
Then, cut the labels that say "erosion" and "weathering."
Now you are ready to begin your STEM activities!
Erosion & Weathering Resources
Erosion and Weathering Labeling Activity + Lesson Plan
$2.99
As children go through this erosion and weathering labeling activity, you will be amazed at how much they will learn.
---
This is a very popular topic that doesn't have many hands-on resources for children.
So, I made this clear and easy to understand activity that children can do independently after the initial lesson presentation is given.
It includes four cards that help children learn what erosion and weathering are, what they look like and how to tell the difference between the two.
EU buyers, go here.
Desgaste y erosión (Weathering and Erosion) (Spanish Version) (Science Readers)

Weathering and Erosion (That Rocks!)

Erosion and Weathering (Rocks: The Hard Facts)

You might also like: