Come and find out how you can easily celebrate Winter by incorporating Montessori friendly printable activities about animals in Winter that children will love!
---
There are many ways to celebrate Winter in your Montessori environment.
Today, we will discuss three particular ways that double up as Winter activities and teaching other important skills.
If you are wanting to focus on the season of Winter in the Montessori Culture subject (as a season itself) or in the Montessori Science subject, in terms of animals in Winter, you are in the right place!
Come and find out how you can easily celebrate Winter by incorporating Montessori friendly printable activities about animals in Winter that children will love!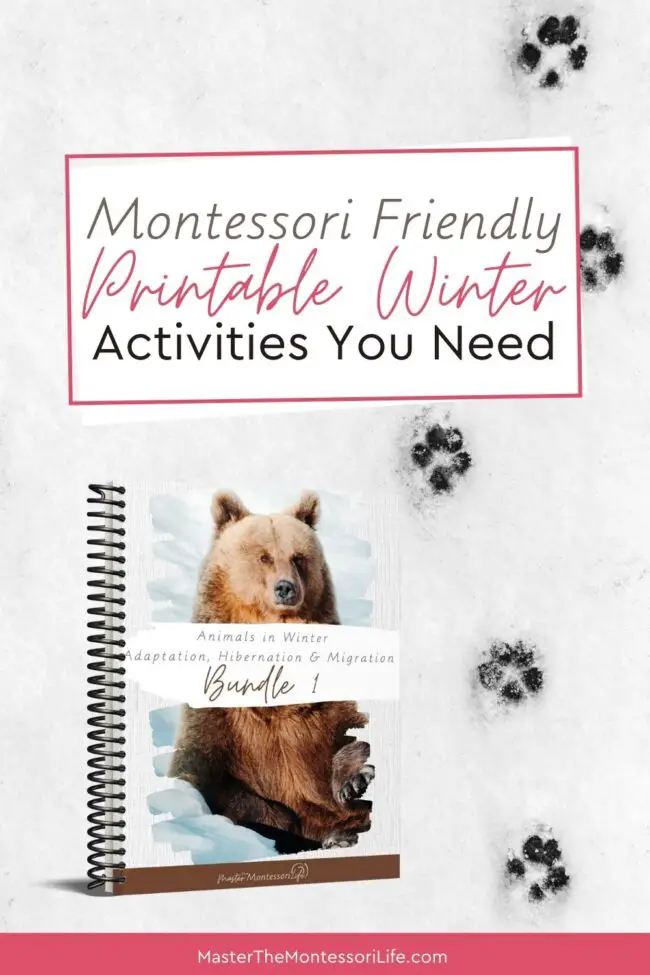 Watch & Listen to the Episode Here:
As you watch or listen to this training, know that you will be able to get more information than what is included in this blog post.
However, I really want to encourage you to take the time to watch or listen and take notes.
Importantly, this will be helpful to you now and in the future.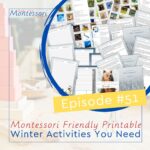 #1 Use visual cards to boost animal- and winter-related vocabulary
Creating a Montessori environment that is winter-themed for young children is something that you can definitely think about.
These are some of the most popular printable Montessori activities.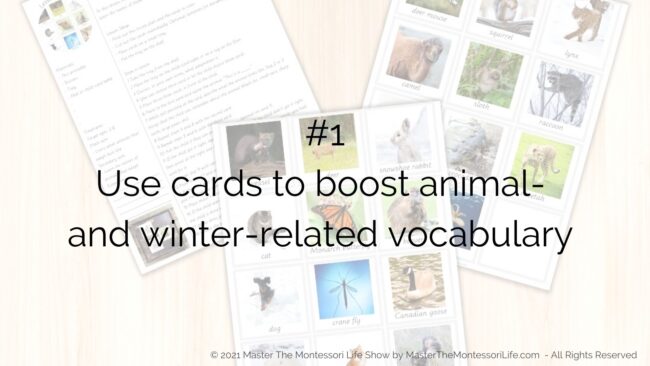 These particular cards with photos and nomenclature of animals that hibernate, migrate or adapt in winter are great hands-on activities.
Use the lesson plan and as you follow the instructions, step by step, you will be talking about what animals do in cold weather.
#2 Use age-appropriate lessons on complex topics for children to understand
Maria Montessori shared what she discovered during her many years of observations for toddlers and preschoolers.
Her Montessori principles didn't just apply to academics, but the whole child like Practical Life.
You can go through lessons together during your Circle Time to discuss how animals find food in winter, what they do and where they go.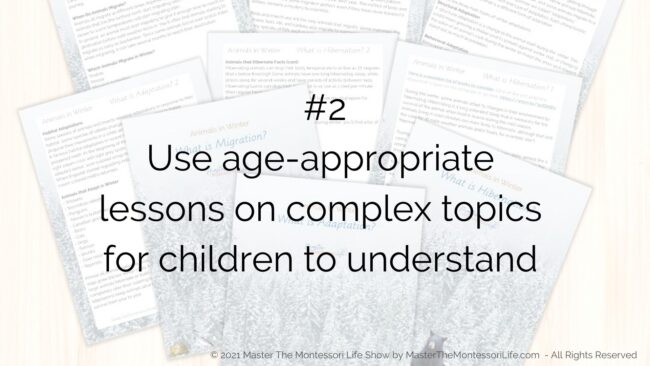 It is important to do these Montessori inspired lessons and activities with children so they understand things better while they are younger than if they waited to being able to read.
Use natural materials, prompts and animal replicas to show children with a more hands-on approach.
These printable lesson plans will give you great descriptions and ideas as well as activities you can do with the children.
#3 Use notebooking pages to practice handwriting, vocabulary and researching skills
When you do Montessori at home or at school, be sure to include activities for the older children.
The Montessori Method is very hands-on in the younger years, but as the children get older, they will transition more toward more paper and pencil activities.
These printable pages are winter-themed and will be great to write out their discoveries.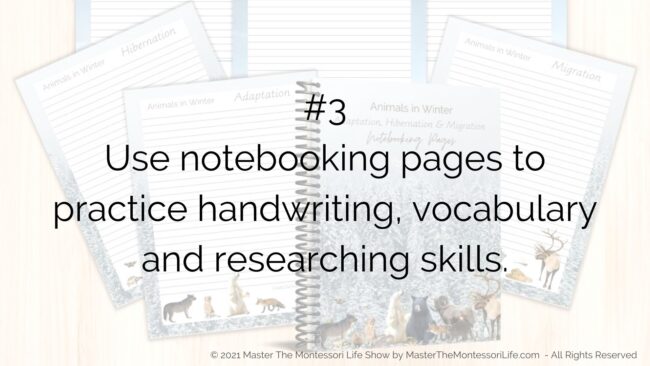 Have living Montessori friendly books that will give children information to learn and research.
Give them some freedom to discover new things about hibernation, migration and adaptation for animals in winter.
Here are some great examples of books that children can use to gather information and do some research about these winter topics, including animals and their behaviors like hibernation, migration and adaptation.
Understanding Animal Behavior : Camouflage, Migration, Hibernation, Flight | Science

Migration (First Step Nonfiction ― Discovering Nature's Cycles)

Animals in Winter (Let's-Read-and-Find-Out Science)

All About Animals in Winter (Celebrate Winter)

Winter Survival: Animal Hibernation, Migration, and Adaptation

How and Why Do Animals Adapt? (All about Animals Close-Up)

Don't forget to get the printables set up on wooden trays with anything that they will need.
Include any books, props or animals replicas that might be relevant.
You can set these up on a shelf where you have the Science materials or you can set aside a shelf specifically for winter activities and place them there.
Key Takeaways
Use hands-on Montessori activities that will teach children several skills at once.
In this case, Winter and what animals do during this season.
Don't be nervous about how to to go about doing this.
This bundle has everything set up for you.
Not only will you have the activities, but you will also have the step-by-step lesson plans that will guide you all the way.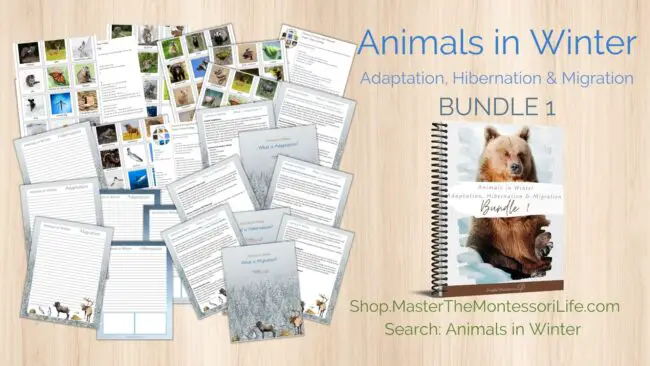 Resources mentioned in training
Sale!
Animals in Winter Adaptation, Hibernation & Migration Bundle 1
$24.50
This Animals in Winter bundle focuses on what they do in winter. Some adapt, others hibernate and yet others migrate. This includes 7 activities and 26 pages total to print over and over as needed.
1 Animals in Winter Notebooking Pages
2 Pictures of Animals that Adapt
3 Pictures of Animals that Hibernate
4 Pictures of Animals that Migrate
5 What is Adaptation? Topic Overview
6 What is Hibernation? Topic Overview
7 What is Migration? Topic Overview
Like I said at the beginning of the show, I have a FB group for all things Montessori that you are welcome to join. 
It is called The Montessori Way Prep Room.
If you want to join a homeschool Facebook community, then join The Natural Homeschool Community!
anything else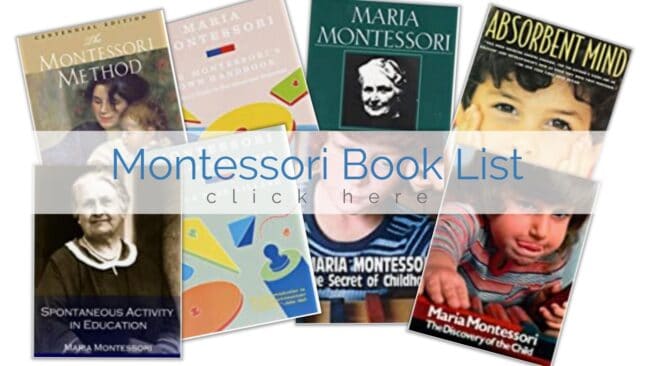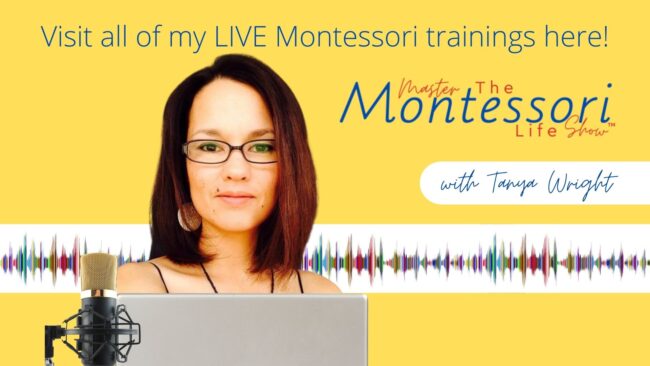 You May Also Benefit from these Important Montessori Topics:
As you learn more about Master The Montessori Life, you will realize just how much I strive to make your life easier.
I also seek to equip you, to inform you and to give you made-for-you options so you can keep moving forward on your Montessori journey without any speed bumps.
Episode 51: Montessori Friendly Printable Winter Activities You Need
Episode 52: 3 Winter-Themed Fine Motor Skills Hands-on Activities