As you read through this post, you will learn more about the easiest way to teach children about the butterfly life cycle The Montessori Way.
There are many Montessori life cycles that we teach children during their ages 3-6.
In this post, we will be focusing on the stages of a butterfly's life.
It will be a wonderful part of the child's Montessori education because they go into just enough detail to make them proficient without overwhelming them.
You can always bring it to life more by having a live butterfly for children to look up-close.
Come and learn about the easiest way to teach children about the butterfly life cycle The Montessori Way.
Montessori Science
Doing Montessori at home or in a Montessori school can be similar in many ways.
One of these ways is that we include the lovely and very vast subject of Montessori Science in both.
When you put together Science works, you can keep it simple on the tray or put together some fun hands-on activities.
As I mentioned before, you can have some live butterflies for children to observe and learn about each stage of life in this lovely insect.
The most common one is the Monarch butterfly, but you can get others, too.
This is important to consider because the life cycle slightly differs and it depends on the species of butterfly.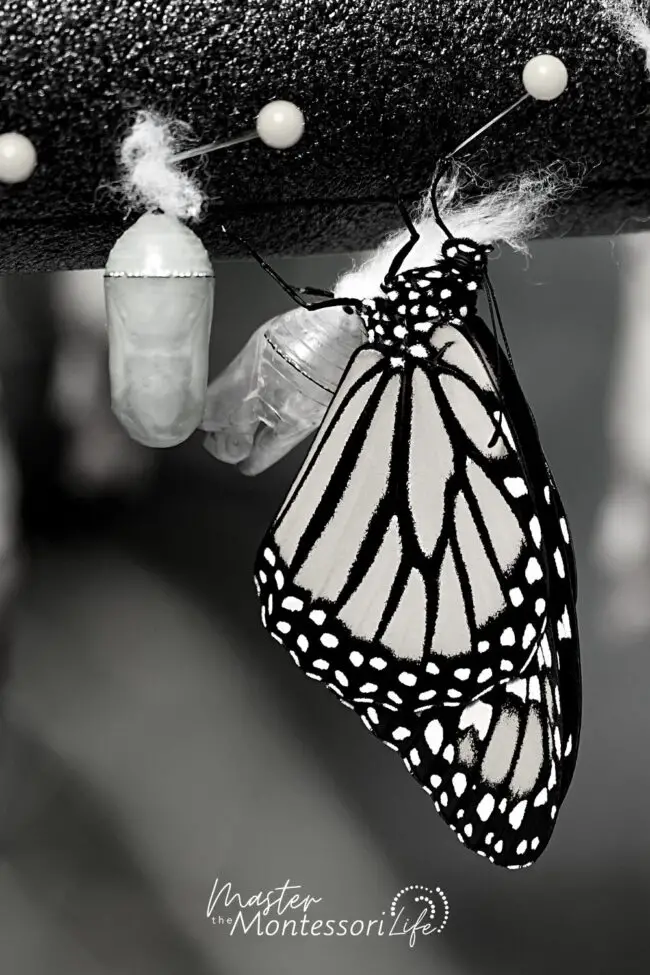 Montessori Zoology
The umbrella subject is Montessori Science, but if you want to be more specific, then you can use the term Montessori Zoology.
Why? Because the butterfly life cycle has to do with an insect (an animal), so it falls under this animal kingdom category.
When you do this life cycle activity, you can get some Montessori Materials that are out there, such as wooden puzzles and such.
The important thing is that children are able to learn what the direct aim is, which should be to learn the stages of the butterfly life cycle.
There can be secondary or more direct aims as well, of course.
Some of these can be vocabulary, fine motor skills, writing, etc.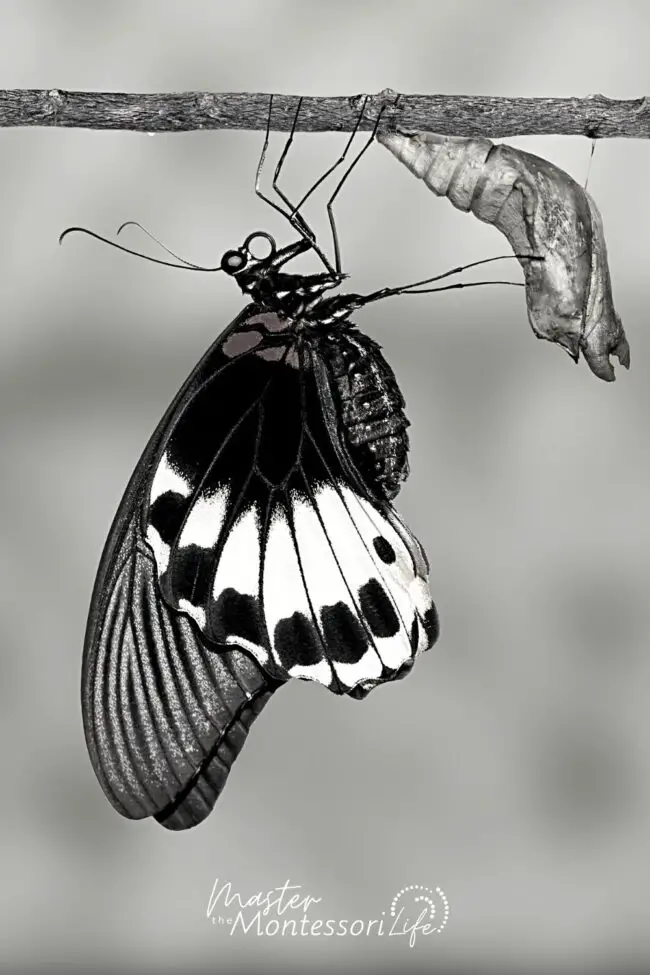 Life Cycle of a Butterfly
Butterfly egg (learn about how and where she lays her eggs, what they look like, etc)
Caterpillar (study how the caterpillar grows, what it eats, when it knows it's ready for metamorphosis, etc)
Chrysalis (what a caterpillar does to get ready, how it builds its chrysalis, how long it is in it, etc)
Butterfly (how and when the butterfly emerges from the chrysalis, what it does to spread its wings, how long it lives, etc)
Butterfly Life Cycle 3-Part Cards
I have put together a very simple and direct way to teach children about the butterfly life cycle, which happens to be my favorite paper Montessori activity.
That is a 3-part cards set! Yo can use them for anything and everything!
So I put together this black and white set of 3 part cards to learn these stages.
You will absolutely love this butterfly life cycle printable! It includes the step-by-step lesson plan so you know exactly what to do.
Get yours below and get started right away!
You will be pleasantly surprised at how quickly the children will learn this great part of life!
Butterfly Life Cycle 3-Part Cards + Lesson Plan (black and white)
$2.99
In this lesson, the child will learn the steps of the butterfly life cycle, the words and the pictures. The child will also practice fine motor skills.
This activity includes:
Step-by-step lesson plan
3-part cards with black and white images
EU buyers, click here.
Bonus! Print one set for each child so they can color their own set in the way that they want to and then they can take them home!
You might also enjoy these relevant topics and resources:
Insect Lore – Butterfly Growing Kit – With Voucher to

Learning Resources Butterfly Life Cycle, 9 Write and Wipe Pieces,

OOTSR Butterfly Growth Cycle Toys Growth Stage Toys Butterfly Life

A Butterfly's Life Cycle (Explore Life Cycles)

Safari Ltd Life Cycle of a Monarch Butterfly

The Life Cycles of Butterflies: From Egg to Maturity, a

Montessori Wooden Puzzles for Kids Ages 4-8, 4 Layer Life

Butterfly Garden with Two Cups of Caterpillars – Plus Butterfly