In this post, we will talk about how you can teach children with Montessori life cycle of a butterfly 3-part cards.
---
There is a very important lesson that all humans learn and that is the lesson on life.
Students will learn about several life cycles during their Science studies, but one that is particularly special is that of the butterfly.
The butterfly is a majestic insect.
It is almost magical talking about the process of metamorphosis that it goes through as it changes from a caterpillar to an amazing butterfly.
The Montessori Method prides itself in being a philosophy full of hands-on activities.
Teaching about the stages of the life cycle of the butterfly the Montessori way is fun, especially with a very simple method.
In this post, we will talk about how you can teach children with Montessori life cycle of a butterfly 3-part cards.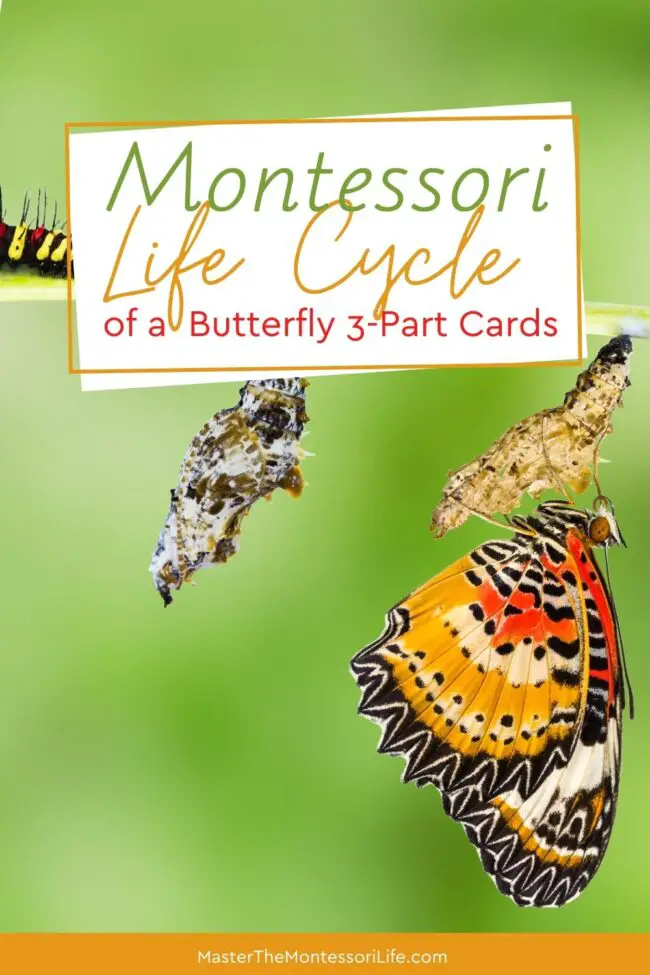 Butterfly Life Cycle for Kids
One of the main aims in using the lovely Montessori 3-part cards is to teach vocabulary words.
When you use these 3-part cards for different subjects and topics, the amount of nomenclature you can teach children is infinite.
Use the 3-part cards set in black and white, with color graphics or with photos when you are teaching life cycles.
The life cycle of a Monarch butterfly is particularly beautiful, but you can choose a different butterfly.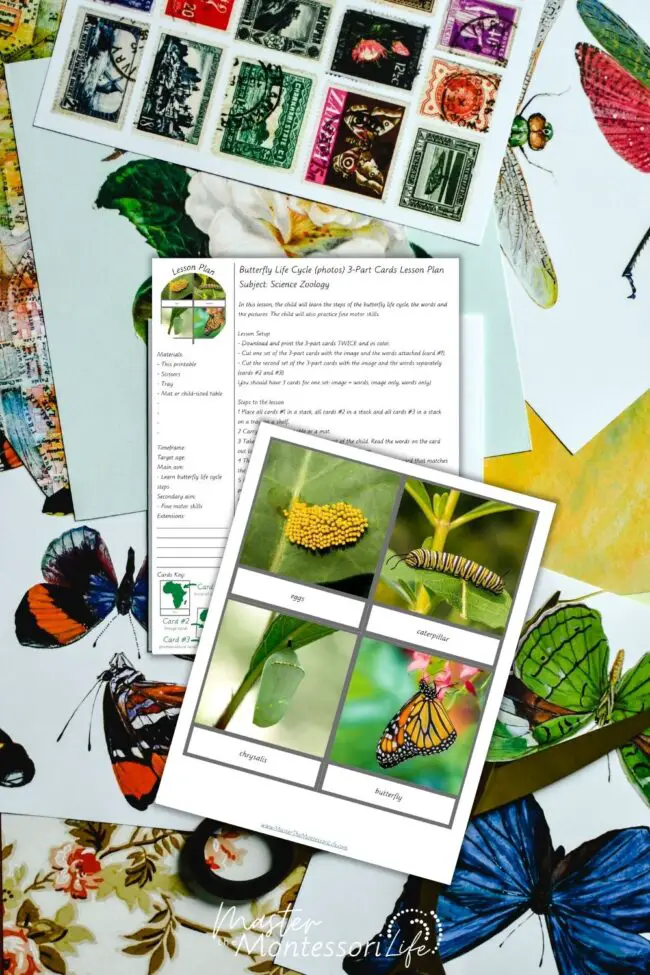 When you use these 3-part cards, you will target the four main stages of the butterfly life cycle.
It is important to not present too many at a time because the child can lose interest.
This can be due to the child feeling overwhelmed when they learn about the life cycle in too much detail.
So keep it simple for them and make it a fun and interesting learning experience.
Life Cycle of a Butterfly Lesson Plan
Yes, these sets come with a lesson plan that explains to you how 3-part cards work.
The lesson plan for these life cycle printables makes it very easy to show the students how to use them independently in the future.
It is fun to make sense of the sequencing of the cards.
Show The Montessori inspired cards of the eggs, the caterpillar, the chrysalis and the butterfly.
After the eggs hatch, the caterpillar grows.
But soon, it becomes clear that a new stage in life is starting.
The hungry caterpillar will eat and eat until it is ready to cover itself with the chrysalis.
Once metamorphosis takes place, the butterfly emerges.
How does that happen? It's a mystery!
All we can do is reflect in awe and seek to learn more about this.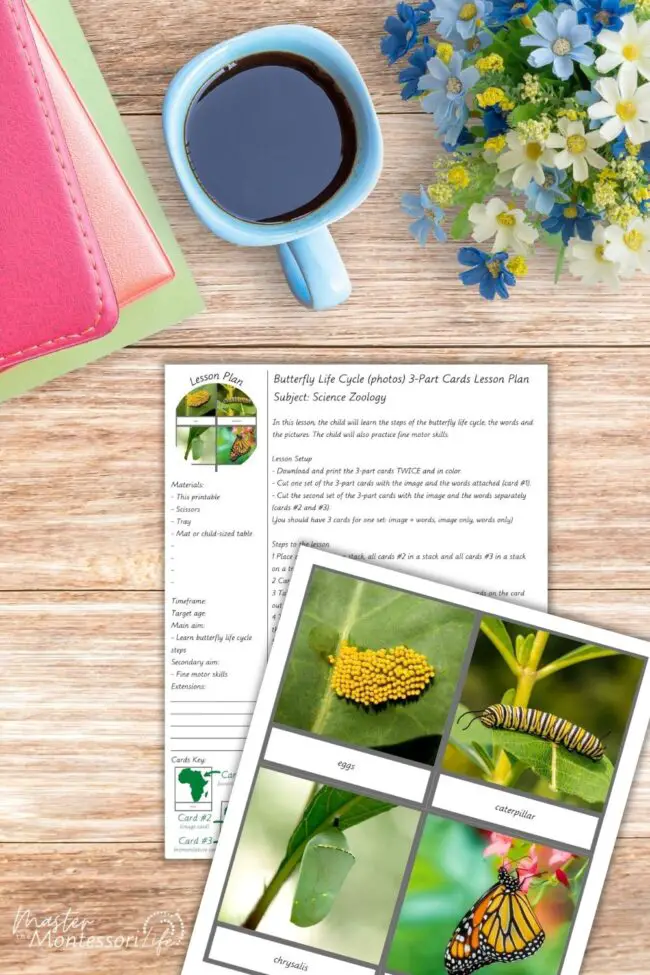 My Up-close and Personal Experience
I remember the time when I noticed a caterpillar along the way to my Math class in college that was starting to make its cocoon (I learned it was a caterpillar that would turn into a moth).
So I asked a Science professor what to do to help it.
I set it up in a small bucket with what it needed.
The caterpillar was hard at work.
It built its cocoon and was in it for about 3 weeks.
The coolest part was that one time I moved the bucket and accidentally tapped it.
To my amazement, it tapped back! Well, it was more like a scratch, really.
But it was almost like it was communicating!
We started tapping to each other daily since.
Then one day, I went back to my dorm room after class and saw it coming out of the cocoon!
I was able to take it outside for it to flap and open it's wings up.
I had to go to class, so I wasn't able to experience that part, but that is alright.
Needless to say, it was an unforgettable experience.
Butterfly Life Cycle 3-Part Cards + Lesson Plan
Here are some great life cycle activities they you can choose from.
Aren't they all great? You can use all three in different ways and with different aims.
In this lesson, the child will learn the steps of the butterfly life cycle, the words and the pictures.
The child will also practice fine motor skills.
You might also enjoy these relevant topics: