Today, I am going to show you three winter-themed fine motor skills hands-on activities for children to make with you or by themselves.
When you are looking at celebrating Winter in fun ways while teaching children about that lovely season, you want to get creative.
I am a big fan of mixing two or more subjects into one incredibly educational and fun activity.
For example, you can teach about animals in winter, what they do, how they get food, stay warm and so on.
You can also make Science project where children learn the difference between hibernation, migration and adaptation.
Also, you could come up with a creative craft to teach children new winter vocabulary.
Today, I am going to show you three winter-themed fine motor skills hands-on activities for children to make with you or by themselves.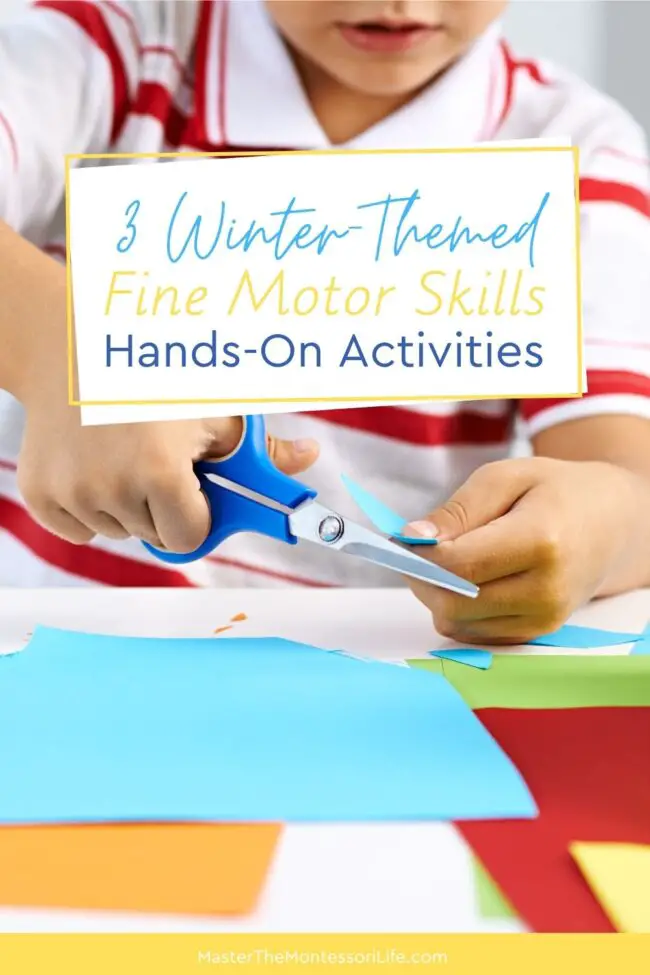 Watch & Listen to the Episode Here:
As you watch or listen to this training, know that you will be able to get more information than what is included in this blog post.
However, I really want to encourage you to take the time to watch or listen and take notes.
Importantly, this will be helpful to you now and in the future.
1 Sponge paint for fine motor skills practice
These winter crafts for children are going to target different areas for fine motor skills.
For example, some will focus on hand-eye coordination, others on sensory play, and also on dexterity.
This one focuses on animals that adapt in winter.
That means that these animals stay where they live and adapt to the drastic changes in temperature.
Discuss on how they find food during this snowy time and how they stay warm and alive with these craft ideas.
For this craft for toddlers and preschoolers (and even for early elementary children), we will us paint and a sponge to put the paint on the paper.
As the child learns to squirt white paint onto a paper plate and to pat the sponge on the paint to get enough, children will build fine motor skills that are slow and deliberate.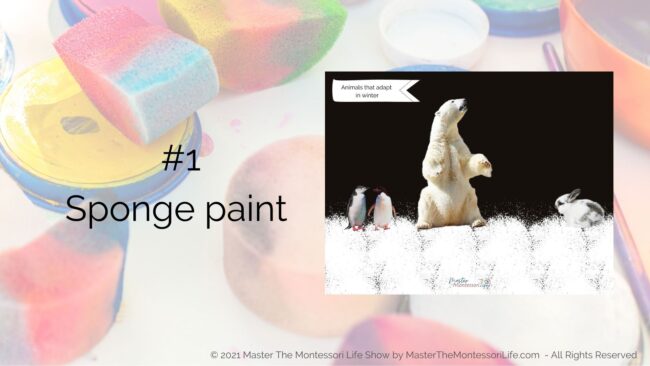 When the child starts sponging the paint onto the black paper, they will see the "snow" begin to take shape.
You can even go a step further and add some paper snowflakes, if you have time.
Use the animals that adapt that you can find in this resource to cut and paste onto the paper once it dries.
Use the lesson plan's step by step instructions for all of the details on how to make these winter crafts for kids.
Animals in Winter: hands-on craft activity and lesson plan
$2.99
In this lesson, the child will learn about animals that hibernate, migrate and adapt in winter by making an Art craft that helps practice fine motor skills.
This printable PDF activity includes:
lesson plan with step-by step instructions, list of materials, direct aims, etc.
page with pictures of animals that hibernate, migrate and adapt in winter
labels for the 3 parts of the activity
*Craft materials not included.
EU buyers, click here.
2 Crumbled Paper To Differentiate Between Cold Weather and Warmer Weather
These are great fine motor skills activities for children, even if it is simply crumbling paper and gluing it to paper.
Fine motor development is successful and important.
In this craft on animals that migrate, we differentiate how animals travel from colder weather to warmer temperatures during winter.
Young children will love this type of hands-on learning.
The visual will give them a great understanding on how migration happens.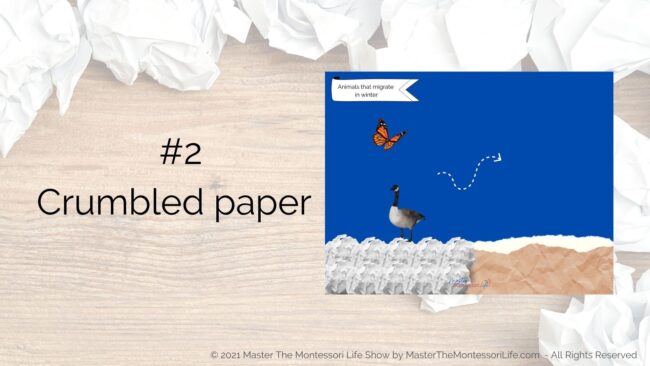 Go a step further and use a small piece of pipe cleaner to make the arrow.
The arrow represents the movement of animals from cold to warm.
You can find the instructions for this craft of animals that migrate in the resource mentioned above.
3 Cotton Balls for Snow and Refuge
As animals migrate in some areas and adapt in others, we also have animals that hibernate.
In short, hibernation is when some animals go into burrow or caves and go into a type of deep sleep during the winter months.
Research more about it or get the entire lessons for hibernation, migration and adaptation in this bundle to discuss with children at length, if they are interested.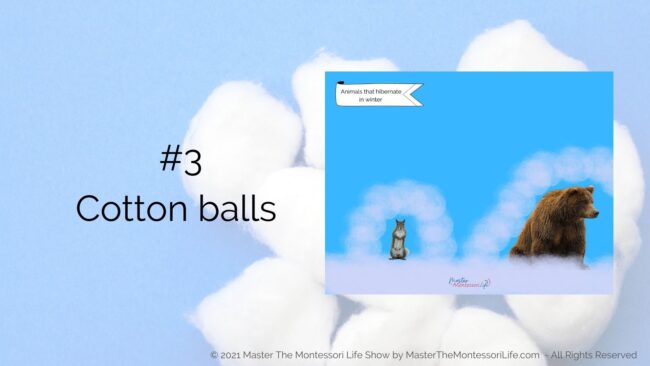 As the child takes the cotton balls apart to make a "snowy" floor and some refuge caves and covers, the act of pulling apart is great for strengthening finger muscles and coordination.
Invite the child to get creative when making burrows and caves for the animals that will take a long nap for months.
Key Takeaways
Fine motor skills are very important in child development.
There are many ways to practice fine motor skills.
Some of these are: sponging paint onto paper, crumbling paper, cutting, gluing, tearing cotton balls apart.
You can use one activity to teach different subjects.
In this case, you focus on the season of winter, animals that hibernate, migrate and adapt as well as practice fine motor skills.
I hope that this training has been helpful and inspirational for you!
Do you feel your brain wheels turning now?
So, what do you think? Are you going to give these great craft ideas a try?
Children will enjoy them very much and remember that you can have the step by step instructions, list of materials, main aims and more in the lesson plans included in this resource.
Resources mentioned in training
Like I said at the beginning of the show, I have a FB group for all things Montessori that you are welcome to join. 
It is called The Montessori Way Prep Room.
If you want to join a homeschool Facebook community, then join The Natural Homeschool Community!
Wardrobe from: http://bit.ly/TNHstitchfix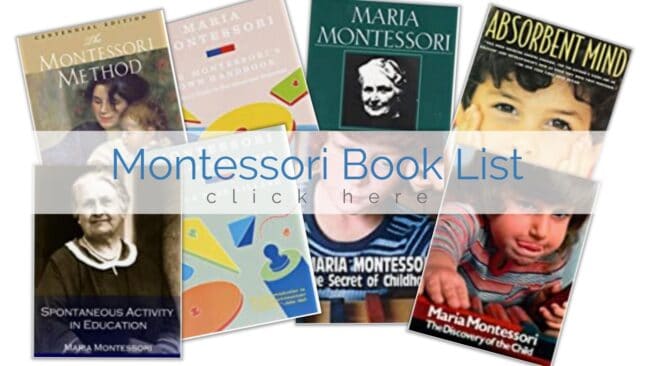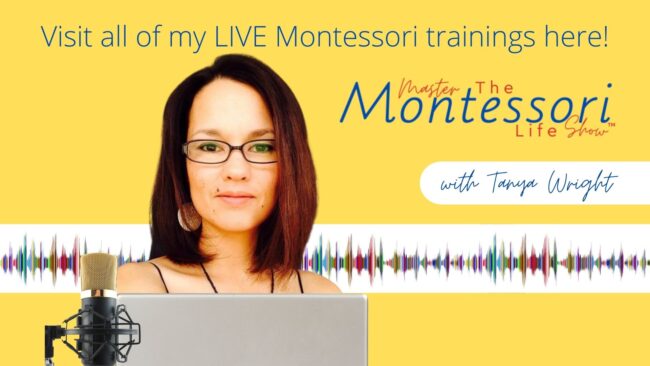 You May Also Benefit from these Important Montessori Topics:
As you learn more about Master The Montessori Life, you will realize just how much I strive to make your life easier.
I also seek to equip you, to inform you and to give you made-for-you options so you can keep moving forward on your Montessori journey without any speed bumps.


Acts of Service the Montessori Way

Are you trying to think of Montessori friendly ideas that will get your children into the giving spirit? In this episode, we will be looking at some great acts of service ideas that you can implement anytime, but especially around the holidays.

Practical Life Fine Motor Skills Printable Activity

In this blog post, we'll discuss the importance of fine motor skills and some fun ways to help your child develop them through a Montessori Practical Life activity.

The Role of Montessori Parts of Speech in Language Arts

Montessori Language Arts takes a distinct approach to teaching parts of speech, transforming what could be a mundane subject into an engaging, hands-on learning experience for children.