Let me show you a great way to teach 4 stages of the Montessori life cycle of a butterfly using 3-part cards.
---
The life cycle of a Monarch butterfly is one of the most majestic things to observe in person!
Have you ever done that with your children?
It is definitely worth the experience.
In this post, I will show you a great way to teach 4 stages of the Montessori life cycle of a butterfly using 3-part cards.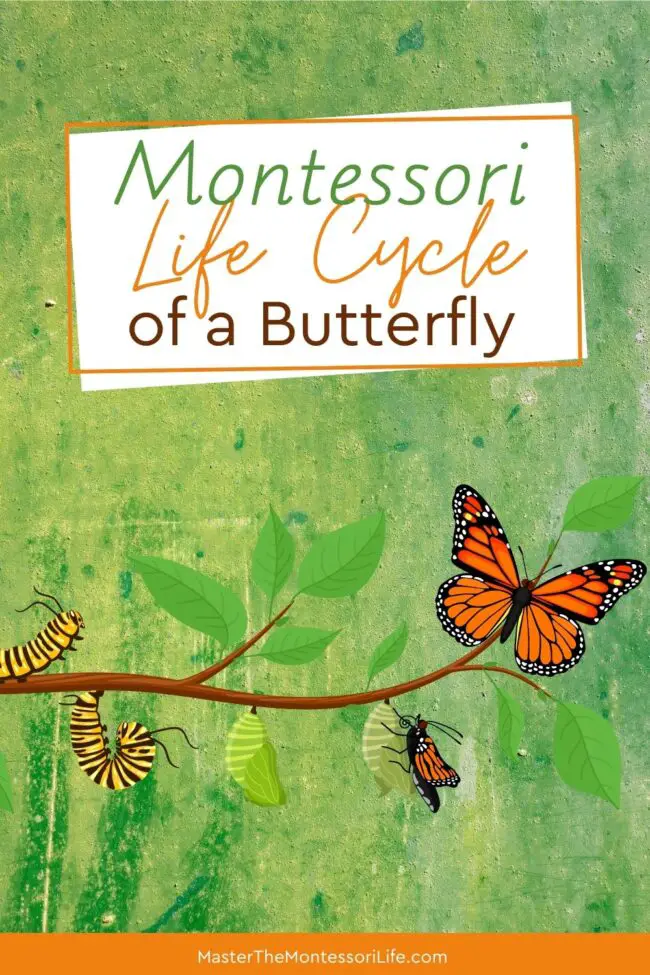 Butterfly Life Cycle for Kids
There are many way to study a life cycle unit, but if you want one that is Montessori-inspired, then look no further than 3-part cards!
Why?
Well, for one, the 3-part cards are an easy way to get life cycle printable that you want and two, the 3-part card system is one that Dr. Maria Montessori invented and is widely used in her philosophy.
I will confess: 3-part cards are some of my favorites because I can make them for any and every topic under the sun.
I also really enjoy them because they don't take a lot of room on the shelf and, when coupled with the 3 Period Lesson, you are in it for the win in learning!
These butterfly life cycle hands-on activities are some that kids will love and you will enjoy.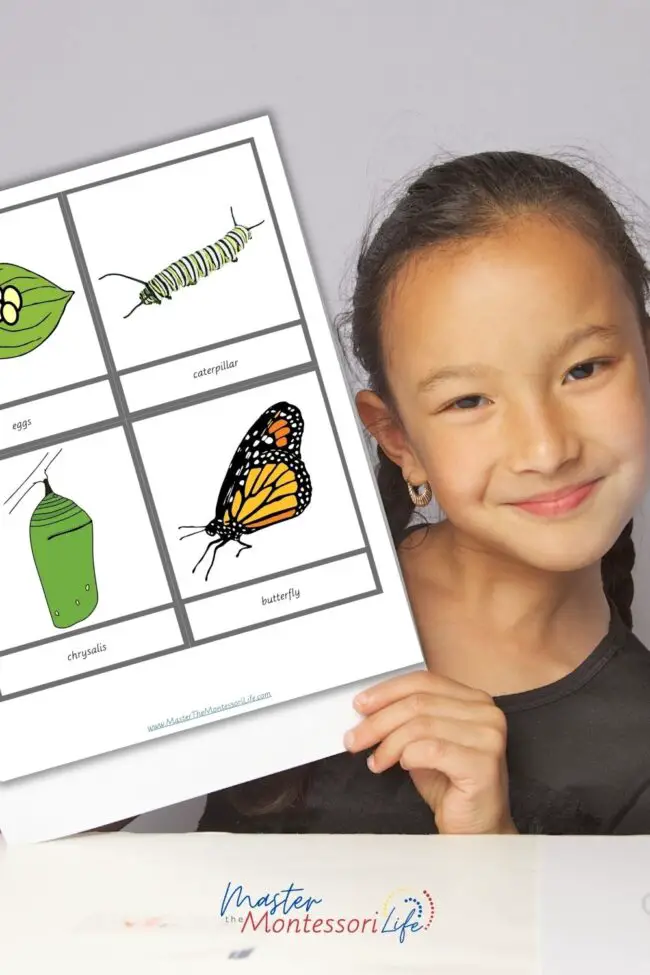 Don't be intimidated by the notion of 3-part cards.
They are actually very repetitive and predictable, so the more you practice, the better you get at it.
And the more the child practices using them, the better they will get at it as well.
Life Cycle Activities
To teach about this topic to children, you must begin with a simple life cycle sequence.
The best thing to do is to include no more than 4 stages.
This will make it easier for the child to learn and to remember.
It is a fun hands on activity that you can use over and over.
To use as 3-part cards, you must print the page twice.
The instructions on how to set it up and teach it is in the lesson plan that is included in this set.
But if you want to make it a life cycle craft, then have the child cut the picture squares as well as the nomenclature rectangles so they can glue them onto a piece of construction paper in the correct order.
It goes from eggs to caterpillar and chrysalis to butterfly.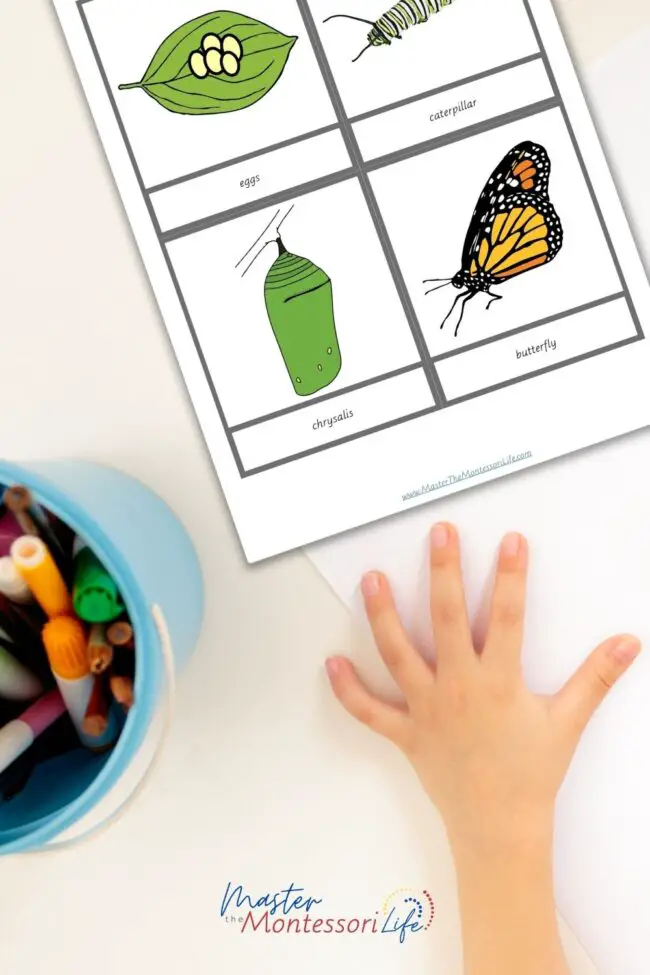 There are many ways to expound on the use of these lovely colored Montessori 3-part cards to teach about the different stages of the butterfly.
You can get creative and go above and beyond the typical 3-part card use.
So, use these as a base and have fun making it a whole unit.
The important thing is for the child to learn, not to fill the time with activities that the child won't enjoy.
Always remember to keep it age-appropriate, so not too easy and not too hard.
The aim is for the child to gain independence and that the child won't need you to do the activities.
Plan for the child to do do the activities on their own, after you have given the child the initial lesson presentation.
Butterfly Life Cycle 3-Part Cards
You can make your own 3-part cards with the stages of the butterfly life cycle, but if you want one that is done for you professionally to save you time and effort, then you have 2 great options below.
You can get the one in black and white to have the child color the pictures (in case you were still muling over ideas to expound on the 3-part card activities).
Or you can get the ones that are already colored for you. They are lovely and pleasing to the eye.
You might also enjoy these relevant topics:
Montessori Friendly Summer Printable Bundle

With this summer bundle, you will be equipped with everything you need to keep your children occupied and having a wonderful time while remaining indoors and celebrating summer from the comfort of your own home.

Do you need help in doing Montessori right?

Do you need help in doing Montessori to make sure that you are doing it right? Come and find out how to know what to focus on first, actionable steps to apply immediately and more!

Planning Montessori at Home (digital book)

Do you want to plan your Montessori at home, but don't know where to start? This 65-page digital book is going to give you the guidance you need to do it right from the beginning. There are some tips and tricks that many don't know will shortcut their planning by a lot.