Toddlers have BIG energy and they have BIG plans for their days. Come and find out how to deal with wiggly toddlers the Montessori way.
I know it can be hard most of the time to give enough freedom to your toddler while feeling confident that the child will be safe.
It can also be difficult to trust a young child with activities that we feel that we need to lead or be micro-managing.
Trust me… I have been there.
You are not alone in how you are feeling, but let me give you some wisdom, based on what I have learned in my years of parenting toddlers.
If you are reading this early enough and have a toddler, then you will benefit from it greatly!
Toddlers have BIG energy and they have BIG plans for their days. Come and find out how to deal with wiggly toddlers the Montessori way.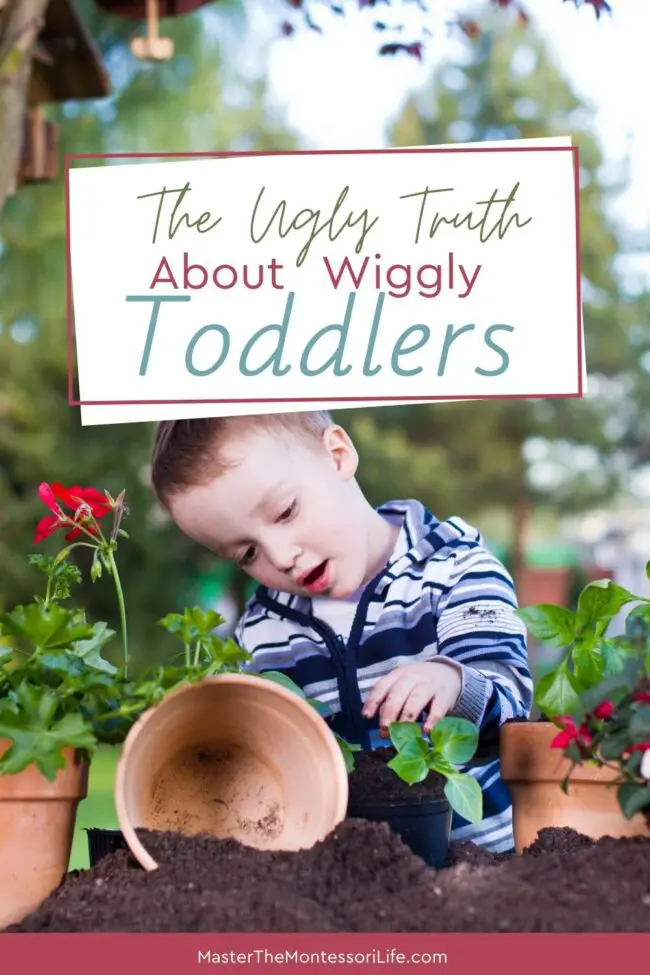 Watch & Listen to the Episode Here:
As you watch or listen to this training, know that you will be able to get more information than what is included in this blog post.
However, I really want to encourage you to take the time to watch or listen and take notes.
Importantly, this will be helpful to you now and in the future.
#1 My toddler is too wiggly and won't sit still!
Let's define the terms first. A toddler is a child who is about 12 months old until about 3 years of age.
There are many developmental milestones that toddlers hit during these years and understandably so!
And because of that, homeschool moms sometimes feel like their life is on fast-forward all the time.
You have potty training, power struggles, learning control of movement and even grace and courtesy.
The good thing about teaching them at home is that you can observe them during their calmest time of the day and do your planned activities then.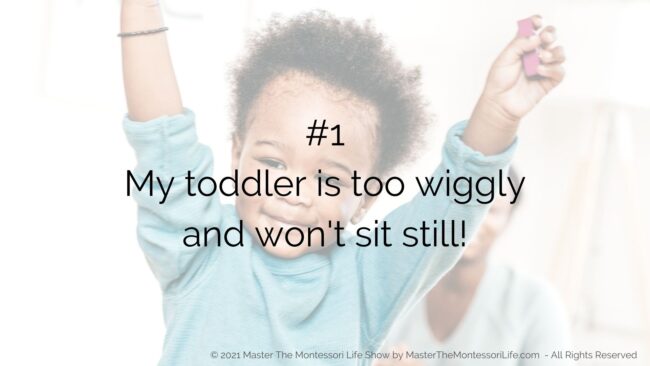 We have heard that children are more willing or able to focus in the morning.
But that isn't necessarily true.
Maybe the child needs outside time to burn some energy before being able to focus, so be open to try that.
Homeschooling a toddler is not easy, but it is oh so worth it!
There is a lot of physical activity that can happen without throwing your day away.
Actually, there is no such thing as throwing the day away, as long as the child learns something.
#2 My toddler isn't interested in learning academics!
That is 100% ok! Let me tackle both sides of this.
First off, I want to underscore that during the toddler years, it is more important for them to learn life skills over academics.
So, if that is too stressful, set it aside and know that it is ok to do that.
What life skills can toddlers learn to do or focus on?
In the Montessori world, we call this subject Practical Life activities.
There are so many different daily life things that they can learn, such as getting dressed, putting a snack together, setting the table, cleaning shoes, watering plants and many more.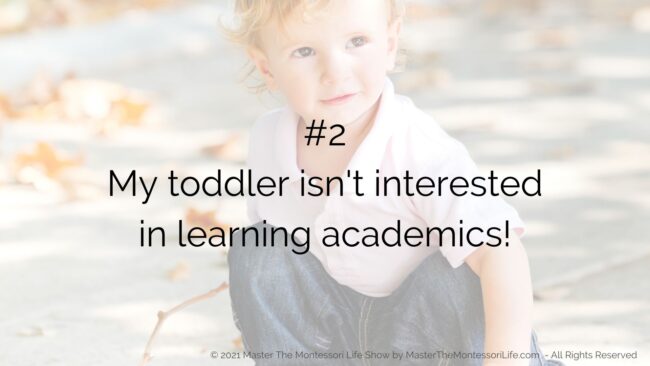 If you are still insisting on trying to do some academics, then make sure that you have a solid daily schedule first.
I talk a lot more about this in my toddler digital book.
Once you have a solid schedule, then you can go into lesson planning.
You will take a look at how much time you are setting aside for teaching kids.
You can do the letter of the week, take educational songs to sing or go easy and be on the lookout for teachable moments, whenever they come up.
#3 My toddler doesn't let me demonstrate how to do things first!
I know this issue all too well.
It is a con for both you and your child to have this kind of tension when doing activities together.
You may find that your child is not interested in slowing down enough to listen to instructions on how to make a craft and don't even think about the child actually stopping to watch you demonstrate.
That is alright.
Remember that the time will come when the child will have to do these things, especially when they are learning the steps for Math problems and such.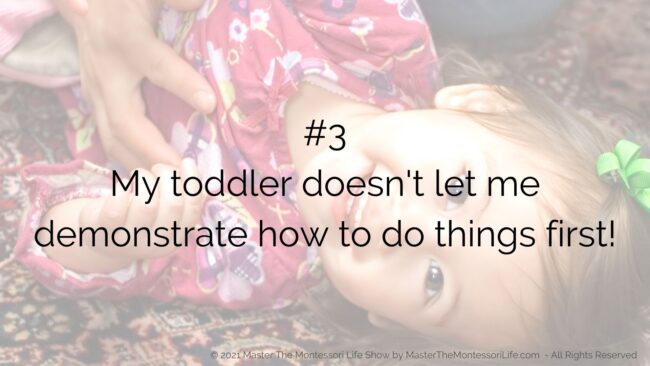 If you have a Montessori classroom, set up some activities that focus on care of the environment.
Some of these are: watering plants, cleaning the table, sweeping or mopping, etc.
Do them several times before you invite the toddler to try it.
You can start at around 18 months or earlier!
Key Takeaways
It is very important to remember that, in general, children learn more and better when they are happy and when they are interested.
It is specifically stressed a lot more in The Montessori Philosophy because so much hinges out of this one thing.
Be patient
Be observant
Be open-minded
Be a child-follower
Be flexible
Resources mentioned in training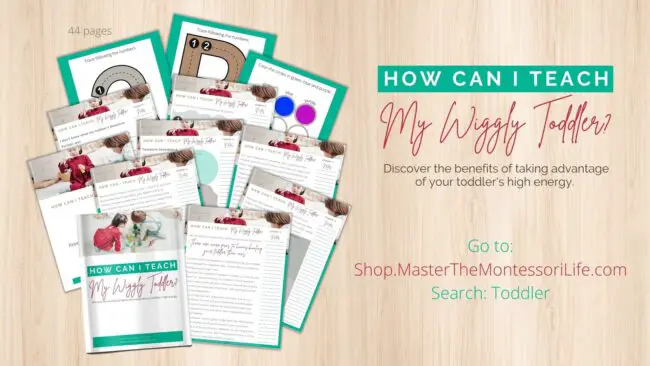 Like I said at the beginning of the show, I have a FB group for all things Montessori that you are welcome to join. 
It is called The Montessori Way Prep Room.
If you want to join a homeschool Facebook community, then join The Natural Homeschool Community!
Wardrobe from: http://bit.ly/TNHstitchfix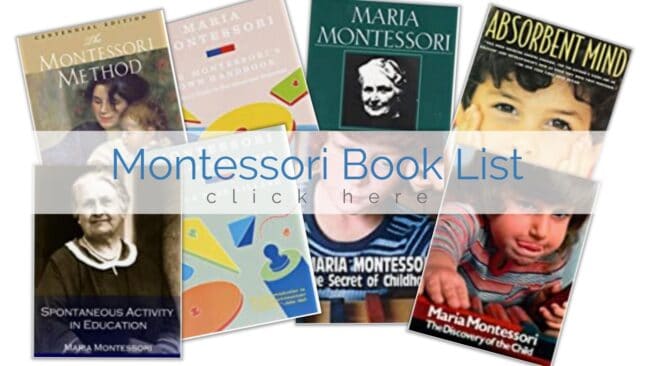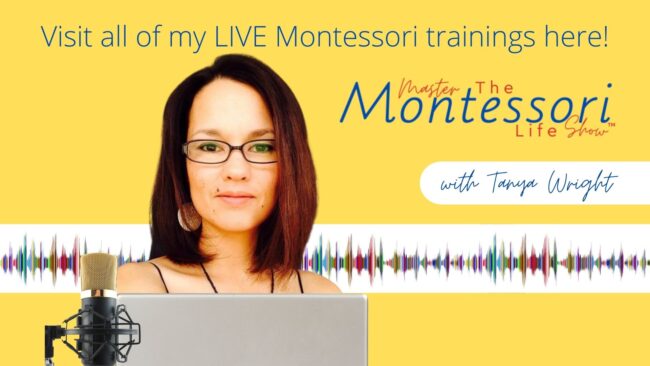 You May Also Benefit from these Important Montessori Topics:
As you learn more about Master The Montessori Life, you will realize just how much I strive to make your life easier.
I also seek to equip you, to inform you and to give you made-for-you options so you can keep moving forward on your Montessori journey without any speed bumps.