Parents help their kids take responsibility by assigning chores. This is a very important step and can make all the difference in the world.
---
Doing chores is part of every child's life and many parents', but it is not always easy to assign them. It can be challenging to get your kids to do their chores, especially younger ones.
However, if you want to teach your child to learn responsibility and follow the rules, you need to put some system.
Parents help their kids take responsibility by assigning chores. This is a very important step and can make all the difference in the world.
You may not know what tasks your kids should be doing, but that doesn't mean they aren't already doing them. Most of the time, these are just overlooked. 
By keeping an eye on your kids and their activities, you can easily see what they're up to. This will help you assign tasks to them and make sure everything is in order.
Benefits of Chores
Chores are not just a chore. There is a reason why you assign chores to your kids. They help them realize how difficult the real world can be and how hard it is to survive. Many people don't realize that the world doesn't revolve around them and that many people in it don't have what they have now.
It teaches them how to get things done on their own.
It teaches them responsibility and the rewards that come with it
It improves their grades in school because they can manage to complete a certain amount of work each day
They learn perseverance and make better decisions when a problem arises, even if it  seems impossible
By letting your kids know that you are there for them but also have expectations for them too, it means they will feel needed as well as taken care of by you.
It gives them a sense of accomplishment and makes them proud
They will feel good about themselves and proud that they could do something alone. They can also learn to help and offer assistance.
It helps develop their social skills and sportsmanship because they have to work with others, share duties as well as take turns
It improves their motor skills and teaches them how chores can improve their scores on school tests.
It teaches them responsibility and to use their imaginations.
It teaches them that they can learn to manage their time.
Assigning chores has many benefits. That's why they're an important part of the growing-up process. 
Get Your Kids Do Their Chores
For your kids to learn responsibility and follow the rules, you need to put some system. To help your child understand the value of money, you can give them an allowance for doing their chores. Such a system will be good for them since they need to learn how life works and how their work usually pays off in some form or another.
Assigning their chores is a great way to support their parents and learn some of the skills they need. When your kids are young, you can set simple duties that involve minimal effort, such as taking out the trash or carrying in their laundry. As they get older, you can add more tasks such as washing the dishes and refilling their school backpack every day.
Getting kids involved in household chores doesn't mean you need to stop playing and having fun with them. A good idea is to teach your kids how to become more responsible, and this can be achieved by getting them involved in household chores. You must be firm with them and make sure they complete their assigned tasks since this will teach them responsibility and give them a sense of accomplishment.
There is a significant difference between doing chores and being responsible. Doing your chores means that you're doing what is expected of you as part of your daily life. While, being reliable means that you can think outside of yourself and do necessary but not desired things, such as checking on a neighbor or helping out with a family member who might be ill.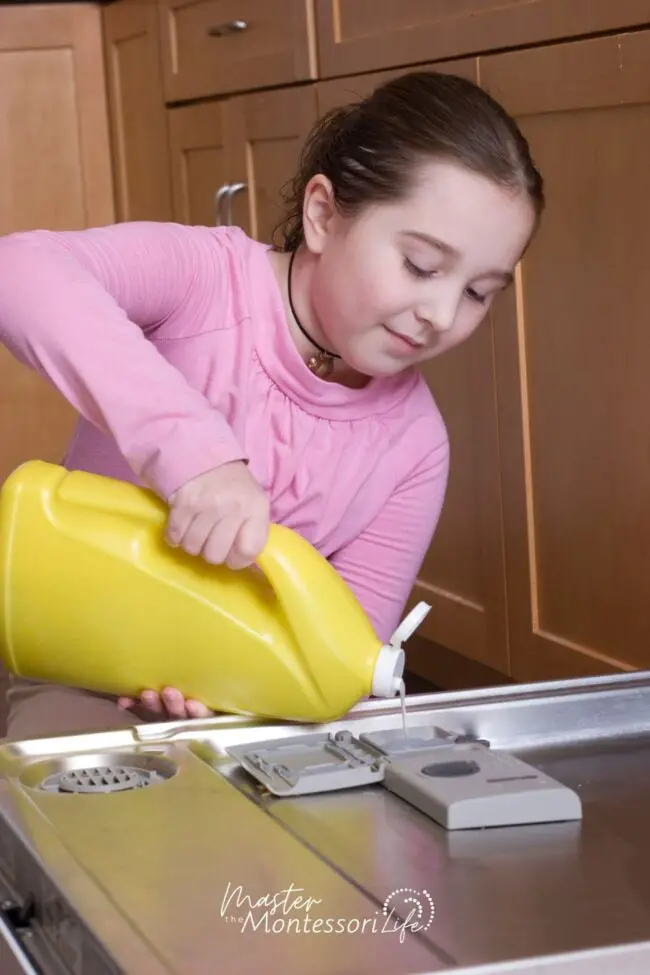 You can get your kids to help out around the house by rewarding them for their excellent behavior.
In conclusion, you need to assign chores to your kids. You can do this in various ways, as some parents may have different approaches. However, there is always one way to get them involved, which would be by having them complete all the assigned tasks.
You should also make sure that they understand the rules and do what they can for their chores to remain in place, and they will love it because they will feel good about themselves and proud of themselves.
You May Also Benefit from these Important Montessori Topics:
As you learn more about Master The Montessori Life, you will realize just how much I strive to make your life easier.
I also seek to equip you, to inform you and to give you made-for-you options so you can keep moving forward on your Montessori journey without any speed bumps.

Andrea Gibbs is the Content Manager at SpringHive Web Agency, where she helps create content for their clients' blogs and websites. She is currently a blog contributor at Montessori Academy, a blog dedicated to helping parents with the ins and outs of parenting children within the Montessori tradition. When she isn't writing, she enjoys spending time with her family and her dog.