Here, we will discuss a strategy for learning about geography, which will help in developing a separate and distinct skill: knowing about the various continents around the world and in the process, learning about an applied life skill.
---
Montessori Geography is learned in a variety of ways by children. 
Do you know, however, that you can mix and match subjects in the Montessori Curriculum to enhance learning? 
Yes, that is correct. 
Here, we will discuss a strategy for learning about geography, which will help in developing a separate and distinct skill:
knowing about the various continents around the world and in the process, learning about an applied life skill. 
Lacing is a Montessori inspired part of that Practical Life skill. 
It is a crucial fine motor skill to learn, as it is something that people who have greater independence rely on. 
So, with Language Arts pre-writing dexterity, eye-hand coordination, and so much more to offer, this can help kids along the way.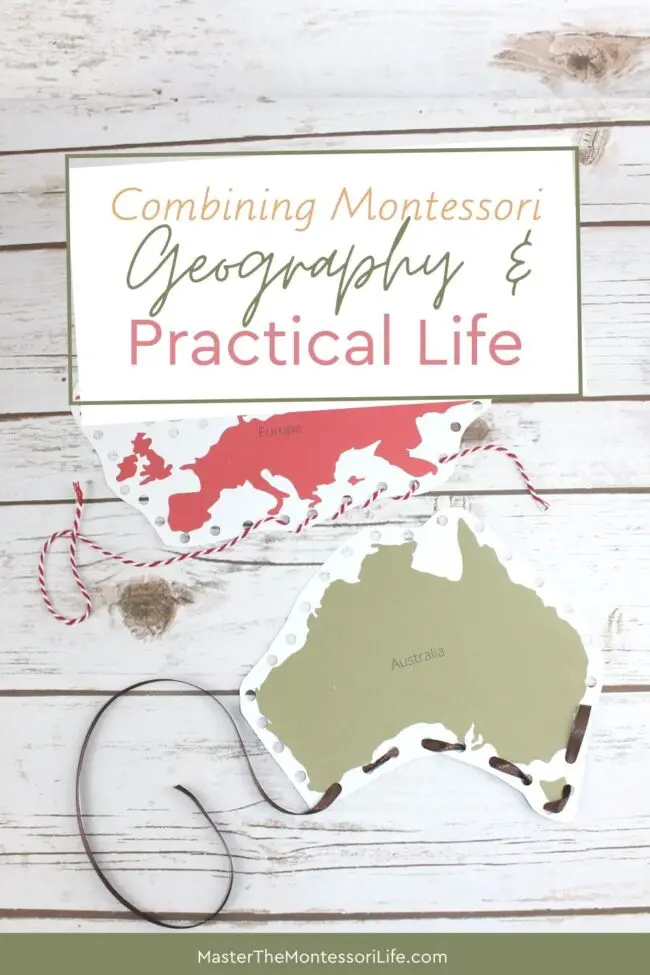 Who is this Montessori activity for?
The use of this activity is aimed primarily at children between the ages of three and six, but you can get started earlier if your toddlers are ready. 
You can practice fine motor skills with your child as much as you'd like, as long as they're still developing fine motor skills. 
Lacing activities are great for practice on fine motor skills, but this particular activity is way better for fine motor skills practice, definitely! 
Having multiple ways to engage children and to get them interested in a subject or activity is also quite appealing to Montessori teachers and home schoolers.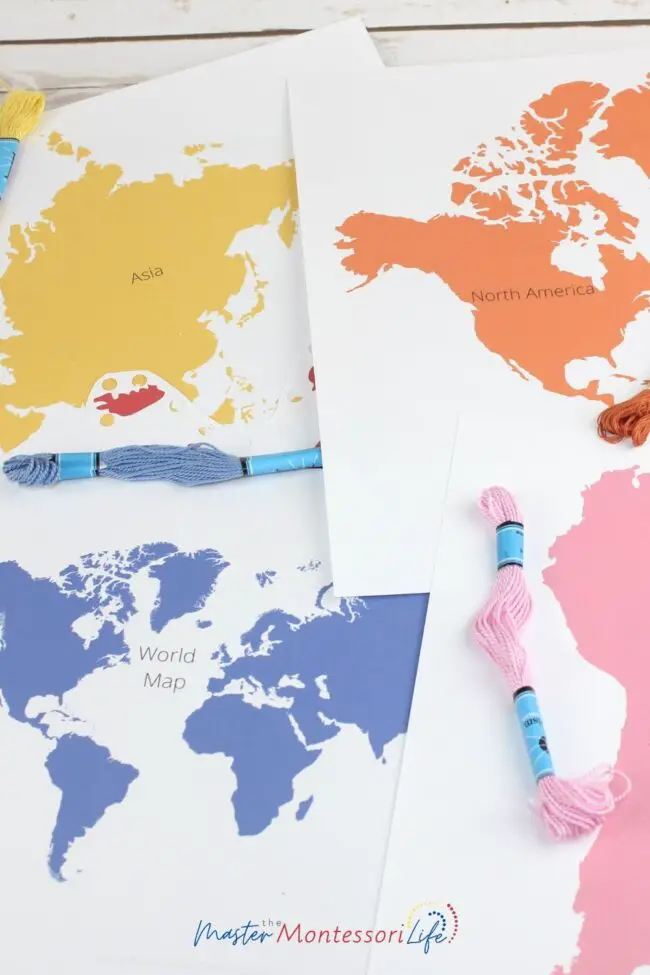 These continents match the Montessori puzzle colors, so they are a great transition from puzzles that do not confuse children. 
Teachers who use the Montessori methodology believe this is beneficial because it addresses different learning styles.
The child learns how to control and move small muscles on the hand and that goes far beyond educational purposes only.
How to Combine Montessori Subjects
This is a fantastic activity in Your Montessori homeschool curriculum because not only do you target Practical Life activities with lacing.
They are also learning in all of these Montessori subjects:
Language Arts and Practical Life: fine motor skills for pre-writing in Language Arts
Geography, Culture, Sensorial: you are also helping children recognize the shapes of the continents
Geography, Culture: they are learning the names of the different continents
Geography, Culture, Language Arts: children are tarting to connect the name, shape and color of the continents for later Geography activities
Sensorial: you help children to learn to match the colors of the continents with the colors of the ribbon (or whatever you use)
Isn't that amazing for child development?! Wow!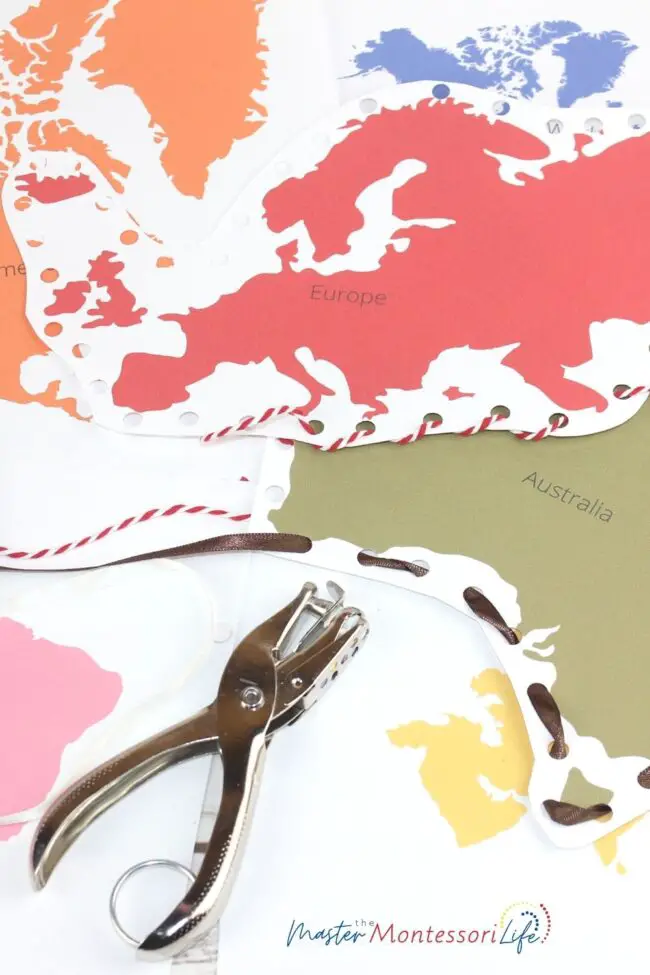 So, as you do Montessori at home or at school, you can boost your child's interests in these subjects by combining them together.
This is, in all honesty, such a simple activity to set up that you can have it ready in less than 30 minutes.
This is, of course, if you get the laminator to warm up while you print and cut.
This way, you can laminate right away and then punch the holes.
Get Creative with Combining Montessori Subjects
Please remember! You can also integrate your lessons by having children learn lacing techniques from different methods. 
The image above demonstrates this on the Montessori Practical Life side. 
When you look at the map of Europe, you can see that it has an overlapping border around the entire continent. 
You keep repeating the process of pushing through the hole, hole after hole. 
Now, let's take a look at the map of Australia. 
Can you see how the Montessori lacing on this is different? 
First, you make a hole in the up (pull toward you).
Then, you push down in the next hole (toward your lap). 
Recognizing them both is going to take some getting used to. 
However, the good news is that you will be able to assign names to each.
Introduce one step at a time and allow the child to master each lace type before moving on to the next. 
Enthusiastic students may be on the lookout for the fun and informative class with challenging activities they can dive into. 
Once you decide to have this activity as part of your Montessori classroom, you will be glad you did. 
All you have to do is click the button below to download and start using it right away.
Montessori Geography 7 Continent & World Lacing Activity + Lesson Plan
$2.99
Are you interested in combining two Montessori subjects into one activity? Then this is perfect for that! With this continent lacing activity, the child will practice fine motor skills (as part of Montessori Practical Life) as well as learn the shapes and names of the 7 continents and the world. It includes a detailed step by step lesson plan.
This set has the world, North America, South America, Africa, Europe, Australia, Asia and Antarctica.
Start slowly with this activity to avoid the child from getting frustrated or from needing you too much.
Teach one skill at a time and let the child practice that one skill until they have mastered it.
Then, move on to the next skill, maybe care of the environment?
What do you think?
Resources mentioned in training
Like I said at the beginning of the show, I have a FB group for all things Montessori that you are welcome to join. 
It is called The Montessori Way Prep Room.
If you want to join a homeschool Facebook community, then join The Natural Homeschool Community!
Montessori Geography Continents the easy way
Combining Montessori Geography and Practical Life
Teach Children the Flags of the World the Montessori Way


Acts of Service the Montessori Way

Are you trying to think of Montessori friendly ideas that will get your children into the giving spirit? In this episode, we will be looking at some great acts of service ideas that you can implement anytime, but especially around the holidays.

Practical Life Fine Motor Skills Printable Activity

In this blog post, we'll discuss the importance of fine motor skills and some fun ways to help your child develop them through a Montessori Practical Life activity.

The Role of Montessori Parts of Speech in Language Arts

Montessori Language Arts takes a distinct approach to teaching parts of speech, transforming what could be a mundane subject into an engaging, hands-on learning experience for children.