Read this helpful article and you will discover some printables for the Montessori system that you can download.
---
One of our favorite activities offered through the Montessori philosophy is one that combines Sensorial and Mathematics.
This is because it allows students to participate and apply what they are learning in a real-world context.
Children learn more and better with hands-on Math activities in The Montessori classroom. 
The Montessori Math Bead Cabinet can be found in the Montessori curriculum, so students can look at the beauty of it. 
Read the article and you will discover some printables for the Montessori system that you can download.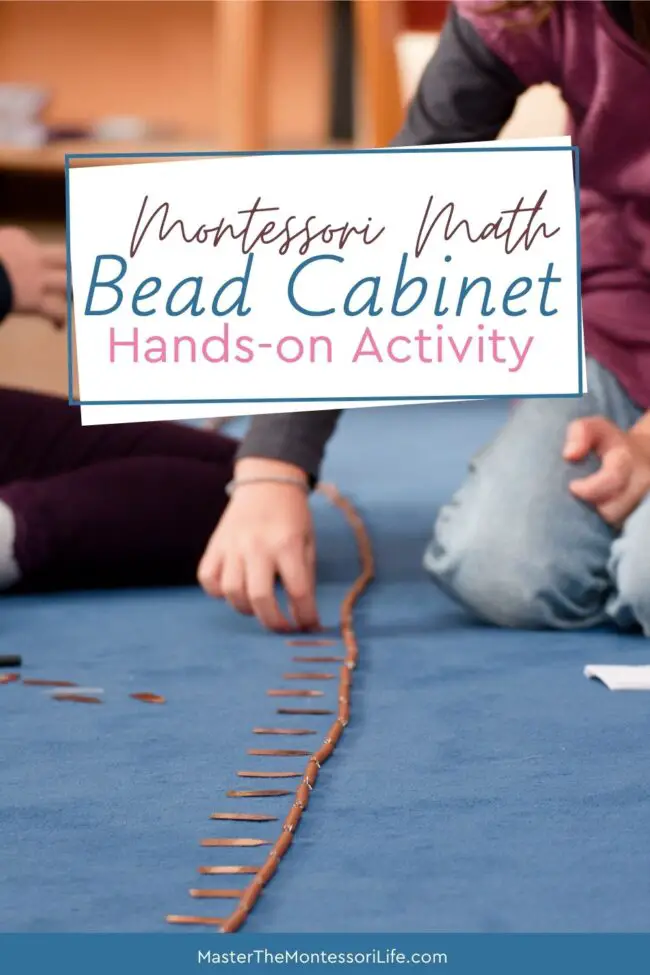 Montessori Math Bead Cabinet
This goes beyond the Number Rods and the Sandpaper Numerals.
This activity makes teaching Math a lot easier because of hands-on learning.
It will help develop a mathematical mind in the child where they won't only know, for example, squares and cubes, but they will actually understand how that works.
The Montessori Bead Cabinet is used specifically for Math activities.
You can use it for several activities, which I will list below.
It is a thin, square wooden shelf with interesting-looking shelves and strategically-placed metal hooks.
On the shelves and hooks, there are different types of bead chains.
Some are held together with copper wire and loops as chains.
Others are held together as cubes or different sizes.
And others are held together as flat rows.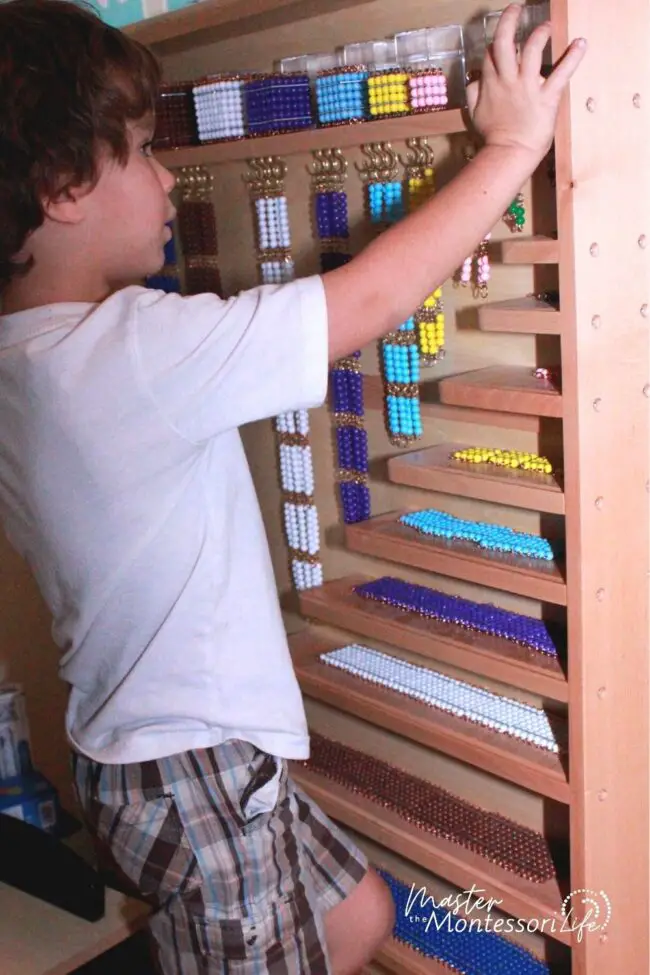 Where to get the Montessori Math Bead Frame
For Montessori early Math lessons, you will always need hands-on manipulatives.
Math uses Montessori beads to explain about linear counting, numbers, addition, subtraction, multiplication, division, cubed roots and more!
Check out these Math materials and bead cabinets that Montessori uses.
Montessori Complete Bead Material Only, Without Cabinet

MONTESSORI OUTLET Colored Bead Chains & Squares

Bead Decanomial – Montessori Eductional Materials Learning Tools Preschool Toys

And now, allow me to introduce you to this wonderful lesson in the Montessori Mathematics topic. 
In Montessori education, children are free to work on their own after a lesson has been presented. 
This bead cabinet is long and roomy, making it a perfect spot for children to work on their own. 
The bead cabinet includes bead bars, cubes, and more from the Montessori method. 
There are five levels or phases, and each phase lasts for a week.
Wumudidi Montessori Complete Bead Material Only, Math Teaching Aids Baby

IFITMONTESSORI Short Bead Chains and Wall Frame (C Beads), Montessori

Montessori Multiplication bead chains / with hanger

Five Montessori Math Concepts
Montessori Mathematics is especially well-suited for students interested in learning these Mathematical concepts: 
1 the Decimal System (using the golden beads)
2 skip counting (5, 10, 15, 20, etc),
3 multiples (of 2, 3, 4, etc),
4 squares (1×1, 2×2, 3×3, 4×4, etc) and
5 cubes (1x1x1, 2x2x2, 3x3x3, 4x4x4, etc) 
In order to build a strong foundation for the rest of their mathematical understanding, they first used concrete techniques such as these concrete Math Montessori beads to teach and reinforce previously learned mathematics concepts.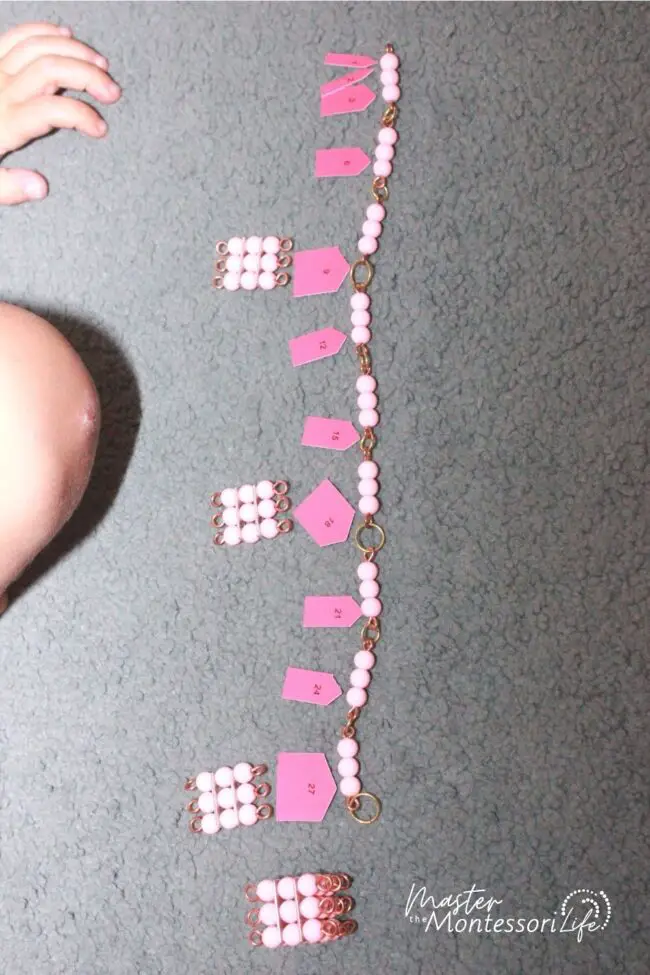 Should you get a Montessori Math Bead Cabinet?
In other words, even though this bead cabinet is somewhat of an investment, the Montessori materials for Math are valuable because they have many, many different applications, and children absolutely love them! 
Furthermore, this Montessori bead material is used in the Montessori preschool classroom, as well as the elementary classroom, which means you will be able to use it for many years. 
It is one of the best Montessori Math materials. 
When your child becomes a toddler, you'll be in awe of how the child's senses will be affected by using these concrete materials.
The Montessori Math Bead Cabinet Printable Resource
When you look at the bead cabinet, you will see the 4 levels:
-the top shelf
-the second shelf
-the hanging beads
-the side floating shelves
Use them separately or together with this printable activity.
Montessori Math Bead Cabinet Arrows, Beads + Lesson Plan
$2.99
Look at this product and you will discover some printables for the Montessori system that you can download.
---
You are going to really enjoy showing the child how to skip count the 1s, 2s, 3s, s and 5s using Montessori Math Beads and the arrows.
EU BUYERS, GO HERE.
As you are setting up your Montessori Math Bead cabinet, you will be amazed at how beautiful it is and how useful it is.
We have owned ours for about a decade and still use it for algebra!
Can you believe it?!
Resources mentioned in training
Like I said at the beginning of the show, I have a FB group for all things Montessori that you are welcome to join. 
It is called The Montessori Way Prep Room.
If you want to join a homeschool Facebook community, then join The Natural Homeschool Community!
Episode 28: Fantastic Montessori Math Materials Worth Having