Let me show you how to do foreign languages for kids the Montessori way with three simple activities that you can incorporate daily.
---
Is it something you've been thinking about: how to introduce and teach children key vocabulary in foreign languages while keeping it Montessori-friendly?
Visit us to learn about the strategies that have worked for us over the years!
It's also a fantastic method for homeschoolers to employ, too.
The Montessori method of teaching foreign languages will be demonstrated.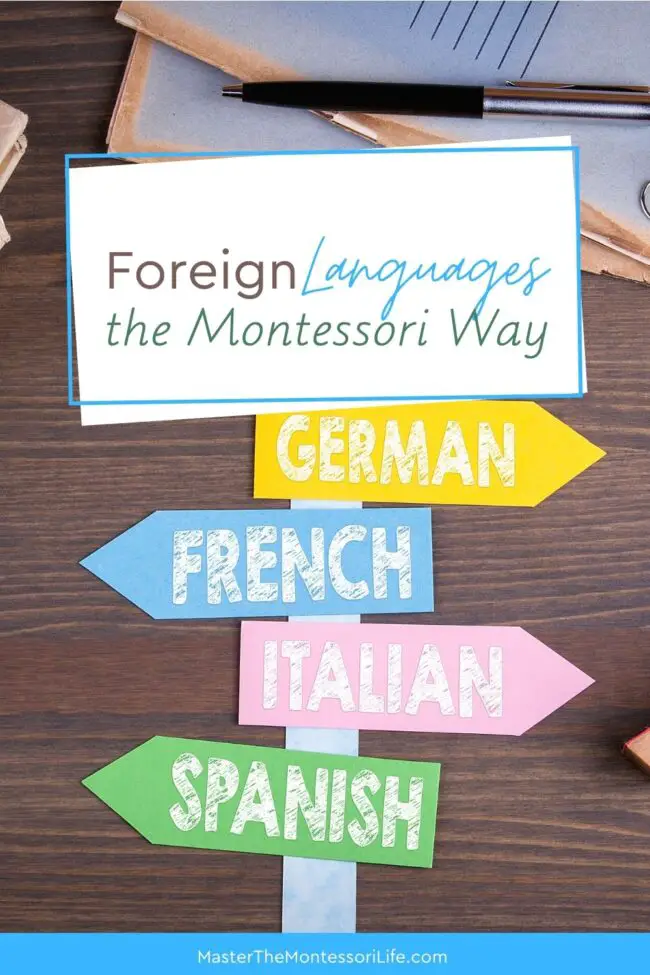 Watch & Listen to the Episode Here:
As you watch or listen to this training, know that you will be able to get more information than what is included in this blog post.
However, I really want to encourage you to take the time to watch or listen and take notes.
Importantly, this will be helpful to you now and in the future.
#1 Foreign Language Vocabulary Posters
Look at any Montessori Curriculum 3-6 and you will quickly notice that the lesson plans do not include foreign languages for the children in the classroom.
However, the fact that foreign languages are not included in the main core of the Montessori Method does not rule out the possibility of including them.
It is absolutely possible to incorporate it into your Montessori school or homeschool daily schedule.
Let's get this Montessori education party started!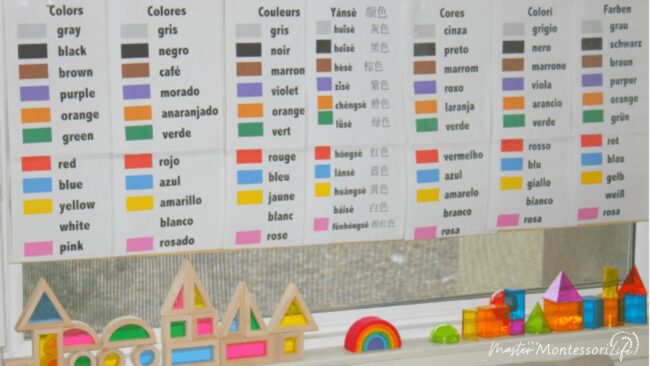 The first thing you need to include in your Montessori environment (in your homeschool room or at your Montessori school) are two sets of posters in different foreign languages.
One set of foreign language words is of colors and the second is of numbers.
This is important for for every language learner for several reasons.
One reason is that it gives children a great visual to begin the connection and recognition process.
The second reason is that it is the control of error for the Montessori works that you can make with them.
You can make these yourself or you can use the vocabulary words cards that we have for you.
There are two sets of Montessori 3-part cards, the one of colors in 7 languages and the one of numbers.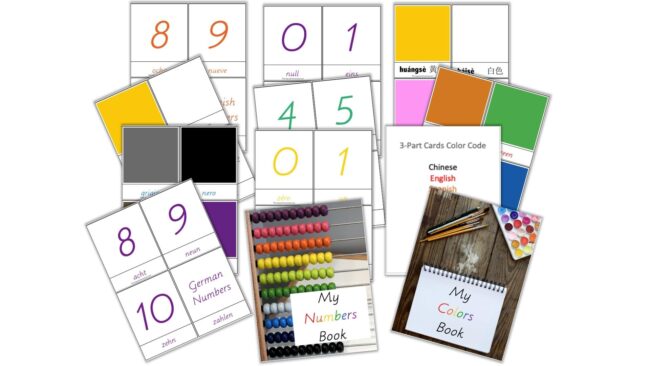 The languages included in this set are:
English
Spanish
French
Mandarin Chinese
Portuguese
Italian
German.
It is included in the printable a PDF of the Montessori lesson plan on how to use 3-part cards, in case you are unfamiliar with the method.
The truth is that I am a huge fan of three-part playing cards (also known as tri-part cards).
Three-Part Cards are useful for a variety of reasons, one of which is that they can be used to teach children almost anything at any level.
This includes foreign languages that are easier for children to comprehend with the card match activity.
It is perfect for any and every Montessori classroom.
As they become more familiar with the vocabulary, they will soon be able to use more complex words and phrases.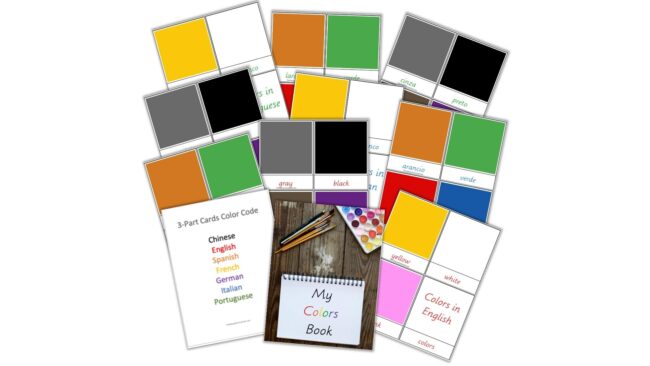 They unquestionably make language learning a lot more enjoyable and less difficult.
Because there aren't any original Montessori materials for learning a foreign language, but 3-Part Cards are a well-known staple in the Montessori Curriculum, why not use them to supplement what is already available?
They are unmistakably Montessori in inspiration and applicable in real life!
You might only include the Spanish posters and 3-part cards when doing Montessori at home if you want your children to learn Spanish first, for example.
If you were to be a fly on the wall in a day in the life of our homeschooling days, you will see how much these 3-Part Cards are loved by my children.
Why? Because they work! Maria Montessori would be proud to see these.
Remember that 3-Part Cards come with a built-in control of error (control card to check), which gives children a lot more independence in their learning.
It is the card that consists of the picture and the word.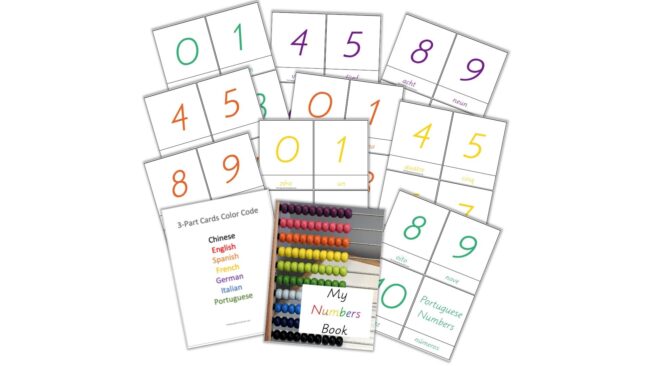 If you don't know how to pronounce the numbers or the colors in other languages, look them up on YouTube and learn along with them!
Watch the live training video above to learn just how we set them out in The Montessori environment and how we used the posters in different very beneficial ways.
I also show you how you can cycle through the bundle and the activities the maximize learning.
In Conclusion
Firstly, you are definitely going to enjoy incorporating these types of activities in your Montessori environment.
Secondly, you will enjoy watching children learn an you will also pick up a few new words as well.
HERE'S THE RESOURCES MENTIONED IN THIS EPISODE:
Like I said at the beginning of the show, I have a FB group for all things Montessori that you are welcome to join. 
It is called The Montessori Way Prep Room.
If you want to join a homeschool Facebook community, then join The Natural Homeschool Community!