In this post, we will be discussing an easy way for young children to learn about the coins of the world.
---
When you are looking into what the Montessori cultural curriculum entails, you will find out that it covers several sub-subjects under it.
One of these sub-subjects is Montessori Geography.
This is the subject where children learn about countries of the world, where they are located and a lot more information about these cultures.
Besides learning the physical Geography materials, such as Geography puzzles, we can use other great hands-on Montessori resources for teaching kids.
We have a huge bill and coin collection from all over the world.
It is so much fun looking through them and, as we learn foreign languages, it is fun to read them on the bills and coins.
In this post, we will be discussing an easy way for young children to learn about the coins of the world.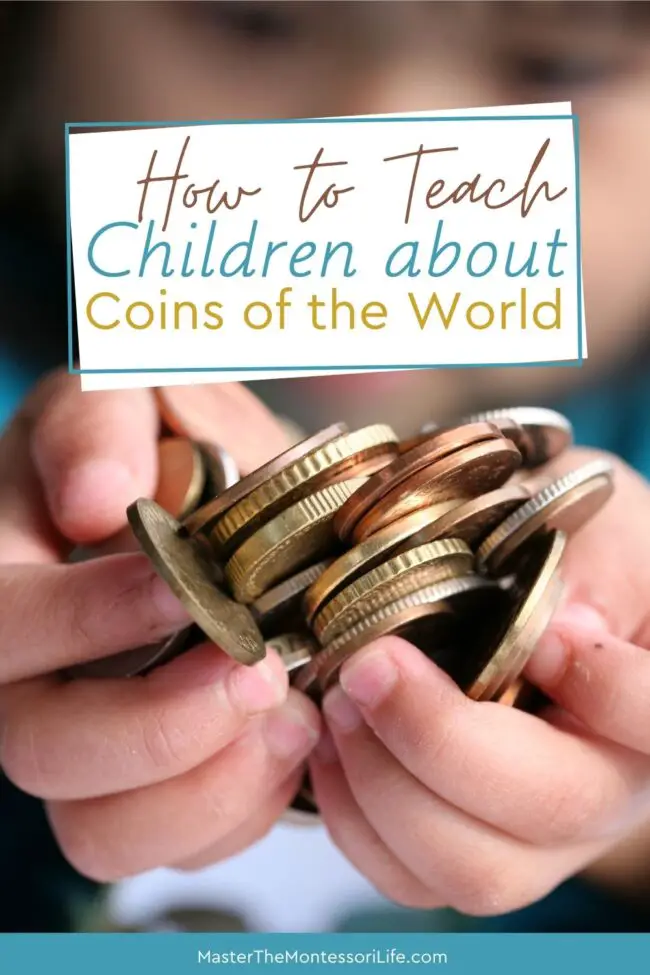 Important Note
I want to tell you that we have thoroughly enjoyed activities with coins from around the world with many children over the years.
But some of these coins are small.
Some of these coins are beautiful.
Some of these coins from other countries can be very tempting for some children.
It has happened before (not in my personal experience), that children have been known to swallow coins.
Yes, you read that right!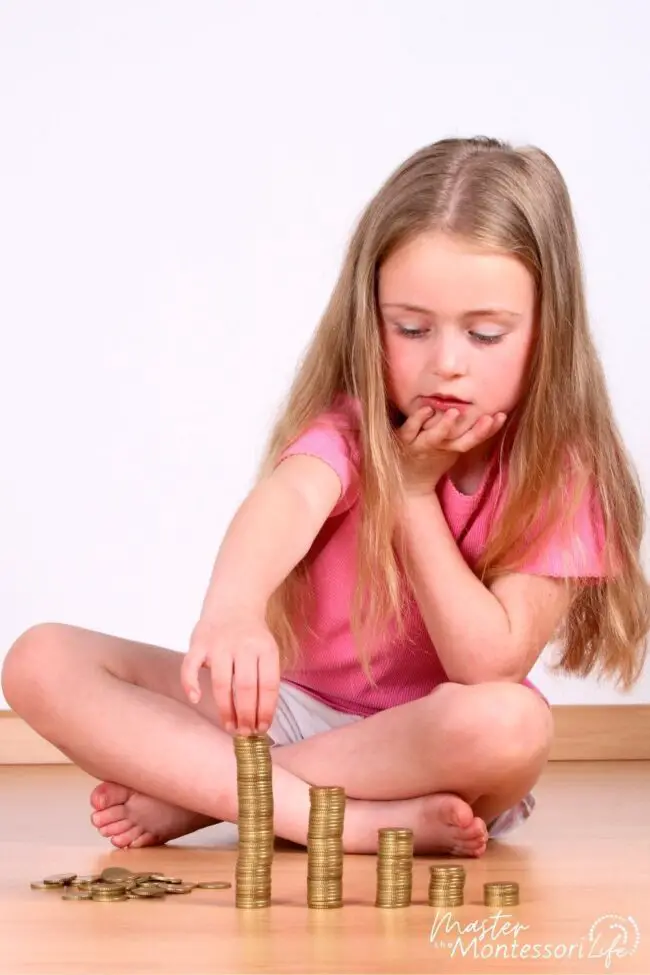 Some children have swallowed coins!
So, I would be remiss to go into this great Montessori hands-on activity without mentioning that we need to be cautious about this.
If the coins are very small, tape them to a piece of cardboard.
If the coins are small enough to swallow, they might need to be taped to a sheet of paper.
Whatever you wish to do to keep children safe, please, do it.
Ok, now that I have said my piece, let's get back to this activity.
Montessori Culture
Montessori Geography is a very special subject.
It crosses over to Earth Science, for example, when children learn about water forms and land forms.
But you can also cross over into traditional and cultural differences, such as coin collecting and learning about those coins.
It is a lot of fun looking at coins from different countries and from different continents.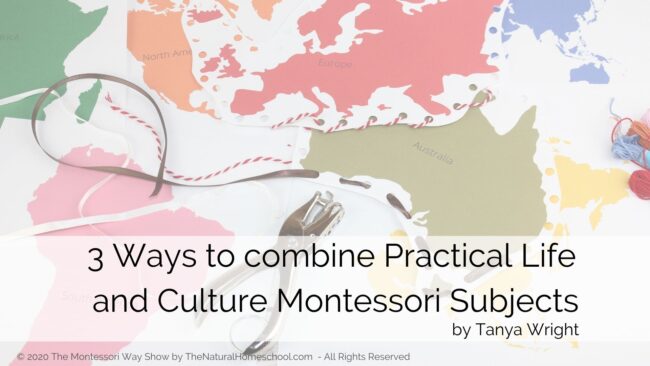 So, as you are planning your Culture studies for your children, consider the following ideas:
Use a magnifying glass to look at them closely, count the coins, separate the silver coins, the gold coins and the copper coins, counting practice and more.
You can set up many Geography activities in your Montessori classroom.
I highly recommend that you consider having a great coins of the world activity.
Here is a great training on some things that you can do for Geography activities.
Here is the activity that will solve so much of your overwhelm whe it comes to combining Montessori subjects for multiple uses!
Click on the image below to go to it.
The great thing about this coins of the world topic is that you can teach children several subjects in one!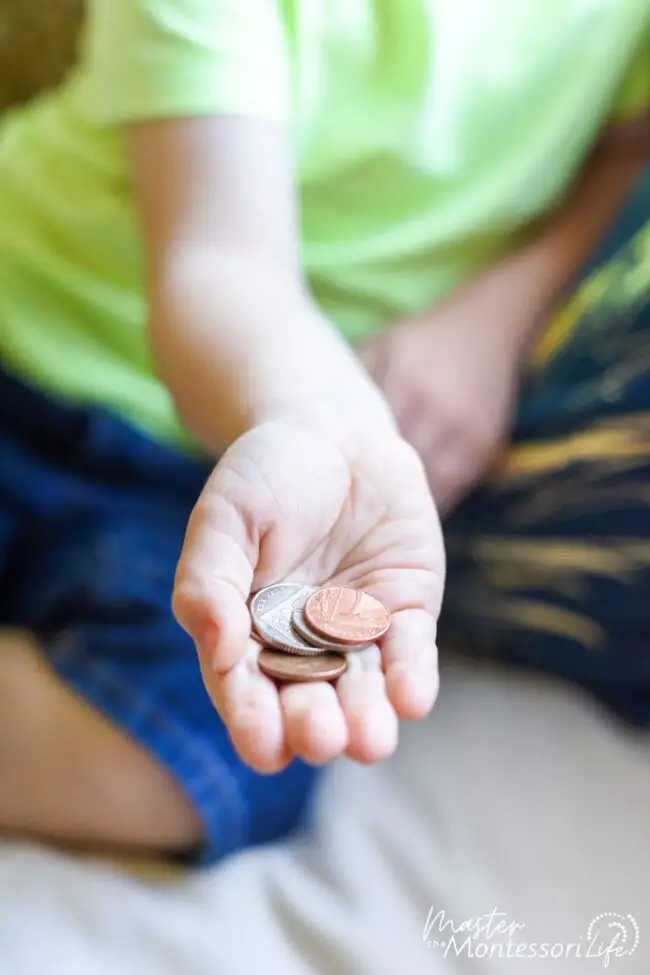 You can use coins of the world for:
Culture: Learn about these countries
Geography: Find out where these countries are on a map
Practical Life: Set up a coin washing station
Math: Children learn the value of different coins of the world and start to count money.
Foreign languages: Read the words on the bills and coins from around the world
Can you think of another activity that covers another subject?
Can you think of a Montessori Sensorial activity?
Well, if you thought of using a scale to weigh coins, for example, then you're cooking up some wonderful ideas!
Keep them coming!
You won't regret putting in the time to really think of some ideas.
Coins of the World Resources
Here are some fantastic hands-on Montessori inspired resources that you can use with your children as the learn more about coins of the world.
Use them as much as you can, especially the 3-part cards set below.
It includes a lesson plan and you know what?
It goes along with the Little Passports coins of the world, so order that set.
You can find it below, too.
What I love about this 3-part cards set is that the lesson walk you through the steps of using 3-part cards in the best way possible.
Also, it shows you the pictures of 20 coins, on both sides.
These 20 coins are from 20 different countries.
The 3-part cards also have the name of the country they are from and the name of the currency.
This set is very complete.
Montessori Culture Coins of the World 3-Part Cards Activity + Lesson Plan
$2.99
Standard Catalog of World Coins: 1801-1900 (STANDARD CATALOG OF WORLD

Over 50 DIFFERENT World Coins (1/2) Half Pound Grab Bag

National Geographic Kids Everything Money: A wealth of facts, photos,

Click the image below to get this coin set online.
Like I said, the 3-part cards lesson plan and activity goes perfectly with these coins.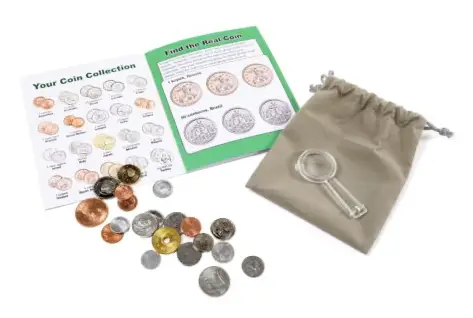 Here are some more relevant and educational Montessori Geography lessons and activities.
Take a look at them because they might be exactly what you have been looking for!
What do you think?
Are your wheels turning now, in terms of how great, useful and multi-purposeful this hands-on coins of the world activity is?
Definitely consider it.
I think it's brilliant!
And what's better, your children will learn so much and be brilliant as well.