Here is the activity that will solve so much of your overwhelm when it comes to combining Practical Life and Culture Montessori subjects for multiple uses!
---
Many contact me on a regular basis to tell me that one of the most significant obstacles they face in implementing Montessori. Or maybe in taking the plunge is the overwhelming task of teaching all of the Montessori subjects in a single school year.
I completely understand what you're saying!
It can be extremely stressful, especially if you don't know how to do it. Or maybe if you are already doing it and are unsure if you are doing it correctly or not.
It should come as no surprise that you can use ONE Montessori work for multiple subjects (thank me later for this).
This will this save you time in the planning process. And it will also save you shelf space in your Montessori environment shelves as well!
This is the place for you if you are looking to become a centered and organized Montessori Guide. If you also want to nurture happy and normalized children and create smooth and successful Montessori days.
In the comments, tell me what you know about this topic, what you've tried that worked, and what didn't work. Also send me any questions you have as we get started with this training. I'll respond to everyone individually.
Here is the activity that will solve so much of your overwhelm when it comes to combining Montessori subjects for multiple uses!
In this case, it will be Montessori Practical Life and Culture for your Montessori environment.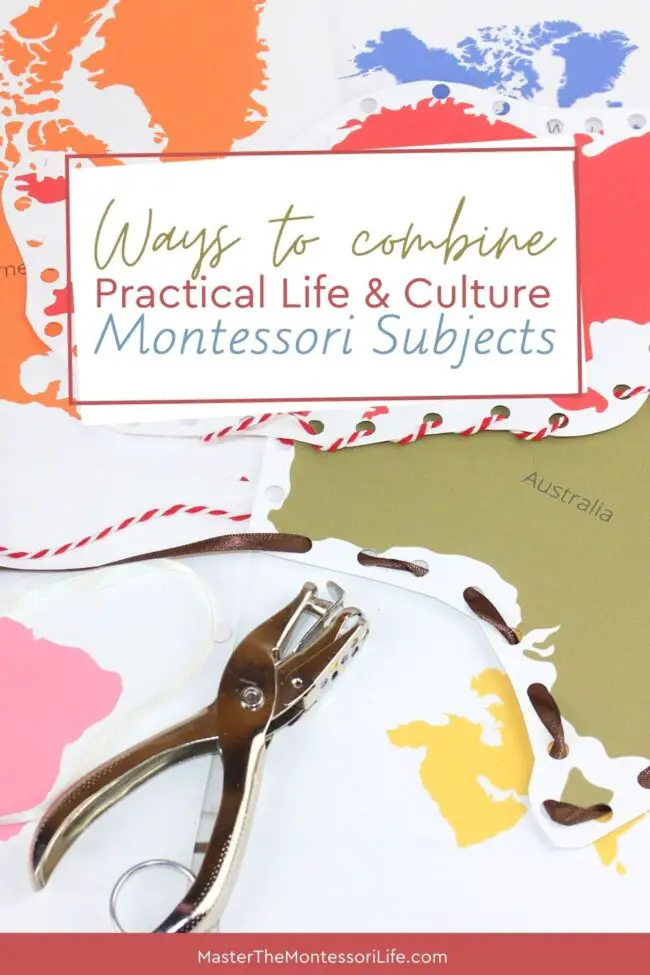 Watch & Listen to the Episode Here:
As you watch or listen to this training, know that you will be able to get more information than what is included in this blog post.
However, I really want to encourage you to take the time to watch or listen and take notes.
Importantly, this will be helpful to you now and in the future.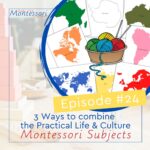 #1 Montessori Geography & Practical Life Fine Motor Skills Continent Cork & Pin Activity
If you have used or have any knowledge of the Montessori Practical Life curriculum, you are aware that it encompasses a wide range of abilities and competencies.
Some of them are pouring water, showing grace and courtesy, and teaching practical life skills, among other things in Montessori education.
History and geography are included in the subject of Montessori Culture, which is also known as Montessori Culture.
For example, children learn about land and water forms and the Montessori world map while participating in geography activities in the Montessori Culture program.
The following Montessori activities will combine one Practical Life skill with one Culture activity, which will result in a total of three activities.
This one is fantastic for a variety of reasons, including how this exercise builds hand muscles in toddlers and preschoolers.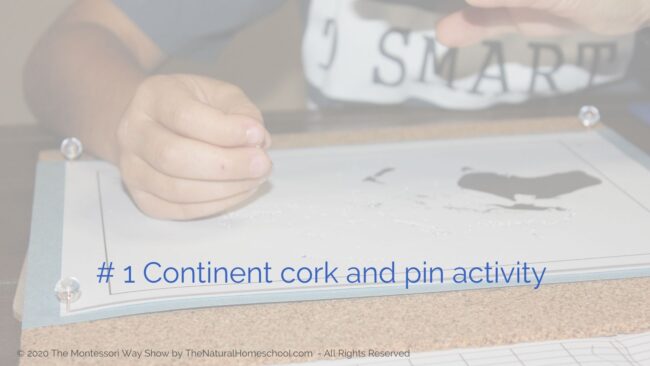 You will need:
a copy of continent outlines on letter-sized paper
a child-sized cork board that a child can carry to and from the shelf
a handful of pushpins (one needs to be easily held by a child's hand)
Look at the photo below. The continent sheet will be pinned to the cork board first, followed by the other continent sheets.
After that, you will instruct the child to repeatedly push the pin through the continent outline in order to create perforations all around it.
Because my children have been doing this for quite some time, they have been promoted to doing it with two pieces of paper.
One has the outline of the continent (for error control), and the one beneath it is completely blank.
In this manner, once completed, they will be able to hold the bottom (blank sheets) up against the light and only see the perforations, much like you would see constellations.
It is a breathtaking sight to behold!
#2 Montessori Culture & Practical Life Coins of the World Washing Activity
Washing things is one of the most important Practical Life preschool activities for your Montessori homeschool, and it is one of the most enjoyable.
It is, without a doubt, one of the most beneficial Practical Life exercises because it teaches every child to pay close attention to the details.
They take great pride in cleaning and maintaining their surroundings.
And then there's the part about culture (geography).
Specifically, we will be using coins from all over the world in this instance.
You will instruct the child on how to wash the coins while he or she is at your washing station.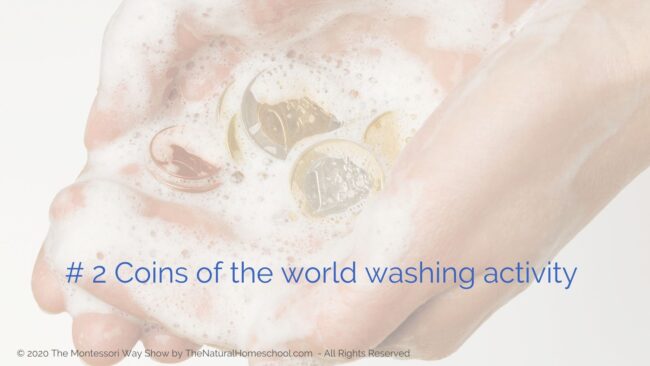 For this activity, you will need:
a wash basin
a child-sized brush (or toothbrush)
warm, soapy water
a set of coins from around the world
Watch the training video above to learn step by step how to guide the child in this activity.
You can also have Montessori inspired Language materials here to teach the names of the countries the coins belong to.
#3 Montessori Practical Life & Geography Continent Lacing Activity
The Montessori Geography printables would round out my post perfectly, and I couldn't leave them out!
Why? Because I absolutely adore them!
They are extremely beneficial in a variety of ways.
Consequently, for this activity, I want you to pay close attention to how you can use the continents to help you with the lacing exercise.
The Culture (Geography) portion of the program involves learning the names, shapes, and colors of the Montessori continents.
Practical Life is represented by the lacing.
Lacing is the first step on the path that eventually leads to the art of sewing.
Make use of these in a variety of ways and at various levels to teach children this important ability.
Key Takeaways
Your Montessori classroom doesn't have to be segregated by subjects all the time.
It is ok to have works that incorporate more than one subject at a time.
Have several dual subject activities in your curriculum areas.
Spark social interactions with these sometimes, by including them in your Circle Time.
Your Cultural area of Montessori materials where children work can have other great activities such as a puzzle map and a globe.
Resources mentioned in training
I hope that these suggestions have gotten your wheels turning and that you will put them into action right away!
THIS IS A LIST OF THE RESOURCES THAT WERE MENTIONED IN THIS EPISODE:
As I mentioned at the outset of the show, I have a Facebook group dedicated to all things Montessori, and you are welcome to join it.
It is called The Montessori Way Prep Room.
If you want to join a homeschool Facebook community, then join The Natural Homeschool Community!
Montessori Geography 7 Continent & World Lacing Activity + Lesson Plan
$2.99
Are you interested in combining two Montessori subjects into one activity? Then this is perfect for that! With this continent lacing activity, the child will practice fine motor skills (as part of Montessori Practical Life) as well as learn the shapes and names of the 7 continents and the world. It includes a detailed step by step lesson plan.
Animals in Winter: hands-on craft activity and lesson plan
$2.99
In this lesson, the child will learn about animals that hibernate, migrate and adapt in winter by making an Art craft that helps practice fine motor skills.
This printable PDF activity includes:
lesson plan with step-by step instructions, list of materials, direct aims, etc.
page with pictures of animals that hibernate, migrate and adapt in winter
labels for the 3 parts of the activity
*Craft materials not included.
EU buyers, click here.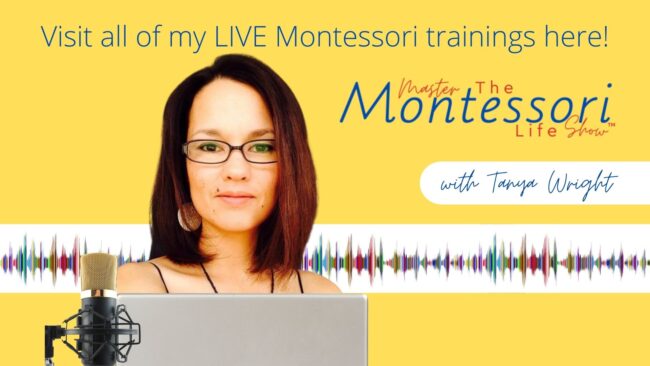 You May Also Benefit from these Important Montessori Topics:
As you learn more about Master The Montessori Life, you will realize just how much I strive to make your life easier.
I also seek to equip you, to inform you and to give you made-for-you options so you can keep moving forward on your Montessori journey without any speed bumps.