Putting together Master The Montessori Life website has been a labor of love these past few months.
It has also been quite exciting getting it to where it is now.
But what good is having all these wonderful resources when so many are missing out?
Although our traffic has been gaining traction and many are finding our resources enlightening and very helpful, we want to make this new site a go-to for many Montessori lovers.
So, to make things fun and exciting, I put together this awesome giveaway with one of our most popular resources!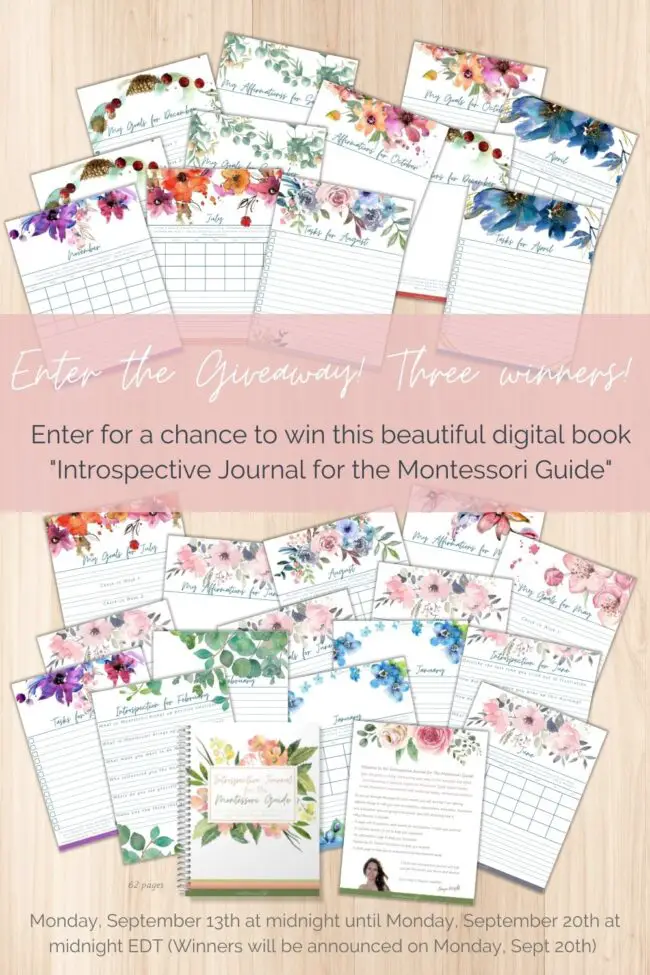 Giveaway info
Enter for a chance to win a digital book called "Introspective Journal for the Montessori Guide."
Each has a value of $17, it's 62 pages long. It comes in PDF form, so you can print it out year after year and watch Your Montessori journey flourish right before your eyes!
There will be three winners drawn.
The giveaway starts Monday, September 13, 2021 at midnight EDT and ends on Monday, September 20, 2021 at midnight EDT.
The more entries you fill out, the more changes you get to win!
Share this with friends and enter below!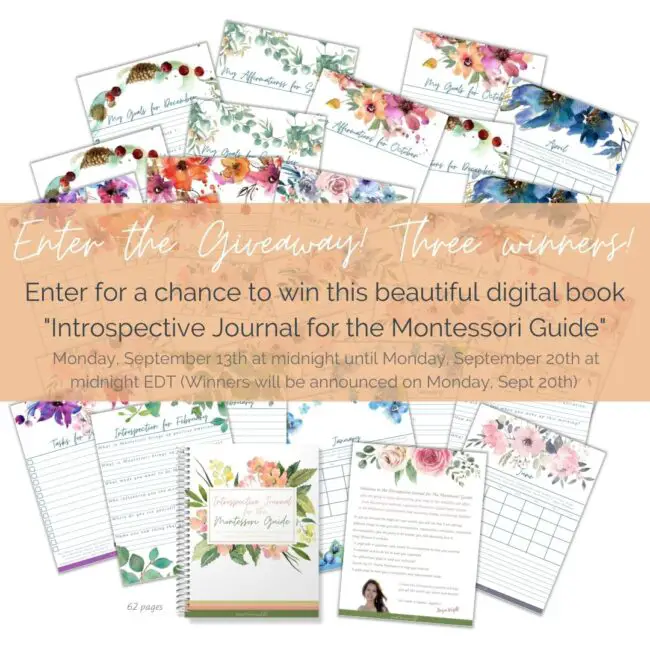 a Rafflecopter giveaway
This giveaway is open to all residents of the world with an internet connection and the ability to receive a PDF file. Void where prohibited by law. Must be at least 18 years of age. This giveaway is in no away associated with Twitter, Facebook, or Pinterest. No purchase necessary for entry. Odds are determined by the number of entries. Selected winner will have 48 hours to respond to email notification to claim their prize or another winner will be drawn. Entry into this giveaway will subscribe you to Master The Montessori Life email list. You may unsubscribe at any time.
Montessori Friendly Summer Printable Bundle

With this summer bundle, you will be equipped with everything you need to keep your children occupied and having a wonderful time while remaining indoors and celebrating summer from the comfort of your own home.

Do you need help in doing Montessori right?

Do you need help in doing Montessori to make sure that you are doing it right? Come and find out how to know what to focus on first, actionable steps to apply immediately and more!

Planning Montessori at Home (digital book)

Do you want to plan your Montessori at home, but don't know where to start? This 65-page digital book is going to give you the guidance you need to do it right from the beginning. There are some tips and tricks that many don't know will shortcut their planning by a lot.