I will help you understand how to set up dozens of Montessori Practical Life transferring activities and will set up the children for success.
---
The Montessori Method is a wonderful educational program that is widely used today.
It distinguishes itself for a variety of reasons, especially in the early childhood years.
One of the reasons for this is that it contains one of the most useful and interesting subjects available.
Practical Life is the name of this subject.
This subject teaches children skills that will assist them in transitioning from a state of dependence to one of independence.
It is well-known for emphasizing learning activities that promote self-care, grace and courtesy.
Don't forget to include compassion for others, and care of the environment.
You can read, watch, and listen to my live training session.
It focuses on three transferring activities, in this blog post.
All of these activities are part of the Practical Life Montessori curriculum.
I will assist you in comprehending how to set up dozens of Montessori Practical Life transferring activities.
But I'll also tell you how to prepare the children for success in these activities.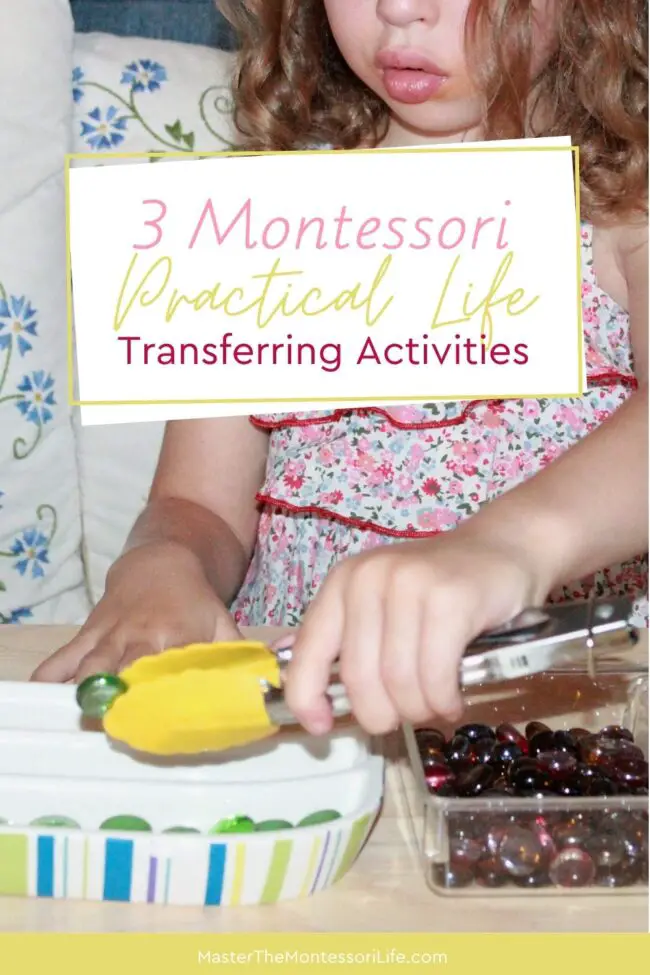 Watch & Listen to the Episode Here:
As you watch or listen to this training, know that you will be able to get more information than what is included in this blog post.
However, I really want to encourage you to take the time to watch or listen and take notes.
Importantly, this will be helpful to you now and in the future.
"The environment should reveal the child not mold him."

Maria Montessori
As you prepare your environments and the way that you follow the Sensitive Periods for that your child or the children that you're working with will bring the best out of them.
The Montessori Practical Life subject is one of my favorite ones.
Whether you are doing Montessori at home or in a Montessori school setting, it's in very unique to the Montessori philosophy.
It is one of the least expensive subjects because you most likely already own the items to use in your home environment.
I love it because it incorporates real life activities which bring confidence self-esteem and independence in the child.
I have said before in The Montessori Way Foundations Workshop that Practical Life activities are the ones that bring the fastest tangible transformation in a child from dependence to independence.
It is a staple subject in The Montessori Curriculum 3-6.
If you want a child to gain independence, to gain confidence, to gain self-esteem then you want to start with Practical Life activities.
Let's get started with these Montessori activities that are great for child development!
#1 Spoons
You can begin these activities with children as young as 2 years of age, depending on the activity.
This collection of activities is particularly appealing to Montessori toddlers.
In order to provide a safe and high-quality Practical Life area for young children, the Montessori teacher or guide will set up a Practical Life area for them.
You will provide them with a table and chairs that are appropriate for their size so that they can participate in these activities.
You will arrange the following items on a tray: items to be transferred, 2 bowls and transfer tool to be used for dry transfer items.
In one of the bowls, you will place the item that will be transferred.
It can be anything from beans to mini erasers to breakfast cereal to marbles to jingle bells to coffee beans, or anything else you have on hand that is suitable.
Because the items will be transferred to the other bowl, the other bowl is currently empty.
In this instance, a spoon will be used as the transferring tool.
Mini erasers and other small items can be found in the dollar section of some stores from time to time.
If you are working on this activity with a very young child, I would like you to begin by using breakfast cereal as a starting point.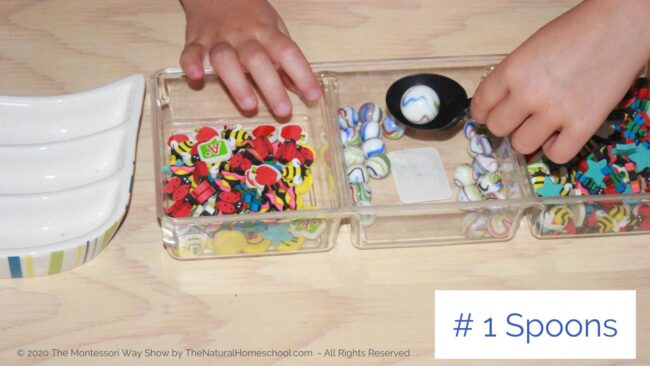 Using Spoons
This can be started at any time between two and three years of age, depending on the tool being used.
It's easier for the child to start with a tool that we provide and then progress to external tools, which is what we're concentrating on.
You should start with breakfast cereal or anything edible because the child will need to be able to transfer small objects from one object to another.
Small objects such as marbles, for example, can sometimes pose a risk of choking if they are swallowed.
Number one, you must ensure that this activity is always under your supervision in order to be successful.
Also important is that you set your child up for success by providing them with items in which they can be successful.
You must always supervise and ensure that the child is safe, as well as that they are capable of performing the activity in the appropriate manner.
Some people are concerned that this will encourage children to "play" with their food, and they have expressed their concerns in writing.
However, this is not a game. This is paid work, and they are learning how to live on their own for the first time.
When they are serving themselves independently, one of the skills they will need to learn is how to transfer food.
It is possible to use different types of spoons depending on the transferring material that will be used.
You can use small spoons or ladles that are appropriate for children.
#2 Tongs
The second transferring tool is tongs.
This will require more manual dexterity and control of movement.
You can have different kinds, from child-sized kitchen tongs to large tweezers and regular tweezers.
This uses a different set of muscles as they have to keep pinching the item during the entire time that the items is getting transferred.
Also, with this tool, the child will most likely transfer one item at a time, as opposed to spoons, which can hold more than one item.
The pincer grip that this activity focuses on is also a great pre-writing activity.
I highly suggest you start with spoons and then graduate to tongs.
If you decide to use cooked or uncooked rice for the tongs/tweezer activity, I suggest you don't put too many in the transferring bowl.
This is because it can take some time to transfer one at a time and become frustrating to the child.
#3 Chopsticks
Chopsticks are the most difficult of the fine motor activities to transfer out of the three, and I believe you can see why this is.
Even holding them correctly requires a great deal of concentration, let alone successfully transferring items from one bowl to another!
Even though it appears to be difficult, there are ways to assist the child, such as by using small plastic clips to hold the chopsticks together.
The applied pressure will assist the child in concentrating on the pinching rather than the manner in which the chopsticks are held.
Please see the examples provided below.
In addition to practicing fine motor skills and pre-writing skills, it is also a fun way to pass the time.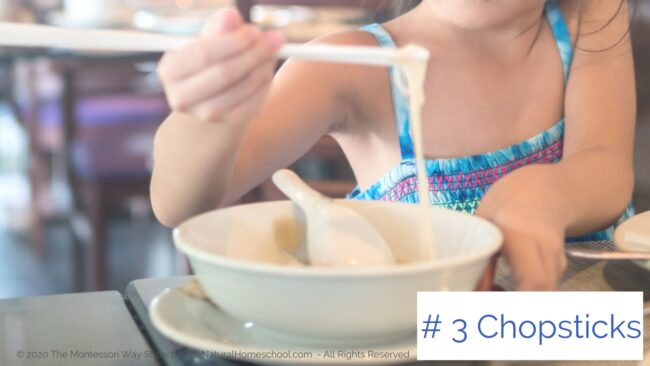 In Conclusion
Small items that you already have at home will be of great assistance in assisting your child to complete this activity successfully.
Concentrate more on the tools than on the items that you are transferring because there are SO many tools that you can use.
Try out the tools on your own before giving them to the child because some tools are more convenient to use first due to their ease of use than others.
Additionally, there are some transferring items that are more appropriate for certain tools.
When it comes to marbles, a spoon is preferable, tongs are preferable for mini erasers, and chopsticks are preferable when it comes to small pieces of foam or sponge.
THIS IS A LIST OF THE RESOURCES THAT WERE MENTIONED IN THIS EPISODE:
How can I teach my wiggly toddler? (digital book)
$9.99
This 44-page digital book will give you strategies to get to know your toddler, make a schedule that works for everyone and make learning successful!
It includes these chapters:
Introduction

Pros to homeschooling your toddler
Turning Toddler Homeschooling Cons into Pros
Your toddler's favorite activities
Tentative schedule for your toddler
Why downtime is important
Printable hands-on activities for toddlers
Use coupon code "welcome20" to get 20% off your first digital book!
As I mentioned at the beginning of the show, I have a Facebook group dedicated to all things Montessori, and you are welcome to join it.
It is none other than The Montessori Way Prep Room.
Please consider becoming a member of The Natural Homeschool Community, an online homeschooling community on Facebook.