Are you trying to think of Montessori friendly ideas that will get your children into the giving spirit? In this episode, we will be looking at some great acts of service ideas that you can implement anytime, but especially around the holidays.
---
Have you heard the term "random acts of kindness?"
Those are acts that you do for someone in the moment, as a need arises.
But there are also pre-planned acts of kindness.
The Montessori approach places a strong emphasis on acts of service to others.
Grace and courtesy, as well as the promotion of peace, are key elements of Montessori practice. This is whether at home or in a Montessori school.
These subjects are just as important as academic topics in terms of importance.
Why?
Because these issues have the potential to impact the world.
If you are looking to become a centered, organized Montessori Guide, nurture happy, normalized children and want to create smooth, successful Montessori days, then you are in the right place!
Let me know in comments what you know about this topic, have applied and what you have tried that worked. Also tell me what you have tried that didn't work and if you have questions as we get into this.
In this training, we will be talking about three different ways of doing acts of service the Montessori way.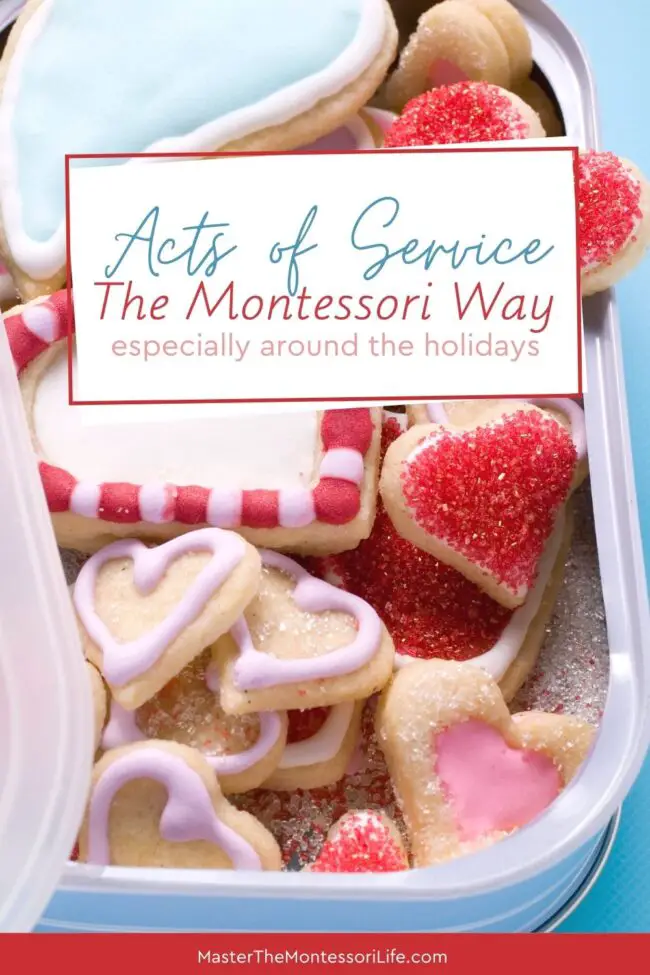 Watch & Listen to the Episode Here:
As you watch or listen to this training, know that you will be able to get more information than what is included in this blog post.
However, I really want to encourage you to take the time to watch or listen and take notes.
Importantly, this will be helpful to you now and in the future.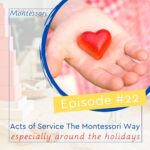 #1 Cook or Bake for Friends and Family
There are numerous Montessori activities that do not appear to be academic in nature, but are in fact academic in nature.
If you stop to think about it, the Montessori Method offers two courses that are very unusual in that they are not considered academic, but are yet fundamental to life.
These two courses, Practical Life and Sensorial, are not taught in any other educational approach, even traditional ones.
Baking and cooking in your own home or in a Montessori classroom may teach you a great deal about yourself and your surroundings.
For starters, math is used for measurements, oven temperature, and the usage of a timer, among other things.
When it comes to chopping ingredients, washing fruits and vegetables, and other such tasks, Practical Life takes over.
Young children will like participating in activities such as these, household chores and other similar Practical Life exercises, especially when they realize that the people who get the food or baked products will also receive affection as a result of their efforts.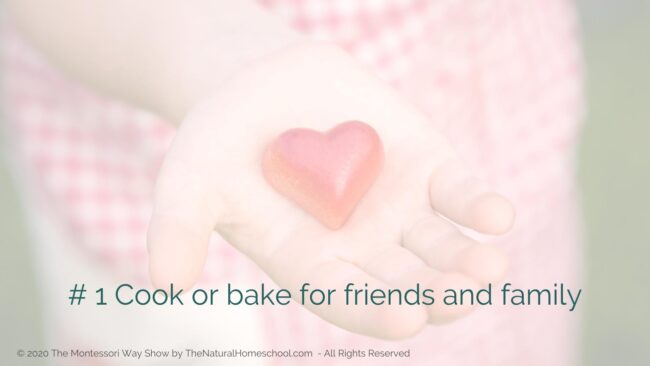 #2 Teach children to write notes or letters and deliver to loved one and strangers
We might alter our focus from giving and receiving gifts to penning words of affirmation. This is for those we care about in a time of lack of physical touch as a result of isolation.
It is true that words have tremendous power… both for good and evil…
Just imagine how much fun it would be to set up tables and chairs, attractive stationery, and pens or markers. It would be marked for a special activity and then encourage children to participate in it.
Even though you are not using the original Montessori materials, the principles of Montessori are being followed in that activity.
Students can learn to compose warm and pleasant letters by spending the necessary time brainstorming words of affirmation and thinking deeply about each person to whom they are writing a letter as they practice their fine motor skills.
They can even dictate the letter to you, and they can copy the message for you to give to friends, family, and even strangers if you so desire.
Yes, you are correct!
Why not write some heartfelt letters to youngsters in the local children's hospital or to those who are homeless in the local homeless shelter?
What do you think about writing letters to youngsters whose parents are in prison or to elderly people who are alone in a senior living facility?
The most important thing is that children are expressing love by spending quality time in person or through letters and other goodies.
Even care packages count, of course!
Have stationery in your Practical Life area for children who know how to write already, but explain the activity to them first.
#3 Promote peace in your home, community and the world
I realize that incorporating a Montessori toddler into the previous two suggestions may be difficult, but I didn't want to leave them out of such a vital responsibility as this one.
As a result, I made certain that they could be incorporated into this third section.
Promoting peace does involve dispute resolution, as well as helping with home duties and other activities, but don't overlook the most important aspect:
It is important to start at home, but it is also important to continue outside the family.
It is essential that it expand throughout our communities and the world.
When you stop to think about it, you can demonstrate and teach young children how to promote peace in a variety of situations.
Set a good example for them.
Demonstrate your affection, acceptance, empathy, helpfulness, and generosity toward them.
Discuss the meaning of these words.
Discuss what peace means to you and what it does not mean to you.
A printable list of peace-promoting ideas, as well as information about the Price Table (conflict resolution the Montessori method), are included in the bundle below. If you need more ideas, check out the other items in the bundle below.
Take a look at this!
Key Takeaways
For some of us, our love language is acts of service, so it comes easy to do it to others.
But to some of us, it isn't as easy or we are just not used to it.
Either way, it's ok. Awareness of it is always a good step.
Now, what you do about it is what can really make all the difference.
You definitely want to incorporate these kinds of Montessori Practical Life activities in your home.
There are many benefits to teaching children how to help others.
Make a list or a plan (fill out a calendar) to do several acts of kindness or acts or service a month.
Work up the excitement and be consistent and creative.
Incorporate it in Your Montessori education as much as you can.
Now that you have some things to think about, what are you going to implement or try first?
What do you think your children will enjoy most out of these three ideas?
Resources mentioned in training
Like I said at the beginning of the show, I have a FB group for all things Montessori that you are welcome to join. 
It is called The Montessori Way Prep Room.
If you want to join a homeschool Facebook community, then join The Natural Homeschool Community!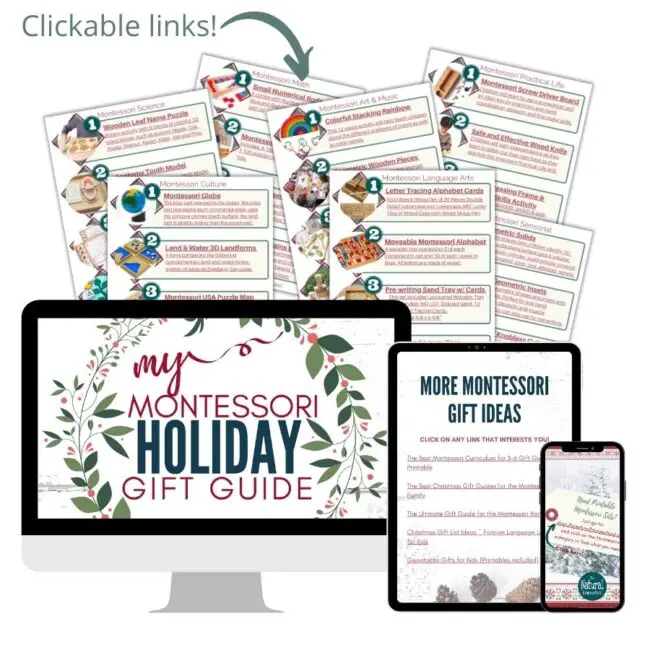 You May Also Benefit from these Important Montessori Topics:
As you learn more about Master The Montessori Life, you will realize just how much I strive to make your life easier.
I also seek to equip you, to inform you and to give you made-for-you options so you can keep moving forward on your Montessori journey without any speed bumps.