The winter vacations are approaching quickly.
Many people have messaged me asking how they may tie their Montessori learning to the holidays.
I completely understand how difficult it can be to know exactly how to do things correctly.
The idea is to avoid detracting from both the holidays and the Montessori experience.
If you are wanting to become a centered, organized Montessori Guide in yourself, nurture happy, normalized children and want to create smooth, successful Montessori days, then you are in the right place!
Let me know in comments what you know about this topic, what you have applied, what you have tried that worked, what you have tried that didn't work and if you have any questions as we get into this training.
Are you interested in incorporating the holidays into your Montessori environment?
Come find out some great printable and hands-on ideas that you might love!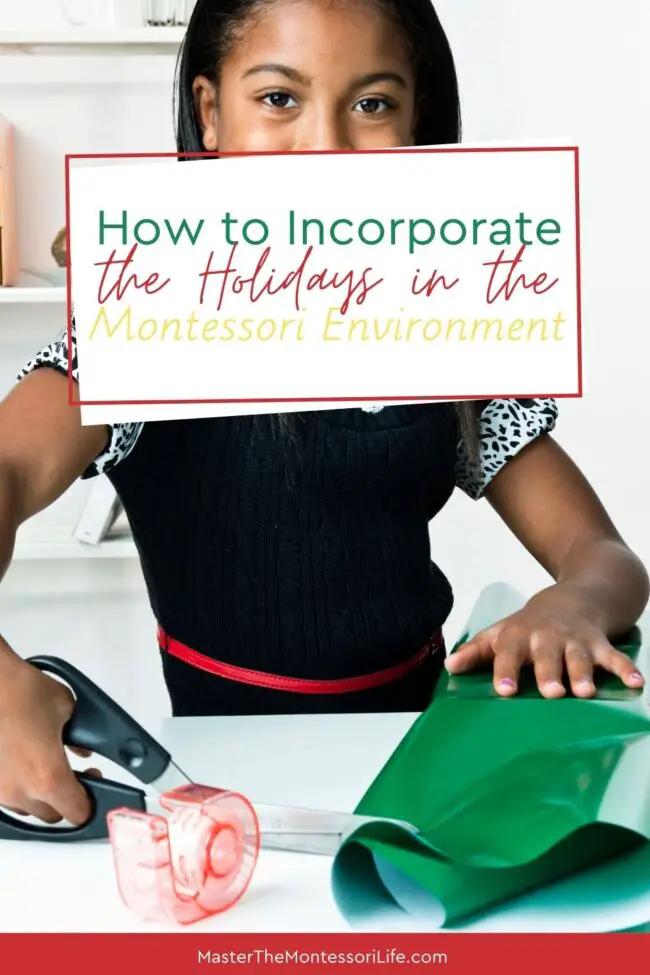 As you watch or listen to this training, know that you will be able to get more information than what is included in this blog post.
I really want to encourage you to take the time to watch or listen and take notes.
This will be helpful to you now and in the future.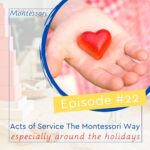 The Montessori Approach to the Holidays
In this instruction, I will not go into great detail about the concepts of reality and fiction.
There is a lot to say about this, but I also appreciate that it is a sensitive subject.
I'll link to a different training at the end of this one where I talk about Montessori and the theory between imagination and reality.
After you've seen the training, you'll be able to make your own judgments about how you'll use it during the holidays.
Perhaps you'll continue to believe that Santa Claus is real.
Or perhaps you'll take a second look and decide to change up that aspect of your holiday customs.
Whatever you pick, be socially aware so that you don't "ruin" it for others, as we must respect the decisions of others.
#1 Winter and Christmas Journals
It's logical that you'd want to make a connection between the holiday season and Montessori education.
This is something I've experienced first-hand and have done so successfully for years on end.
If you practice Montessori at home or at school, allow me to share my techniques for surviving Montessori holidays with you.
First and foremost, I believe that providing the youngster with a printable diary is the most natural way to go about it.
There are two that we have used during the course of our relationship.
Two journals are available: a Christmas journal and a Winter journal.
Both are beautiful and meaningful, with structure and order, but with enough flexibility to allow for new and exciting ideas to emerge each year.
They are ideal for creating an environment that is sensitive and intellectual in nature.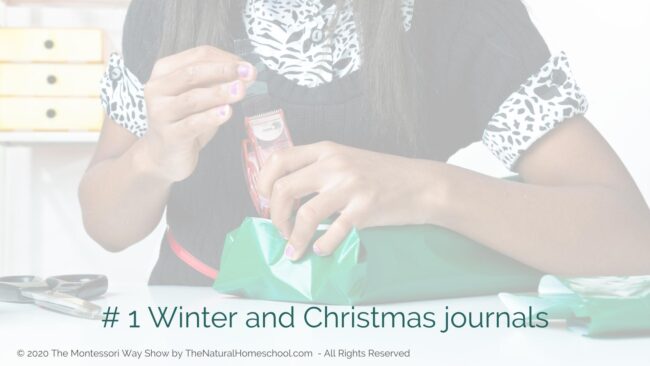 #2 Winter and Christmas Printable Bundles
No matter if you're conducting Montessori homeschooling or attending a Montessori school, you can use printable packages that are Montessori suitable but have a holiday or Winter theme as their focus.
Some of these activities can be used with a Montessori toddler, although they are primarily intended for children aged 3 to 6 years old, according to Montessori.
You can set up a table and chairs specifically for these activities in your home environment, or you can simply allow them to work on them wherever they wish in the space available.
When implementing Montessori principles in a multi-age classroom and incorporating holiday materials or activities, it is important to keep the concept of individual learning in mind.
Allow children to interact freely, but also plan activities that cater to their different learning styles.
The following are some examples of Montessori Materials that are themed around the holidays:
Bundles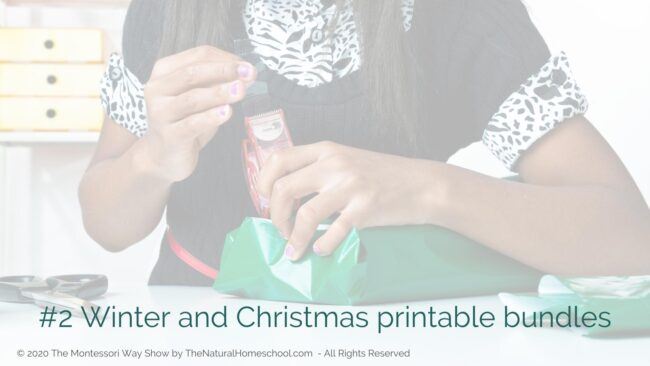 #3 Hands-on Montessori Activities
It is possible to use the concepts for the different lessons from a Montessori Curriculum to create your own hands-on Montessori holiday-themed activities if you are following the curriculum.
Having a good time while participating in a social atmosphere where youngsters can discuss the many holiday traditions from your country or from around the world will be a lot of fun for everyone involved.
For example, you could use Practical Life ideas to learn how to wrap a gift.
Alternatively, sensory materials such as the Geometric shapes or the Language Arts metal insets can be used to create handcrafted gift tags using the Sensorial material.
Whatever happens, it will be entertaining.
Check out the resources list below for a list of some fun, hands-on Christmas and winter activities.
You will be able to receive a fantastic free download from this website.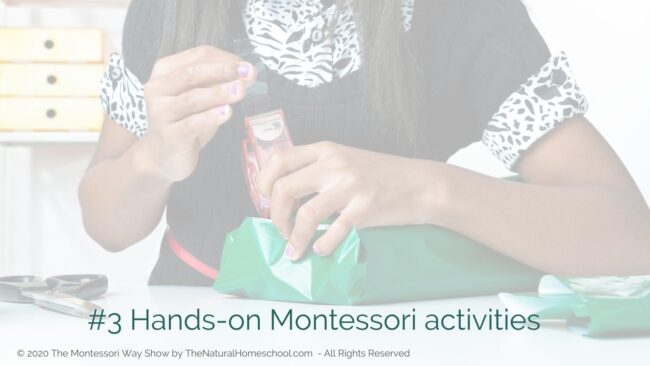 In Conclusion
Now that you have these three ideas in mind, you have everything you need to get started right away!
And the best part is that once you have these ideas and even the PDF files, you will be prepared for this season, year after year!
HERE ARE THE RESOURCES MENTIONED IN THIS EPISODE:
Like I said at the beginning of the show, I have a FB group for all things Montessori that you are welcome to join.
It is called The Montessori Way Prep Room.
If you want to join a homeschool Facebook community, then join The Natural Homeschool Community!
Resources mentioned in live show:
LIVE Training – Episode 9: Montessori – Fantasy friend or foe?
Visit our page with all LIVE trainings HERE.
If you are interested in getting exactly what you need for your Montessori environment, then you will love this FREE PDF download.It is a list with over 50 Montessori Materials ideas from Montessori Basic Essentials to an entire page dedicated to each Montessori subject.These include: Practical Life, Sensorial, Math, Language Arts, Science, Culture, Art and Music.It is a holiday gift guide, in case you needed gift ideas, but in reality, you can use this list anytime because the items listed as suggestions are not seasonal or holiday related.The links are clickable to learn more about each Montessori material if you open the PDF file on your computer and click on the images on the pages.Get this Montessori Holiday Gift Guide by clicking the image below or by clicking HERE!
You May Also Benefit from these Important Montessori Topics:
As you learn more about Master The Montessori Life, you will realize just how much I strive to make your life easier.
I also seek to equip you, to inform you and to give you made-for-you options so you can keep moving forward on your Montessori journey without any speed bumps.