Let's get into the Fall mood by learning how to teach Fall vocabulary words the Montessori way!
We are quite eager for Autumn. Really, every year is fantastic.
We love the holidays, the crisp air, the changing foliage, and the delectable treats and beverages.
We therefore offer a fantastic set named Fall Words for Kids to commemorate Fall. Yes! Happy Fall!
Aren't some fantastic Fall homeschool printables the perfect complement to the gorgeous season?
Favorite Fall Books
One of the best ways to teach Fall vocabulary words to children is by using books.
Read Fall-themed books to children that will inspire them to get in the mood and celebrate the lovely season of Fall.
Remember, there are rules or guidelines on which kinds of books can be used in the Montessori method.
If you don't know what I mean by this, please go to MY TRAINING HERE, then, come back to read the rest of this lesson!
Seed, Sprout, Pumpkin, Pie (Picture the Seasons)

What Can You See in Fall? (Seasons)

Apples (New & Updated Edition)

Set up your Montessori environment
That's right! You can decorate your Montessori environment for Fall in several ways.
You might want to simply decorate the room or you might want to also include Montessori works that are Fall-related.
If you want to get more fabulous details on how to do this, watch MY TRAINING HERE, then come back to read the rest of this lesson.
Use Montessori Fall Printables
Besides books and decorations, I definitely like to find ways for children to do Fall hands-on activities or works in the Montessori environment.
This gets them excited about what they are learning as they can see it all around them during that season.
But it also teaches them so much!
One of my top Montessori activities to teach Fall vocabulary words to children is a set of 3-part cards.
For your little ones to learn many of the terms we frequently use throughout the Fall (or Autumn) season, here are 24 printable 3-part cards.
Words like "pumpkin," "scarecrow," "apple pie," "leaves," "turnkey," "corn," "wheat," "tractor," and many more are available.
Click on the image below to learn more about this resource!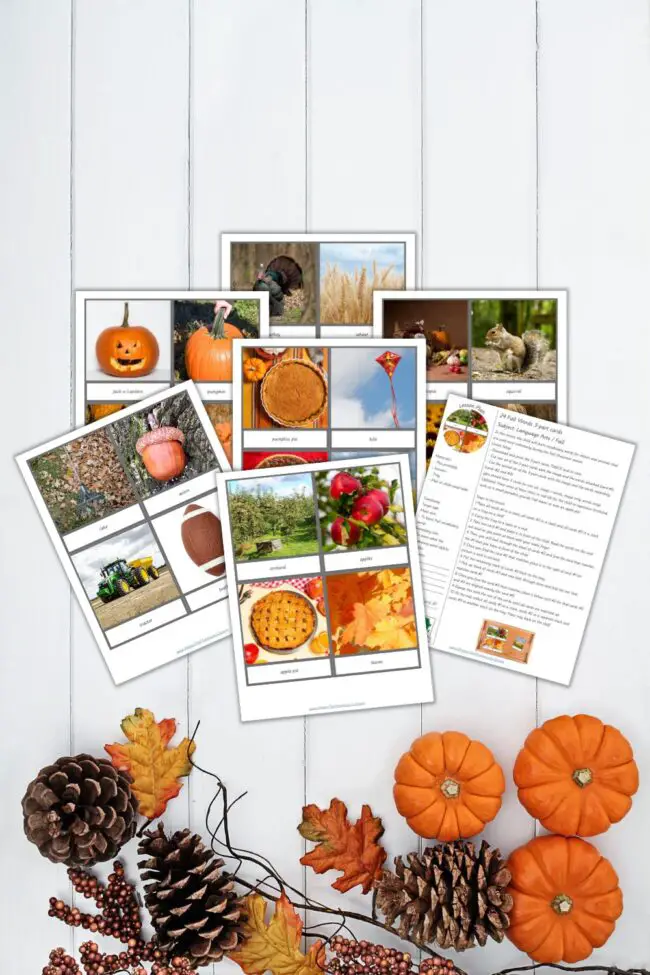 Get the Montessori Fall Printable Vocabulary Cards
Whether you know how to use 3-part cards or not, don't worry!
This set of 24 cards includes a lesson plan. In it, you will learn how to set it up and teach the child.
Once the child has had the 3-part cards presentation on how to use them, they will be able to do it independently.
Watch them blossom and learn in your Montessori environment with this set of 24 Fall vocabulary 3-part cards.
The photos are beautiful and everything aims to teach and educate the child about the beauty of the Fall season.
Click on the photo below to learn more about this resource!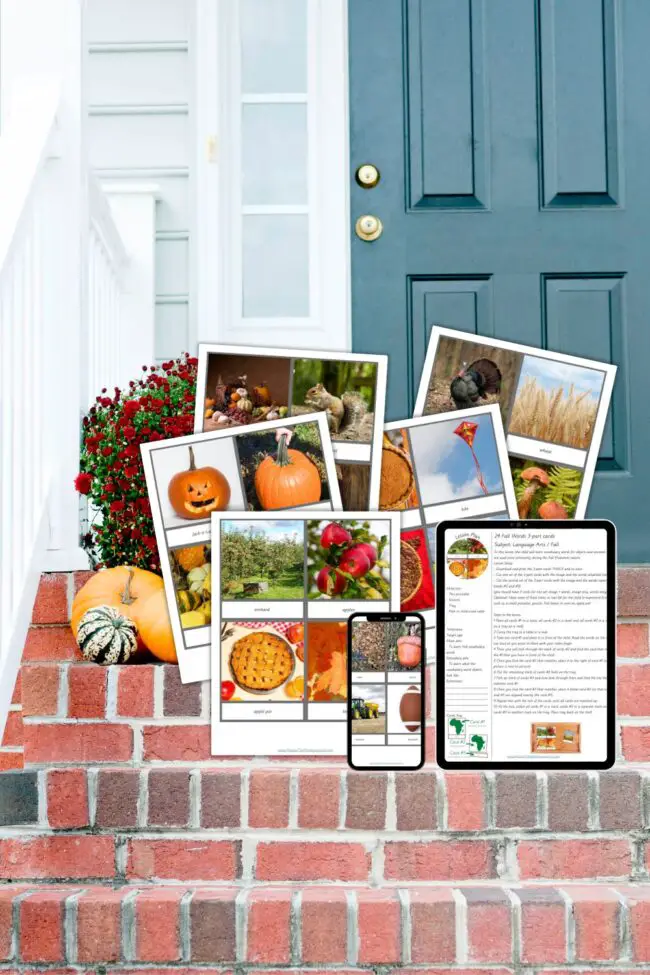 Get your own Fall resources here!
You might also enjoy these relevant topics: