What is a Montessori Peace Table? What is its purpose? What do you do with it and why is it such a big deal in The Montessori environment? Come and find out here!
---
Have you ever heard of a Montessori peace table, or something similar?
What in the world is that?
What is it, how does it function, and why is it important?
What you're really wondering is, "Why do you believe that every Montessori school and homeschool should have a peace table?"
Let me make it plain and simple for you to implement right away.
International Peace Day is celebrated on September 21st, but it is critical for our world to do everything in its power to grow, develop, encourage, and spread peace at all times of the year.
It is up to each of us to regain control over our emotions and make the decision to live in harmony.
The role of a peacemaker… the role of a peacekeeper… what a difficult task it appears to be!
Do you have any ideas about how to bring about world peace?
It all starts with our closest friends and neighbors, and it spreads from there.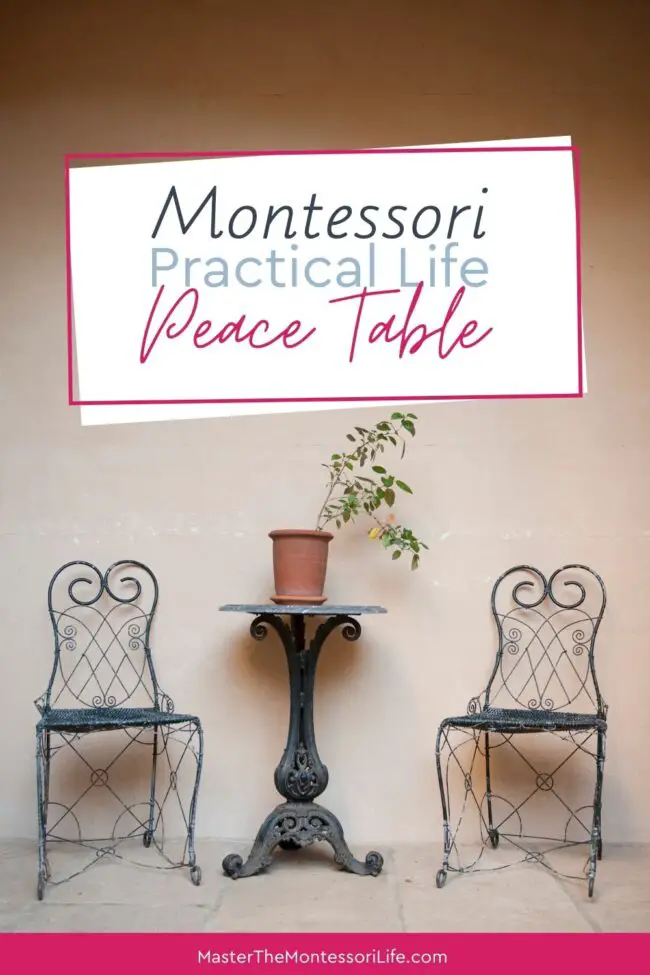 What is a Peace Table?
In short, using something as simple as a Peace Table will equip your children with the ability to better manage their emotions and their own behavior.
They will also assume control and responsibility for the resolution of the conflict, find a solution that works for both parties as well as serve as a peace seeker and a peacemaker in the process.
Interested in incorporating the Peace Table into your Montessori classroom?
And, yes, there are times when moms are required to bring us to the Peace Table.
And do you know what else? It is perfectly acceptable to do so. 🙂
"To let the child do as he likes when he has not yet developed any powers of control, is to betray the idea of freedom … . Real freedom, instead, is a consequence of development; it is the development of latent guides, aided by education." 

Maria Montessori
When you feel your child needs a moment of peace and quiet, gently walk that child to the Peace Table as you whisper to him/her in a peaceful and calm voice.
Allow your child to spend a minute or two there to be in silence and calm down.
The Peace Table is mainly used to encourage Montessori discipline and conflict resolution between the parties involved, but it is just as effective for inner conflict resolution.
Why is the Peace Table in Practical Life?
There are many Practical Life activities in The Montessori Curriculum.
Most, if not all, revolve around self, others and the environment in one form or another.
Sometimes, they overlap, so keep that in mind.
The child learns so much about their world in the first six years of life, but many focus on the academic side and things like motor skills.
There's nothing wrong wit these things, but there is a part of life that is overlooked many times.
That side is the one of surviving or living in the real world.
In other words, Practical Life.
"Discipline is born when the child concentrates his attention on some object that attracts him and which provides him not only with a useful exercise but with a control of error. Thanks to these exercises … the child becomes calm, radiantly happy, busy, forgetful of himself and, in consequence, indifferent to prizes or material rewards."

Maria Montessori
This is why Maria Montessori made it one of the most important subjects in her method.
A Peace Table is part of the Practical Life subject and should be in or near the Practical Life area because it engages children in many important skills, such as:
problem solving by staying calm
negotiated agreement with others
conflict management in a peaceful tone
how to resolve a conflict correctly
becoming an active listener
handle conflict situations
Why is the Montessori Peace Table important?
There is a scarcity of peacekeepers and peace seekers.
Teaching peace to children… this is why we must make peace a mainstay in our hearts and minds, but we would do our children (and their generation) a favor if we assisted them in developing peace in their own hearts and minds as they grow older..
It is common for human beings to experience intense emotions and/or have run-ins with other humans in their lives.
To be honest, when you put two or more children in the same room, it is almost inevitable that they will have at least one disagreement with each other.
"A room in which all the children move about usefully, intelligently, and voluntarily, without committing any rough or rude act, would seem to me a classroom very well disciplined indeed."

Maria Montessori
These conflicts can spiral out of control for a variety of reasons, including:
A) They don't know how to channel and communicate their intense feelings.
B) That is how these situations are handled in their immediate environment.
It's possible that they haven't learned or been taught the importance of being a peacekeeper.
Peace Resources for Children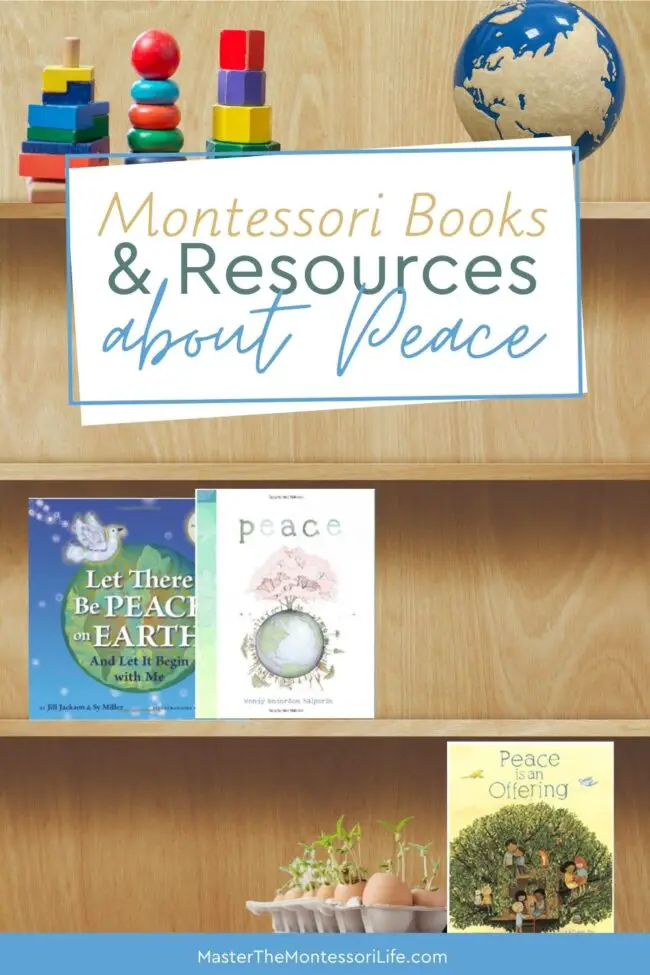 We begin by discussing the concept or idea of peace, and then we provide concrete examples that children can easily relate to in their own lives.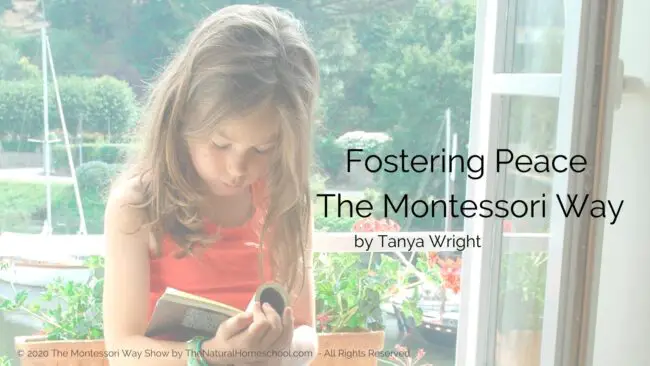 In this post, live training and podcast episode, I am going to give you 3 tips to: teach, model and grow peace in our lives the Montessori way. Click here