In this training, we will be talking about 3 of the best Montessori books that you MUST have and why!
---
Okay, I know what you're thinking, especially regarding Montessori books.
You're a fan of Montessori and want to learn more about it, but you're having trouble finding reliable resources.
You've arrived at a fantastic resource here about one of the best education programs in the world!
Because I want you to get guidance without feeling overwhelmed, I'm keeping it simple but thorough.
If you are interested in implementing Montessori at home, you will appreciate this list of Montessori books for parents that will help you get started on the right foot.
In addition, if you work in a Montessori school, you should take a look at these books because they are excellent Montessori resources for both teachers and parents who send their children to a Montessori school.
Let's Get Serious
If you are looking to becoming a centered, organized Montessori Guide (Montessori teacher), nurture happy, normalized children and want to create smooth, successful Montessori days, then you are in the right place!
Let me know in comments what you know about this topic, what you have applied, what you have tried that worked, what you have tried that didn't work and if you have any questions as we get into this training.
In this training, we will be talking about 3 of the best Montessori books that you MUST have and why!
Why three books? Because I want you to know more about the books, I don't want to overwhelm you with a huge list and I want you to get what you need to get started right away.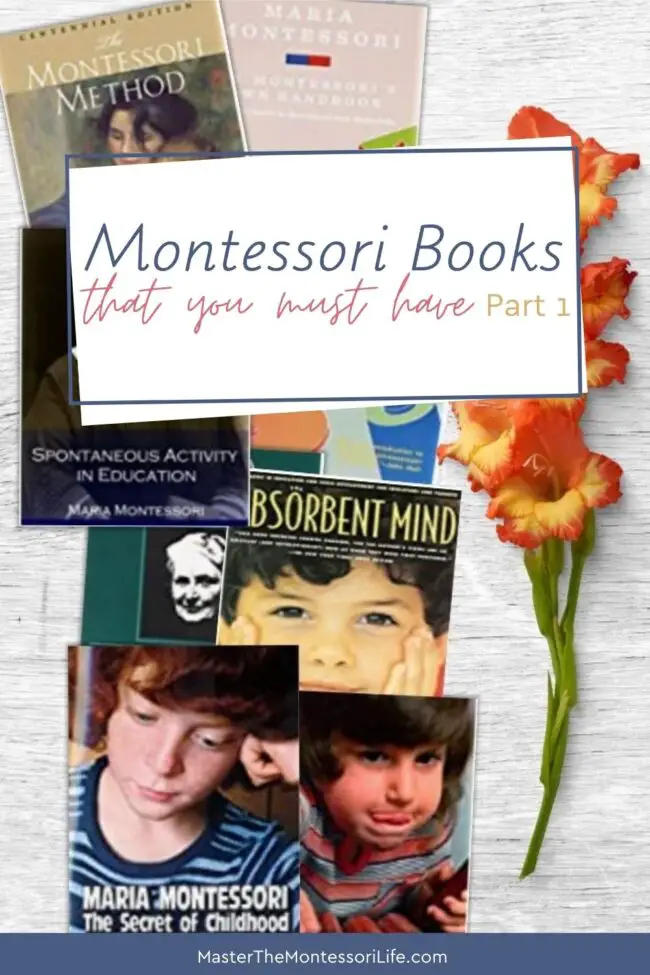 Watch & Listen to the Episode Here:
As you watch or listen to this training, know that you will be able to get more information than what is included in this blog post.
However, I really want to encourage you to take the time to watch or listen and take notes.
Importantly, this will be helpful to you now and in the future.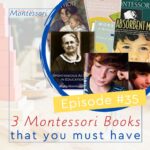 Are you interested in incorporating Montessori in the proper manner?
If you are a Montessori parent who is teaching your child at home full time or part-time after your child returns from school, you will undoubtedly benefit from this book.
Here's what some of the book's reviews and descriptions have to say about it:
This comprehensive account of the history, philosophy, and practice of Dr. Montessori's teaching method is Dr. Montessori's most comprehensive account of her teaching method.
For teachers, parents, and anyone else interested in maximizing human potential for the betterment of our society, this is a must-read.
Maria Montessori developed The Montessori Method. It captured the attention of social reformers and educators all over the world almost immediately.
The Montessori Method, which was first published in Italian in 1909 and has since been translated into twenty languages, including an English translation in 1912.
The Montessori Method

The Montessori Method

The Montessori Method

Important Quotes from the Book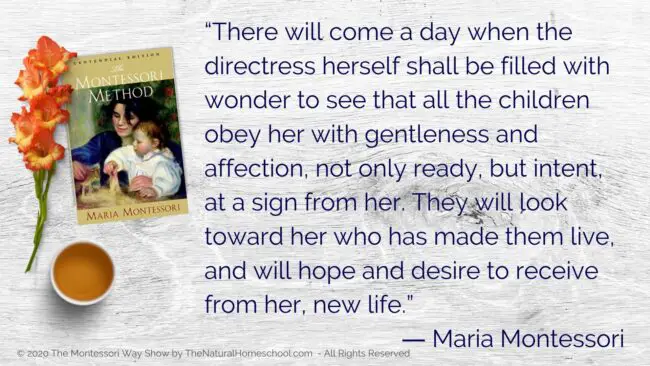 Children working with Montessori materials is one of the most beautiful things to behold.
For parents of Montessori toddlers up to and including about the age of six, this is an excellent book to read together.
It is an excellent resource for those who wish to teach Montessori while having a deep and thorough understanding of how a child's mind functions.
The primary reason that I wanted to give you this book after the method book and before the next one is that it is a foundational book in the field of psychology.
Other reasons include the fact that it is a more enjoyable read and that it prepares the reader for understanding how far we have strayed from a child-like mind and how to harness its full potential.
Here's what some of the book's reviews and descriptions have to say about it:
Her most comprehensive work on educational theory was The Absorbent Mind. It was based on decades of scientific observation of children and was her most in-depth work to date.
Her perspective on children and their absorbent minds was important to notice. It represented a significant departure from the educational model that was in place at the time.
This book was instrumental in igniting a revolution in education and child development.
The years since the publication of this book, there have been numerous cognitive and neurological studies that have confirmed what Maria Montessori had known for decades.
The Absorbent Mind: A Classic in Education and Child Development for Educators

The Absorbent Mind

[Absorbent Minds] [by: MONTESSORI]

Important Quotes from the Book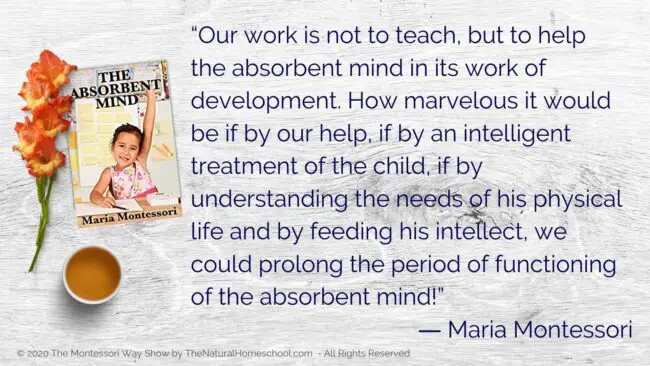 A child with a conscious absorbent mind is the key to human development in general.
And now, finally, we get to the meat of the matter.
This book is a must-have if you are involved in Montessori education from birth to age six.
It is far more significant than you realize!
This book contains real-life observations and thoughts that Maria Montessori herself had while growing up in Italy.
This is a fantastic book that everyone should read!
Here's what some of the book's reviews and descriptions have to say about it:
This is the book that Maria Montessori wrote. The book was written in response to thousands of requests from parents and teachers across the United States.
It is a brief, illustrated guide to the use of Montessori classroom materials. It demonstrates how to set up a "children's house."
That is a learning environment in which children can be their own masters, free to learn at their own pace.
Lacing and buttoning frames, geometrical wooden inserts, and colored numerical rods are all familiar features of any Montesorri classroom. This is whether it was established in the early 1900s or is still in operation today.
Dr. Montessori's Own Handbook

Dr. Montessori's Own Handbook: By Maria Montessori – Lined Pages For Writing

Dr. Montessori's Own Handbook (First edition 1914, illustrated version): original edition

Dr. Montessori's Own Handbook

Dr. Montessori's Own Handbook: A Short Guide to Her Ideas and Materials

A Montessori Handbook: 'Dr. Montessori's Own Handbook.'

Important Quotes from the Book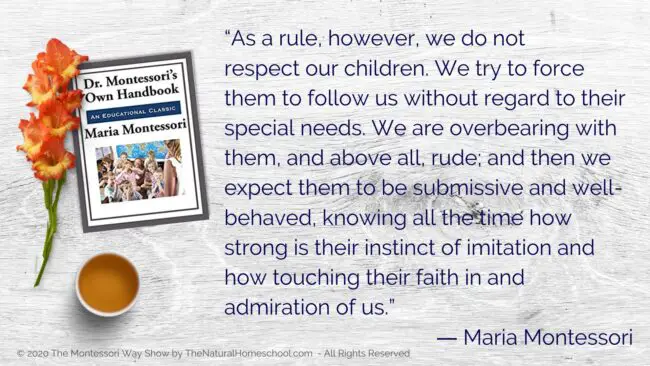 How to use these materials with preschool children is explained by Dr. Montessori. They stimulate their powers of observation, recognition, judgment, and classification.
Also, they are the original "teaching machines" for young children, as they are self-correcting learning tools.
They were created to sharpen the child's visual, auditory, and tactile perceptions. And they were inherently logical and aesthetically pleasing to look at.
Dr. Montessori emphasizes the fact that each child approaches the apparatus in a unique way.
The role of the adult, whether a teacher or a parent, is to following. It is to allow the child to experiment and recognize his or her own mistakes.
It is also to allow the child to take risks in the process of learning new things.
The truth is that children learn best in a mix-aged classroom than in public school.
Key Takeaways for the Best Montessori Books
Whether you want to get the book Raise an amazing child The Montessori Way, Montessori from the Start or any other Montessori book, don't miss this list!
Resources on the Best Montessori Books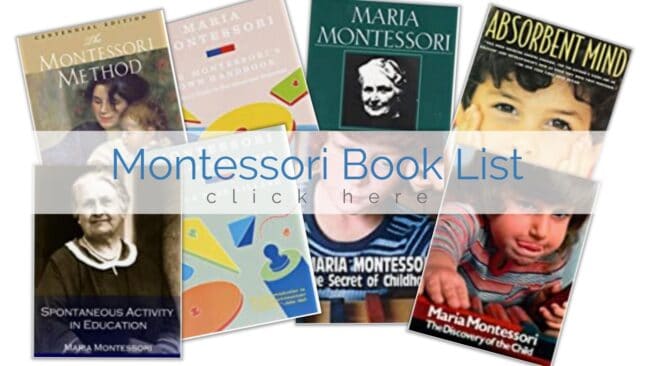 I have a FB group for all things Montessori that you are welcome to join.
It is called The Montessori Way Prep Room.
If you want to join a homeschool Facebook community, then join The Natural Homeschool Community!
anything else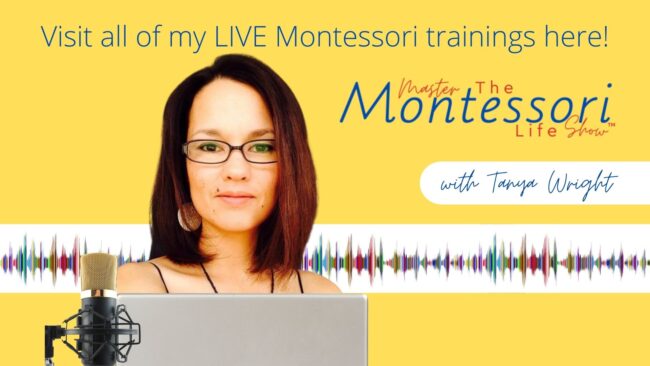 You May Also Benefit from these Important Montessori Topics:
As you learn more about Master The Montessori Life, you will realize just how much I strive to make your life easier.
I also seek to equip you, to inform you and to give you made-for-you options so you can keep moving forward on your Montessori journey without any speed bumps.