In this post, live training and podcast episode, I am going to give you 3 tips to: teach, model, grow and foster peace in our lives the Montessori way.
---
There are numerous reasons why the Montessori Method is an excellent educational program.
One of the reasons is that children learn about Practical Life, which is a subject that is both special and unique.
This subject is ideal for use in a Montessori environment, whether at home or in a school environment.
By the way, this is a Montessori classroom, which is found in Montessori schools.
Practical Life teaches the child a variety of life skills as well as fine motor skills that are useful in later life.
A good example of this is peace education, which is included in the Montessori Practical Life curriculum.
For the purposes of this article, live training, and podcast episode, three tips for teaching, modeling, and growing peace in our lives the Montessori way will be shared with you.
I hope you find these tips useful.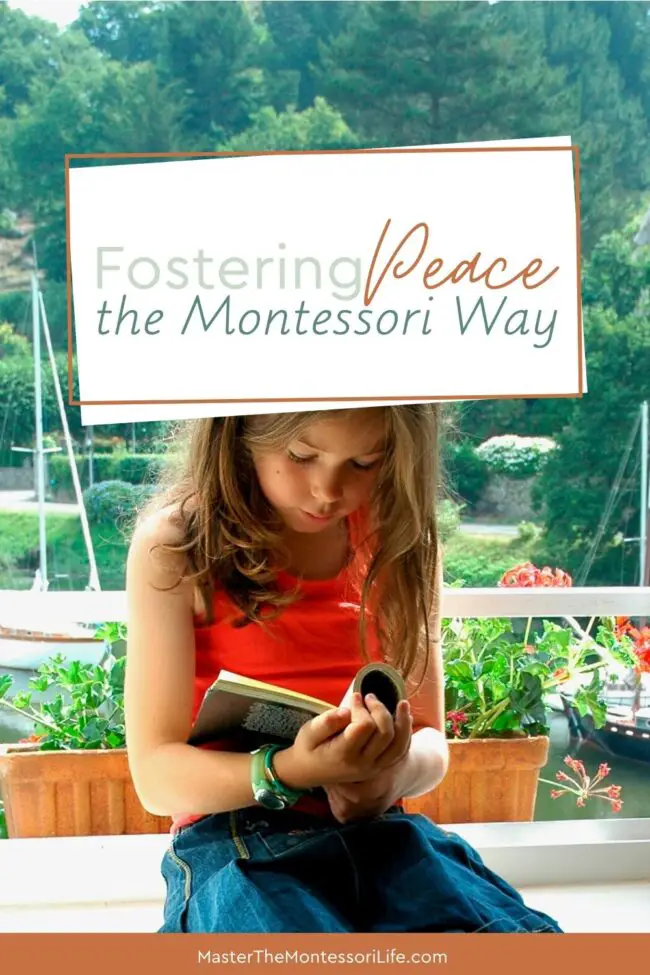 Watch & Listen to the Episode Here:
As you watch or listen to this training, know that you will be able to get more information than what is included in this blog post.
However, I really want to encourage you to take the time to watch or listen and take notes.
Importantly, this will be helpful to you now and in the future.
#1 Peace Words (Focusing on Self)
How to explain peace to a child is easy.
We, as Montessori teachers, can do it by example, but also by having an intentional discussion.
How do we teach kids about peace?
First off, we definite terms.
As you do, children will develop a great sense of what peace means and what it ides't mean.
Have a discussion with your children about different words that mean peace (synonyms).
Then, discuss words that mean the opposite of peace (antonyms).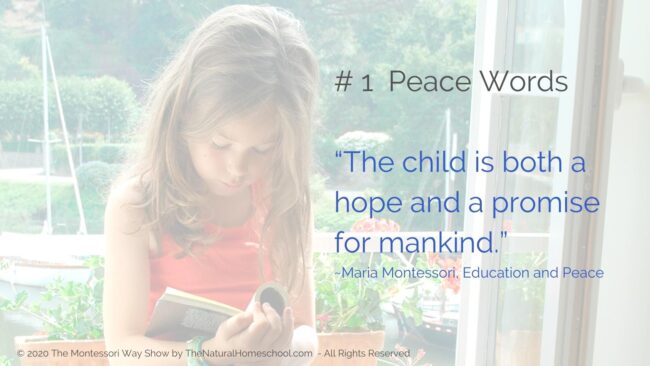 Make flashcards or cards with peace words that are appealing and pleasing to the eye to get the child's attention.
Include some quotes that will be helpful in explaining what peace means.
I say that this means that this activity focuses on self because we must first internalize and understand the word "peace" to be able to act out on it.
I highly recommend that you include this lesson in your Montessori Curriculum 3-6.
"The child is both a hope and a promise for mankind."

Maria Montessori
#2 Peace Table (Focusing on Others)
Have you ever heard of a Montessori peace table, or something similar?
What in the world is it? Can it be used in a Montessori homeschool?
What is it, how does it function, and why is it important?
But there's one question you might be asking yourself right now:
"Why should every Montessori school and homeschool have a peace table?"
Do you have any ideas about how to bring about world peace?
It all starts with our closest friends and neighbors, and it spreads from there.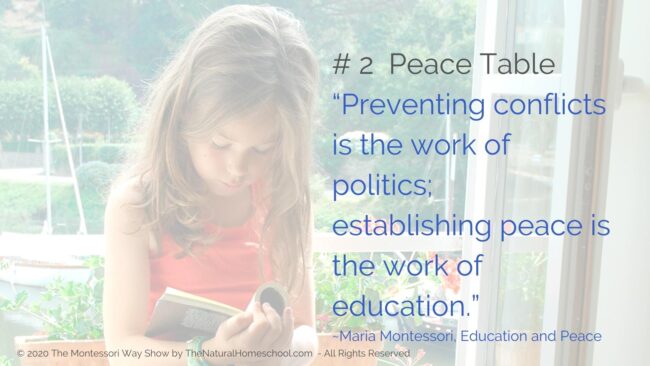 Steps
Before using the Peace Table for the first time, teach your children a lesson in grace, courtesy, and, most importantly, about peace.
Yes, children should be taught to live in peace in the multi-aged classroom.
Learn how to be a good friend by reading them books about peace and how to be courteous.
Bible stories are excellent resources for instilling character traits like these in children.
It would be important to make it clear what the purpose of the Peace Table is.
Children who are alone in the room are doing so because he or she needs to spend some time in silence and should not be disturbed in any way.
Explain to them how the timer or hourglass works as well, and allow them to practice using it on their own.
When the child is the only one present at the Peace Table.
They can take a deep breath and close their eyes to relax.
"The child is both a hope and a promise for mankind."

Maria Montessori
Conflict Resolution
Alternatively, they can gaze at the hourglass as the sand begins to fall, or at a plant, flower, or candle on a nearby table.
It is also possible for the child to choose to physically hold the piece of peace in their hands.
Each child should have a chance to practice this skill in Montessori education.
In my opinion, this is a concern for others because conflict resolution is essential for maintaining peace both internally and externally.
After that, the child with whom you need to work on a problem takes a seat at the table.
They discuss the situation and come up with a solution to the problem in a courteous manner.
There's more to it than that. Please see below for more information.
You do not require any specific Montessori materials for this activity, but you and your partner will require a few items.
They are listed in detail in the product that is listed further down on this page.
#3 Peace Acts (Focusing on the Environment)
This is the point at which you confirm that the child understands the meaning of peace as well as the opposite meaning of peace.
You also certify that the child understands and practices peace with others in the context of conflict resolution and conflict prevention.
In addition, the young children understand how to use the Peace Table.
Finally, you want to take the child out into the world and engage in peaceful activities with him or her.
It is possible to perform a wide range of different peace acts, so brainstorm and make a list of your ideas.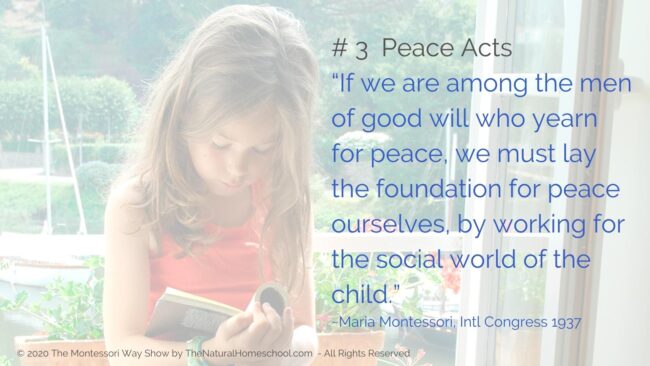 If you are at a loss for words, I have an opportunity for you to get one from someone else.
Make it a habit to go out and perform acts of peace on a regular basis.
This, I believe, will be centered on the environment in Montessori early childhood.
Another way to care for the environment is to learn about and put peace into practice.
It's a wonderful and beautiful thing to see, especially if their Sensitive Period for this is open.
"If we are among the men of good will who yearn for peace, we must lay the foundation for peace ourselves, by working for the social world of the child."

Dr. Montessori
In Conclusion
As you help the child find a quiet corner in the prepared environment to think over this important character trait, give the child all the time they need to ponder on some ideas and some things that Dr. Maria Montessori suggested.
HERE'S THE RESOURCES MENTIONED IN THIS EPISODE:
Like I said at the beginning of the show, I have a FB group for all things Montessori that you are welcome to join. 
It is called The Montessori Way Prep Room.
If you want to join a homeschool Facebook community, then join The Natural Homeschool Community!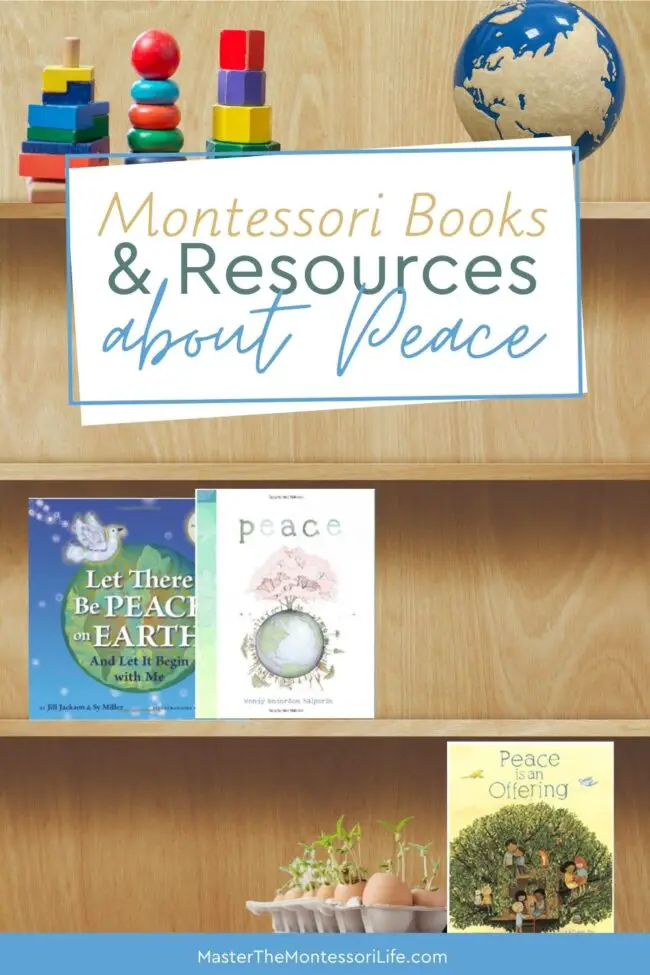 We begin by discussing the concept or idea of peace, and then we provide concrete examples that children can easily relate to in their own lives.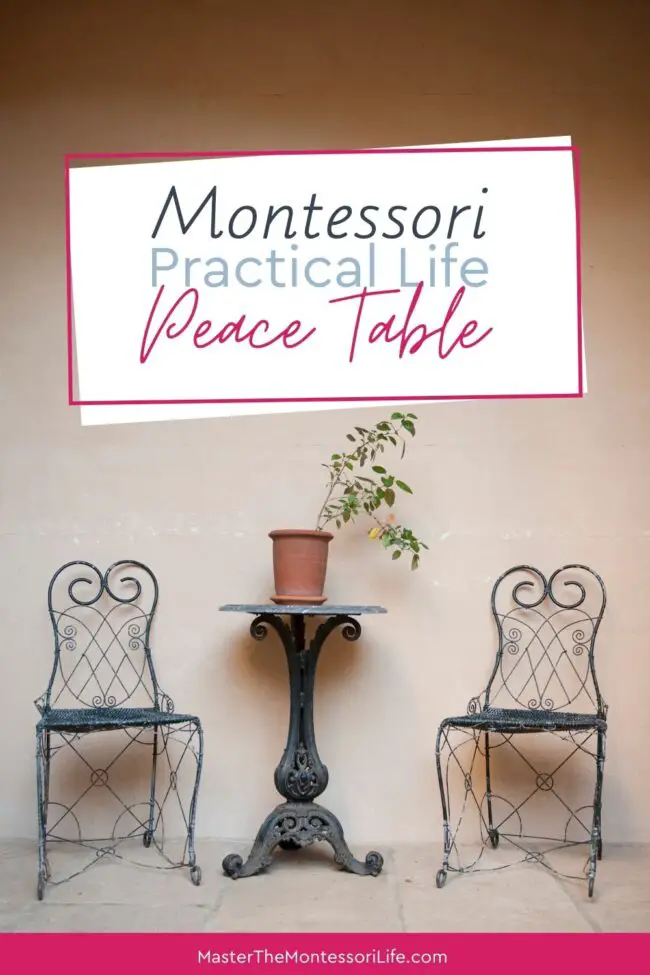 What is a Montessori Peace Table? What is its purpose? What do you do with it and why is it such a big deal in The Montessori environment? Come and find out here!