Multi-age grouping is intended to maximize learning potential… if done right, whether it's at a Montessori school or doing Montessori at home. The Montessori Method has gotten it right. Come and find out why!
---
Groups of children with a wide range of ages are used to create a learning environment where they learn together.
The age range for these groups of children is 2-4 years.
It is intended to maximize learning potential… if done correctly, whether in a Montessori school setting or at home with a Montessori program.
There is no doubt that the Montessori Method is correct, especially when it comes to focusing on the individual child.
Discover the reason for this by visiting us.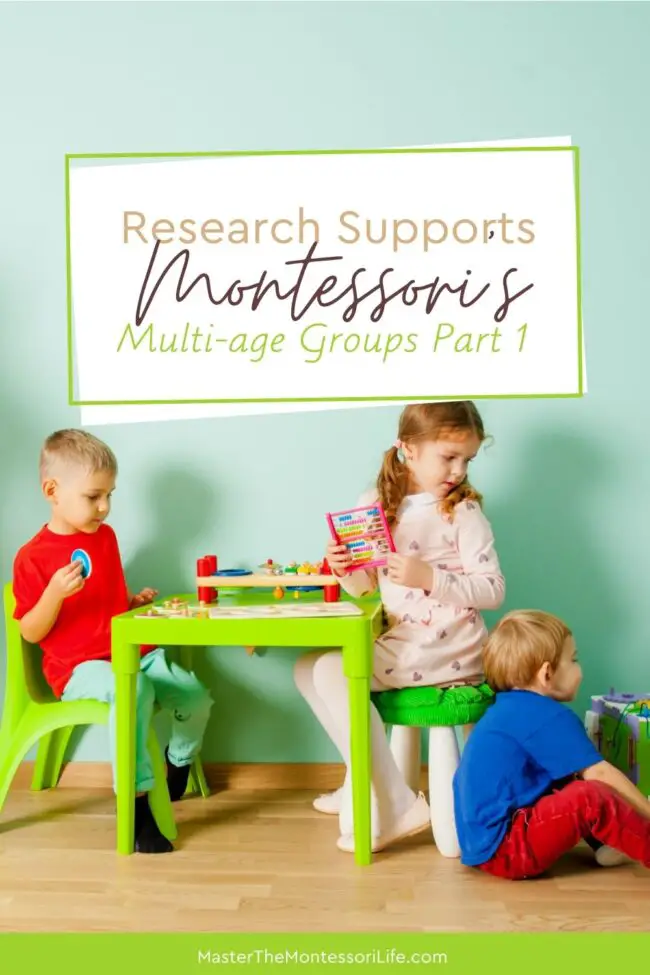 Watch & Listen to the Episode Here:
As you watch or listen to this training, know that you will be able to get more information than what is included in this blog post.
However, I really want to encourage you to take the time to watch or listen and take notes.
Importantly, this will be helpful to you now and in the future.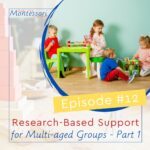 #1 Children are able to spend several years with the same Montessori Guide.
This enables the Montessori Guide to gain a more in-depth understanding of a child's abilities and requirements.
As a result, the child will be in a better position to benefit from his or her education.
What is the definition of mixed-age grouping?
Children are placed in mixed-age groups when they are between the ages of 2-4 years.
This is common in preschool settings.
Its goal is to increase the educational potential of this diverse group of students.
Typically, children in a mixed-age classroom will remain with the same teacher for several years at a time.
This gives young children the opportunity to work at their own pace with The Montessori teachers without rushing.
For example, in a classroom with children ages 3, 4, 5, and 6 years old, the children who enter at the age of three remain with the Montessori Guide for three to four years after they have graduated from the program.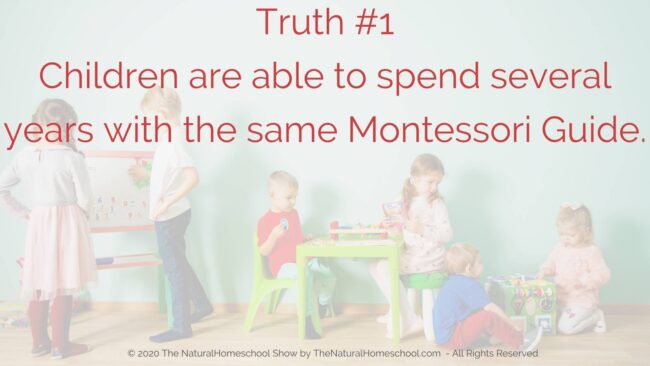 Important Findings
The findings of the research provide a clear understanding of what it means to be in a "mixed age group."
Research supports Montessori and its philosophy.
The fact that humans are not typically born in large groups of the same age, as some mammals are, is undeniable.
Nonetheless, we appear to be adamant that children be classified as such.
And many believe that they are to be educated in groups of the same age as their peers.
When it comes to domestic duties, the older children assist the younger ones with various practical life tasks.
It's lovely to watch as they work and learn together.
During this collaborative and bonding experience, the younger and older students work together to assist the younger students in learning new skills.
Consider the simple tasks of tying their shoes or buttoning their sweater.
In a Montessori classroom or at home, older children are frequently seen assisting younger siblings.
For example, they can help with tasks such as tying their shoes and buttoning their sweater.
But, more importantly, they will assist them in learning HOW to tie their shoes and button their sweater.
Children are able to learn patience as well as the verbal skills necessary to communicate the steps to the younger child, all while the younger child is learning how to tie her shoes for the first time.
#2 Children have several years to develop, and are able to see themselves as progressive, successful learners.
The research supporting mixed-age groups has demonstrated time and time again that academic achievement is usually on par with, if not better than, that of children in traditional classrooms that are grouped in one age group, according to the findings.
Oh, isn't that fantastic in Montessori education?!
Mixed-age environments do not have a negative impact on children. In no way, shape, or form does multi-age grouping have a negative impact on student achievement.
On the contrary, in fact!
Children in multi-age classrooms have more positive attitudes toward themselves, others, and their school than children in single-age classrooms.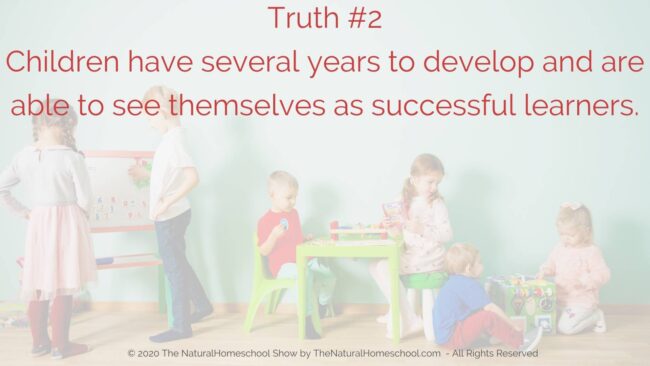 Research Supports Montessori
Because the Montessori Curriculum does not adhere to the traditional educational rule that children must be introduced to, practice, and master the material in a single school year, it is more flexible.
A younger child is not compelled to learn in a short period of time like an older child.
An older child will have the opportunity to practice the material several times, master it, and even teach it to other children if they choose to do so.
Montessori kindergarten homeschoolers will have several years to become familiar with the Montessori materials in a Montessori kindergarten homeschool setting.
The child is given the opportunity to pursue his or her own learning style as well as their own interests.
This is one of the central tenets of Maria Montessori's philosophical system.
#3 Children are viewed as unique individuals.
Any Montessori Curriculum PDF should focus on the child.
The child's best interest is at hand in The Montessori Method.
The Montessori Guide focuses on teaching each child according to his or her own strengths.
Unlike in same-grade classrooms that often expect all children to be at the same place at the same time with regard to ability.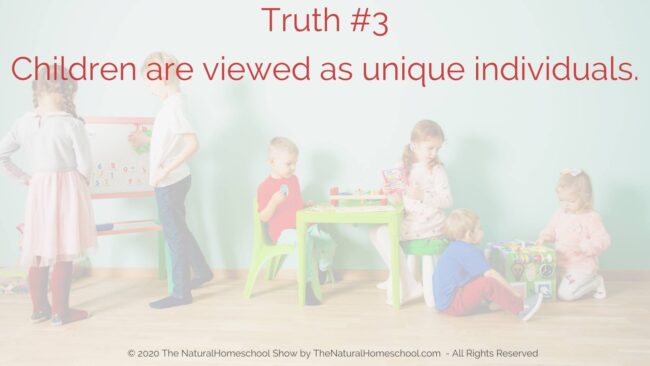 Mixed-age grouping has great potential, but only if its implementation is carefully and knowledgeably planned.
It is the Montessori Guide's job to ensure that younger children are not overwhelmed by older or more competent children in the same environment and meet each child where they are at.
The materials on the shelves are to be modified to take advantage of the heterogeneity of the group in each particular Montessori environment.
Montessori Mixed Ages Resources
As you can see, multi-age groupings can be fun, effective and practical… when done right.
HERE ARE THE RESOURCES MENTIONED IN THIS EPISODE:
Like I said at the beginning of the show, I have a FB group for all things Montessori that you are welcome to join. 
It is called The Montessori Way Prep Room.
If you want to join a homeschool Facebook community, then join The Natural Homeschool Community!
Books on multi-aged grouping:  https://bit.ly/MulitAgeGroupings
How To Raise An Amazing Child the Montessori Way, 2nd

Teach Me to Do It Myself: Montessori Activities for You

Understanding Multiage Education

If you are interested in helping children move from dependence to independence by becoming well-rounded individuals, then you will be interested in this free printable.
It is a list of 100 Montessori Practical Life works that you can easily set up to do at home or at your Montessori environment.
Get it by clicking the image below!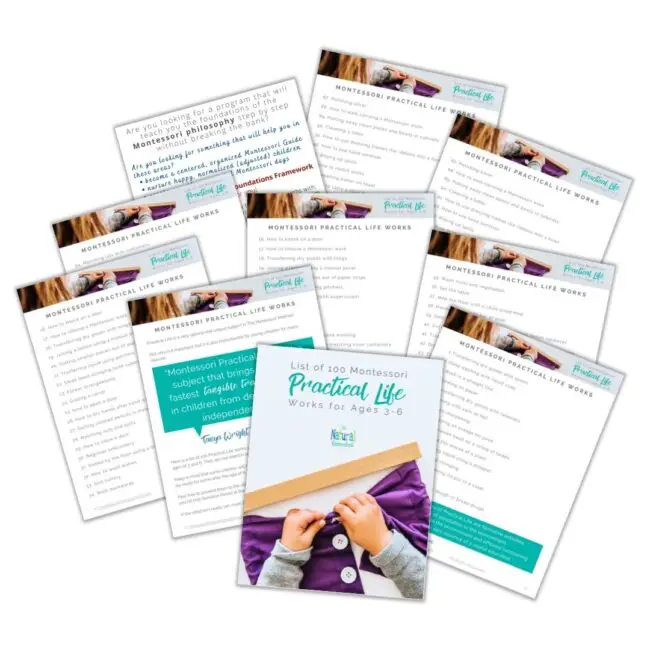 You May Also Benefit from these Important Montessori Topics: