When it comes to nurturing your baby's physical and mental growth during the first year, providing the right toys can make a substantial difference. Authentic Montessori toys, carefully crafted to stimulate your baby's senses, can prove to be an invaluable asset in your little one's development.
They are meticulously designed to assist in improving hand-eye coordination, focus, and cognitive abilities, all while being fun and entertaining. Moreover, Montessori toys for babies are not just toys, but tools that facilitate learning through exploration. They are designed to be uncomplicated yet engaging, promoting the child's natural inclination towards discovery. 
Each toy serves a purpose, helping the baby develop the understanding of an underlying concept or skill. Investing in these essential Montessori toys is an investment in your baby's developmental journey.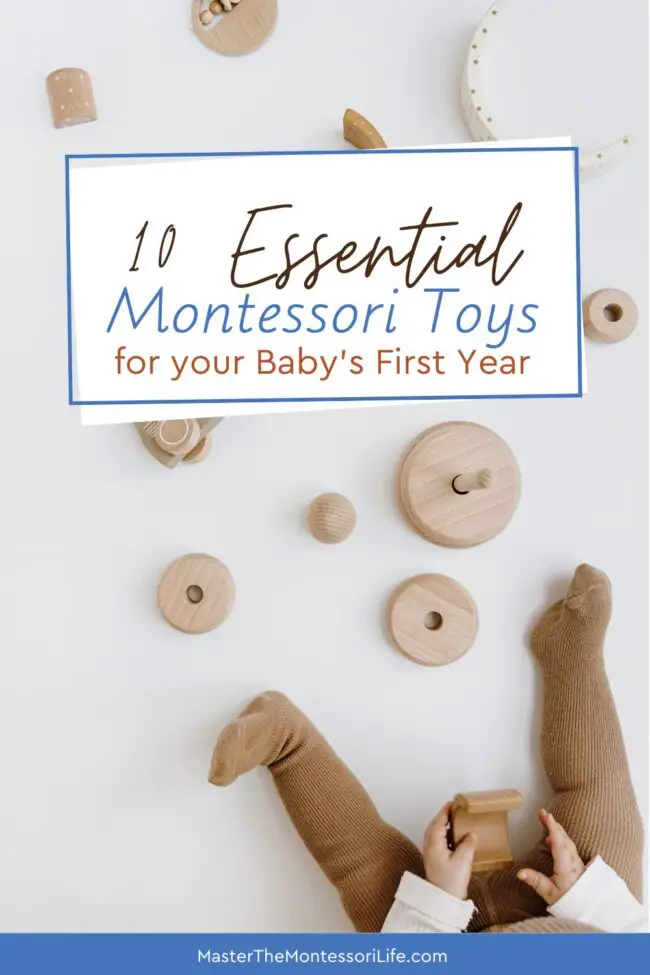 Montessori Toys for Babies 0-3 months old
During the initial six months, babies are fascinated by the world around them and are starting to explore their environment. Take, for instance, this Montessori Ball which is a perfect starting toy for babies. Its simple, open design makes it easy for little fingers to grasp, encouraging early motor skills. Plus, its bright colors and wooden texture stimulate their developing vision and sense of touch.
MERRYHEART 1.8 Inch Montessori Natural Wooden Balls, Uncolored Wooden Ball Toys Matching with Rainbow Stacker for Toddlers & Baby Grasping Play, Preschool Learning Educational Counting Toys

Bucherry 12 Pcs Montessori Wooden Balls 1.8 Inch Wooden Ball Toys Replacement Ball Educational Counting Toy Preschool Learning Material for Montessori Ball (Mixed Color)

Rainbow Ball Set for Montessori Ball Tracker – Multicolored Replacement Ball Set – Color Object Permanence Balls – Wood Toys for 3 Year Old – Educational Toy for Baby and Toddler

Also, consider this Wooden Rattle, another excellent Montessori toy suitable for 0-6 months old babies. The rattle makes a gentle sound when shaken, engaging the baby's attention and promoting auditory development. The wooden construction ensures it is safe for babies who love to explore with their mouths. These toys can pique your baby's curiosity, leading to hours of exploration and learning.
Wooden Baby Rattle, Natural Wooden Montessori Baby Grip 3 Ring Toy, Newborn Wooden Rattle Toy, Gift Toys for Baby Boys and Girls

Giggles Montessori Toys for Babies 0-6 Months, Wooden Baby Toy Rattle, Teether, Teethers, Teething for Babies, Natural Wood, Baby Toys, Infant Circle Rattle, Rattles, Baby Wooden Toys 6-12 (Natural)

JOCY Wooden Baby Toys, Montessori Toys for Babies 0-6-12 Months,Wooden Rattle for Baby, Wooden Teether Gifts for Boys and Girls 4 PC

Moving on to the next essential Montessori toy, the Montessori Organic Teether. This item is a must for any baby during their first year, especially during those teething months. It's made of natural, non-toxic wood that is safe for your baby to chew on. The teether's smooth texture soothes sore gums while its easy-to-hold shape promotes hand-eye coordination and fine motor skills.
Socub Baby Teething Toy, Organic Baby Teething Ring, Silicone & Beech Baby Rattle Teether for Baby 3+ Months, BPA Free, Sage

Natural wooden baby teether toys 4pk forest animal set and classic baby rattles, Fine motor Development and Sensory Skills Toy, Gender Neutral Handmade Wooden Toys

LAVIELLE Baby Gym with 6 Teethers | Mobile Activity Centre for Babies | Foldable Gym Set with 6 Hanging Toys | Play Gym Frame with Wooden and Silicone Teething Gift for Infants | Montessori Gym Frame

Montessori Toys for Babies 3-6 months old
Another excellent toy for your baby is the Soft Stacking Blocks. These are soft, safe, and perfect for your baby's small hands. Each block is beautifully colored and features different tactile experiences, helping to stimulate your baby's visual development and introduce the concept of cause and effect. Babies can squeeze, stack, and topple these blocks, promoting flexibility and control of their tiny fingers.
ECR4Kids SoftZone Patchwork Toddler Building Blocks, Foam Cubes, Assorted, 12-Piece

Plush Blocks Set of 24 Soft Building Blocks for Kids – Fabric Covered Toy Foam Blocks for Stacking, Play Time, Making Structures – Promotes Gross Motor Skills – 8.25×4.25×3 (Castle Rock Pack)

MOMOK Baby Toys 6 to 12 Months Baby Blocks, Soft Building and Stacking Blocks for Toddles 1-3, Black and White High Contrast Baby Infant Toys

Next, consider the Shape Sorting Cube. This classic Montessori toy encourages babies to match different forms into their corresponding slots, fostering their spatial awareness and problem-solving abilities. Plus, its bright colors and different shapes provide visual and tactile stimuli.
Aomola Wooden Shape Sorting Cube Toys with 13 Colorful Wood Geometric Shape Blocks and Sorter Box,Learning Matching Game for Toddlers,Preschool Educational Learning Toy for Kids

UNIWA Shape Sorter Baby Toys, Montessori Toys for 1-3 Year Old Toy Colorful Cube and Multi Sensory Shape, Fine Motor Skills, Developmental Learning Toys for Girls Boys Christmas Birthday Gifts

Yaani Montessori 2 in 1 Shape Sorter and Object Permanence Box, Baby Toys 6 to 12 Months, Montessori Toys for 1 Year Old, Baby & Toddler Toys, 6 Month Old Baby Toys, Baby Boy Toys, Baby Girl Toys

Last but not least, don't miss the Black and White Cards for visual stimuli. These cards have high contrast images and colors that are easier for babies to see in the first few months of their lives. This set of cards aids in improving focus and attention span while encouraging cognitive development. The sturdy cards are safe for babies to handle, fostering their sense of touch and motor skills.
Richgv Newborn Baby Essentials, Black and White Baby Cards Toys 0-3-6 Months,Newborn Baby Stuff, High Contrast Toys for Infant 0-6 Months, 40 Pages Visual Stimulation Sensory Flash Cards for Babies

Flash Cards Baby Visual Stimulation Cards 0-3-6-12-36 Months Baby Toys 0-3 Months Infant Newborn Tummy Time Toys Baby Gifts Toys 3-6 Months 6"×6" Large for Sensory Development Black White Card Set

Samuel Sensory Baby Sensory & Development Fold Out Boards, Black and White, Simple Geometric Shapes, Made from 700GSM Card, Stands Independently.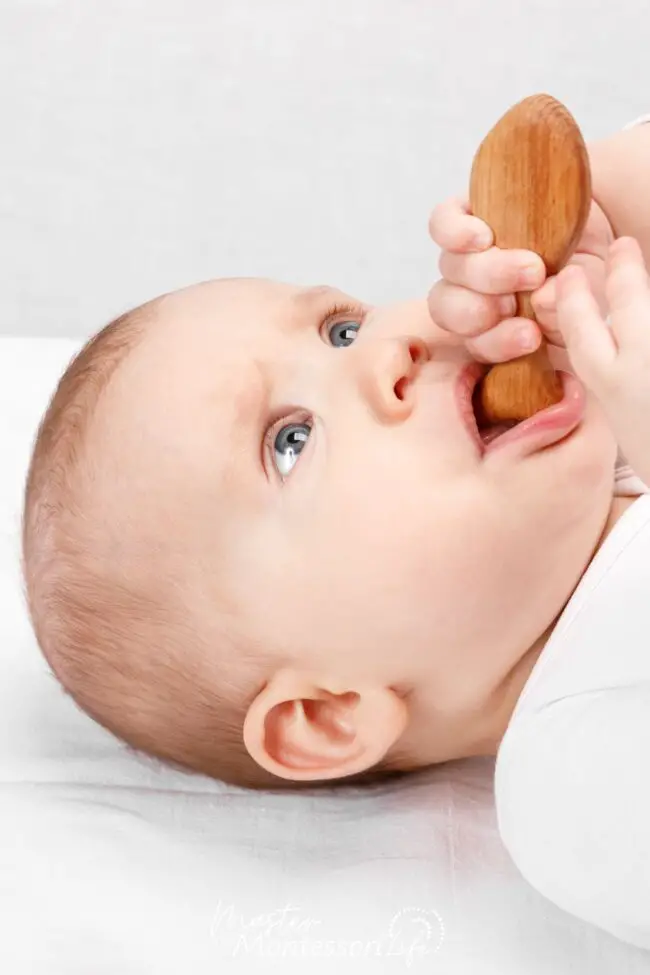 Montessori Toys for Babies 6-12 months old
As babies grow beyond six months, their developmental needs evolve. This is the time when they begin to exhibit an increased interest in manipulating their environment. Therefore, it is imperative to provide them with toys that cater to their budding skills and curiosity. 
One such toy is the Multi-Activity Cube. This Montessori toy is perfect for babies aged 6-12 months, providing multiple activities in one compact cube. Each side offers a different activity, promoting a variety of skills. Some skills are hand-eye coordination, fine motor skills, and problem-solving abilities.
Montessori Wooden Activity Cube,Baby Activity Cube for Toddlers, 5 in 1 Wooden Activity Center with Bead Maze Shape Sorter,Educational Learning Toys for Kids, Sorting & Stacking Board for Boys Girls

Atoylink Wooden Activity Cube for Toddlers 1-3, 5 in 1 Ocean Animal Shape Sorter Bead Maze Montessori Toys Baby 6-12 Months Educational Learning Toys for 1 Year Old Boy Girl Birthday Gift

HOONEW Busy Cube Activity Cube Sensory Toys Busy Board Montessori Wooden Travel Toy Educational Learning Life Skills Toy 1 2 3 Years Baby Toddlers

The Stacking Rings is another must-have for your baby. This simple toy promotes fine motor skills and hand-eye coordination. The different colors and sizes of the rings also introduce your baby to the concept of sizes and colors.
KOOKAROO Montessori Wooden Baby Toys, Montessori Toys for 1 Year Old, Baby Toys 6 to 12 Months, 1 Year Old Toys, Wooden Toys, 6 Month Old Baby Toys, Montessori Toy, Stacking Rings

Our Littles Co Classic Wooden Ring Stacker Toy | Rainbow Neutral Montessori Stacking Blocks for Toddlers | Educational & Developmental Sensory Toy Non-Toxic, Safe & Durable | Great Gift Idea

Tiger Montessori Toys for Infants Discs on Vertical Dowel 3 Montessori Grasping Toy for Babies

The Montessori Object Permanence Box is a fantastic toy to introduce at this stage. Babies begin to understand that objects exist even when they can't see them. This toy provides them with an opportunity to explore this concept. It also aids in developing their fine motor skills.
Phychemind Montessori Object Permanence Box, Montessori Object Permanence Toys for Babies Wooden Toys Ball Drop Box with Tray and 2 Balls for 6-12 Months 1 Year Old Infant Baby Toddlers Boys Girl

Coogam Wooden Montessori Coin Box Color Shape Sorting Matching Baby Toys, 2-in-1 Drop Box Object Permanent Box, Toddler Educational Learning Toy Gift for 1 2 3 Years Old

Elite Montessori Object Permanence Box with Tray and Ball

Lastly, the Wooden Musical Instruments Set is an absolute delight for babies. It introduces them to different sounds and rhythms while promoting their auditory and sensory development. Also, playing with these instruments can foster your baby's rhythm and coordination.
Note: Please always let the baby explore these under adult supervision.
Ehome Toddlers Musical Instruments, Wooden Percussion Kids Baby Musical Instruments, Montessori Musical Toys Set for Kids Childrens Preschool Educational Early Learning with Storage Bag

Nvmogan Musical Instruments for Kids and Toddle-Eco Friendly Wooden Music Toys.Musical Percussion for Boys Girls Preschool Educational with Storage Bag.Promote Fine Motor Skills

ML.ENJOY Wooden Musical Instruments Toys, Kids Musical Instruments, Toddler Musical Instruments, Eco-Friendly Music Set Natural Wood Percussion Instruments Set

In Conclusion 
Selecting the right Montessori toys according to your baby's age and developmental stage can significantly aid their growth and learning. These toys not only entertain but educate, making them a perfect investment for your baby's first year. With all the essential Montessori toys for babies mentioned above, you can provide your little one with a fun and stimulating environment. 
Since these toys are conveniently available on Amazon, it is easier than ever to get your hands on them. What's more, it has fast shipping and excellent customer service. You don't have to worry about any hassles when shopping for your baby. So, visit Amazon to find the perfect Montessori toy for your little one and watch them learn through play!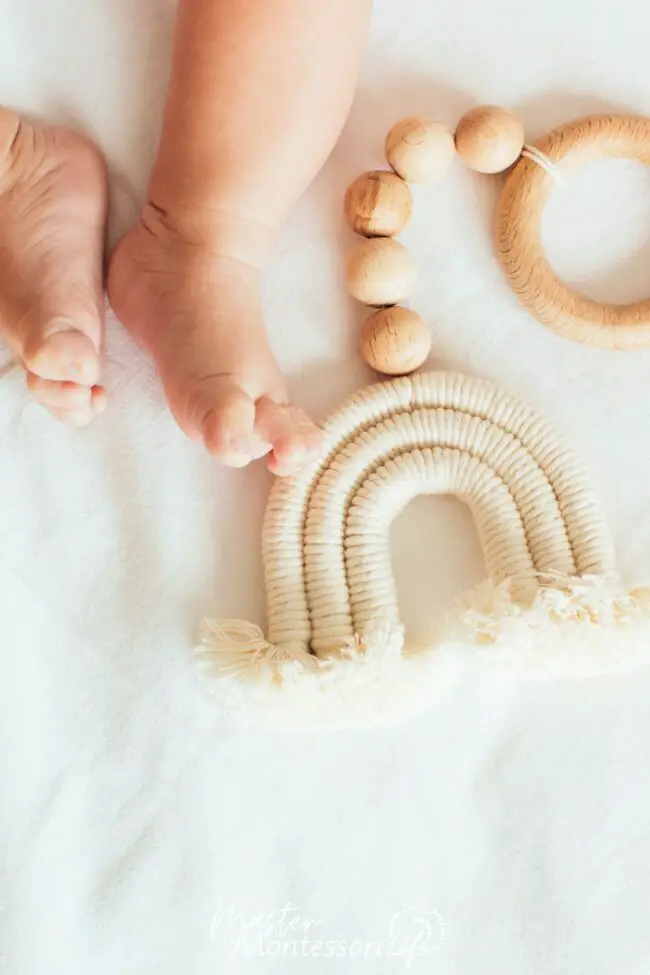 What Is Your Favorite Montessori Toy?
We would love to hear from you about which montessori toys have been the most beneficial for your child's development. Let us know in the comments below so that other parents can benefit from your experience! 
We hope this guide has been helpful in providing you with all the information you need to make the right choice for baby's first toys. Happy shopping!
You might also enjoy these relevant topics: