Inside: In this post, we will discuss what this is and how it can make all the difference in your organizational skills, your child's learning and how tidy your Montessori environment looks.
Are you struggling with having too many Montessori Materials that the child doesn't even know where to start?
Are your beautiful Montessori Materials sitting on the shelf collecting dust because they aren't used?
If you do, then you will definitely want to solve this problem quickly.
In this post, we will discuss what this is and how it can make all the difference in your organizational skills, your child's learning and how tidy your Montessori environment looks.
Yes! You can improve your organizational skills!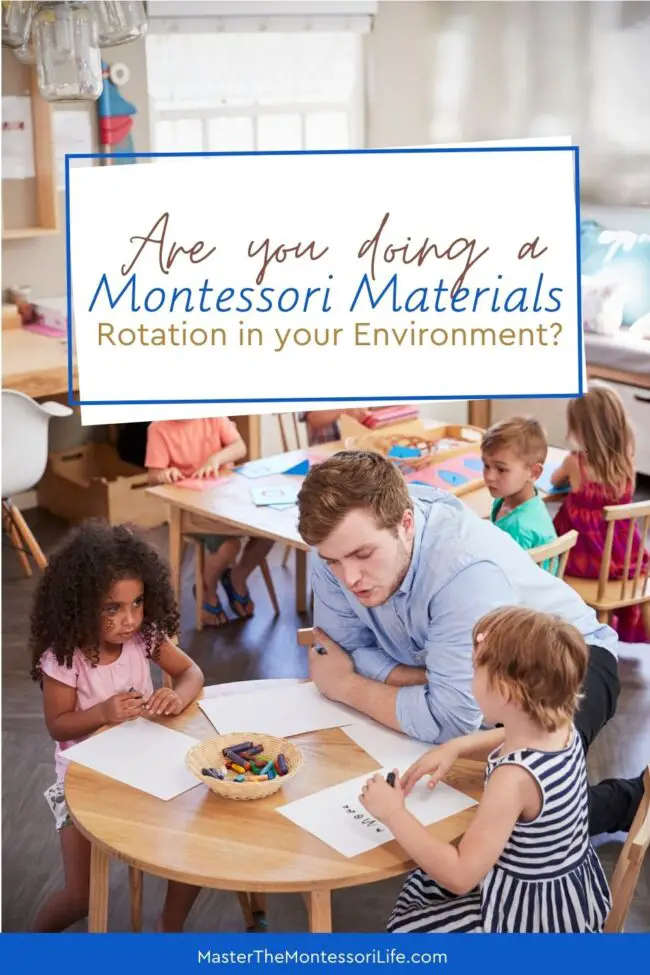 What is Montessori material rotation?
Just like there is a Montessori way of rotating toys, there is also a Montessori Materials rotation.
A Montessori Materials rotation is when you don't have all of your Montessori Materials out on your shelf or in your environment.7
This can be for several reasons, besides management skills for the Montessori teacher.
It can be because you have too many materials or you don't have enough space or both.
Another reason why you would want to rotate materials is if you don't have many children in your Montessori environment.
The last number of children that you work with, the less materials you need to have set out at one time.
But as your group grows, the more materials and the more shelves as well as the more space you will need.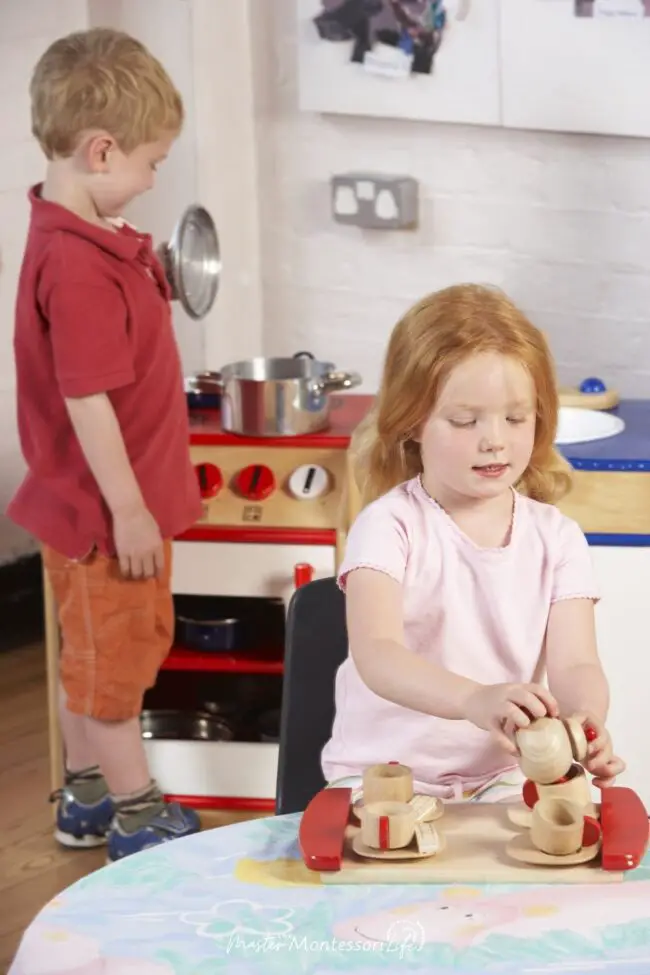 If you are working with less children, then you will be able to determine, based on your observations on their sensitive period (that's another story for another time), which materials exactly the children are ready to work with and learn from.
This goes beyond toys and materials in a Montessori classroom or play area.
It is also about developing good time management skills and strong organizational skills in Montessori educators.
It doesn't make sense to have materials out if the young children have mastered them and have moved on from them.
It also doesn't make sense to have materials out if they are too advanced for them right now or if they are not ready for them yet.
As the time progresses, and you notice that children are learning different skills in the different subjects, you will be able to start noticing when certain materials will be needed to be available for them because they are getting closer to the time for learning those.
Why is a Montessori material rotation necessary?
As I mentioned above, not every child will be ready for every single material I do every single time.
Also, there is only one of you and you are the only one that can give a lesson presentations to show each child how each material works.
You would be doing yourself a disservice by putting out too many materials that are new to the children and having to do new presentations all day long or almost every day because everything is new to them.
It is easier to set out one or two shelves with varied materials for different subjects and make those lesson presentations.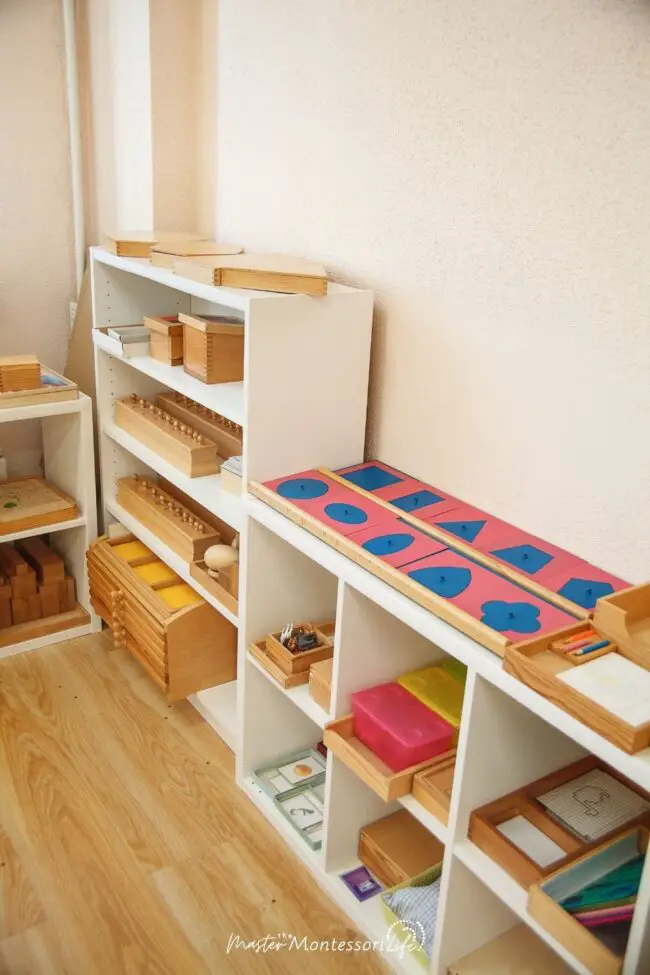 Then, you will give the children plenty of opportunities to practice using those materials over and over and over, giving you the opportunity to enjoy the moment of their learning, make observations and also notice whether they have mastered the material or if they are ready to move into extensions for those Montessori materials.
Having a Montessori materials rotation will give you a really good opportunity to make better assessments instead of being overwhelmed with having to observe the children working with so many materials that they are not able to really go in depth into the essence of each material.
And as a reminder, you will not do yourself a favor if you have to give children lesson presentation after lesson presentation either.
The key here is to find peace and organization and one way to do it is through Montessori materials rotation.
Do you need to start a Montessori Materials rotation?
Now that you know what a Montessori materials rotation is and why it is so important to consider doing one in your Montessori environment, my question to you is: are you ready to start Montessori materials rotation in your Montessori environment?
I want to encourage you to at least consider it and plan it out because I have seen, and my 15+ years of Montessori experience, that this is a really wonderful feature to take advantage of when it comes to having a Montessori environment.
Children are able to learn more and more in depth when they are not overwhelmed with too many materials to choose from.
Just make sure that you have enough materials for all the children that you are working with and that they are able to not only have one for each to work at a time, but have a few extras that they can go to on the shelf if they are done with one work early.
This will give children the opportunity to learn more in depth to really explore the material and not feel the rush to be moving from one material to the next to the next to the next.
Where to find a Montessori Materials Rotation Resource
I am really excited that you are thinking about starting a Montessori materials rotation.
The Montessori Method has always been focused on having good organization skills to be more effective.
I have made a wonderful resource that I think you are going to love and find it extremely helpful to you.
It gives you the checklist of the materials that you will have sent out on each shelf as well as the materials that you want to store for time as well as labels for the containers where you will store said items for a time.
The materials will be kept safe dry and dust free while the children enjoy the others that are on the shelves.
Having a list of the different materials that you have stored will make it so much easier for you to find and to take out on a whim if you determine that a child is ready based on their sensitive periods and your observations.
So, get this wonderful resource to be organized to be on top of things.
This wonderful resource will save you time and effort.
It will keep you organized and focusing on what matters most, which is the children.
Montessori Materials Rotation Bin Labels & Inventory List
$3.50
When you don't have an entire room to set up your Montessori materials, you need to be smart about your organizational skills. This printable set will help you keep your rotation bins or boxes organized. Laminate them for durability and to make them reusable by using dry erase markers.
EU buyers, GO HERE.
I hope that you find this information timely for you and that you were the Montessori materials rotation a try because I know that it will be wonderful for your Montessori environment to thrive.
You May Also Benefit from these Important Montessori Topics:
As you learn more about Master The Montessori Life, you will realize just how much I strive to make your life easier.
I also seek to equip you, to inform you and to give you made-for-you options so you can keep moving forward on your Montessori journey without any speed bumps.
How to Set Up a Montessori Toy Rotation
Episode 15: Unique Qualities of Montessori Materials
Episode 19: Why Montessori Materials are so Special
Episode 20: I don't know what Montessori Materials to buy
Montessori Friendly Summer Printable Bundle

With this summer bundle, you will be equipped with everything you need to keep your children occupied and having a wonderful time while remaining indoors and celebrating summer from the comfort of your own home.

Do you need help in doing Montessori right?

Do you need help in doing Montessori to make sure that you are doing it right? Come and find out how to know what to focus on first, actionable steps to apply immediately and more!

Planning Montessori at Home (digital book)

Do you want to plan your Montessori at home, but don't know where to start? This 65-page digital book is going to give you the guidance you need to do it right from the beginning. There are some tips and tricks that many don't know will shortcut their planning by a lot.