When it comes to Montessori materials, they will set themselves apart for their beauty, usability, durability and educational value.
---
What do you know about… Montessori materials and what distinguishes them from other materials?
In the comments section, please tell me what you know about this topic, what you've tried that worked, and anything that didn't work, as well as any questions you have as we get started with this training. I'll respond to everyone individually.
This is the place for you if you are looking to develop yourself into a centered and organized Montessori Guide while also nurturing happy and normalized children and creating smooth and successful Montessori days.
During this training, I discuss the mysterious and extremely unique Montessori materials in the classroom.
Come find out more!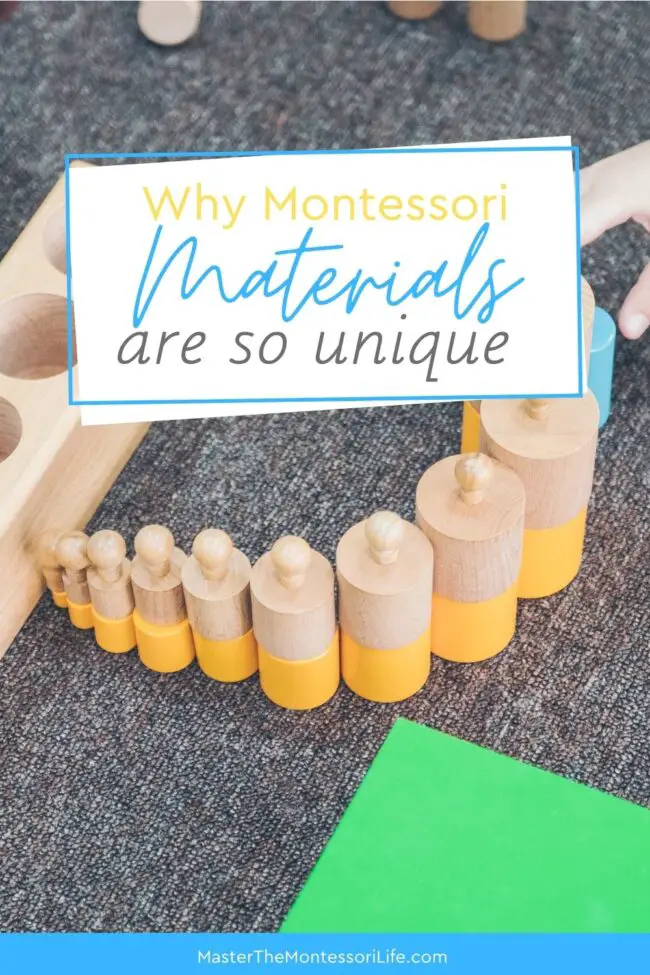 Watch & Listen to the Episode Here:
As you watch or listen to this training, know that you will be able to get more information than what is included in this blog post.
However, I really want to encourage you to take the time to watch or listen and take notes.
Importantly, this will be helpful to you now and in the future.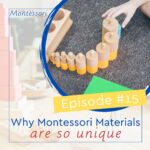 Whether you are thinking about this educational program in multi-age classrooms at a Montessori school or at home, children working with these lovely materials is be extremely beneficial to them…
IF children use them correctly…
These high quality materials in the Montessori method are wonderful of child development, even when doing Montessori at home.
They are great for teaching children problem solving, motor skills practice and more!
#1 Montessori materials are attractive and appealing to the eye.
Montessori materials are absolutely stunning.
Montessori materials are visually appealing and aesthetically pleasing.
Take a look at some of the Montessori materials available.
They have a strong hold on children's attention and take pleasure in working with them.
What do you believe will be more appealing to a child in early childhood?
Is it better to give a beautiful wooden frog puzzle or a piece of paper with a picture of a frog as a present?
What about a brightly colored metal fractions tray or a sheet of paper with fraction pictures on it?
For example, dressing frames are worthless in comparison to Montessori education, which is the only educational method that capitalizes on Practical Life experiences.
They assist the child in transitioning from a state of dependence to one of independence.
#2 Montessori materials are durable to withstand longterm use by many.
Montessori materials are extremely long-lasting and have a control of error.
A Montessori material must be durable enough to "survive" several years of use before we consider successful.
Due to the fact that Montessori classrooms have multi-age groups, with children ranging in age from 0-2, 3-6, 6-9, and so on, this is true.
After several years of immersing yourself in the Montessori environment, children become intimately familiar with the materials and activities that are used in the classrooms.
Consider that, depending on the school or classroom, some groups contain more than 20 children.
So, imagine how much time and effort you will invest in these materials.
I already know what you're going to say…
Plastic outlasts both wood and cloth in terms of durability.
However, in reality, the goal of Montessori is to use as many natural materials as possible in order to achieve this.
Plastic is not the first material that comes to mind when thinking about materials in the Montessori learning environment.
#3 Most Montessori materials have many purposes and levels of learning.
Examine the Montessori curriculum to ensure that it is free of misconceptions.
In fact, let me dispel one of the most common misconceptions.
This is that the original Montessori materials are only intended for single-use using Montessori Materials lessons.
Many people believe that they are spending a lot of money on their child. They think that they will only master the material and then move on.
What happens after that?
Montessori Materials are designed for more!
Extensions in the learning environment, on the other hand, are real things!
These extensions serve as a "next level" for the original Montessori works lessons, and they are self-contained.
As part of their professional development (whether they are applying for licensure or seeking certification), Montessori teachers are typically introduced to the main lessons for each original Montessori material.
Montessori Materials Purposes
The Montessori educational approach, with the help of original Montessori materials, help children to develop socially, emotionally, academically and more.
HERE ARE THE RESOURCES THAT I MENTIONED IN THIS EPISODE:
Like I said at the beginning of the show, I have a FB group for all things Montessori to join.
Its name is The Montessori Way Prep Room.
If you want to join a homeschool Facebook community, then join The Natural Homeschool Community!
Now, what happens if you are enjoying my LIVE trainings and want to go deeper in these topics? 
Well, you know I cover good points live, but sign up for my weekly emails to get more! 
I will always be going deeper in the topic for that week's LIVE there.