In this post, we will be discussing toy rotation The Montessori Way and get some insight on why it is important to consider doing it in your Montessori home or play area.
---
There are many things in Montessori that can be frustrating, if we don't have the guidance that we need, right? One of those things is knowing if, when and how to do a toy rotation. One thing I want to make clear is that Montessori Materials are educational, not toys.
BUT…
If you follow The Montessori Lifestyle in your home, your child will need toys to play with. These are the toys I am talking about. I say that they are Montessori toys, not to be confused with Montessori Materials, because they align with Montessori principles. This means that they are made of natural materials, such as wood, use no batteries, etc.
If you are following or trying to follow the Montessori lifestyle, you will want to read this. Read on to find out how toy rotation works for Montessori as well.
In this post, we will be discussing toy rotation The Montessori Way and get some insight on why it is important to consider doing it in your Montessori home or play area.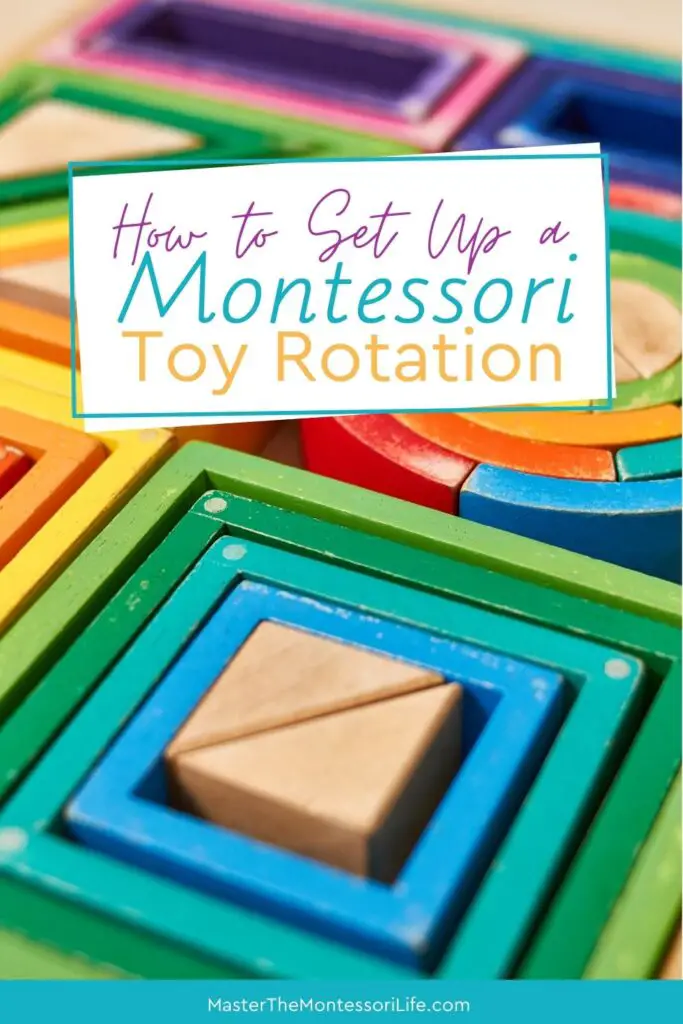 What is toy rotation?
First off, let's clarify something: Montessori toys and materials are two different things. Montessori toys follow similar concepts as Montessori Materials, such as being made out of natural materials. They are as beautiful as Montessori materials, but are not the original Montessori materials.
Please, please, please, NEVER refer to original Montessori materials as toys. A toy rotation system is when you take turns to display certain number of toys to let the child play with them. This can be done in many different ways, but the gist of it is that basically, you take some toys out for a specific amount of time. 
The rest are stored away and out of the child's sight and access. You will decide what toys will be grouped together in the same container and where you will store them. You will also determine how often you will be rotating these wooden toys. I will explain to you how to know when it is time to rotate a little further down, so keep reading!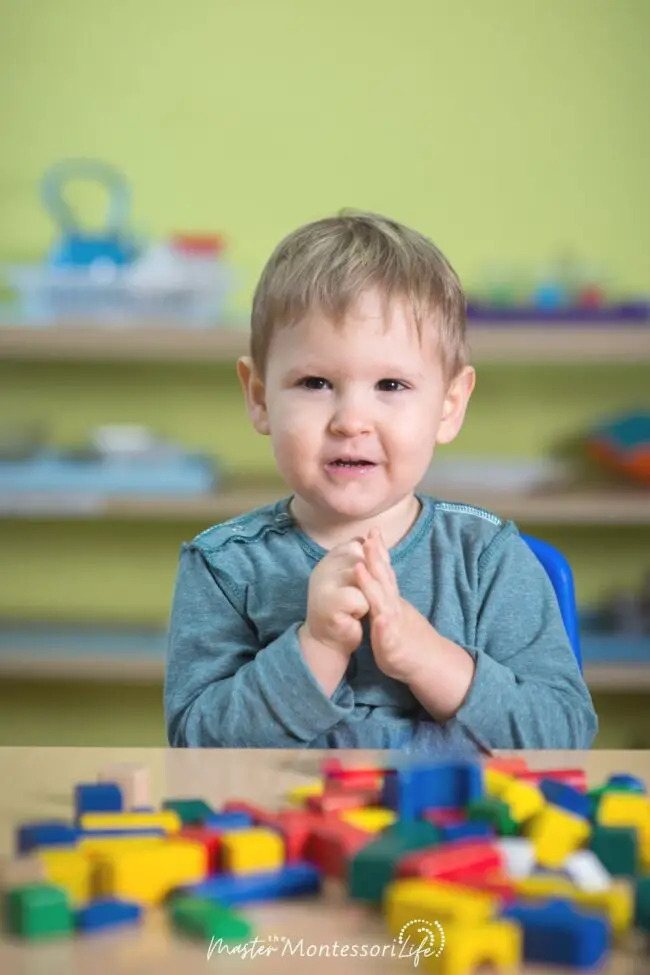 Why is toy rotation important?
It does take some organizational skills and some planning ahead to pull it off. You will also need storage containers and space to keep those unused toys. I will say that, hands down, this toy rotation practice has a lot more benefits than negatives.
Why is toy rotation important in Montessori? For one, you can take advantage and maximize the free playtime for the young children by putting out the things that will benefit them the most.
You will be able to keep your area more organized and less cluttered, just like you would want a Montessori lifestyle to be. And the child will be able to really focus on, learn from and examine (tinker with) the toys that they do have for them to use.
If children have too many toys out, overwhelm might set in, not to mention the messes that they will need to clean. This will encourage kids to become normalized, like in The Montessori Method, but without being too direct of an aim.
I will note that it is ok to keep the child's favorite toy in a few rotations, especially if the child asks for it and is still invested in it.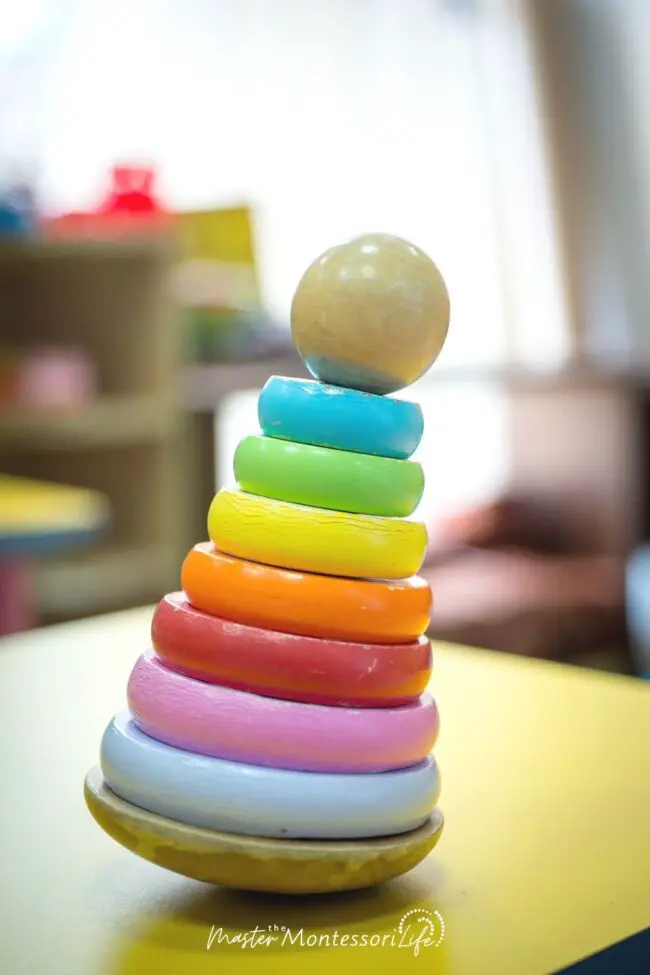 When to Start a Toy Rotation
As you start thinking about how this is a good thing to do, you will want a plan of action. I have a great option for you! Here is a very interesting and helpful chart for you to plan your toy rotation.
It includes a sample sheet so you know how to fill out the blank chart. And once you have the toys divided up into groups that make sense, you will be able to use the labels included to keep inventory of what toys go in which boxes.
For example, you want varied types of toys and not all falling into the same category, such as hand-eye coordination or pretending toys.
Laminate them for durability and simply use dry erase markers on them. I recommend starting your Montessori toy rotation once a month and observe a lot. You will be able to see right away if you need to rotate less or more during that month.
Some families rotate once a month because children stay engaged with the same toys for that long and others need to rotate as quickly as weekly! So use this template, charts and labels as a guide and make them your own!
The Toy Rotation Resource
As you start thinking about how to get your shelves organized, you might like to know that I have an awesome resource that you will absolutely love.
It is a done-for-you toy rotation chart (with a sample) and a set of labels to keep you organized and ready to start today!
Get it here!
Montessori Toy Rotation Checklist, Labels & Chart
$2.99
This toy rotation chart will help you stay organized, get ideas on how to set out your shelves, which toys have been used and when, etc. Print it as you need for each month and stay on top of your plan for the upcoming weeks and months.
EU buyers, GO HERE.
I hope that this information has gotten you thinking about how you can make The Montessori toy rotation work for you. 
Remember, this is an important part of living a Montessori lifestyle.
I know that once you have it organized and put into place, you will absolutely love to watch your child thrive and learn more from using their Montessori-friendly toys!
Episode 23: Montessori Environment Wall Decorations
Are you doing a Montessori Materials Rotation in your environment?
Episode 31: 3 Positive Outcomes for Children in the Montessori Environment
Episode 46: 3 Biggest Mistakes about Redoing your Home the Montessori Way