Are you wondering how to decorate your Montessori environment that align with the Montessori principles? Then you can't miss this training!
---
Children learn best in an atmosphere that is both attractive and tidy, according to the Montessori Philosophy, which you can learn more about by reading this article.
The presence of clutter, chaos, or dirt in a learning setting makes it difficult for children to concentrate on what they are meant to be doing.
It could even have an impact on whether or not people feel safe in the area.
Consequently, whether you are in a Montessori school or practicing Montessori at home, it is critical to make the learning environment aesthetically pleasing.
I love cleaning rooms and starting fresh.
I really enjoy filling up a room with shelves, Montessori works and many lovely little knick knacks.
It's the little touches that can make a big difference on whether a room is inviting or repelling.
But what about the walls?
How are we to decorate the walls in our Montessori environment?
Is there a specific protocol?
Do you want to know how to decorate your Montessori environment in a way that is consistent with the Montessori principles? Read on.
Then you can't afford to miss out on this training!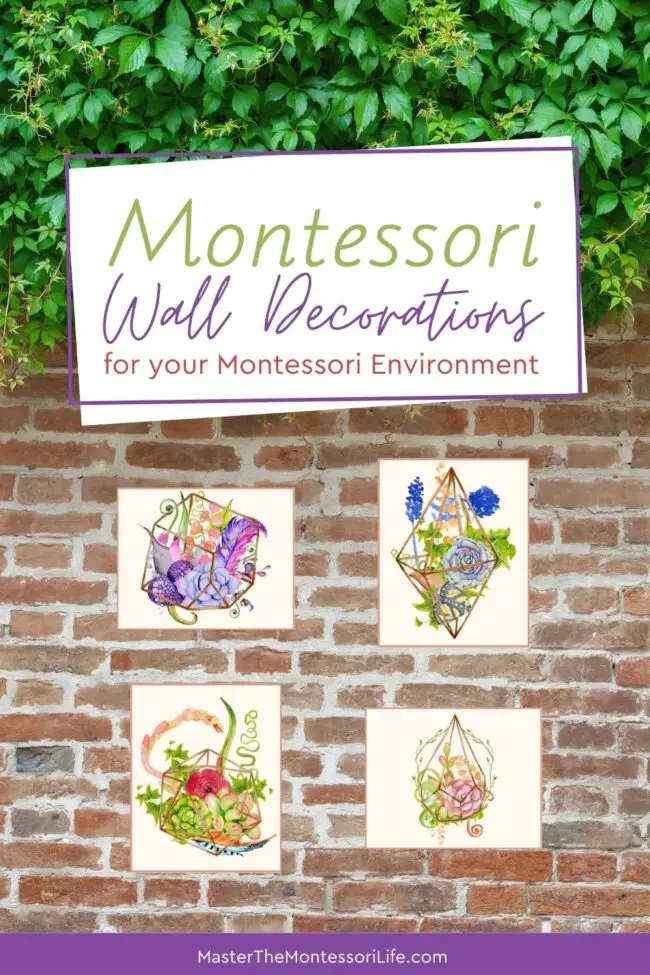 Watch & Listen to the Episode Here:
As you watch or listen to this training, know that you will be able to get more information than what is included in this blog post.
I really want to encourage you to take the time to watch or listen and take notes.
This will be helpful to you now and in the future.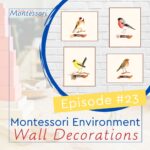 #1 Montessori wall decorations must be clean, uncluttered & safe
Montessori students and Montessori teachers find harmony in a well-kept room.
The Montessori classroom must have freedom of movement, so please avoid any decorations that stick far out of the wall, can fall and break or have children get hurt somehow.
When you have a mixed age group, you need to keep in mind that the younger children are curious…
well… truth be told… they will touch, so make sure that when you put wall decorations that at a child's eye level, they are completely secure to the wall.
Your Montessori prepared environment doesn't need much to look beautiful.
Remember that The Montessori materials themselves are already attractive, so you just need a little touch of color and beauty on the walls.
This quote from Dr. Maria Montessori is very encouraging and inspirational: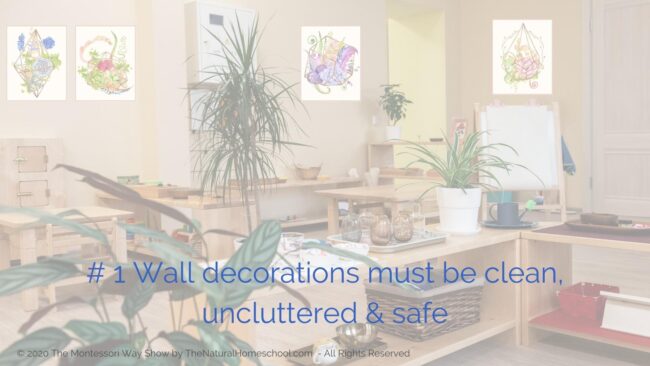 #2 Montessori decorations must be realistic, natural & relevant
The Montessori Method natural materials are beautiful.
They are to be the focus for children in the entire room.
The lovely wall art is an added bonus.
It can be included in your Practical Life curriculum as part of caring for their environment.
They can observe them, dust them, straighten them, etc.
You can have a Montessori inspired bulletin board where you can also add the children's own Art creations as well.
Wouldn't that be amazing?
I hope that this quote by none other than Maria Montessori will get you thinking: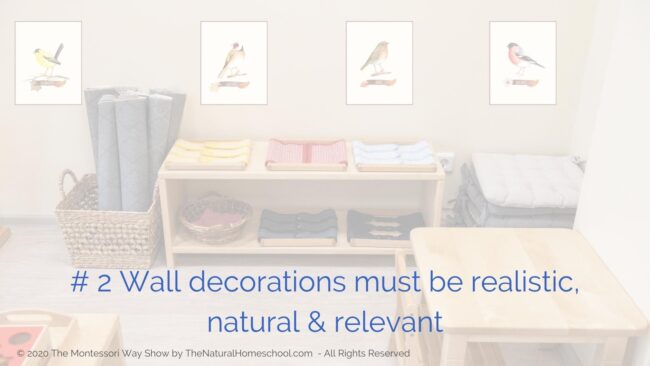 #3 Wall decorations must match & blend well with the environment
Please don't overthink things when it comes to wall decorations.
The Montessori classroom is to be clean and collected.
By this, I mean that although it isn't matchy-matchy, it isn't too varied in terms of the Art displayed.
I would not recommend having Art from different time periods or that don't help the eye flow naturally.
We are not looking for a shock factor on the walls.
Remember that the Montessori materials are to be the center of attention.
Here's another quote that you will absolutely love: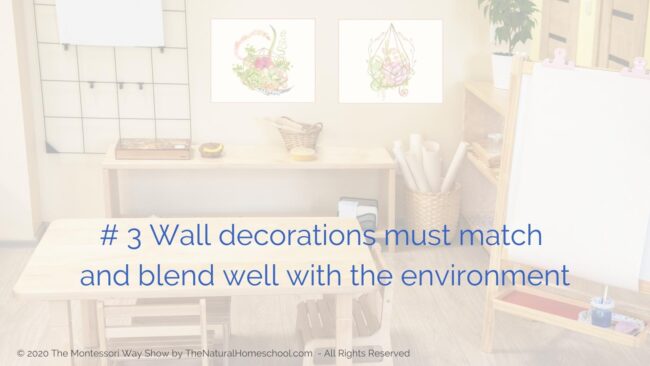 Key Takeaways
When you are immersed in Montessori education, you will inevitably become a more detail-oriented person.
This is because of how we learn to make observations.
We also learn to take note of little things, little details, small expressions, subtle changes…
So, when you are caring about the environment, be sure to consider what you put on the walls.
Pay attention to what overstimulates the children that you work with.
You don't want boring things on the walls, but you also don't want them to be distracted from their work because of them.
Food for thought: You could have fixed decorations or seasonal.
Just don't change them up too often because, like I said, they will become a distraction.
I say, make your life easier and go for fixed or for 2 sets, one for each semester and call it a day.
Resources mentioned in training
Montessori Wall Decorations (Succulents and Birds)
$7.00
Come and find out just how beautiful your Montessori environment or homeschool room can look by getting these 16 beautiful wall decoration!
This set of 16 images includes:
4 succulent collage images (horizontal)
4 bird and name images (horizontal)
4 succulent collage images (vertical)
4 bird and name images (vertical)
The horizontal images are all 8×10 inches.
The vertical images are all 10×8 inches.
Very easy to use. Simply print in color, frame and hang!
Like I said at the beginning of the show, I have a FB group for all things Montessori that you are welcome to join.
It is called The Montessori Way Prep Room.
If you want to join a homeschool Facebook community, then join The Natural Homeschool Community!
You May Also Benefit from these Important Montessori Topics:
As you learn more about Master The Montessori Life, you will realize just how much I strive to make your life easier.
I also seek to equip you, to inform you and to give you made-for-you options so you can keep moving forward on your Montessori journey without any speed bumps.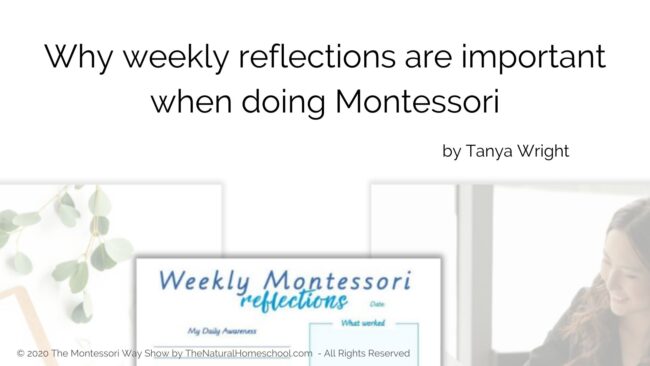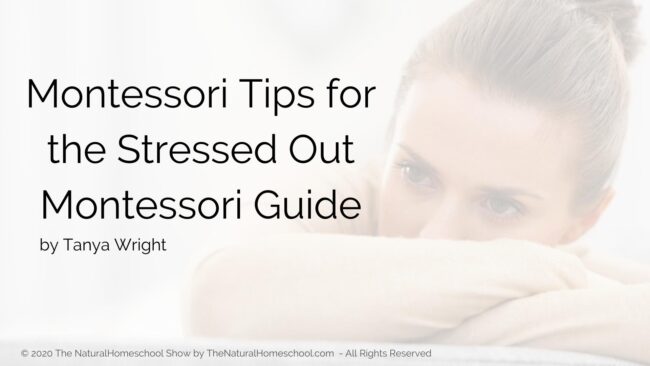 Montessori Friendly Summer Printable Bundle

With this summer bundle, you will be equipped with everything you need to keep your children occupied and having a wonderful time while remaining indoors and celebrating summer from the comfort of your own home.

Do you need help in doing Montessori right?

Do you need help in doing Montessori to make sure that you are doing it right? Come and find out how to know what to focus on first, actionable steps to apply immediately and more!

Planning Montessori at Home (digital book)

Do you want to plan your Montessori at home, but don't know where to start? This 65-page digital book is going to give you the guidance you need to do it right from the beginning. There are some tips and tricks that many don't know will shortcut their planning by a lot.