If you are in the research phase and have been looking around at different methods of education, either for your children to attend a school that follows that method, to follow it at home in your homeschool or for you to actually become a teacher in that method, then you will benefit from this question.
---
If you are doing Montessori at home or Montessori in general, I don't want you to feel that you are stuck in limbo, unsure of where to go or what to do.
Let me begin by providing a brief overview of how I came to be interested in Montessori education.
Perhaps my story will strike a chord with you.
Then I'm going to give you three questions to ask yourself in order to determine whether or not Montessori is the right fit for you.
These questions will get your thinking wheels turning.
They will also help you to solidify some of the questions you may have been asking yourself about this subject matter in the past.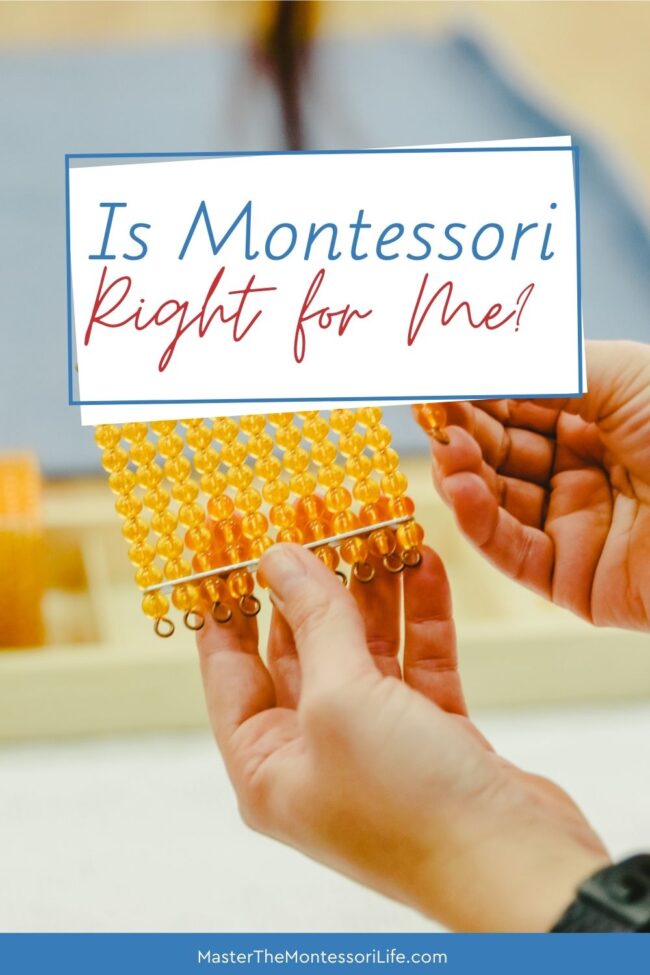 Watch & Listen to the Episode Here:
As you watch or listen to this training, know that you will be able to get more information than what is included in this blog post.
However, I really want to encourage you to take the time to watch or listen and take notes.
Importantly, this will be helpful to you now and in the future.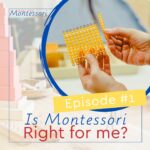 Montessori is for Everyone
Even as a child, I was aware that I had a passion for instructing others.
I had no idea that when I grew up, I would choose to go to university. I was able to earn a Bachelor's Degree in Education (K-8th) with a minor in French.
Afterwards, I went on to earn a Master's degree in Educational Administration, both private and public.
In my wildest dreams, I never imagined that I would end up choosing the crazy idea of homeschooling my children.
But that is exactly what happened.
Introduction to Montessori
But I'd known all along that I enjoyed teaching and that I was always on the lookout for new and innovative ideas and methods to incorporate into my lessons.
The Montessori Method was introduced to me in 2005, and it wasn't until then that I realized how different and unique learning could be, and how learning is not centered on the teacher, but rather on the child.
That which is truly important is the child and her ability to learn at her own pace and through her own choice of learning path.
Here I am, 15 years later, still a believer in the philosophy because it is so potent in my life.
This show is important because it will force you to confront some of the limiting beliefs that you may have been harboring, which may have led you to believe that you couldn't do Montessori or that Montessori was more difficult than it actually is.
We will dispel some of those fears and be honest about the difficulties that many of us are experiencing, as well as discuss possible solutions.
Hope they inspire you to give Montessori a try or to further your knowledge of the method, whether or not it is a part of your life at this point in time.
As a result, let us get started on our thinking questions. Are you ready?
QUESTION #1: WHAT IS YOUR MAIN GOAL IN LOOKING INTO MONTESSORI?
The Montessori approach in a home environment is a wonderful learning process for children.
The answer to the question above about Montessori goals will be useful if you are in the research phase and have been looking around at different methods of education.
This is whether for your children's education in a school that follows that method, education at home in your homeschool, or education for you to become a teacher in that method.
So, what was it that drew you to Montessori education or the Montessori curriculum in the first place?
Perhaps you are considering enrolling your children in a Montessori school, or perhaps you want to pursue a career as a Montessori educator.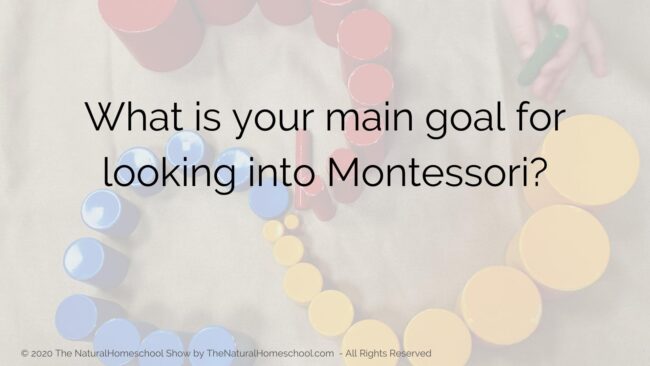 Alternatively, you may wish to learn more about Montessori materials and how Montessori classrooms are set up in order to become a certified Montessori teacher.
Is it possible to find high-quality Montessori learning materials or learn how to perform the Montessori activities themselves?
Do you want to incorporate it into your homeschool curriculum and use it as the basis for your educational program?
Montessori is Doable!
Regardless of what you are interested in learning about, you will learn more about child development, how to get young children working and learning, and how Maria Montessori accomplished her goals by reading this website.
We have a wealth of information, particularly if you want to home school your children.
Anyway, let's get back to our subject.
Make a list of five things and do additional research on those items. These were the factors that influenced my decision:
Personally, I saw how my friend's special needs sister thrived in the method.
I saw how independent, confident and self-sufficient Montessori children were.
I liked the idea of learning centering around following the child's passions.
It was like a dream come true learning that children did their own learning.
And lastly, I noticed how Montessori children were genuinely and innately more aware of everything around them (people, environment, needs, etc).
But at the same time, they could just as easily tune it out when it was time to go on full-on concentration mode while learning.
QUESTION #2: WHAT IS MORE IMPORTANT TO YOU (PICK ONE OF THESE TWO OPTIONS):
for children to learn human basics such as peace, self-sufficiency, courtesy, conflict resolution, caring for things and people?
     OR
for children to be capable academically and do well in school subjects?
See, although Montessori does both, and very well, I might add… not all methods of education do.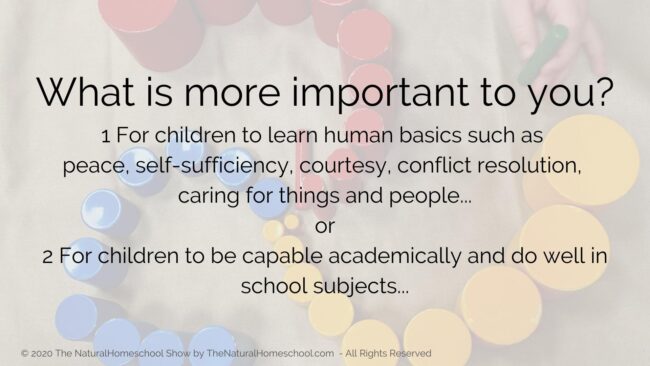 So, if you care for both the academic as well as the social and emotional, then Montessori sounds like it might be right for you!
The important thing is to make a point at spending time in Practical Life, which embraces grace and courtesy.
The learning environments (or prepared environments) that Dr. Maria Montessori encouraged has child-sized furniture and things at a child's level.
This is important because it gives the child the ability to be independent in confident.
But you know what else? It also helps the child practice the grace and courtesy because they can reach things without asking for help.
QUESTION #3: DID YOU KNOW THAT CHILDREN LEARN BETTER IN MIXED-AGE GROUPS OVER GROUPS WHERE CHILDREN ARE VERY CLOSE IN AGE?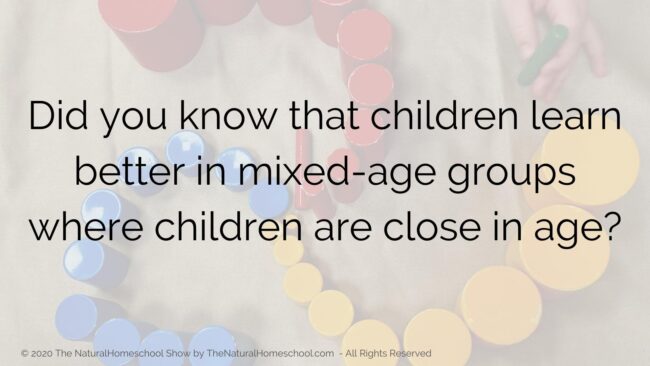 You might not have known this.
Time and time again, we learn from many research studies that children learn best and actually thrive at a higher rate when they are in a multi-age classroom or group.
This is because of several reasons, but you do your research.
As a freebie, you can get a printout of some of this research to make your life easier.
Find the downlaodable file inside the Facebook group called The Montessori Way Prep Room!
It's just too long to give it to you here in this show.
But all you have to do is join my Facebook group called The Montessori Way Prep Room and you will find it in the files section!
Join the group, open the file and print it out!
In Conclusion
To wrap things up:
What is something that you didn't know that are glad you learned today about this fantastic educational approach?
YOU MAY ALSO BENEFIT FROM THESE IMPORTANT MONTESSORI TOPICS:
The Montessori Method

The Secret of Childhood

The Absorbent Mind

The Discovery of the Child

Montessori from the Start: The Child at Home, from Birth

Practical Guide to the Montessori Method at Home: With more