What happens when I don't know what Montessori Materials to buy? Do you need help knowing where to turn when it comes to getting the right Montessori materials for your children right here, right now? I'm here to help!
---
I'm aware that many of you have felt completely befuddled and overwhelmed by this subject.
Many people are interested in purchasing Montessori items, but you are unsure of which products to purchase first.
My goal is to assist you. This is by providing you with some recommendations, rather than telling you exactly what you should buy.
So come in and learn these three leading pointers. They will help you gain more clarity on what you should buy without feeling so lost in the process.
You will undoubtedly be able to narrow down all of the fantastic possibilities available to you.
If you are looking to become a centered, organized Montessori Guide in yourself, nurture happy normalized children and want to create smooth, successful Montessori days, then you are in the right place!
Let me know in comments what you know about this topic, have applied and have tried that worked. Also, tell me what you have tried that didn't work. Ask any questions that you have as we get into this training.
What happens when I don't know what Montessori Materials to buy?
Do you need help knowing where to turn to get the right Montessori materials for your children? 
Yo can do it right here, right now! I'm here to help!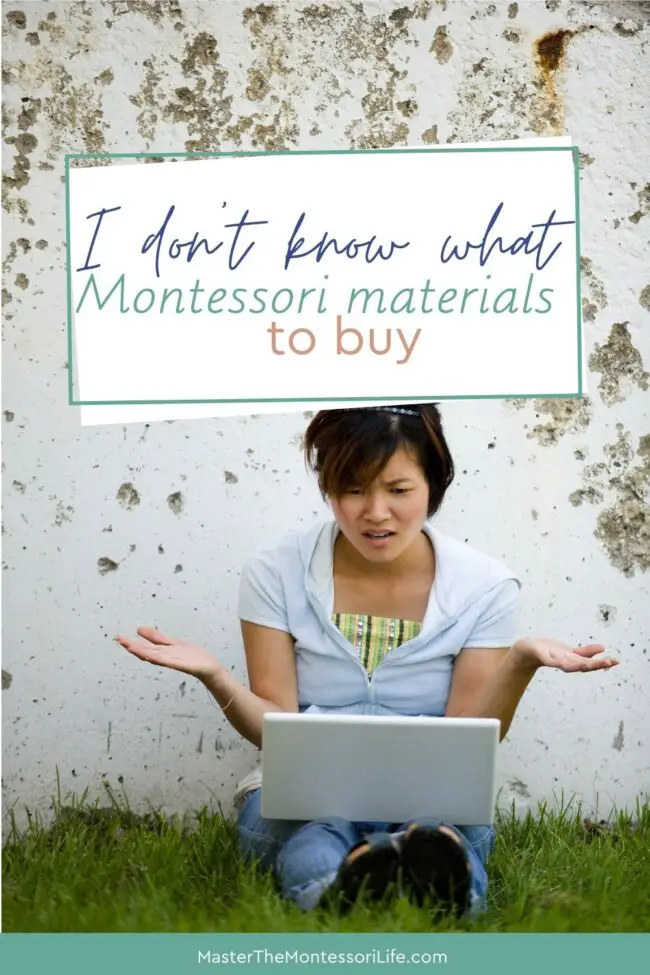 Watch & Listen to the Episode Here:
As you watch or listen to this training, know that you will be able to get more information than what is included in this blog post.
However, I really want to encourage you to take the time to watch or listen and take notes.
Importantly, this will be helpful to you now and in the future.
As you watch or listen to this training, know that you will be able to get more information than what is included in this blog post.
I really want to encourage you to take the time to watch or listen and take notes.
This will be helpful to you now and in the future.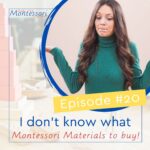 #1 Consider the children's ages
In the Montessori Curriculum 3-6, you take into account the children's chronological ages. But also think about their emotional ages as well as the Sensitive Periods that they are currently experiencing.
You must pay close attention to them and keep an open mind.
During this time period, youngsters will demonstrate their interest in whatever they are doing.
This will serve as a significant clue for you in order to enhance learning for them.
Whether you are considering this for your homeschooling days or your Montessori setting, you will notice a significant improvement in your mood once you have the proper supplies.
One of the most important clues for you is to figure out their ages (chronologically, etc.). This is so that you can figure out the common sense order in which to get the materials.
Consider the example of sandpaper letters.
You could either buy materials to teach children to read and write. Or you could buy sandpaper letters so that youngsters can first learn the names of the letters. Additionally, they'll learn their sounds, and their shapes, before learning to read and write.
Isn't that just common sense?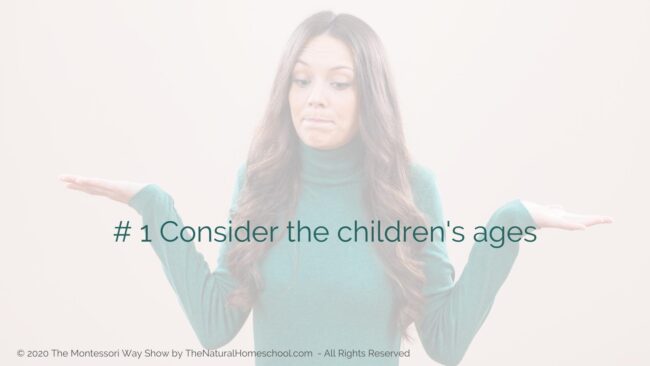 #2 Consider what you want to focus on
In addition to the children's Montessori Sensitive Periods, you must consider the subjects they will be studying.
There are two subjects in particular that are unique and specific to the Montessori Philosophy: mathematics and science.
Practical Life and Sensorial are the two subjects covered in this course.
The other subjects are the same as they are in traditional schools. This is despite the fact that the courses are taught in completely different ways in the traditional schools.
A young child must be taught to handle little objects. When they do, they will improve their fine motor abilities as they grow older.
This is exactly what the Practical Life Montessori task list will accomplish, among other things. It is constantly encouraging independence, self-confidence, and self-esteem in the children.
The Sensorial topic ties children's thoughts to their bodies. It allows them to become more aware of their own needs and wants. They will also learn how to communicate those needs and wants to their parents.
So, once you've decided whether you want to concentrate solely on following Montessori in Practical Life and Sensorial. Or maybe you want to follow Montessori in all disciplines. If so, you'll need to purchase resources that follow common sense in terms of organizational structure.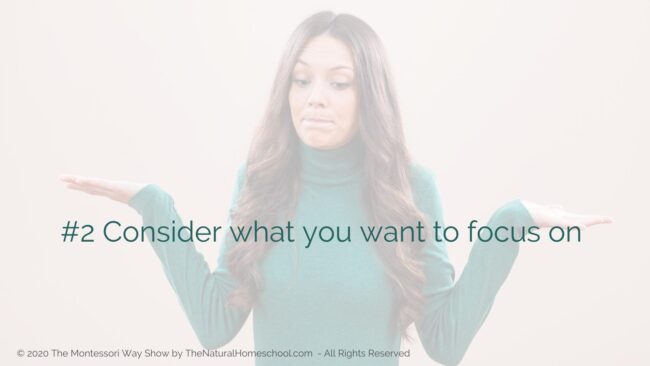 #3 Consider your budget (financially and space-wise)
When it comes to a Montessori homeschool plan or school calendar, you plan some general goals but no specifics.
Original Montessori Materials of high quality are required for proper Montessori practice.
However, if you are working with a restricted budget and available area, you may want to examine other alternatives.
DIY (do it yourself) and Montessori inspired printable alternatives are among the available possibilities.
Overall, youngsters are gaining knowledge and understanding.
Continue reading to learn more about how to obtain some fantastic Montessori printables. You can also get a list of genuine Montessori supplies!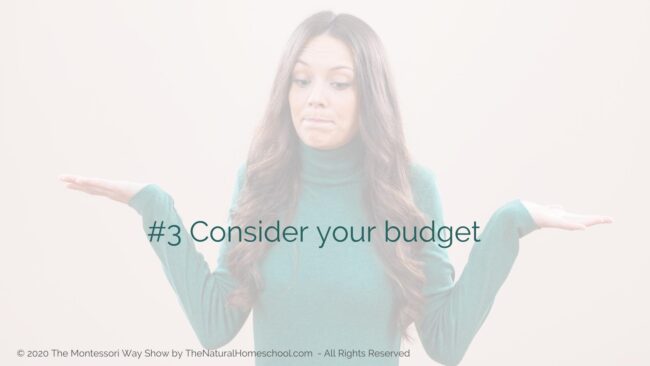 Montessori Material Recommendations
HERE ARE THE RESOURCES MENTIONED IN THIS EPISODE:
If you are interested in getting exactly what you need for your Montessori environment, then you will love this FREE PDF download.
It is a list with over 50 quality Montessori Materials ideas from Montessori Basic Essentials to an entire page dedicated to each Montessori subject.
These include: Practical Life, Montessori Sensorial materials, Math, Language Arts, Science, Culture, Art and Music.
It is a free printable holiday gift guide, in case you needed gift ideas, but in reality, you can use this list anytime because the items listed as suggestions are not seasonal or holiday related.
You can follow it to set up any early childhood Montessori classroom, including Montessori at home.
The links are clickable to learn more about each Montessori Materials list if you open the PDF file on your computer and click on the images on the pages.
Learn more HERE or get the list directly now below.
Like I said at the beginning of the show, I have a FB group for all things Montessori that you are welcome to join.
It is called The Montessori Way Prep Room.
If you want to join a homeschool Facebook community, then join The Natural Homeschool Community!
Join or "Dive Deeper" weekly emails where we go deeper into these Live Training topics!
Sign up for the weekly newsletter!
You May Also Benefit from these Important Montessori Topics:
As you learn more about Master The Montessori Life, you will realize just how much I strive to make your life easier.
I also seek to equip you, to inform you and to give you made-for-you options so you can keep moving forward on your Montessori journey without any speed bumps.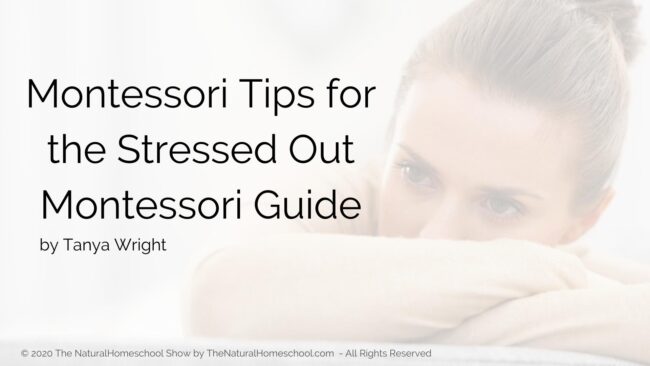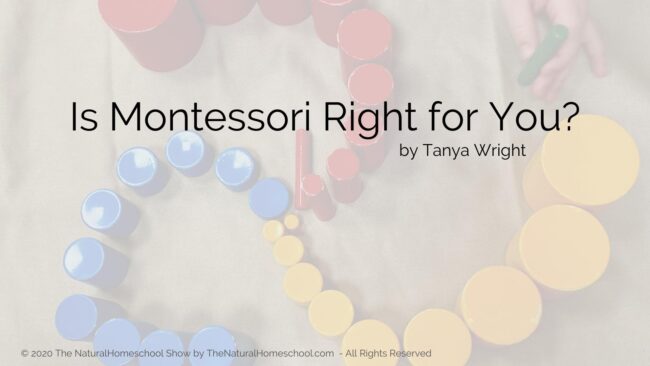 Montessori Environment Wall Decorations

Do you want to know how to decorate your Montessori environment in a way that is consistent with the Montessori principles? Read on.

Chores for Children the Montessori Way

Do you have family chores at home? What about individual ones for each child to do? Do you have several family members that have daily responsibilities in your home? Whether you have older kids or younger ones, we will be discussing what you can do to make chores easier and more doable.

Beginning Montessori Language Arts Vocabulary Activities

Montessori Language Arts is an important academic subject in this philosophy. Learning vocabulary words is key to reading success.