In Montessori education, cultural studies are crucial in shaping the child's view of the world. Culture activities help students appreciate diverse cultures and increase their understanding of themselves and others.
Moreover, children learn about art, history, geography, and science through cultural activities. In this blog post, we'll explore some fun and easy Montessori activities focusing on the Culture subject that teachers can implement in their classrooms.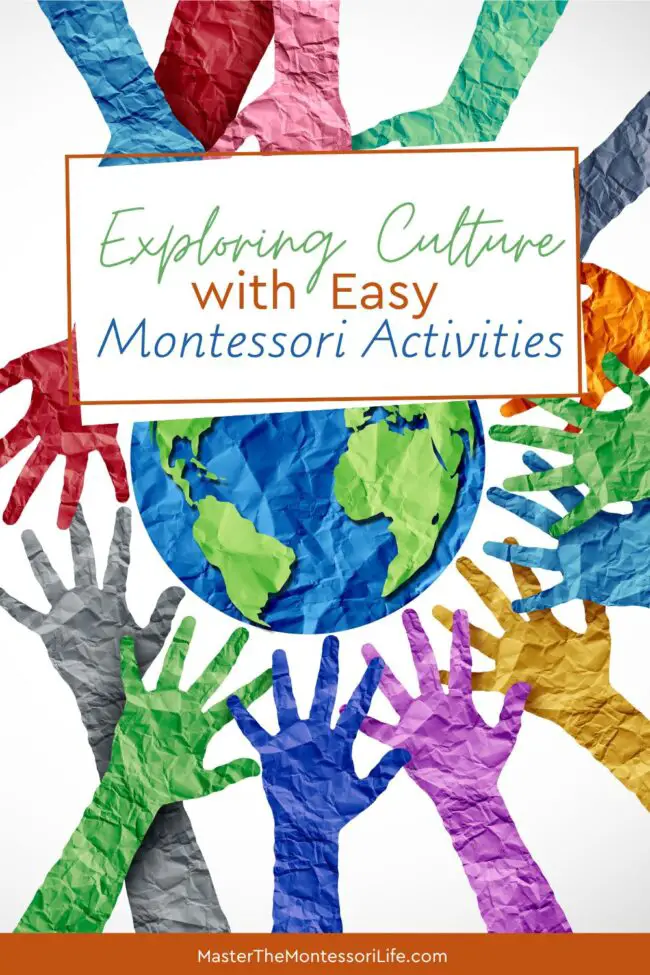 Easy Montessori Activities for Culture
Mystery Bag
This is a great activity for preschool students. Place cultural items or artifacts in a bag. Let each student feel and guess the name of the object.
Once everyone has had a turn to guess, pull the object out so that everyone can see it. Say a little bit about it and let the students pass it around to get a closer look.
Montessori Stereognostic Mystery Bag Gift Bag with Drawstring Cotton Silk Floral Pattern Set of 3

MEROCO Montessori Language Miniatures Objects

Primary Concepts PC-2033-A1 Alphabet Objects Set

Cultural Bingo
This activity is a great way for students to learn about different cultures. Each square on the bingo board contains a different cultural item such as a flag, a musical instrument, or a piece of clothing.
You can also add items that represent various countries. Make sure to provide a brief explanation of each item as you call it out.
MIKNEKE Montessori Animal Figures with Flash Cards, Realistic Animal Figurines Toys, Montessori Materials Homeschool Preschool Science Educational Matching Game for Toddler Kids (Zoo)

Animals of The Continents | Montessori Materials | Wooden Animals | Learning and School, Homeschooling | Alison's Montessori

Cultural Feast
Invite students to bring food that is representative of their culture to share with the class. This activity is an excellent way to celebrate diversity and show appreciation for the cultures within the classroom community.
Encourage students to bring in a dish and write a short description of why the dish is significant to their culture. Remember to accommodate students with food allergies or if they cannot bring in food.
Cooking Class Global Feast!: 44 Recipes That Celebrate the World's Cultures

Feasts and Festivals Around the World: From Lunar New Year to Christmas

Adventure World Awaits Map Party Supplies Tableware Set 24 9

"I Spy" Around the World
This activity helps students learn geography while also discussing different cultures around the world. Use a globe or map to show different parts of the world in geography centers.
Choose a specific location and have students identify cultural items or landmarks within that location. This activity may also take place in other center areas such as sensorial, math, or language.
Gudong Montessori Geography Materials Globe of World Parts/ Continents Preschool Early Educational Equipment Kids Culture Learning Toys Know World Globe (Multicolor)

Flags of The World-Montessori Materials Geography Educational Tools Preschool Early at-Home Learning Toys

Continent Race Geography Learning Educational Game for Kids 7 Years and Up Trivia Card Board Game 2-4 players for Family Activities, Game Night by Byron's Games Award Winning

World Geography Board Games | Mapology Country Educational Learning Game for Kids & Adults | Montessori Learning Gift Idea for Teenage Boys & Girls

Toyvian Puzzles Toddler Toy 1 Set of World Map Puzzle Toys Flags of The World Toys Geographic Cognitive Toys Kids Toys Preschool Toys Montessori

Hugg-A-Planet Classic Political Earth – The Original Soft & Huggable Planet Earth. 600 Places Labeled. Educational Toy for Kids 3+, Teens, Adults, Teachers and Parents.

Musical Chairs with a cultural twist
In this activity, musical chairs are played to music from around the world. Before the music starts, give a brief explanation of the cultural background of the music and its origins.
Encourage students to learn about the cultures through music while enjoying the game.
Joning Hands With Other Lands: Multicultural Songs and Games

Best Multicultural Songs For Kids

Putumayo Kids World Playground CD

Putting it All Together
Implementing cultural activities in the Montessori classroom can help broaden the children's perspective and appreciation for different cultures. By exposing children to different traditions, foods, and norms, they learn to appreciate others' differences while gaining new knowledge. As a Montessori teacher, combining educational concepts with children's cultural origins is an important part of a child's holistic learning and ensures a well-rounded experience, which can foster lifelong learning. These five easy cultural activities are a great start to introducing this topic to your students.
Multicultural Movement Fun

Stoie's International Wooden Music Set, Percussion Kids Musical Instruments, Montessori Unique Play Toddler Musical Instruments for Kids Ages 3, 5, 9, 12- Baby Musical Toys, Baby Musical Instruments

This Is How We Do It: One Day in the Lives of Seven Kids from around the World (Easy Reader Books, Children Around the World Books, Preschool Prep Books)

Featured Culture Products:
You may also like:
Acts of Service the Montessori Way

Are you trying to think of Montessori friendly ideas that will get your children into the giving spirit? In this episode, we will be looking at some great acts of service ideas that you can implement anytime, but especially around the holidays.

Practical Life Fine Motor Skills Printable Activity

In this blog post, we'll discuss the importance of fine motor skills and some fun ways to help your child develop them through a Montessori Practical Life activity.

The Role of Montessori Parts of Speech in Language Arts

Montessori Language Arts takes a distinct approach to teaching parts of speech, transforming what could be a mundane subject into an engaging, hands-on learning experience for children.