The Montessori philosophy offers so much flexibility and leeway when it comes to its subject, Culture. This is because there are many wonderful ways to teach children about countries, flags and people for the world. One of those ways is to use the Montessori hands-on activities. You can use this when teaching the Pledge of Allegiance to the United States Flag!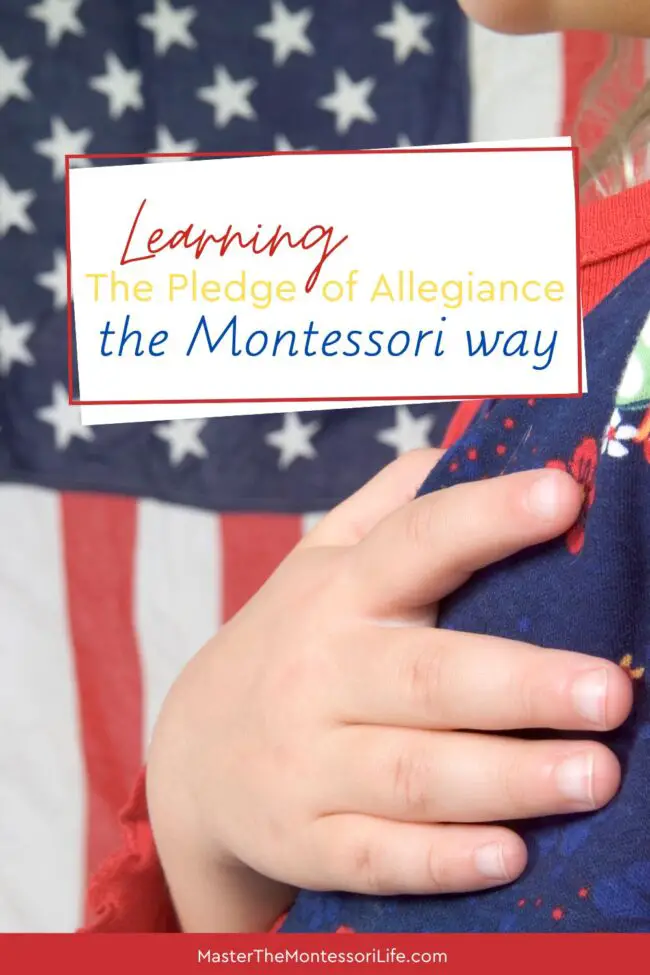 The Importance of the Pledge of Allegiance to the American Flag
The Pledge of Allegiance is a promise or commitment often made by citizens and visitors alike. You can notice this especially during times such as national holidays or parades. When done with intention and respect it demonstrates loyalty, patriotism and dedication to one's country.
The Montessori approach allows children to learn in an active way. This is because it is engaging their senses and allowing them to explore through touch. Learning about the pledge can be done in many ways; from reading books on American history to playing games that involve counting stars on a flag.
Beyond memorizing the words of the pledge itself (which can easily be done through repetition and hands-on activities), a Montessori approach can also involve exploring the colors of the flag, its history and significance.
With Montessori hands-on activities children will be able to engage with visual aids. Some of these are 3-part cards or other typical Montessori activities that demonstrate concepts like patriotism in understandable ways. The pledge may then become more meaningful for them when the idea is reinforced through tangible objects.
Overall, teaching the Pledge of Allegiance to the United States Flag with a Montessori approach allows for an interactive learning experience that puts an emphasis on respect while staying true to what it symbolizes.
Ideas to Teach the Pledge of Allegiance to the American Flag
Hands-on activities are great tools for helping children grasp ideas, especially those related to culture and history. It's important to remember that learning should be fun and engaging. But it also must be meaningful and following standard Montessori lesson presentation steps.
By incorporating the Montessori hands-on activities into the Pledge of Allegiance to the United States Flag, children can better understand its importance while enjoying their learning experience. With this approach, we hope that each child grasps a greater appreciation for their country and all it stands for.
The Pledge of Allegiance to the American Flag is an important part of our country's identity and history. It is a meaningful tradition for many individuals. Knowing the pledge helps us foster a sense of pride and patriotism. Also, an understanding of the values that our nation was built upon.
In order to help children learn this valuable lesson, Montessori schools have developed hands-on activities that provide a unique way to explore this integral part of our national heritage. One activity that is often used in Montessori classrooms involves physical representations of each line from the pledge.
For example, students can make their own paper flags with strips representing each word in the pledge. After constructing the flag, they are encouraged to trace their finger along each strip while reciting the words aloud.
This activity provides children with a tactile experience that links them to both language and physical representation together, helping them understand the symbolism behind each line of the pledge and enabling them to practice saying it from memory.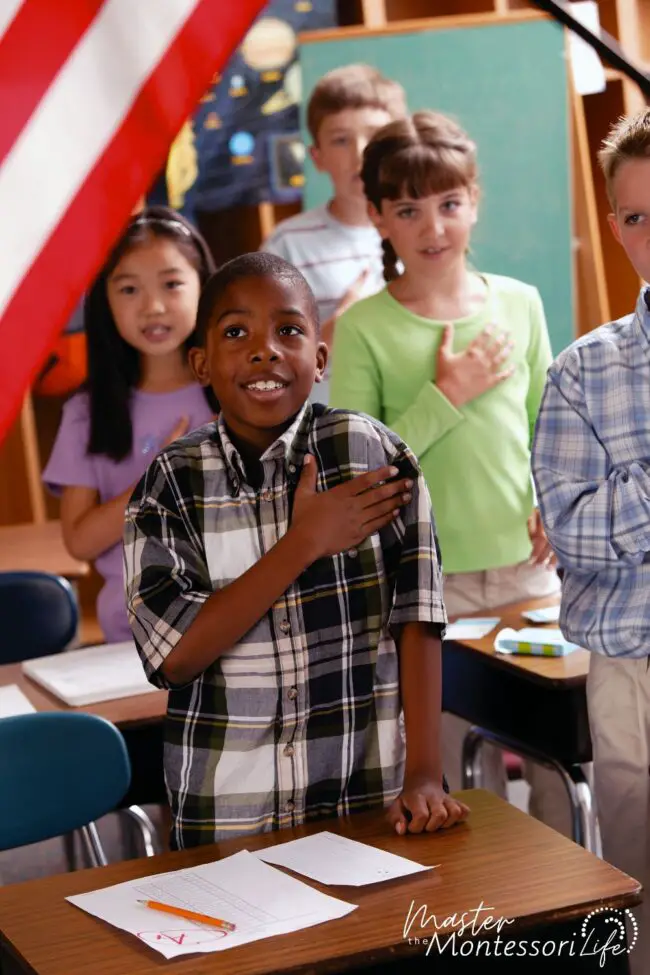 Teaching the Pledge of Allegiance to the United States Flag + Lesson Plan
As I mentioned the activity above, I got a wonderful idea on an activity that children can do the Montessori way to learn, and even memorize the Pledge of Allegiance. Take a look at this wonderful hands on activity. It is simple yet very practical.
The best part is that it includes the step-by-step lesson plan for you. It is all done and ready to go! All you have to do is print it single-sided in color and read the steps in the lesson plan. You will know exactly how to do a presentation lesson for the child. It can't get easier than that!
I have included several extension activities so the child can continue doing this activity as they get older, or as they master each level. I love how all of the resources will printables that I make can be used for children of varying ages, and I also make them so they can be used a different levels and for different purposes.
In the lesson plan, you will see the materials that you need, how to set up the lesson, how long the lesson will take, the ages for the children that this lesson is for, the lessons, direct aim and secondary aim, and so much more! You will love to know that it is at an extremely affordable price. Like I said, it can't get better than that! Get yours today!
Pledge of Allegiance to the United States Flag the Montessori Way + Lesson Plan
$3.50
This activity includes 5 pages, including a step by step lesson plan, reference sheet, control of error and the hands-on activity.
In the lesson plan, you will see the materials that you need, how to set up the lesson, how long the lesson will take, the ages for the children that this lesson is for, the lessons, direct aim and secondary aim, and so much more!
More Ideas to Memorize the Pledge of Allegiance
Another popular activity involves having students stand around a blank map of the United States while repeating lines from the pledge. As they recite each line, they move one step closer towards the center of the map until they reach it at their final line.
Through this process, children can develop an appreciation for what America stands for–and why we should all be proud to call ourselves Americans. It is important for children to understand our nation's history and its core values such as freedom and justice; knowing what we are pledging allegiance to when we repeat these words can help instill these values in young minds.
With Montessori activities like these that bring language together with physical objects or movements, kids can gain a stronger grasp on what it means to recite our national oath–and why it is so important to do so.
Look at more Culture Resources: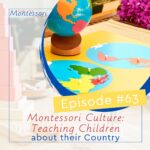 Montessori Three Part Card System – United States of America

Montessori USA Map Puzzle for Kids with Labeled USA Control Map – Montessori Preschool Geography Toys & Gifts for Boys & Girls Ages 3-5-7 and Up – Wooden United States Puzzle Map for Kids

United States Capitals – Montessori Geography

You might also enjoy these relevant topics:
Acts of Service the Montessori Way

Are you trying to think of Montessori friendly ideas that will get your children into the giving spirit? In this episode, we will be looking at some great acts of service ideas that you can implement anytime, but especially around the holidays.

Practical Life Fine Motor Skills Printable Activity

In this blog post, we'll discuss the importance of fine motor skills and some fun ways to help your child develop them through a Montessori Practical Life activity.

The Role of Montessori Parts of Speech in Language Arts

Montessori Language Arts takes a distinct approach to teaching parts of speech, transforming what could be a mundane subject into an engaging, hands-on learning experience for children.