In this training, we will discuss how you can be your worst enemy sometimes and sabotage your own Montessori progress.
---
Whether you have been venturing on your Montessori journey for 5 minutes, 5 years or 5 decades, you will have to face yourself and reconcile one thing.
That one thing is that you, the Montessori teacher, will have to understand that you need to change your thinking.
See, a Montessori school is very different from a traditional school.
Dr. Montessori really observed children and determined the best way in which children learn.
In this training, we will discuss how you can be your worst enemy sometimes and sabotage your own Montessori progress.
As we discuss these things, I will help you move past those things that can hold you back and keep you from being successful in Montessori education.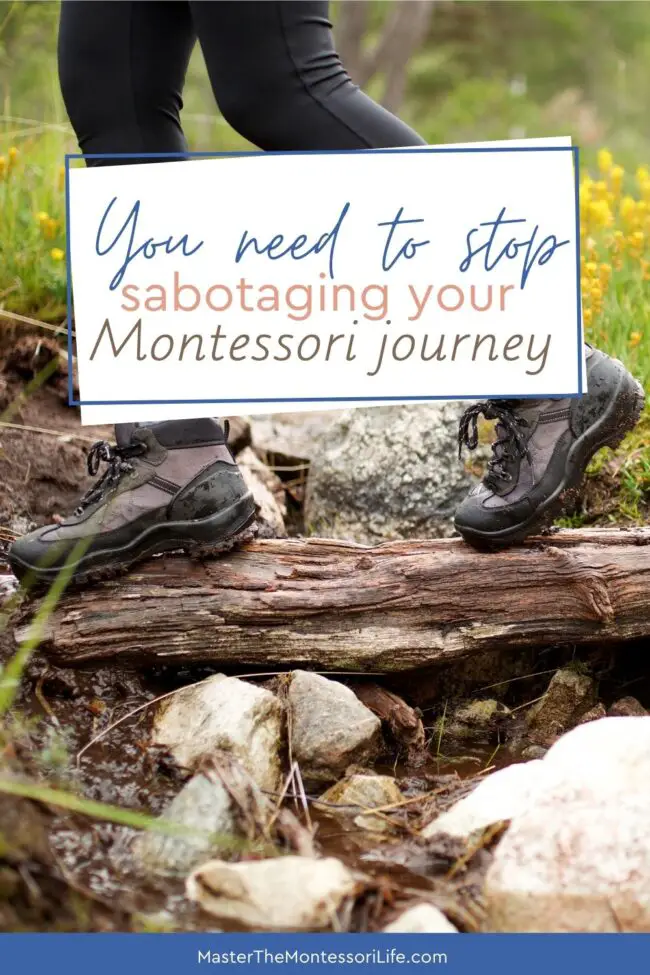 Watch & Listen to the Episode Here:
As you watch or listen to this training, know that you will be able to get more information than what is included in this blog post.
However, I really want to encourage you to take the time to watch or listen and take notes.
Importantly, this will be helpful to you now and in the future.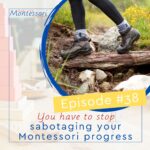 #1 Stop getting in the way
If there is one thing that we need to get straight is that there is such a thing as Montessori obstacles.
And that is the reality of life.
Things that are worth pursuing or doing are usually hard, right?
Maria Montessori knew that her Montessori approach would stand out from all educational approaches.
We can confirm it now.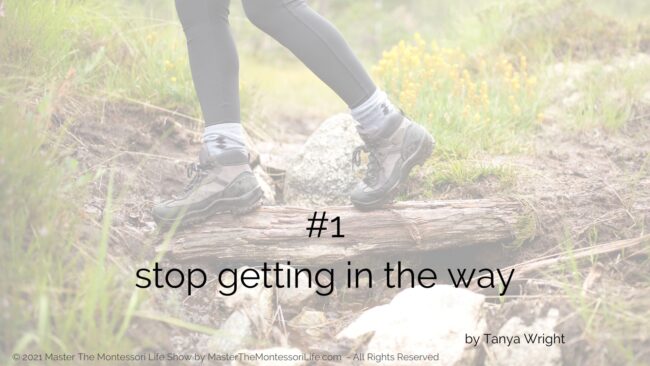 But let's make it a point to not give up, in spite of things we might do ourselves that discourage us.
I know that The Montessori Method can be overwhelming and hard, but the more you learn about it, the more sense it makes.
It makes such a big difference when we get out of the way and decide to be like children… be little sponges to take in everything that is around them.
So, as you are surrounding yourself with more and more Montessori information, get out of the way and absorb.
#2 Stop winging it
There will be Montessori problems in the learning environment.
I am not trying to be negative, but I am wanting to point out some pitfalls and give you a way out of them!
The reason why I am really wanting to point out these issues is so that you can be more aware of the patterns that I have noticed in many Montessori's over my 16 years of Montessori experience.
For one, it will make you feel better to know that you are not alone.
And also, you will know that if these have been problems for that long, then there are several answers to solve them!
As I have mentioned this before, your Montessori students are little sponges.
They notice and absorb everything around them.
They know or "pick up" when you are stressed, unprepared, disorganized.
In other words, they know when you are "winging it."
Montessori programs are different from public schools because they don't come with a textbook to follow and a student workbook to give them assignments.
Montessori preschools and early childhood environments are fluid.
They are not static. They are ever-changing.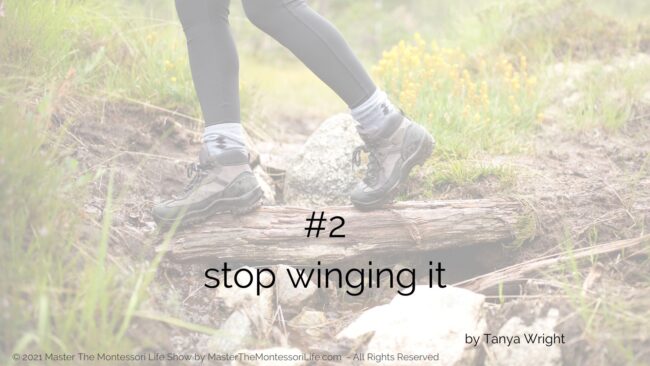 There are so many Montessori materials, lessons, topics, subjects and activities to cover!
What are you to do?! In one word: Prepare!
Stop winging your Montessori days.
If you want to create smooth, successful Montessori days, you must have the ability to plan your Montessori classrooms.
Get organized. Get creative. Love doing Montessori again!
Because you know what?
The more prepared you are, the happier and more peaceful you will be.
And in turn, the children you serve will be, too.
#3 Stop the endless friction
This one is a mix of the first two limiting beliefs that I mentioned about Montessori progress.
When I say "Stop getting in the way," I mean that you don't have enough knowledge of The Montessori Method to dispel:
all of your preconceived notions
your traditional school mentality
and make it truly a child-centered
Not having enough knowledge in the philosophy can bring you endless friction.
You need a deeper understanding.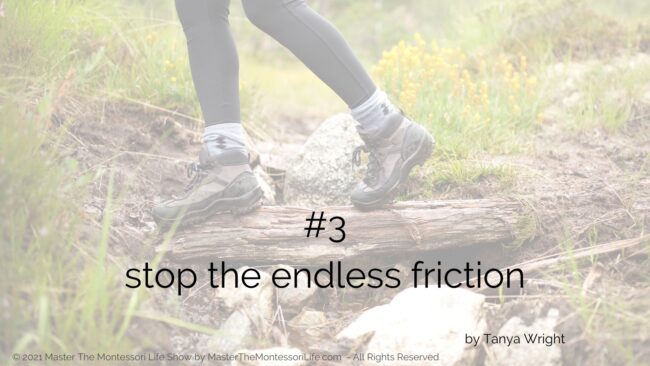 If you want to go deeper into this topic and really solve the problem, consider enrolling in The Montessori Way Foundations Framework.
It only opens 2 or 3 times a year, but this 6-month framework will change your Montessori progress!
Join the waitlist to learn when enrollment opens again.
More information in the Resources section of this training.
Now, when I say "Stop winging it," I am referring to you not being organized.
If you don't have a plan and a solid reasoning behind it, you will face endless friction.
This is why having a planner, a calendar, charts and lists can be very helpful.
I will share with you some of these resources that will help you more than you know to be on your way to those first steps to creating smooth, successful Montessori days.
There are other things, of course, that could give you endless friction.
But I will save those for another time because I don't want to overwhelm you with too much information.
When you have too much, you freeze and end up doing nothing.
Key Takeaways about Montessori Progress
As you ponder on these three focal points for this training, I want you to really think about picking one of them and come up with a plan of action that will help you minimize or get rid of that issue completely.
Set up doable, measurable and reachable goals for yourself.
One of those goals is to set a tentative date in which you want this accomplished by.
Why? Because you don't want to miss out on the other 2 training points.
I would love for you to take time to focus on all three and get rid of all three, but please do so one at a time.
Resources mentioned in training
Like I said at the beginning of the show, I have a FB group for all things Montessori that you are welcome to join. 
It is called The Montessori Way Prep Room.
If you want to join a homeschool Facebook community, then join The Natural Homeschool Community!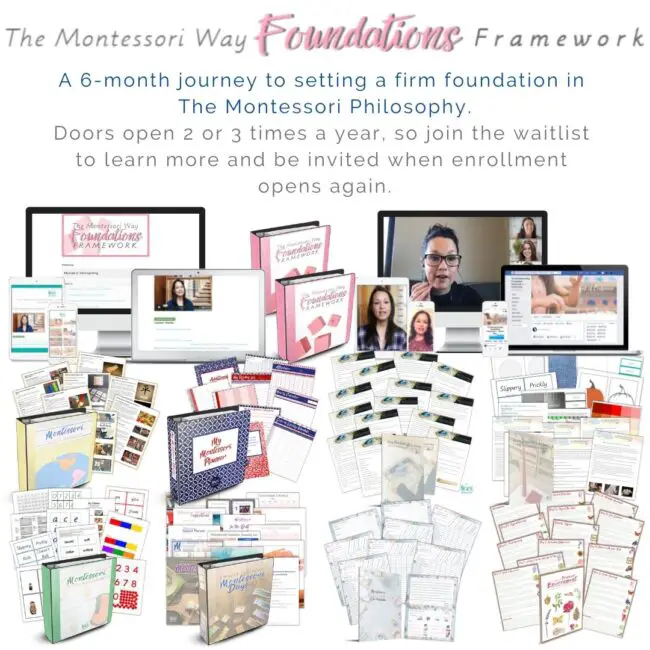 You May Also Benefit from these Important Montessori Topics:
As you learn more about Master The Montessori Life, you will realize just how much I strive to make your life easier.
I also seek to equip you, to inform you and to give you made-for-you options so you can keep moving forward on your Montessori journey without any speed bumps.