In this fun training, you will learn some important qualities that Montessori Sensorial materials must have.
---
As an educator, a homeschool mother and a Montessori coach, I am continually inspired by Dr. Maria Montessori's insight, especially with sensorial materials.
She inspires me into paying attention to and tending to the education of the young child's five physical senses.
This is done through activities in her subject called Montessori Sensorial.
This is a unique and incomparable aspect of her method. I continue to be exploring and educating others on because it is so important.
No other educational method or philosophy focuses on sensorial or sensory education like The Montessori Method does.
In this training, I am going to be discussing three qualities that Montessori Sensorial materials and lessons must have.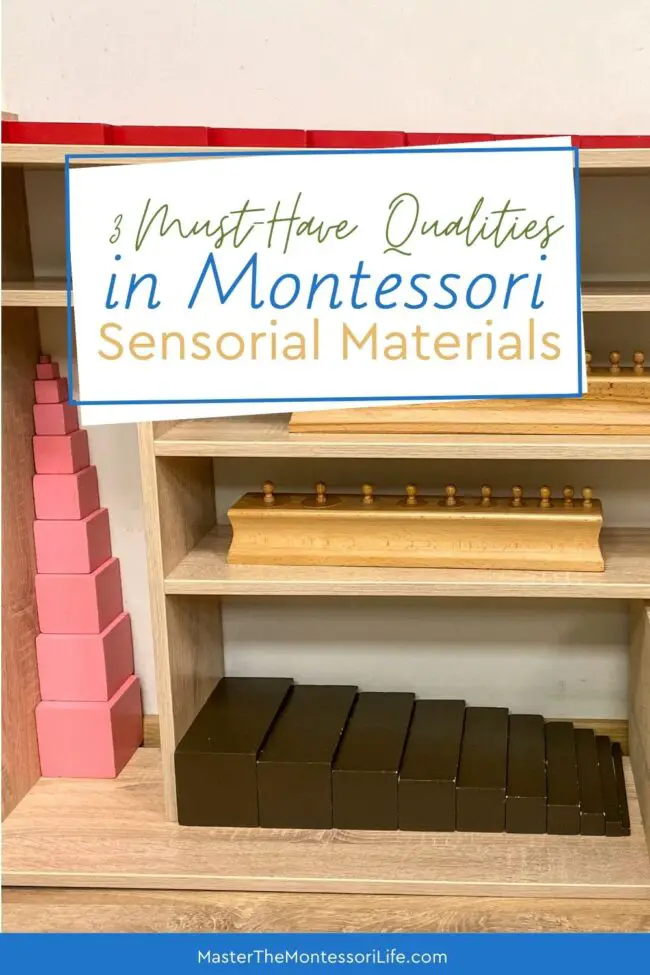 Watch & Listen to the Episode Here:
As you watch or listen to this training, know that you will be able to get more information than what is included in this blog post.
However, I really want to encourage you to take the time to watch or listen and take notes.
Importantly, this will be helpful to you now and in the future.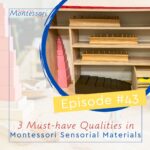 #1 Notice the 5 Senses
Montessori identified a time in a young child's life in which it is acutely sensitive to the notions, experiences and impressions received through their senses.
These very important open windows of opportunity is what she called the "sensitive period."
It is the sensations obtained through the five senses…
These are the senses of taste, touch, sight, smell, and hearing. They create and shape a child's knowledge of his or her environmental world in a physical way. It also connects to other aspects, such as psychological and social.
The wonderful Montessori Sensorial materials are to be present in all Montessori environments.
And they are presented to children in the way that Maria Montessori saw best by studying her writings in detail.
Using the Montessori Sensorial materials in your Montessori environment, you isolate certain aspects of the stimuli. Additionally, you create a sensory perception of them for the child.
It is the connections that children make as they study the content and build their own knowledge that sets this method of education apart from all others after the original presentation.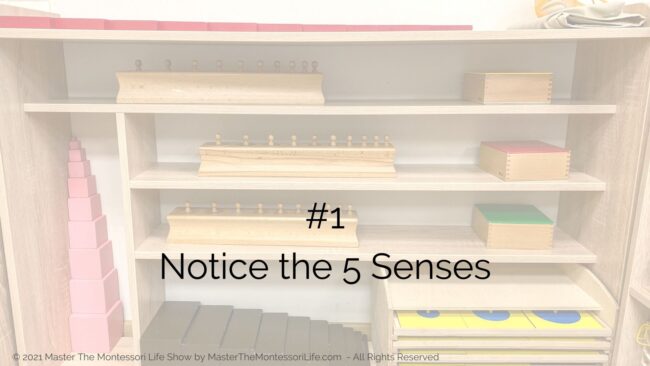 #2 Experience the 5 Senses
One of the most distinguishing characteristics of the Montessori environment is the emphasis focused on assisting the child in his or her pursuit of independence.
Freedom is a term that is often used to define or identify the 'Montessori' method of teaching.
It is common to hear about a child being given the freedom to choose. And the fact that they may and should select anything they want within the Montessori environment.
This quotation helps to put freedom into perspective.
There is no doubt that there is freedom in Montessori settings.
Students possess complete freedom to select their own work and to roam about.
Remember that in order to be successful in gaining independence, a child should have the freedom to explore. Additionally, they choose his or her works and also have freedom of movement.
This allows for the child to explore and experience the five senses within the safe confines of the prepared environment.
As I always say, in Montessori, we control the environment, not the child.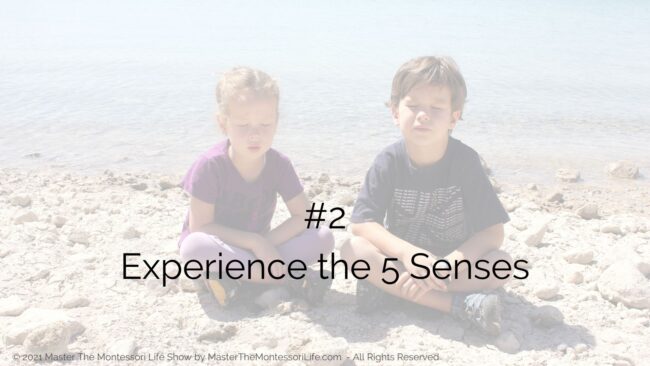 #3 Categorize the 5 Senses
Dr. Maria Montessori, the mastermind behind The Montessori Philosophy of education, saw the development of a child as a whole process that everyone values and respects.
The conventional 'transfer' of certain predetermined abilities and perhaps information did not apply to her schooling in any way.
I am referring to traditional schools, where the teacher is the center of attention and all knowledge comes from the adult in the room.
As an alternative, she urged Montessori Guides (the teachers) to focus on the child's potential and interests, and to build on them.
Implement a child-centered approach.
As a result, Montessori philosophy fosters a lifelong love of learning, as well as a sense of wonder and a profound respect for the environment in which we live.
Through the Montessori prepared environment and trained Montessori Guides, children may realize their own potential, rather than through hearing about it from others.
Challenge every child and give them with chances to develop qualities such as flexibility, creativity, connections, relationship and categorization, among other things.
As they categorize through analysis, children acquire working theories, the ability to problem solve, and a sense of the world around them as a result of experimenting with a variety of learning materials and activities, which they try out for themselves.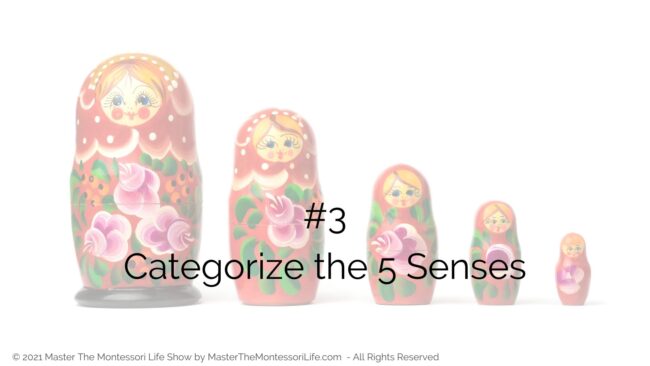 Key Takeaways
Sensorial activities are those that target the five sense to make sense of the world around them.
This includes visual discrimination through sensorial experience in the Montessori classroom.
As they grow, the child is developing a more refined idea on how much their sense of touch, sight, hearing, smell and taste can do for their understanding of the world around them.
Set up a Sensorial area on the shelves in your Montessori classroom.
You can combine some Sensorial works with Practical Life.
Resources mentioned in training
Like I said at the beginning of the show, I have a FB group for all things Montessori that you are welcome to join. 
It is The Montessori Way Prep Room.
If you want to join a homeschool Facebook community, then join The Natural Homeschool Community!
Some Montessori Sensorial materials are:
Red Rods
Cylinder Blocks
Pink Tower
Brown Stair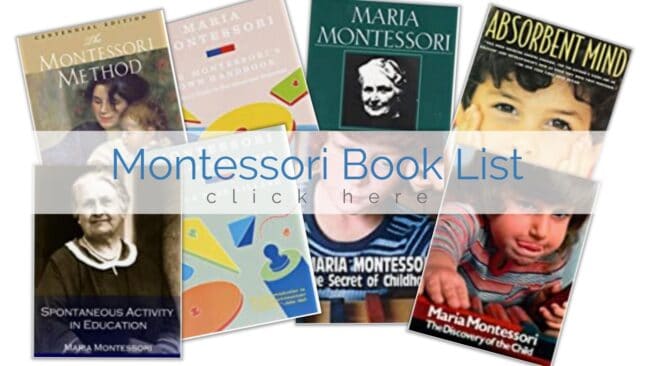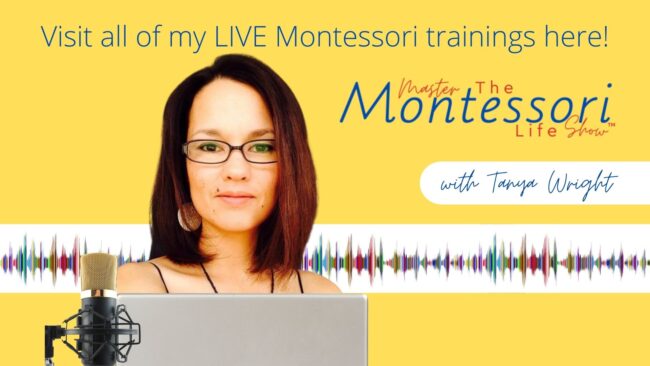 You May Also Benefit from these Important Montessori Topics:
As you learn more about Master The Montessori Life, you will realize just how much I strive to make your life easier.
I also seek to equip you, to inform you and to give you made-for-you options so you can keep moving forward on your Montessori journey without any speed bumps.