Let's be honest: doing Montessori can be exciting, terrifying, and overwhelming all at the same time!
All you have to do is check in with yourself every hour or so, and your emotions may shift that quickly. It can be a good thing and a bad thing.
If you are like this, you probably believe that one of the main causes of your feelings is a lack of organization.
With the right resources, you can organize your homeschool whether your children are young or in high school.
In this post, we are going to give you a beautiful 2023 printable calendar that will help you stay on top of things. That way, you will be able to set those things on paper and out of mind. The result is peace of mind.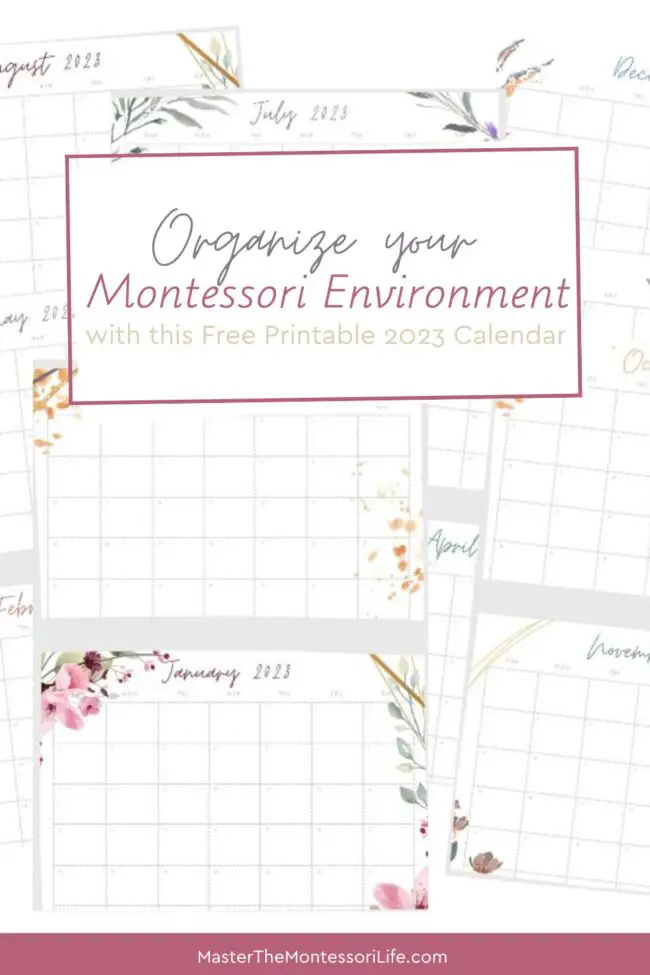 Get your Montessori organized
I have great news for you! You can start 2023 with the right foot!
If you do Montessori work, need to keep track of when to order supplies, or want to remember when to start your unit studies, this calendar is for you!
Having a calendar will make any Montessori planning so much easier.
I simply enjoy seeing where I am and where I am going.
In reality, I have three calendars: one for work, one for our homeschool, and one for my family.
Having three months in front of me at once is extremely beneficial to me.
I believe it will be for you as well.
While we're on the subject of organization, here are some resources you might be interested in:
Montessori Homeschool and School Schedule
Montessori learning is not as broad as other education categories, so you might be wondering if this is right for you. In short: YES, IT IS!
If you want to go deeper, you should get our Montessori Planner, but this one will suffice for the calendar.
The Montessori Planner contains much more than calendars.
It truly prepares you for Montessori-inspired success.
Keep track of your children's days as they complete their Montessori activities.
It would look great in your homeschooling or schoolroom!
It has a page for each month of the year.
That comes to a total of 12 pages.
They are all in the landscape (horizontal) look.
You may choose to print one per page or do them doubles-sided.
For my binder, I print them out on regular printer paper.
For the wall, I like to use cardstock instead because it is studier on my cork board.
The printer settings are: color, best quality and fit to page.
Montessori at Home Assessment
Now, I wouldn't be a good friend if I didn't tell you about this.
The absence of a lovely calendar is only one aspect of feeling disorganized.
It's also possible that you're all over the place in your Montessori journey.
You might be unsure of which level you are in.
Do you need some assistance with this?
Then you'll enjoy this assessment below!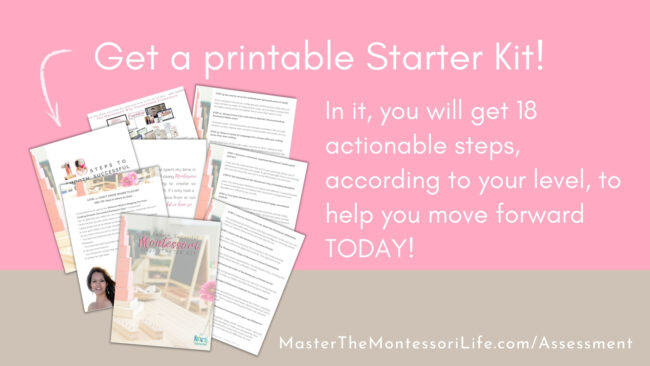 2023 Printable Calendar
The Montessori Guide values organization and knowing that everything is covered and planned.
Don't let this free printable 2023 calendar pass you by.
It will look lovely on the wall of your Montessori environment.
These will look fantastic on the walls of your learning spaces.
Alternatively, keep it in your planning binder.
You may want to print one for each of your children!
Check out these fantastic calendars without dates that you can use whenever you want!
To download this free printable, all you have to do is click the link below.
Save it and print it out in color as many times as you need.
You might also enjoy these relevant topics: