In this training, I am going to share with you 3 important things that I have learned about being a Montessori parent.
---
In Montessori education, there are many things said about the curriculum, the activities, the subjects, the Montessori Guide, and so on, but do you know if Maria Montessori mentions the Montessori parent at all?
She did! She wrote several special lectures with wonderful parenting strategies that will make you successful.
It is your job to make your home environment the best Montessori experience you can.
The Montessori Method is beautiful to embrace as a lifestyle.
In this training, I am going to share with you 3 important things that I have learned about being a Montessori parent.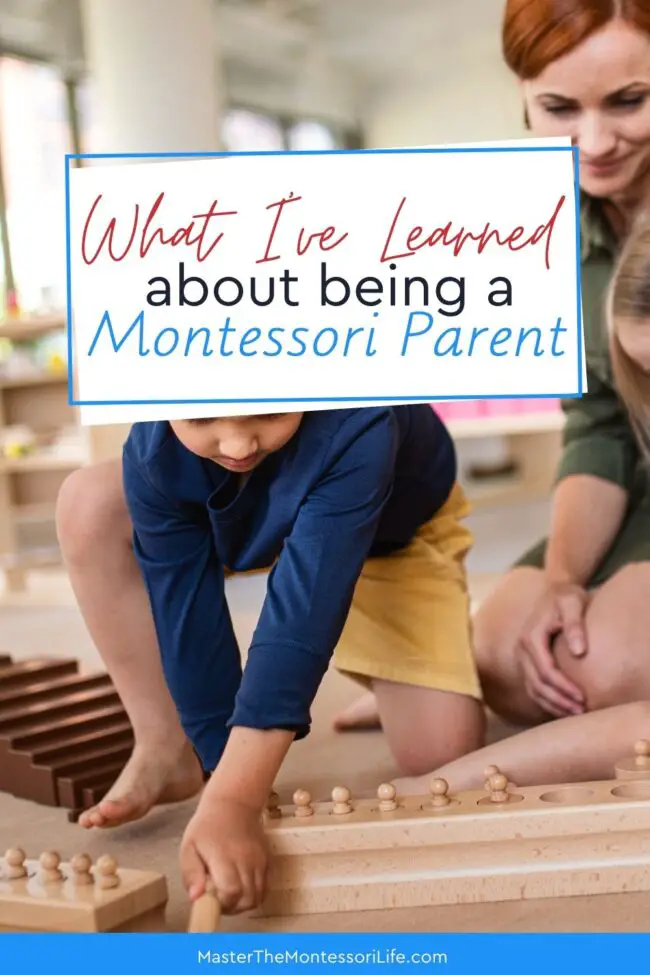 Watch & Listen to the Episode Here:
As you watch or listen to this training, know that you will be able to get more information than what is included in this blog post.
However, I really want to encourage you to take the time to watch or listen and take notes.
Importantly, this will be helpful to you now and in the future.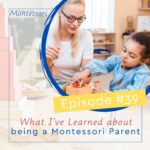 #1 You Become a More Consistent Parent
Inconsistent parenting is said to be one of the most detrimental behaviors that affect child development.
Why? Because consistency is more important than we give it credit for.
As much as they might act like they don't, children actually like repetition.
They crave and thrive in predictability.
Children want to know what comes next. It gives them security.
How does Montessori help you become more consistent?
Here are some:
by following the order of the lesson presentations
the displaying of Montessori materials on shelves
by the way routines are done repetitively in the classroom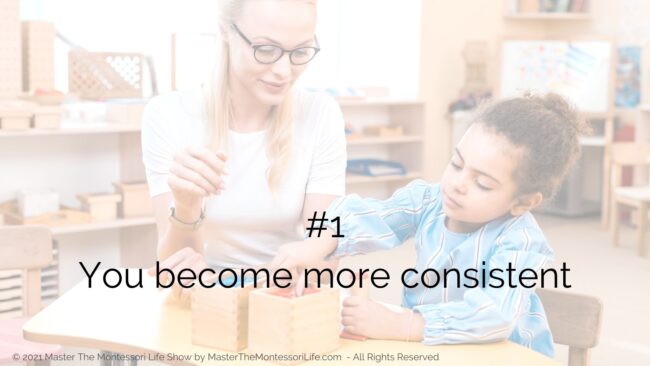 How can we become more consistent parents?
By internalizing and rehearsing with our children.
Never forget that children feel safer with consistent routines, so try your best to do it.
#2 You Become a More Flexible Parent
Montessori at home looks different than Montessori schools in several ways.
One of those ways is that you have to wear the parent hat and the teacher (Montessori Guide) hat, which can bring some conflict.
There's the safety of the home, but there's also a unique behavior that children have: they let down their guard, which makes them act out more (sometimes and in some cases).
Letting it get out of hand can exacerbate behavior issues and mental health problems in either the child, the parent or both.
But there's a sweet secret weapon that many Montessori parents forget they have, so they don't use.
This secret weapon is flexibility.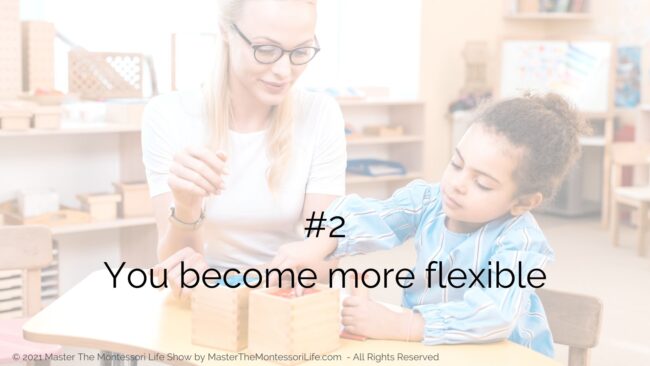 See, when you are doing Montessori at home, you are able to have the flexibility to change your schedule when you need to.
If your child is having a hard time in the morning, then move Your Montessori activities to midday or afternoon.
Now, you might be asking yourself: "How does Montessori help me become more flexible?"
There are many problems solved in a child's behavior when you follow the child.
There is power in observations, reflections and in following the child.
#3 You Become a More Engaged Parent
The Montessori philosophy has made me a more engaged parent.
The way that it has done that is because it encourages us, the Montessori Guides to be engaged from the background.
See, through the power of the Sensitive Periods, observation and lesson presentations, you will be more connected to your child's learning process.
You will be more confident on how your child learns in the Montessori classroom at home.
And, in turn, you will know how to serve the child better and better in time.
Honestly, there will come a point where you will set out activities for your child and you will get a glowing glance and smile day after day.
It will be as if your child is wondering whether you can read their minds because you are hitting the nail on the head when it comes to what they are interested in learning.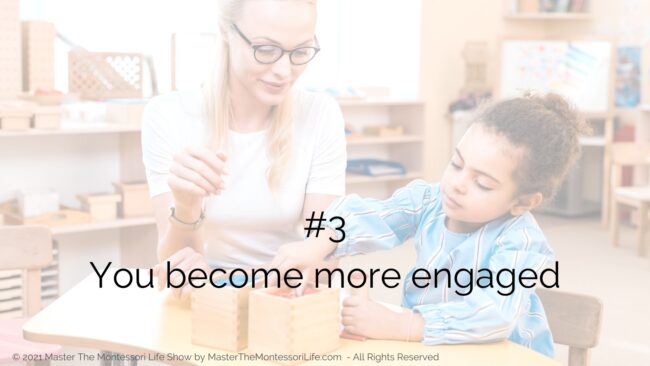 Key Takeaways about the Montessori parent
Consistency, flexibility and engagement in parenting are excellent qualities to have.
They bring success both in you and your children.
Create a plan on how you will be more consistent, notice when flexibility is needed and how you need to become more engaged.
Resources mentioned in the Montessori parent training
Like I said at the beginning of the show, I have a FB group for all things Montessori that you are welcome to join. 
It is called The Montessori Way Prep Room.
If you want to join a homeschool Facebook community, then join The Natural Homeschool Community!
You May Also Benefit from these Important Montessori Topics:
As you learn more about Master The Montessori Life, you will realize just how much I strive to make your life easier.
I also seek to equip you, to inform you and to give you made-for-you options so you can keep moving forward on your Montessori journey without any speed bumps.