There can be some negatives in Montessori In this episode, let's talk about some of the limiting beliefs or discouraging thoughts that you might have that may be keeping you from moving forward in your Montessori journey.
---
Are you using a Montessori curriculum for children ages 3 to 6 but encountering problems with your Montessori environment?
Is there a Montessori work that you're hesitant to use or put up in your Montessori environment?
Let's talk about some of limiting beliefs or negative attitudes. They may be hindering you from progressing in your Montessori journey in this episode.
I understand where you are.
But like with anything, there are pros and cons in Montessori as well.
I am not looking at being negative, but we will focus on some of the walls people hit.
Specifically, when looking into Montessori and hopefully, they will learn more about this educational approach.
If you are looking to building a centered, organized Montessori Guide in yourself, nurture happy, normalized children and want to create smooth, successful Montessori days, then you are in the right place!
Let me know in comments what you know about this topic, what you have applied and what you have tried that worked.
Tell me what you have tried that didn't work and if you have any questions as we get into this training.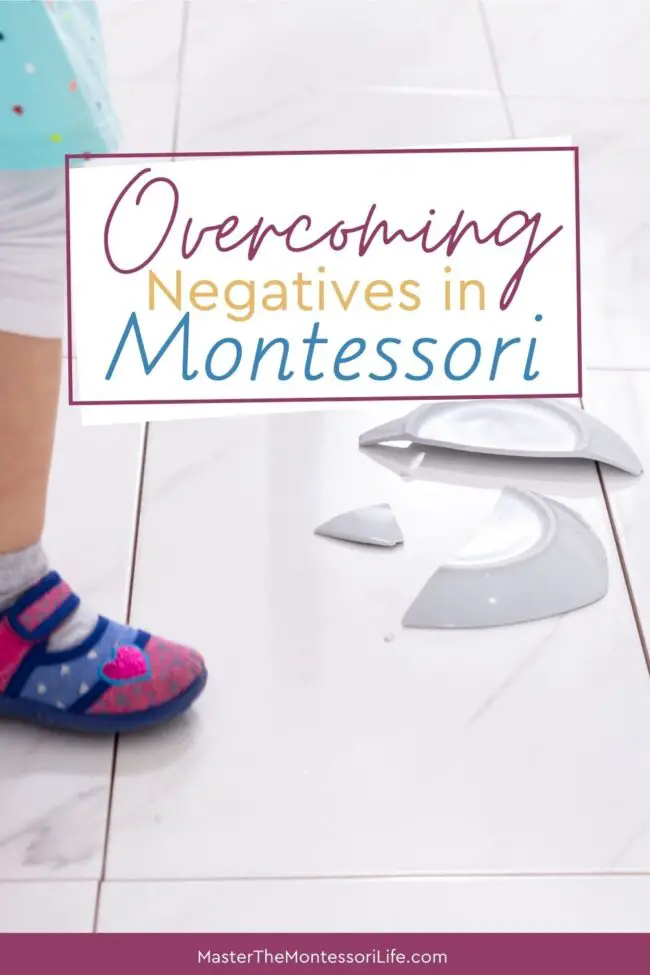 Negatives in Montessori
Know that you will be able to learn more than what is contained in this blog article if you watch or listen.
I want to strongly advise you to watch or listen carefully and take notes.
This will be beneficial to you in the present and in the future.
Watch & Listen to the Episode Here:
As you watch or listen to this training, know that you will be able to get more information than what is included in this blog post.
However, I really want to encourage you to take the time to watch or listen and take notes.
Importantly, this will be helpful to you now and in the future.
#1 Montessori materials are so beautiful; but can be very expensive.
Maybe your Montessori homeschool kindergarten is out of control. Or completely lacking important and essential materials. It might be because you can't afford some of the works or you are lost in terms to knowing what to order.
Your Montessori days at a Montessori school are "supposed" to be packed with beautiful Montessori activities, but you have no idea what to expect.
The cost of Montessori and homeschooling curricula is already high… imagine squandering money on something the kids aren't ready for… sigh…
Original Montessori Materials, such as the ones listed below, are required for a Montessori-inspired environment, but the cost can quickly add up.
Even though Montessori is expensive, especially the high quality ones, but this can be accomplished in a variety of ways.
Following the children you serve to determine their Sensitive Periods is one method.
You can also save time and money by using DIY (Do-It-Yourself) and printouts.
Just keep in mind to be very strategic and intentional about what you purchase.
The bottom line is that you are able to answer this question:
"Will this hands-on learning activity develop a love for learning in my Montessori students?"
If the answer is "yes," then you go for it!
#2 Montessori materials are bulky, which means that they take up a lot of room
These are more negatives in Montessori, according to some.
By this, I mean that they take up a lot of room in both the environment and in your storage area.
This can be a big shock to you, especially if you come from a traditional school point of view.
Montessori schools are so different from traditional schools!
Maybe you have small spaces to set up your Montessori environment. You need to be smart about what you put out.
The rest goes into storage instead of staying out in the early childhood learning environments.
You can come up with a terrific plan if you know how to organize Montessori resources and cycle them.
I've been doing this for a long time. I have found a way to make it work in The Montessori classroom.
The trick is to store goods like your Practical Life supplies in your kitchen or other natural spaces (such as under the sink in the bathroom, etc.) while leaving room in storage containers or a closet for the subject materials.
You'll know exactly what will work to put out on your shelves. Make sure you follow the child's interests by observing and determining their Sensitive Periods.
Also, don't forget to take their social skills and social and emotional development in mind as well.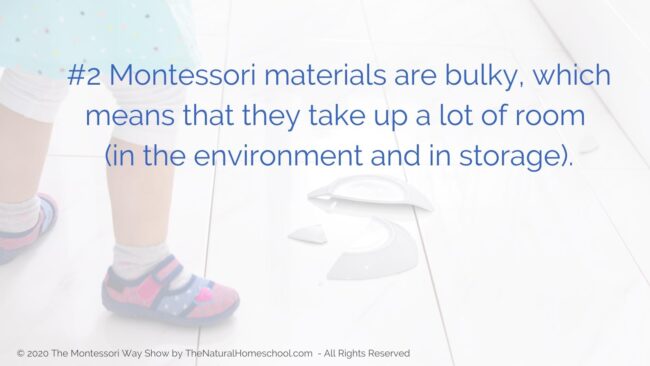 #3 Some Montessori materials are breakable or come with many pieces
Because some of the pieces are relatively little, they run the risk of getting lost. Or maybe they will end up in the hands and mouths of babies and toddlers.
Do you become worried when things are made of glass?
Remember two things about negatives in Montessori:
1 we give youngsters far less credit than they deserve, and
2 practice is what will benefit them.
How would a child learn to take extra care with breakable plates or cups if they are never taught?
Even if the object breaks by accident, it might be a learning lesson.
By observing you, get a brush and a dustpan and show the youngster how to clean up the pieces.
You'll decide what to put in the Montessori setting based on their Sensitive Periods and learning styles.
Sensitive Periods
In accordance with their Sensitive Periods and learning styles, you will decide what to put on the Montessori table in their environment.
It goes without saying that if you have toddlers, it goes without saying that you will not include. For example, the smallest sections of the Pink Tower in your Montessori homeschool daily routine.
At the very least, you should wait until you are certain that they will not be chewing on those parts, which can pose a choking hazard.
A toddler's day is jam-packed with activities and excursions. If the child wishes to investigate the Pink Tower, he or she will not be knowledgeable enough to apply the complete Pink Tower lesson, which will necessitate the use of all ten components.
Set out three or five of the bigger ones initially, then demonstrate to the toddler how to assemble the tower in the proper order.
As the youngster progresses through the stages, more cubes are added until they have completed all ten parts. By that point, the child may no longer be a toddler and may no longer be interested in mouthing the small pieces.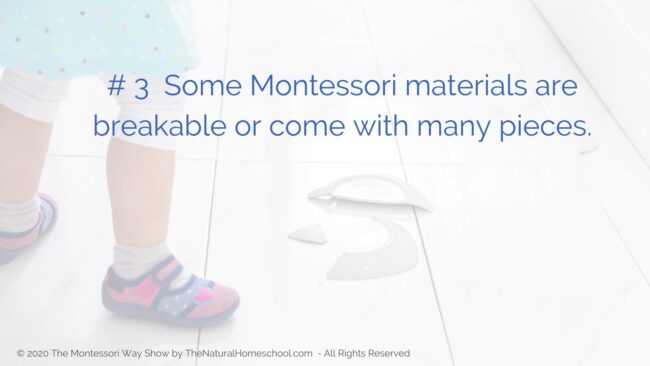 Overcoming Negatives in Montessori Education
There might be things that make you nervous or discourage you about The Montessori Method or the way to set up the Montessori environment that is safe and attractive.
You can do it all, with the right strategy and the right plan.
HERE ARE THE RESOURCES MENTIONED IN THIS EPISODE:
Like I said at the beginning of the show, I have a FB group for all things Montessori that you are welcome to join. 
It is called The Montessori Way Prep Room.
If you want to join a homeschool Facebook community, then join The Natural Homeschool Community!
You May Also Benefit from these Important Montessori Topics:
As you learn more about Master The Montessori Life, you will realize just how much I strive to make your life easier.
I also seek to equip you, to inform you and to give you made-for-you options so you can keep moving forward on your Montessori journey without any speed bumps.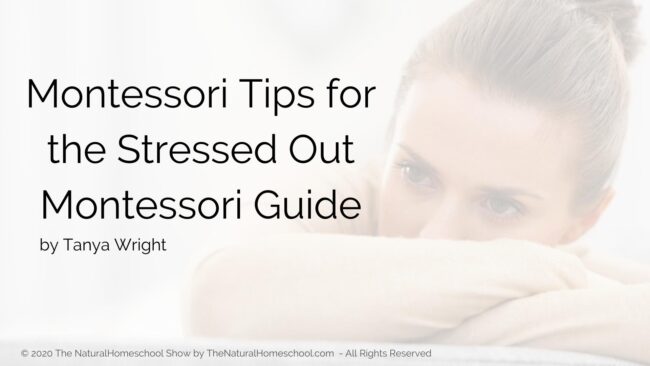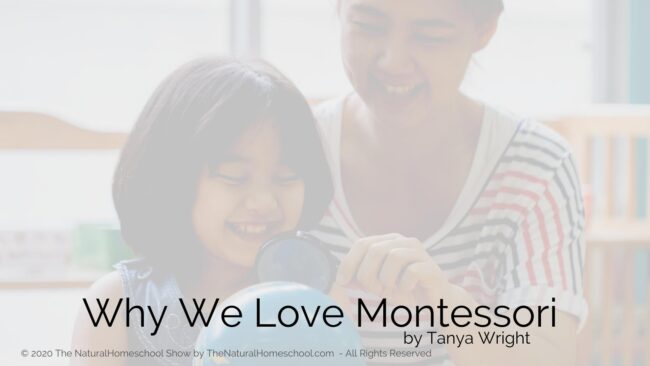 Acts of Service the Montessori Way

Are you trying to think of Montessori friendly ideas that will get your children into the giving spirit? In this episode, we will be looking at some great acts of service ideas that you can implement anytime, but especially around the holidays.

Practical Life Fine Motor Skills Printable Activity

In this blog post, we'll discuss the importance of fine motor skills and some fun ways to help your child develop them through a Montessori Practical Life activity.

The Role of Montessori Parts of Speech in Language Arts

Montessori Language Arts takes a distinct approach to teaching parts of speech, transforming what could be a mundane subject into an engaging, hands-on learning experience for children.