There's a lot that must happen internally before we can flourish to become a centered, organized Montessori Guide as you nurture happy, normalized children. What do you know about… limiting beliefs as the Montessori Guide?
---
Let's talk about how you can change your way of thinking as a Montessori Guide.
Internal changes must take place before we can flourish and become a centered, organized Montessori Guide who can nurture happy, normalized children in your care.
What do you know about… limiting beliefs in your role as a Montessori Guide, for example? What are some of your self-imposed limitations?
This is the place for you if you are looking to develop yourself into a centered and organized Montessori Guide while also nurturing happy and normalized children and creating smooth and successful Montessori days.
In the comments section, please tell me what you know about this topic, what you've tried that worked, and anything that didn't work, as well as any questions you have as we get started with this training. I'll respond to everyone individually.
As you become more familiar with your job responsibilities as a Montessori Guide in the Montessori environment, you will realize that you must first look inside before you can look outside.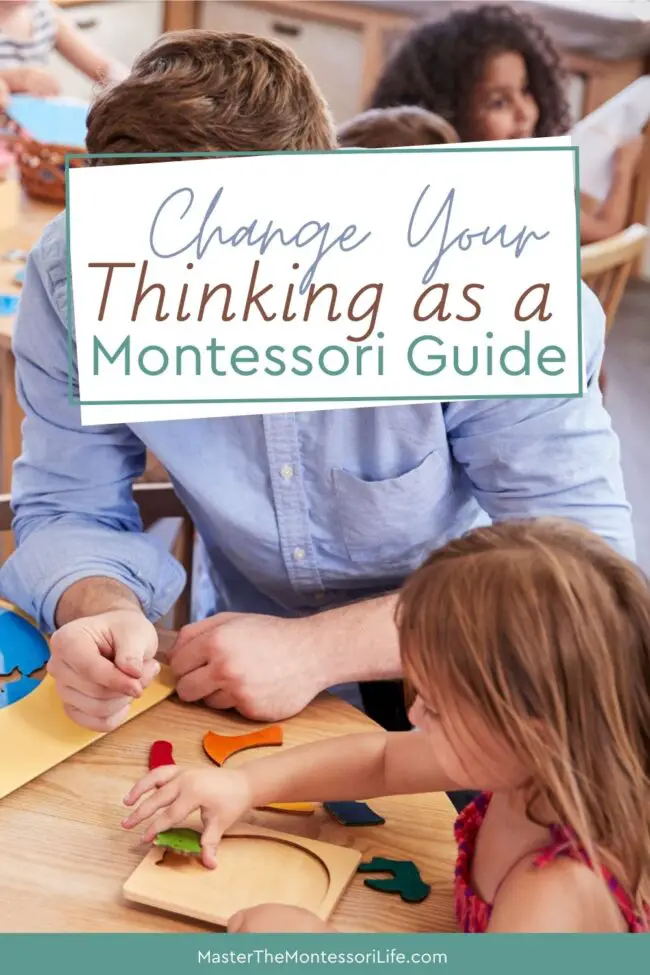 Watch & Listen to the Episode Here:
As you watch or listen to this training, know that you will be able to get more information than what is included in this blog post.
However, I really want to encourage you to take the time to watch or listen and take notes.
Importantly, this will be helpful to you now and in the future.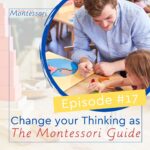 #1 Change your Thinking
Your Montessori teaching success begins within you, right between your two ears, whether you are looking for a successful Montessori homeschool schedule or how to apply certain Montessori principles in a Montessori environment.
Yes, I am referring to your mental state in regards to the Montessori method of education.
The way you think about yourself, your performance as The Montessori Guide, your lack of knowledge, and other factors will seep into your work, and this is what the children will take in and retain.
You must be able to concentrate internally and be free of the pressures of the Montessori Curriculum.
Allow me to share with you a quote that perfectly captures what I am attempting to communicate with you.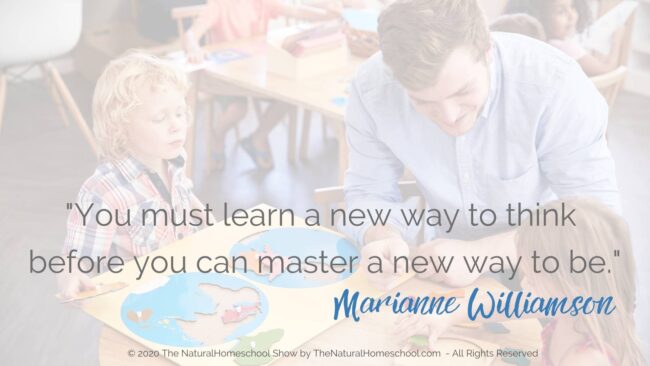 Stages to Changing your Thinking – Part 1
1 Discomfort
The Montessori philosophy, as well as its founder, Maria Montessori, place a strong emphasis on the importance of The Montessori Guide being centered and organized.
This is whether she teaches Montessori at home or at a Montessori school.
It is extremely important because so much is dependent on her or his internal and mental state of mind.
The fundamentals of Montessori education are the same whether you are doing it at home or implementing it in a public school or daycare setting, as the saying goes.
It all comes back to your personal growth, the Montessori Guide's, at the end of the day.
The word "discomfort" may conjure up images of something negative in your mind, but in order to effect change, you must first be uncomfortable with where you are currently.
Are you at this point in your life?
2 Awareness
As soon as you become uncomfortable with where you are and realize that you need to change your way of thinking, you enter stage 2, which is known as "awareness."
What do you mean by "awareness"? That's it!
Some of these are: Montessori education requirements, a Montessori album with lessons, the set-up of the Montessori classroom, Montessori materials, and other related items and materials.
As soon as you are aware of the things for which you will be responsible and the fact that you will need a plan, you can begin to accept the fact that you have a task to complete.
Being aware of certain aspects of Montessori piques your interest, and more importantly, it piques your interest in learning more about those aspects and, more importantly, in learning how to put those aspects into practice.
Are you at this point in your life?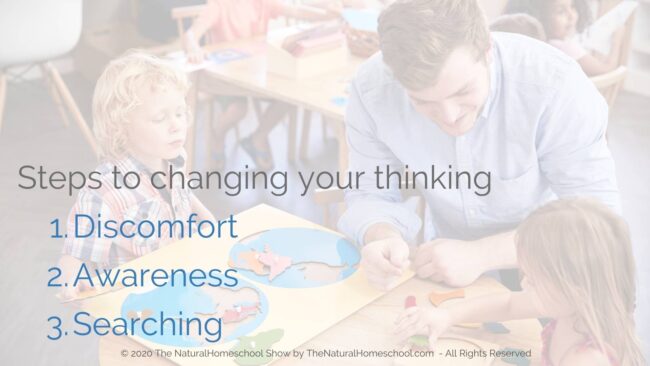 3 Searching
So now, you move to stage 3, which is "searching."
Searching for more… searching for depth…
For instance, you are looking to discover what a day in the life of a Montessori looks like.
And what a Montessori work is supposed to be set up and presented to the child, among other things.
You buy or get Montessori books for teachers from the library to study more.
Are you in this stage?
Stages to Changing your Thinking – continued
4 Learning
This beautiful stage 4, learning (also known as Montessori learning), is truly one-of-a-kind!
You have now progressed beyond the stage of searching.
You are attempting to gather information.
You're soaking up all of the information.
It is extremely valuable and extremely important!
It is true that the more you learn, the more you comprehend.
Truly, the more you comprehend, the more you will be able to apply it.
The more applications you submit, the more the children you serve will benefit from your efforts.
And the more that these children are nurtured, the more likely it is that they will contribute to making the world a better place.
Are you at this point in your life?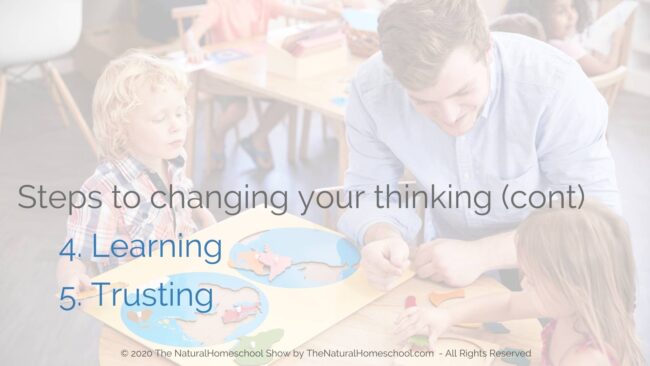 5 Trusting
And now we have reached the final stage, which is TRUSTING IN GOD.
I'm referring to your ability to put your trust in yourself.
Trust is a difficult thing to come by in and of itself.
It takes a lot of courage and strength to go through with it.
Trusting yourself can be just as difficult as trusting others… and in some cases, it can be even more difficult because we place so much emphasis on ourselves.
Now that you have taken a step back from the discomfort, your awareness has been heightened, which has prompted you to seek out more information, and ultimately, as you learn more about the Montessori philosophy, you will discover that a shift in your perspective has occurred.
How incredible is that?!
You will notice that you are more confident, more decisive, more in control, and more organized as a result of this change.
Yes! You can proudly proclaim that you are a well-centered and well-organized Montessori Guide!
There are numerous ways in which you can leverage resources in order to remain in this beautiful stage of trust for as long as possible.
An example of such a resource is a Montessori teacher planner, which goes above and beyond your standard weekly planner because it helps you stay on track.
Are you at this point in your life?
In Conclusion
I hope that this 5-Stage journey has opened your eyes to notice that the first thing is to change your way of thinking.
And it is my biggest desire that now that you have a clear path forward with these stages, that you will commit to going through each one faithfully.
HERE ARE THE RESOURCES MENTIONED IN THIS EPISODE:
Like I said at the beginning of the show, I have a FB group for all things Montessori that you are welcome to join. 
It is called The Montessori Way Prep Room.
If you want to join a homeschool Facebook community, then join The Natural Homeschool Community!
Montessori planner, Introspective Journal and other resources
The Montessori Method

The Secret of Childhood

The Absorbent Mind

The Discovery of the Child

Montessori from the Start: The Child at Home, from Birth

Practical Guide to the Montessori Method at Home: With more