The Montessori Way Foundations Workshop is a free 5-day workshop (1 hour a day for 5 days) that I offer a few times a year, and it is based on the Montessori Method of teaching.
You don't want to miss out on this opportunity!
Trust me on this. It'll be well worth your time to read it.
Whether you live near one or not, please click on the link below to be added to the list of those who are interested in participating.
As a result, you will be among the first to know when a new one becomes available.
Before the workshop begins, you will need to download and print the free workbook so that you can fill in the blanks as needed during each training session.
Here is the link to get it: https://masterthemontessorilife.com/tmwf-workshop
If you are desperately wanting to become a centered, organized Montessori Guide, nurture happy, normalized children and create smooth, successful Montessori days, then you have definitely come to the right place!
In this post, we will be discussing why you should attend the free 5-day training called "The Montessori Way Foundations Workshop."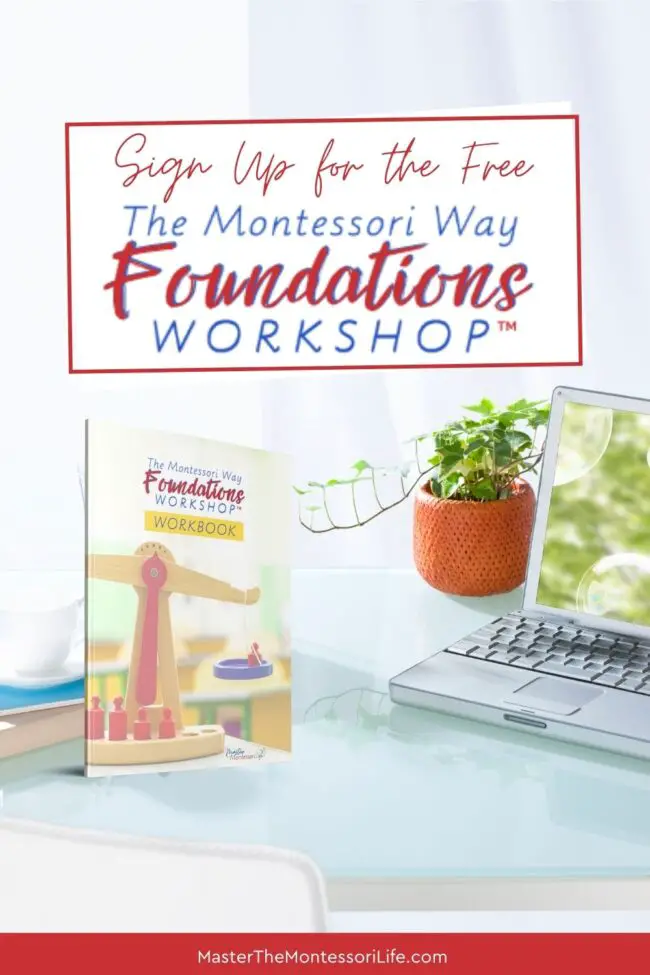 As you watch or listen to this training, know that you will be able to get more information than what is included in this blog post.
I really want to encourage you to take the time to watch or listen and take notes.
This will be helpful to you now and in the future.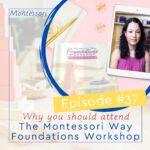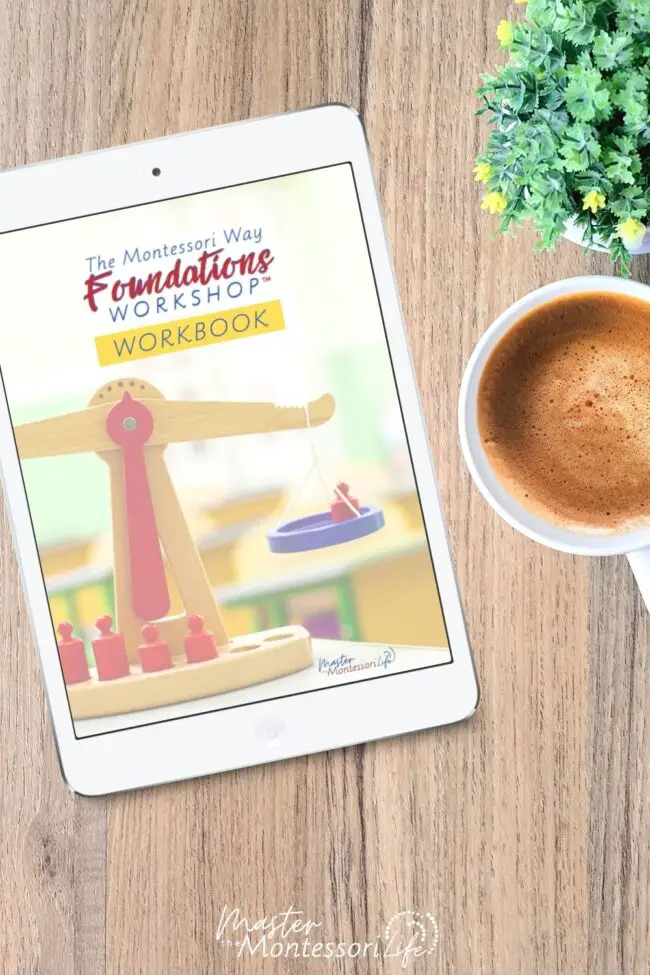 Five days of foundational Montessori topics
In addition to the weekly, 20- to 30-minute training sessions that I provide you almost every Thursday, this 5-day workshop goes above and beyond.
In recognition of its high quality, the Montessori Way Foundations Workshop is a Montessori teacher training that many administrators recommend to their staff members.
Many administrators consider these 5 hours to be professional development hours that they can use for themselves.
Yes! It is THAT profound and THAT satisfying!
You will want this free resource whether you are a Montessori teacher in a school or at home, or if you are just interested in the Montessori Method in general.
Just a few times a year, I make an appearance!
It is a well-organized training session.
I don't like to waste my time and I don't like to waste your time, so I thought long and hard to give you the foundational things that you need to get started or to give you a great refresher.
During this free 5-day workshop, we focus on 5 foundational topics that revolve around 3 very important results that together, will give you an incredible tangible transformation.
These 3 very important results are for you to:
Become a centered, organized Montessori Guide
Nurture happy, normalized children
Create smooth, successful Montessori days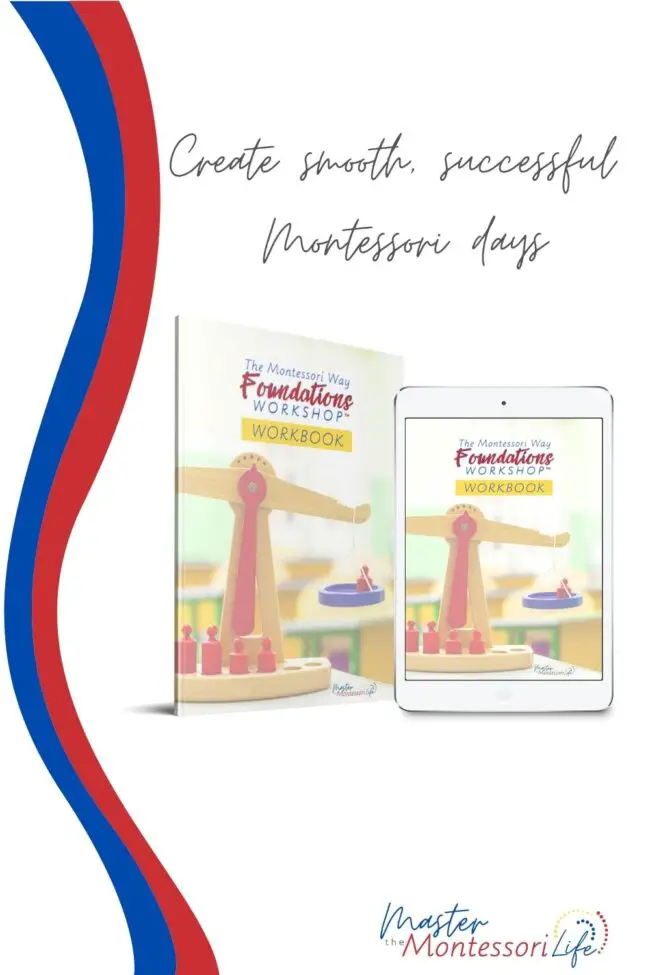 Let's talk about the five foundational topics that will be covered in the workshop and why you should sign up for it.
Day 1: The 4 Pillars of The Montessori Philosophy
What
If you are following or are interested in following the Montessori educational approach, you will want to be familiar with these four pillars.
They will open your eyes and will also keep these in the forefront as you teach the little ones.
Why
It will provide you with opportunities to develop some fantastic teaching ideas and skills in a multi-age classroom setting….
Day 2: The Prepared Environment
What
In this Montessori theory training, we will be discussing how to set up your Montessori classroom or Montessori environment.
Why
Because it is critical to understand how to set up a Montessori learning environment so that children can have freedom within limits while still learning.
"The child has a different relation to his environment from ours… the child absorbs it. The things he sees are not just remembered; they form part of his soul. He incarnates in himself all in the world about him that his eyes see and his ears hear."

~Maria Montessori
Day 3: Behaviors of Normalized Children
What
You will learn how to determine the most effective method of teaching students.
You will gain an understanding of what it means to be normalized in the different Montessori activities.
You will also receive a list of some of the tell-tale signs that children are or are not normalized, as well as information on how to recognize these signs.
Why
It is important for you to teach children how to problem solve correctly.
You will also learn why Practical Life is the subject that will shortcut the child's path to normalization.
"Free the child's potential and you will transform him into the world."

~Maria Montessori
Day 4: Your Job as the Montessori Guide
What
The Montessori teacher is also called the Montessori Guide.
It will expand Your Montessori teacher education by leaps and bounds!
We will talk about the different types of Montessori Guides there are and determine which one you resemble most.
It will be kind of like a quiz! How fun!
Why
It is important for you to know what your education philosophy is within the Montessori sphere to gain better understanding of your goals.
Day 5: Your Next Step for Success
What
As you complete this training, we will discuss some of the most important things that you can do next.
Why
If you are new to the Montessori approach, you will then make a decision on moving forward.
And if you are seasoned in the method, you will gain a fresh view on Montessori materials, lesson and more as you determine what your next steps are.
Regardless, you have all of the potential to be successful.
"If education is always to be conceived along the same antiquated lines of a mere transmission of knowledge, there is little to be hoped from it in the bettering of man's future."

Dr. Maria Montessori
Montessori Workshop Details
As you can see, you cannot go wrong on attending this free 5-day workshop for anyone that is doing Montessori with young children.
That can be at home or at a Montessori school.
So, here are the details:
The workshop takes place for 5 days in a row (Monday through Friday)
The workshop is taking place in real time within a Facebook group (you will receive those details via email when the workshop draws near)
The workshop is broken up into 5 sessions.
The Monday through Thursday sessions are 1 hour long.
The Friday session is the wrap-up session, so it is more like 90 minutes long.
You will receive a notification of the workshop coming up (it only happens about 3 times a year, so be sure to get on the list HERE).
You will enroll in the workshop and mark your calendar to try to attend LIVE as much as possible.
In your enrollment confirmation email, you will receive the information on where to join for the free live workshop.
You will also receive the link to the free printable workshop workbook (PDF file).
You will need that workbook printed and ready before the workshop starts.
You will need the workbook to follow along and fill in the blanks each day during the training.
Replays are available only for a few days after the workshop is over, so plan to catch up quickly if you miss a training.
If you are interested in getting a certificate of completion for 5 hours of Montessori training, then you will want to make sure to keep up with the workshop trainings and complete all five in time.
Once the workshop is over, I will be sharing a link with a form that you will fill out to request a certificate of completion.
In the request form, you will have to prove that you actually went through all 5 trainings.
Then, in the following days after submitting your request form, I will review your responses and email you the certificate of completion.
HERE ARE THE RESOURCES MENTIONED IN THIS EPISODE:
Are you ready to take your Montessori confidence to the next level?
I will be having a LIVE training workshop inside a Facebook group where you can learn, fill out your workbook each day and ask me questions that you might have.
It is coming soon, so be sure to check HERE and join the waitlist to be informed of when it will happen again.
The FREE 5-Day Montessori Way Foundations Workshop to learn more on these topics:
🔹Day 1: 4 Pillars of The Montessori Method
🔹Day 2: The Montessori Prepared Environment
🔹Day 3: Behaviors of Normalized Children
🔹Day 4: Your Job as the Montessori Guide
🔹Day 5: Your Next Step for Success
Like I said at the beginning of the show, I have a FB group for all things Montessori that you are welcome to join.
It is called The Montessori Way Prep Room.
If you want to join a homeschool Facebook community, then join The Natural Homeschool Community!
Visit our page with all LIVE trainings HERE.
You May Also Benefit from these Important Montessori Topics: