There are many benefits to teaching fine motor skills to children.
This printable activity is a great way to help children develop these skills.
It is simple and fun, and can be done at home or in the Montessori environment.
The activity helps improve hand-eye coordination, dexterity, and precision.
It is also a great way to promote teamwork and cooperation.
Children will have fun working together to complete the task!
In this blog post, we'll discuss the importance of fine motor skills and some fun ways to help your child develop them through a Montessori Practical Life activity.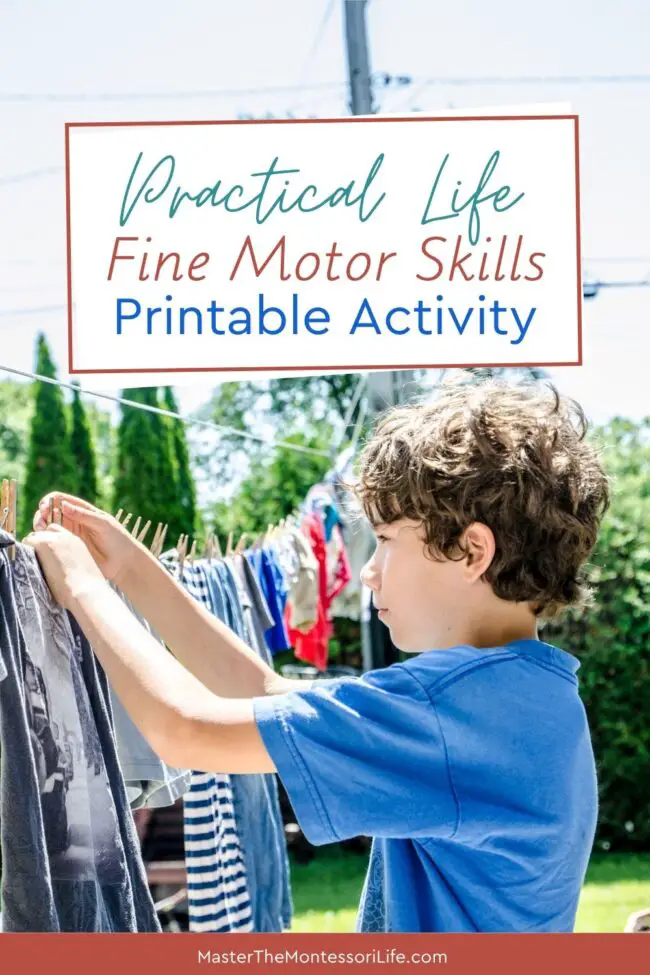 Fine motor skills are an important part of early childhood development.
They help children to do things like grip a pencil, tie their shoes, and zip up their coat.
If you're looking for a fun and engaging activity to help your child develop their fine motor skills, look no further than this Practical Life printable activity!
The importance of fine motor skills in early childhood development
Fine motor skills are incredibly important for children to develop and become independent.
There are many different skills that fall under the "fine motor" category.
They lay the foundation for tasks such as writing, buttoning a shirt, and tying shoelaces.
One very important fine motor skills is pincer grasp development.
At first youngsters use both hands and fingers to pick up items.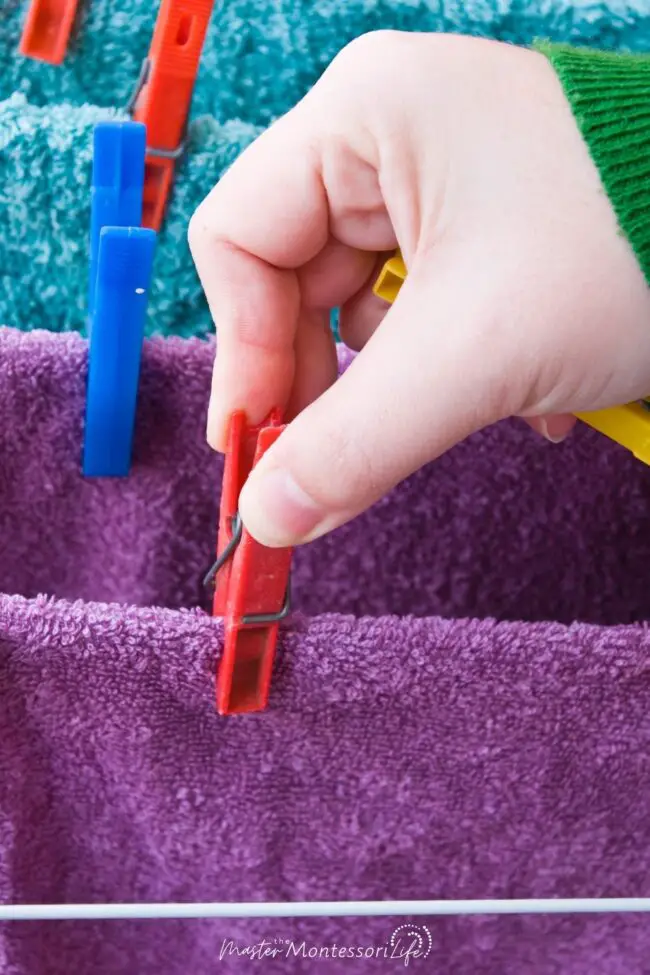 But soon enough, if given enough opportunities, they begin to refine their small muscles and have better control of movement.
You can observe young toddlers and even babies begin to dabble with this skill before the age of one as they learn to pick up finger foods.
And before you know it, they are using the inferior pincer grasp, which uses only the fingers and thumb.
This activity is designed to help kids improve their fine motor skills through using the pincer grip, picking up small items, and hanging them up on a line.
Important notes about how fine motor skills develop
There is a way to know if a child is delaying at a normal rate or if they are more advanced or they are running behind.
This is called the Phases of Development.
I go more in-depth about them and offer lists and charts inside The Montessori Way Foundations Framework.
But the gist of it is this: you will see that an occupational therapist will give greater attention to these skills because, by the time they get to his or her occupational therapy class, chance are, the child has already been deemed to be behind the curb.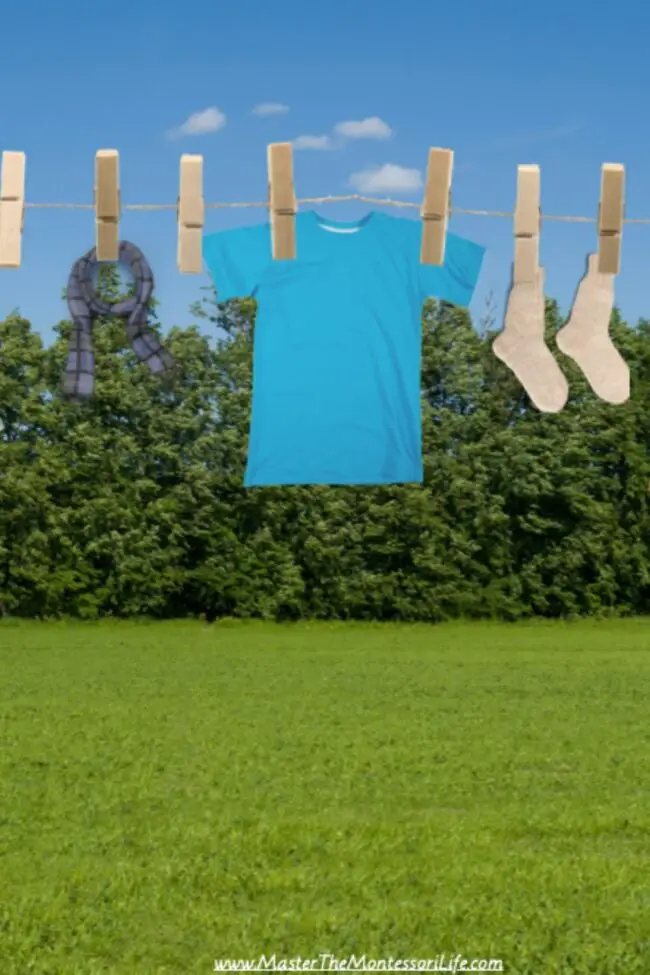 But please pay attention to this: we don't give more attention to them in the Montessori environment only when it is too late.
We give attention to them all the time.
Fine motor skills are the center of the Practical Life activities that we set up in the Montessori classroom.
We include them as part of our "Care for the Environment" and Grace and Courtesy" categories, for example.
But they encompass so much more since all Montessori materials are so hands-on.
The child has infinite amounts of opportunities to practice them.
Fine motor skills activity using printable clothing and clothespins
This activity includes printable clothing items for the child to use.
When you are setting it up, you will also need a ribbon, tape, scissors and small clothespins.
There are also instructions for how to complete the activity.
Not only will your child have fun practicing fine motor skills, but they'll also be improving their eye-hand coordination, dexterity and more!
By completing this activity, your child will be improving their hand-eye coordination, fine motor control, and other important skills.
Not to mention, they'll have a lot of fun doing it in the Montessori classroom!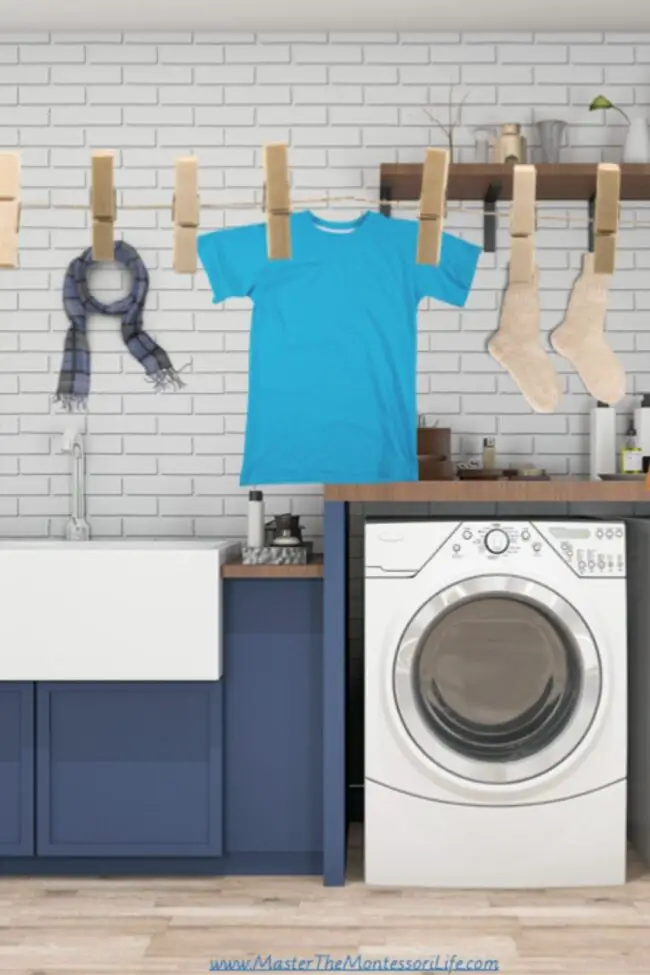 One of the great things about this activity is that it helps kids practice using the pincer grip.
This is an important skill for tasks such as holding a pencil and picking up small objects.
The activity also requires kids to pick up small items (the clothespins) and hang them up on a line.
This helps improve fine motor control and dexterity.
As your child learn this skill, you can double up and mix it with Montessori Language Arts!
You can do this by teaching the child the names of the items of clothing.
So, as the child hangs them up, they can also learn to name them.
Montessori Practical Life Fine Motor Skills Clothesline Activity + Lesson Plan
Remember that this printable activity includes the printable items of clothing as well as the lesson plan with step-by-step instructions on how to set up and carry out the activity.
Montessori Practical Life Fine Motor Skills Clothesline Activity + Lesson Plan
$3.50
Montessori Practical Life Fine Motor Skills Clothesline Activity + Lesson Plan is perfect for children who need to practice their fine motor skills.
This includes: lesson plan with step-by-step instructions on how to set up the activity, printable clothing items, two clothesline backgrounds.
You might also enjoy these relevant topics:
Montessori Friendly Summer Printable Bundle

With this summer bundle, you will be equipped with everything you need to keep your children occupied and having a wonderful time while remaining indoors and celebrating summer from the comfort of your own home.

Do you need help in doing Montessori right?

Do you need help in doing Montessori to make sure that you are doing it right? Come and find out how to know what to focus on first, actionable steps to apply immediately and more!

Planning Montessori at Home (digital book)

Do you want to plan your Montessori at home, but don't know where to start? This 65-page digital book is going to give you the guidance you need to do it right from the beginning. There are some tips and tricks that many don't know will shortcut their planning by a lot.