Montessori Language Arts takes a distinct approach to teaching parts of speech, transforming what could be a mundane subject into an engaging, hands-on learning experience for children. 
By employing Montessori parts of speech, children are introduced to nouns, verbs, adjectives, and more in a method that allows them to interact physically with the words, thereby fostering a more profound understanding.
Primer papers play a crucial role in this process. These specially designed materials, such as the ones available on the Master the Montessori Life shop, function as tangible tools to help children learn the parts of speech the Montessori way. 
Each primer paper offers a unique lesson plan that guides children step-by-step through the process, making learning language arts a fun and exciting journey.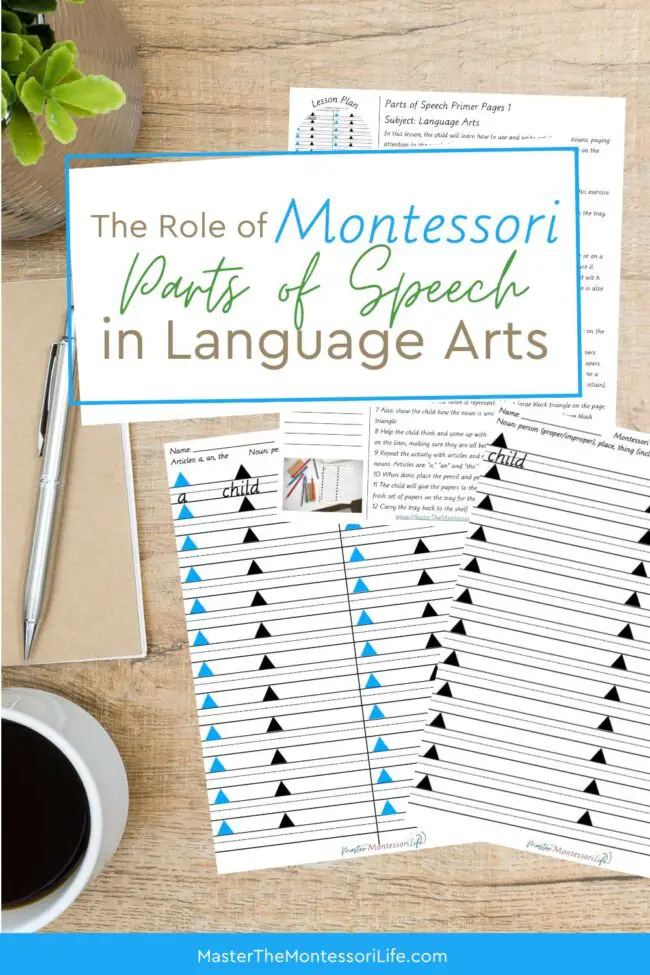 The Right Age for Learning Parts of Speech
In the Montessori way of teaching, children as young as 3 years old are introduced to the basics of language arts. This early start is because at this age, children are innately curious and absorb information like sponges. 
They are at the perfect stage to start learning about nouns, which are typically the first part of speech presented. Using colorful and intriguing materials, children are encouraged to recognize and name objects, people, and places. It will be helping them grasp the concept of nouns playfully and effectively.
HERE is a great way to teach parts of speech first. Yo can learn more about it HERE as well. By using Montessori Language Arts, children can learn about the function of each part of speech. And also how Montessori parts of speech work together to create meaning in language.
Have you heard about the Montessori Farm to learn about parts of speech? You better take a look HERE and HERE. But we won't delve into it here as that's a completely different activity.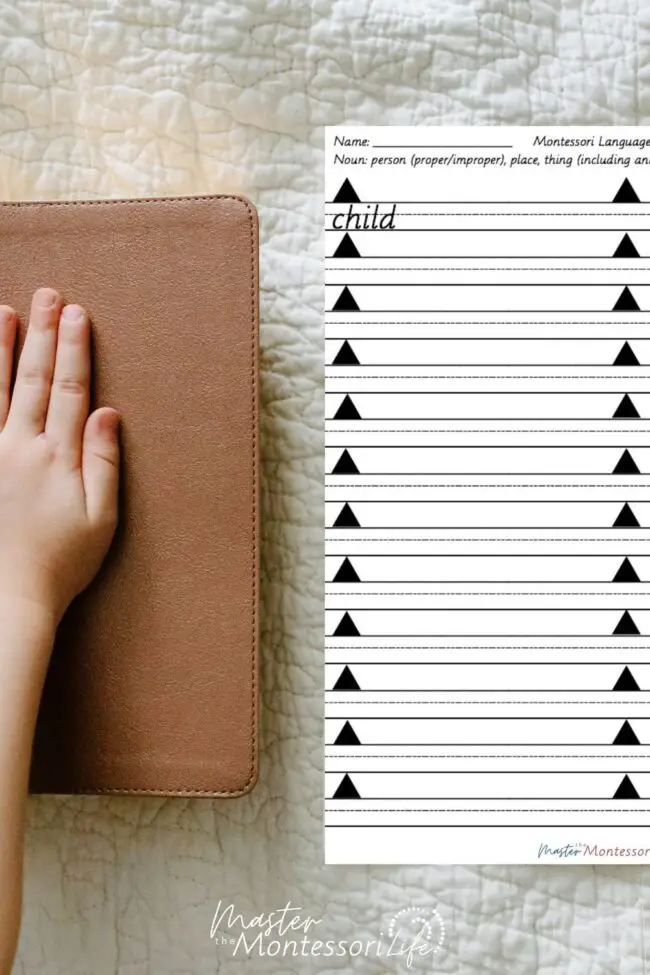 The Right Age for Learning with Primer Papers
As children progress, around the age of 4 to 5, they are introduced to more complex parts of speech. Such parts of speech are verbs and adjectives. Montessori primer papers play an instrumental role here, making the learning of these new concepts an enjoyable and interactive experience. 
The lesson plans on these primer papers are designed with a child's developmental capabilities in mind. They're ensuring the learning process is both effective and exciting. The key is to expose children to these parts of speech in a natural progression, maintaining their interest and curiosity. 
This systematic approach helps children master the language arts the Montessori way. It's setting a strong foundation for their future linguistic abilities. In this lesson, the child will learn how to use and write articles and nouns. This is while paying attention to the symbols above the lines as clues to know what to write.
Get it HERE. Curious about part 2 already? Check it out HERE.
Montessori Parts of Speech
The Montessori parts of speech are presented to children with the aid of symbols and colors that represent each part. Nouns, for instance, are introduced as large black triangles, emphasizing their pivotal role as 'doers' or 'actors' in a sentence.
Verbs, the action words, are represented by red circles, signifying the dynamic nature of these words. This unique, tactile approach facilitates children in visualizing the structure of sentences. It also helps them in understanding how different parts of speech work together to form coherent expressions.
Further expanding on this, Montessori parts of speech promote learning that goes beyond mere memorization. Encourage children to explore, manipulate, and play with the words visually represented. This is how they will deepen their comprehension and igniting their curiosity. 
This explorative learning style consolidates their understanding of language. It also fosters creativity, critical thinking, and a genuine enthusiasm for learning.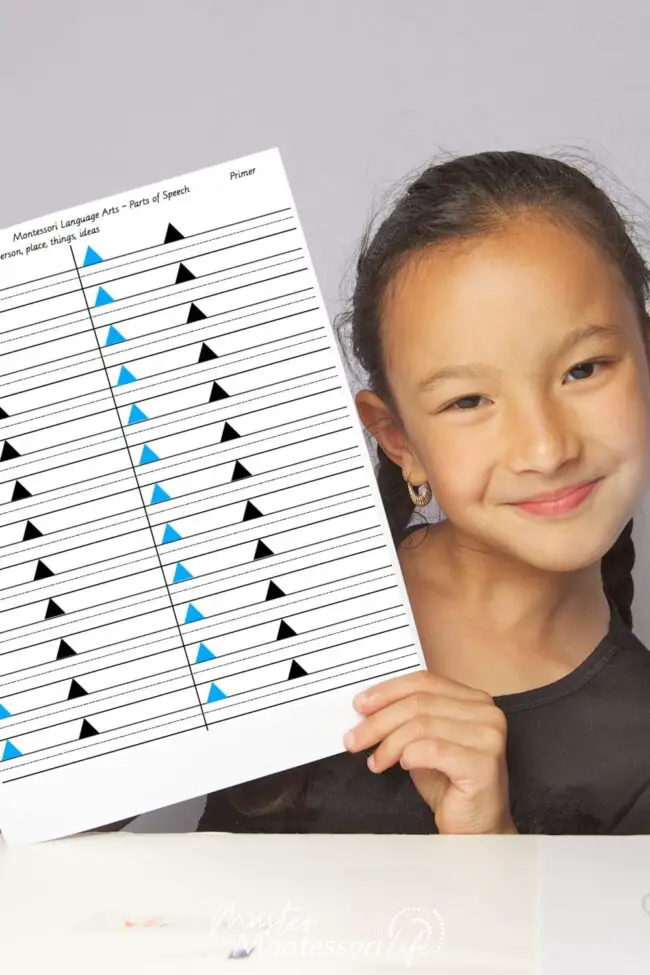 Primer Papers are Helpful in Montessori
Firstly, primer papers are an invaluable asset in the Montessori method of learning parts of speech. Secondly, they serve as a visual guide for children. Thirdly, they categorize different parts of speech with distinct symbols and colors. And fourthly, they provide a more tangible, engaging way for children to learn. 
Each primer paper contains a unique lesson plan that breaks down complex language concepts into simpler, understandable elements. They offer step-by-step instructions and exercises, allowing children to practice and apply what they have learned in a structured yet exploratory manner.
The effectiveness of primer papers lies in their ability to simplify learning. Also, in how they promote active learning. Children are encouraged to manipulate the symbols and play with the words visually represented, fostering an interactive learning environment. 
This hands-on approach prompts children to think critically about how different parts of speech function. Additionally, they'll learn how they interact with each other in a sentence. Not only does this deepen their understanding of language arts, but it also sparks their curiosity and creativity. It makes learning a fun and enjoyable process. 
Obviously, this aligns perfectly with the Montessori philosophy of learning by doing. The aim is to cultivate independent thinkers who love learning. 
Conclusion
The Montessori approach to teaching parts of speech, aided by primer papers such as the ones available on Master the Montessori Life shop, offers a unique and engaging way for children to learn. Through hands-on activities that promote active learning, this method helps build a firm foundation in language arts. It does this while also sparking creativity and curiosity. 
By fostering an interactive, explorative environment, children are encouraged to look beyond mere memorization. They will gain a deeper understanding of language arts successfully. This promotes critical thinking and encourages a genuine enthusiasm for learning, laying the foundation for lifelong success.
You might also enjoy these relevant topics: