Embarking on the journey of doing Montessori from birth presents a unique opportunity to foster a child's innate curiosity and zest for discovery. This approach, centered on respect for the child's autonomy and natural learning pace, perfectly aligns with an infant's developmental needs. It fill the child with life.
Montessori from the start nurtures an infant's individuality, independence, and self-confidence, laying a solid foundation for lifelong learning and growth. Moreover, the critical period from birth is when the brain is at its most malleable, absorbing information and experiences like a sponge. 
Incorporating Montessori principles in the early stages helps to optimize this rapid brain development. These formative years are the perfect time to introduce Montessori principles, as they can significantly influence a child's cognitive, emotional, and social development. It's not just about education – it's about cultivating a well-rounded, capable individual from day one.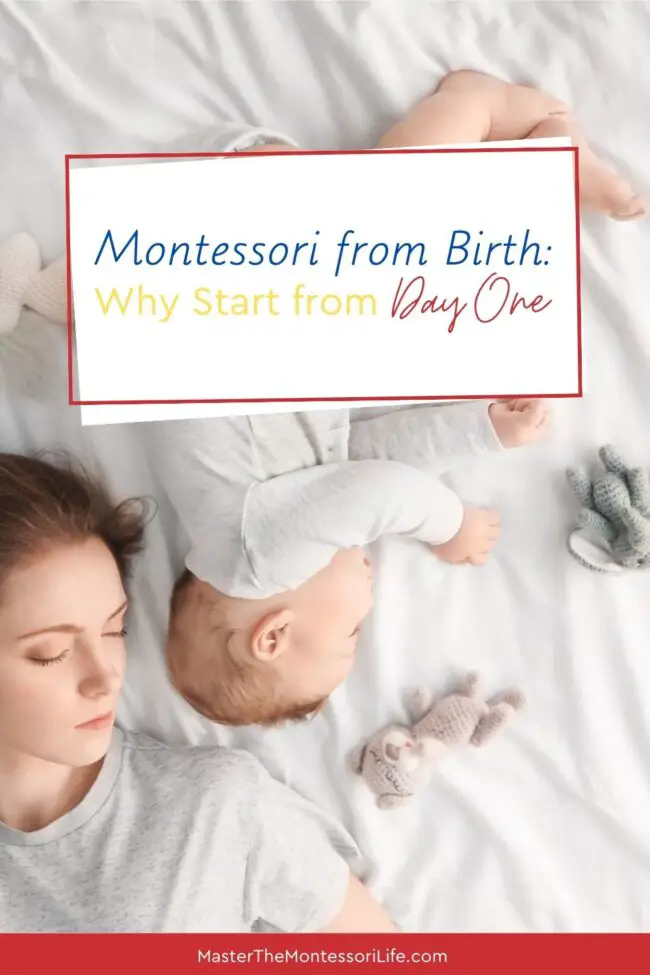 Key Points to Remember When Starting Montessori from Birth
Before you begin this rewarding journey of Montessori from birth, there are a few crucial aspects to keep in mind. Having an understanding of these will not only make the transition smoother but will also ensure that you're fostering an environment that respects your infant's developmental needs.
The following points will guide you in creating a nurturing Montessori environment that will support your child's natural learning pace and encourage their individuality right from the start.
1 Establish a Prepared Environment
The Montessori environment for infants is designed to encourage exploration and independence. This includes having toys and materials at the child's level, using child-sized furniture and creating safe spaces for movement and discovery.
The first step towards creating a Montessori environment for your baby involves mindfully organizing your living spaces with your infant's perspective in mind. Consider eliminating potential hazards, ensuring that your setup is baby-proofed and secure. Next, focus on offering a range of age-appropriate Montessori toys that promote sensory exploration and motor skills development, such as stacking blocks, texture cards, and musical instruments. 
Additionally, maintain low shelves with easily accessible toys and materials that allow your baby to choose what interests them. Incorporating low mirrors can also contribute to self-awareness and motor development. Above all, remember to keep the environment simple and uncluttered to avoid overwhelming your baby and to foster focused and relaxed learning.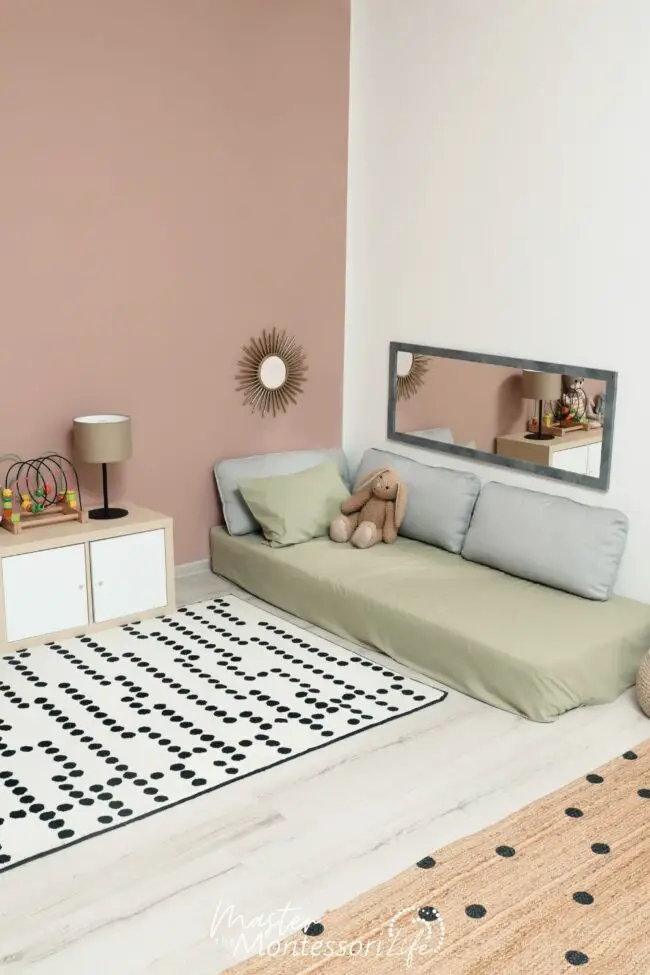 2 Respect for the Child
Montessori philosophy emphasizes respect for the child's individuality. Observe your child's interests and curiosities, and adapt the environment and activities to foster their self-directed learning. Every child learns and grows at a different rate, and it's important to honor this individual pace in a Montessori environment.
Avoid rushing your infant or enforcing strict schedules. Instead, provide opportunities for them to explore and learn at their own speed. This respect for individuality sets the stage for self-directed learning, a key tenet of Montessori philosophy.
3 Promote Hands-On Learning
Montessori infants benefit immensely from hands-on experiences that engage all senses. Opt for natural materials and real-life objects over electronic toys to stimulate their cognitive development. Infants are eager explorers of their world, learning primarily through their senses in the early stages.
Montessori emphasizes the importance of sensorial experiences, using materials that stimulate the child's senses and encourage active exploration. Textured toys, musical instruments, and colorful visuals are just some examples of sensory-rich materials that can be incorporated in the environment.
These allow infants to experience diverse sensory impressions, promoting their cognitive and perceptual development.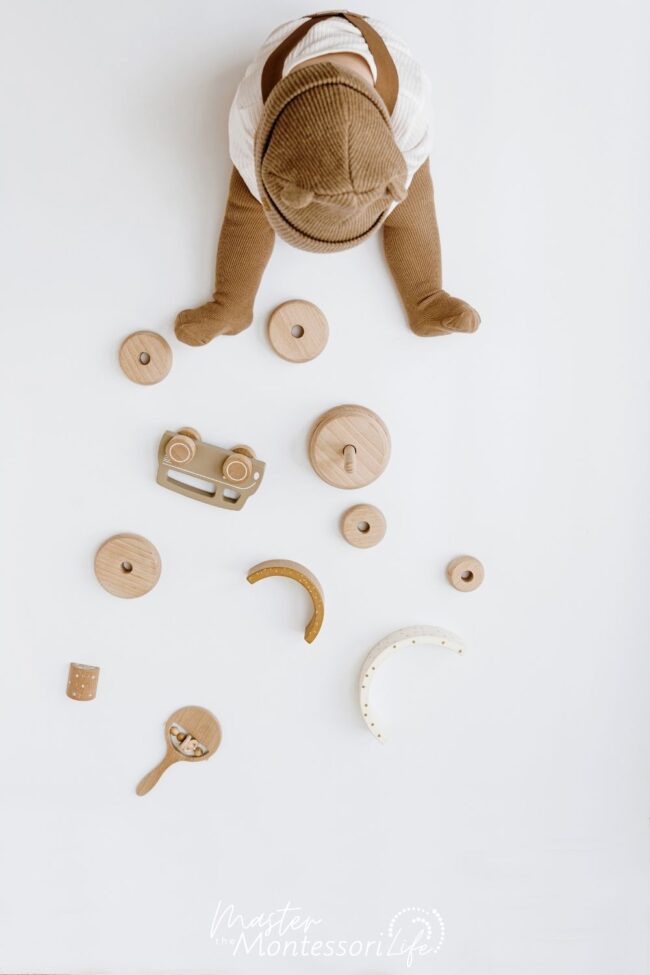 4 Encourage Movement and Independence
Montessori from the start means allowing your child the freedom to move and explore independently. Avoid confining them to playpens or swings for extended periods. Instead, provide space for them to crawl, stand, and walk, boosting their motor skills.
Even the smallest tasks can be a learning experience for infants. Include your child in daily routines, such as meal preparation or tidying up, to foster a sense of independence and capability. This early exposure to practical life activities is an integral part of Montessori from birth.
5 Model Peace and Positivity
As a Montessori parent, you're the primary model for your child. Displaying a calm and positive demeanor can influence your infant's emotional and social development, encouraging them to adopt these beneficial attributes.
Montessori is just as much about emotional and social development as it is about cognitive growth. From day one, use respectful and clear communication with your child. This models positive social interactions and encourages emotional intelligence. Remember, the way you interact with your child teaches them how to interact with others. 
In Conclusion
Starting Montessori from birth may seem daunting, but with these key points in mind, you'll be well on your way to fostering an enriching, respectful, and independent environment for your little one. Embrace the journey, cherish each moment, and remember – the goal is not perfection, but growth and discovery.
You might also enjoy these relevant topics:
Montessori Wooden Baby Toy Set – 6 Pieces of Rattles, Push Car and Newborn Toys for

PgUp Baby Play Gym Wooden Baby Gym with 7 Toys, Foldable Wooden Play Gym Frame Hanging

hahaland High Contrast Baby Flashcards – Black and White Infant Baby Cards 0-6 Months Tummy Time

MORITECK Spinning Drum, Montessori Toys for Babies 6-12 Months, Infant Kids Developmental Wooden Toy for Boy

Montessori Play Kit for 0-6 Month Baby Tummy Time Interactive Toys Baby Brain Development Toys Rattle

Montessori Babies