In this post, we will be discussing the topic of Practical Life skills, particularly Montessori cutting practice.
Fine motor skills are those small muscle movements that babies, toddlers and young children learn to make.
This particularly involves the hand muscles.
Gross motor skills are larger muscle movements that are also important, but we will focus on fine motor skills.
In this post, we will be discussing the topic of Practical Life skills, particularly Montessori cutting practice.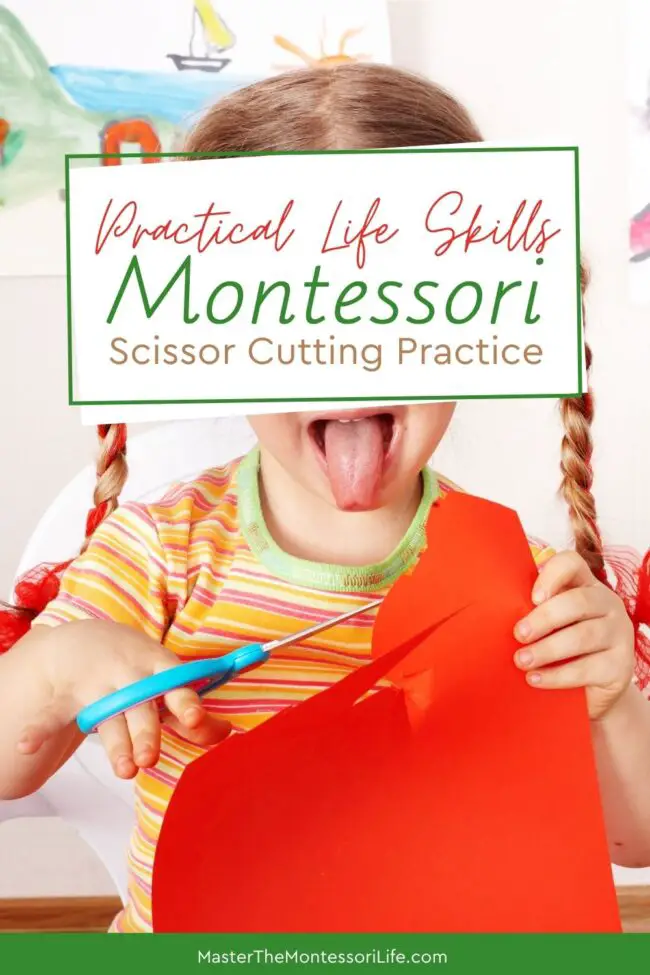 Watch & Listen to the Episode Here:
As you watch or listen to this training, know that you will be able to get more information than what is included in this blog post.
However, I really want to encourage you to take the time to watch or listen and take notes.
Importantly, this will be helpful to you now and in the future.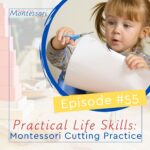 #1 Practical Life Montessori Activities
If you are a Montessori Guide, are doing Montessori at home or you are an occupational therapist, you will want to pay attention to this particular cutting skill.
Remember that our goal in our Montessori classrooms is to help the child develop independence.
One of these ways is by providing the child opportunities to be more self-sufficient and confident.
The Montessori Practical Life subject is the perfect one that provides these important qualities.
It focuses on many aspects of real life, including everything revolving fine motor skills.
From gently cleaning a plant's leaves in the "Care of the Environment" category to learning to gently shake someone's hand in the "Grace and Courtesy," the child will practice control of movement.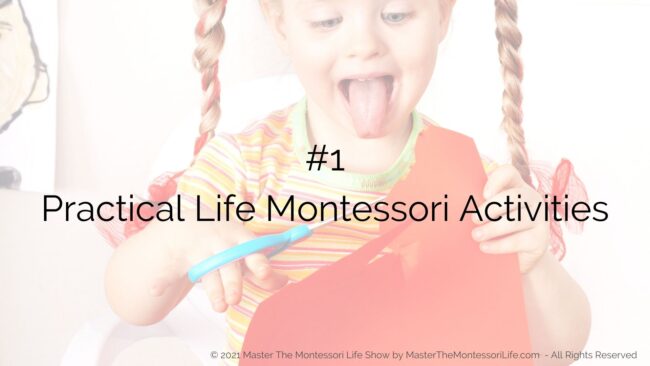 You may begin practicing these cutting fine motor skills exercises as soon as the child's hand fits well in the scissors' openings.
Also, make sure the little hand can make the opening and closing motion.
The opening and closing motion has to be strong enough to cut a sheet of thin paper.
So, consider letting the child try at around 2 years of age.
If the child isn't ready or their hands aren't big or strong enough yet, try again in a few months.
#2 Fine Motor Skills Scissor Practice
For those of us who are in the educational sphere, we know the importance of learning to cut, but not everyone might think that it's a skill worth learning early.
Think about how much children will be able to do on their own if they can learn all of the skills that are practiced with the motion of cutting paper.
Children will be practicing:
muscular movements
self-esteem
muscular contractions
control of movement
dexterity
eye-hand coordination
physical awarenenss
confidence
muscular isolation
proprioception
independence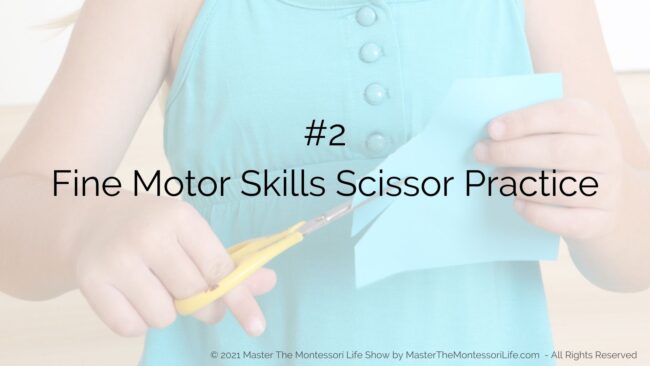 You definitely have many activities that you can offer the child for cutting practice, but start with just straight lines.
Make it fun if you want.
You can use colored paper and have the child make a craft out of the strips that they cut.
#3 Scissor Skills and Cutting Activities
Set up some Practical Life exercises the Montessori way.
What you need is a wooden tray, scissors that fit the child's hand, paper and pencil.
Cut one piece of paper into 4 quadrants.
You will use each quadrant for a different fine motor activity.
With the pencil, you will draw 3 straight lines that are parallel with each other.
Have the child practice cutting on the three lines all the way through.
Assess. Once the child has mastered cutting straight lines, you can move onto the next activity.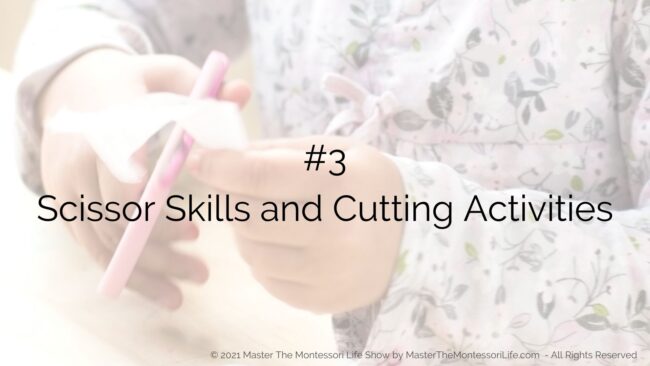 On the second quadrant, draw 3 very wide Vs.
Basically, it's two straight lines that converge at the center, but are a little diagonal.
Have the child practice that until mastered.
The third quadrant will have 3 wide zig zags.
The fourth quadrant will have regular zigzags.
Montessori Practical Life Activities List PDF
Are you interested in learning more about this amazing set of skills?
Would you like to shortcut your planning time and your child's success in going from dependence to independence?
Then grab this free download with a list of 100 activity ideas for Montessori Practical Life.
Get this free printable below!
Key Takeaways
You don't have to be in occupational therapy to help a child with fine motor skills or to know how to do it right.
The Montessori Practical Life subject includes fine motor skills, such as cutting with scissors.
If a child isn't ready to use scissors, the child can begin by taking a sheet of paper and practice tearing strips with their hands.
Once the child is ready mentally and shows interest, then find a pair of scissors that fit the child's hand.
Begin with letting the child cut straight lines.
Make sure one skill is mastered before moving onto the next level up.
Resources mentioned in training
Like I said at the beginning of the show, I have a FB group for all things Montessori that you are welcome to join. 
It is called The Montessori Way Prep Room.
If you want to join a homeschool Facebook community, then join The Natural Homeschool Community!
Wardrobe from: http://bit.ly/TNHstitchfix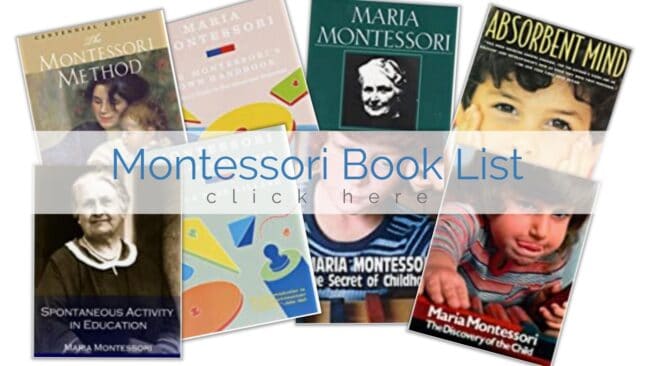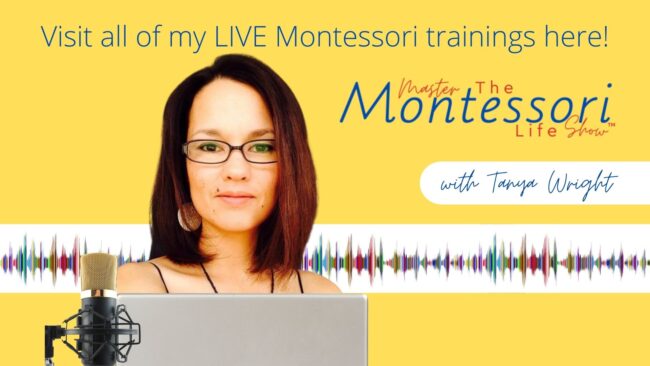 You May Also Benefit from these Important Montessori Topics:
As you learn more about Master The Montessori Life, you will realize just how much I strive to make your life easier.
I also seek to equip you, to inform you and to give you made-for-you options so you can keep moving forward on your Montessori journey without any speed bumps.