The reasons that I am in love with the Montessori philosophy will encourage you and give you a great outlook on your Montessori journey.
---
As I have been trekking on this phenomenally amazing Montessori journey for the past 16 years, there are so many things that I have learned.
And there are many things that I haven't learned yet, but that doesn't stop me from continuing.
Regardless, every step I take on my journey, the more I fall in love with it.
There are many things that I love about it. But I will be honest. A few have me obsessed on how The Montessori Philosophy is so perfect as an educational method.
Out of all methods of education out there for young children, I love Montessori education the very best.
The reasons that I am in love with the Montessori philosophy will encourage you and give you a great outlook on your Montessori journey.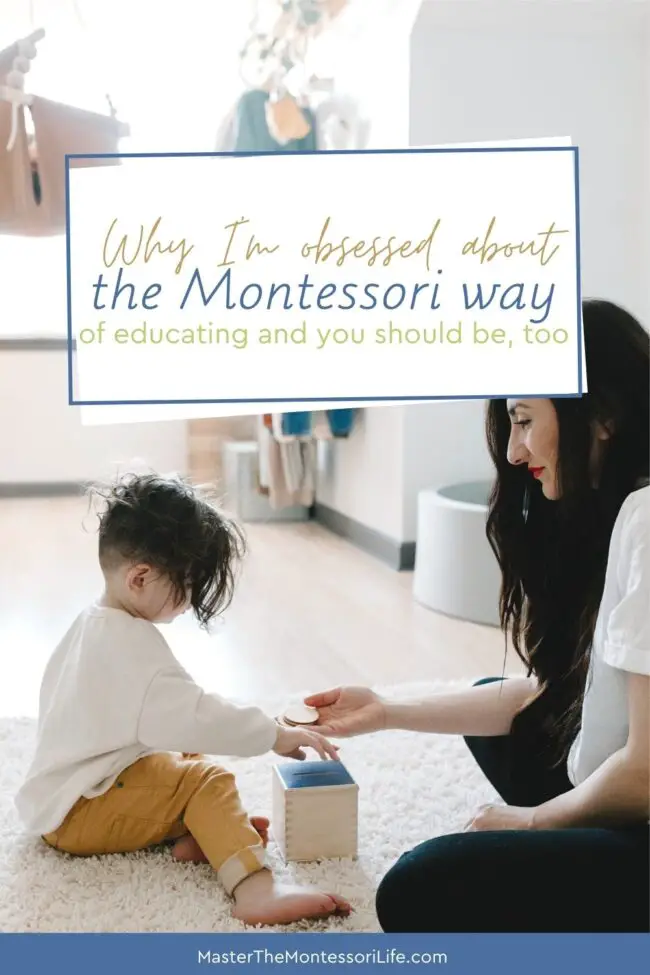 Watch & Listen to the Episode Here:
As you watch or listen to this training, know that you will be able to get more information than what is included in this blog post.
However, I really want to encourage you to take the time to watch or listen and take notes.
Importantly, this will be helpful to you now and in the future.
#1 The Montessori Method is structured for you and your child
Student learning in the Montessori classroom are set up for success.
Maria Montessori knew what she was talking about when it comes to the best learning experience for children.
After years and years of studies and observation, she found out many valuable things.
One of them is that multi-aged classrooms work in such great harmony to natural living.
These prepared environments, filled with this method's exclusive materials are the perfect setup for Montessori schools and homes.
The Montessori Method is structured for you. It's because you follow the child according to the lessons and materials that the child is ready for.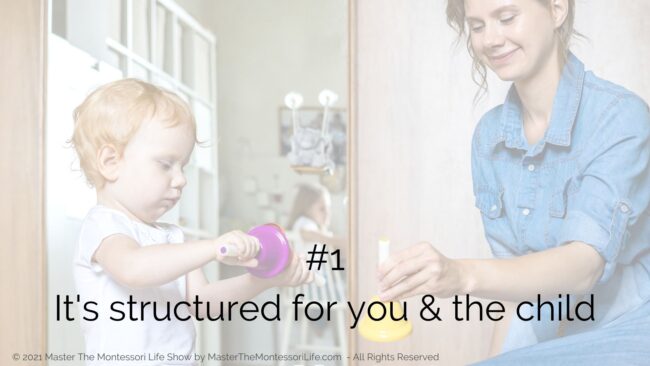 And The Montessori Method is structured for the child as well. It's because all materials follow a sense of order and have a control of error.
This builds confidence, independence and discipline in the children.
Isn't that a beautiful thought?!
Don't know where to start? Consider taking a look at our Montessori Planner and at our Starting, Planning and Teaching Montessori at Home Bundle.
#2 The Montessori Method is customized for every child
It is no mystery in this philosophy's circles that young children learn best through customized education.
It's better than cookie cutter, one size fits all education.
It is not enough to come up with great learning strategies, themed activities or set up beautiful shelves.
We must work hard behind the scenes on several things. One of them is to customize all learning for all children in the environment, not just children in special education.
All children deserve to learn what interests them, what they are passionate about and what they want to teach others.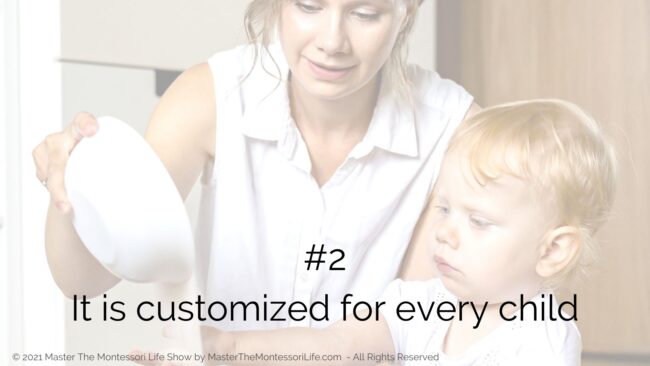 Set up your environment (classroom) with the children in mind, but make sure that you are not seeing them as a whole.
You must observe them and get to know each one individually so you can follow them and prepare the environment in the best educational way.
Otherwise, we cannot really understand how to best serve them and it will frustrate everyone.
I have a couple of great resources to help you with this! Guide to Discover the Child's Sensitive Periods and Montessori Sensitive Periods Chart + Lesson Plan.
#3 The Montessori Method frees you and your child
Out of all educational programs that are truly freeing education for children, I will say that it is at the top for many reasons.
Not only are children learning in it, but they are passionate about it and they are thriving in the freeing feeling of predictability and consistency.
And what is more, they are happy learning in the Method's environment!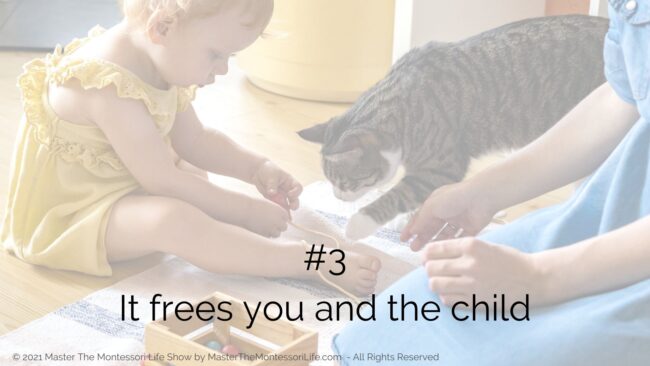 This Method frees both the teacher and the student.
Or, in this method's terms, it frees both the Montessori Guide and the child.
How? Well, by how out-of-the-box, different and unique this education system is.
Once you delve deeper into this educational method, you will be so glad you did.
And once you observe the huge difference that this beautiful method will make on the child, you will be doubly glad that you did!
Want to incorporate this lovely philosophy into your lifestyle and not just for academics?
Then check out our resources: Free Time the Montessori Way and Montessori Toy Rotation Checklist, Labels & Chart.
Key Takeaways
Your key takeaways for this encouraging training are:
Value that The Montessori Method is structured because it gives you a sense of peace and calm; a sense of security
Appreciate that it needs to be customized for each child in the environment in order for it to be successful
Remember that, as much as this method has a sense of order and is structured, that there is a phenomenal sense of freedom in that
Focus on falling in love with the beauty and uniqueness of The Philosophy because that feeling will be noticed and absorbed by the children that you work with.
Resources mentioned in training
Like I said at the beginning of the show, I have a FB group for all things Montessori that you are welcome to join. 
It is called The Montessori Way Prep Room.
If you want to join a homeschool Facebook community, then join The Natural Homeschool Community!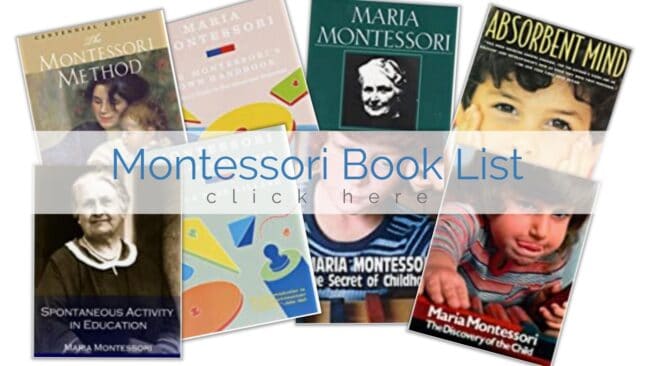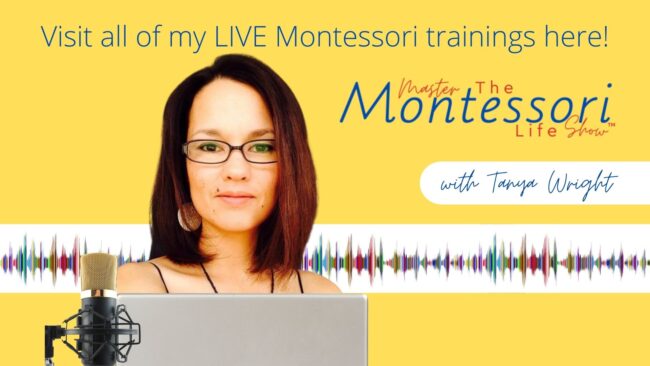 You May Also Benefit from these Important Montessori Topics:
As you learn more about Master The Montessori Life, you will realize just how much I strive to make your life easier.
I also seek to equip you, to inform you and to give you made-for-you options so you can keep moving forward on your Montessori journey without any speed bumps.