If you are reading this, it must be because you either love The Montessori Method or are very curious about it.
Montessori is one of the most unique and special educational approaches for many reasons, but there are a few that really stand out.
We will be discussing some of these in this training, so read on.
You are most likely thinking that you need to have all the Montessori knowledge or go through every Montessori training you can get before applying what you know.
Well, that is not necessarily true and this principle applies to both those that work at Montessori schools and are doing it at home.
In this training, let me share with you why I don't worry about knowing everything about Montessori before getting started.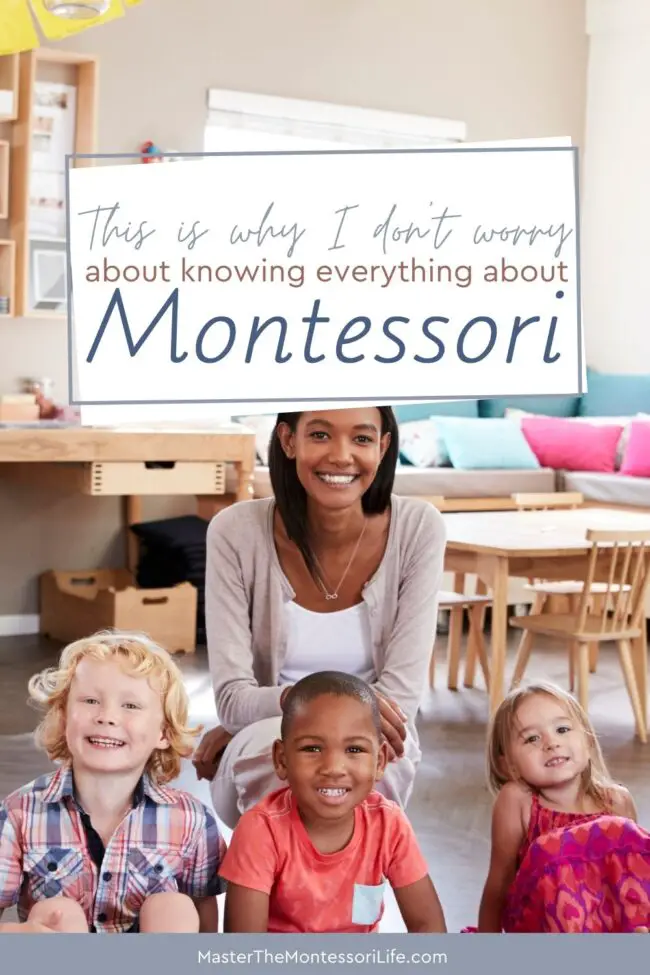 Watch & Listen to the Episode Here:
As you watch or listen to this training, know that you will be able to get more information than what is included in this blog post.
I really want to encourage you to take the time to watch or listen and take notes.
This will be helpful to you now and in the future.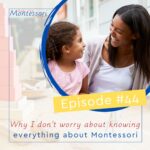 #1 Children are Learning
As the Montessori Guide, you are not supposed to be the center of attention, but you are the mastermind behind your prepared learning environments.
As you learn more about human development, Montessori Sensitive Periods and how mixed-age classrooms are best, you will be setting out to set up the best works for the children that you are working with.
One of the reasons why I don't worry about knowing everything about Montessori before applying it is because I will focus on making sure that children are learning.
Pay attention to the children. Observe them closely. Take notes. Reflect and follow the child.
If a child is learning a new skill or is practicing a learned skill and is moving toward mastery, then you are already winning.
You don't have to wait until you know everything about the Montessori philosophy to start.
I understand that you want to know more and I agree with you on that, but you don't have to wait to apply whatever you learn today.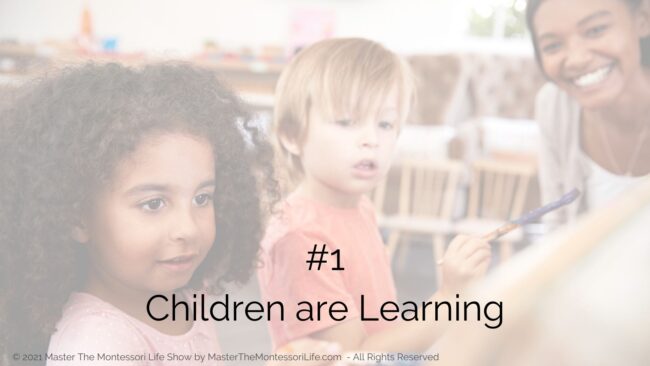 #2 Children are moving toward normalization
If you have gone through my 5-day workshop called The Montessori Way Foundations Workshop (join the waitlist here), you will know that I take an entire day to coach you on the concept of what Maria Montessori called "normalization."
In short, normalization in the Montessori prepared environment is the process of the child becoming well-adjusted to the routines and norms within it.
The most important thing to know is that you can shortcut this process and the way to do that is by setting up Montessori Practical Life works in your Montessori classrooms.
Keeping child development in mind and giving children freedom within limits, they will have the ability to pick Montessori materials that are practical and provoke children to enjoy independence.
Another reason why I don't worry about knowing everything about Montessori before applying it or doing it is because as long as you know how to set up Practical Life works in the 6 categories, you are winning.
You don't have to wait until you know everything about the Montessori philosophy to start.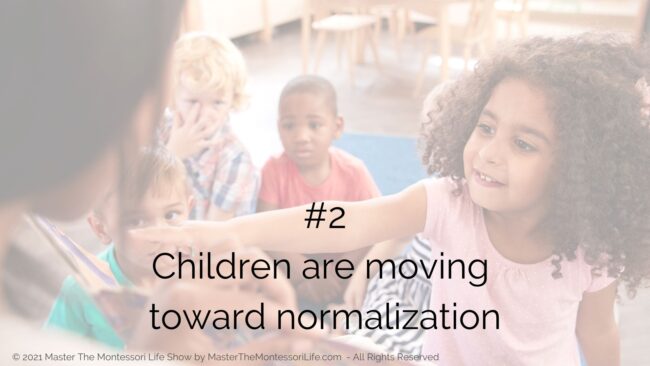 If you are really anxious about this concept and you just don't feel sufficiently prepared, then feel free to take my Montessori Assessment.
It will give you great guidance on where you are currently on your Montessori journey and I will also send you a free Starter Kit that you can print out and study right away.
The Starter Kit will be directly related to the level that you land on when you take the assessment, so there won't be any missing steps for you.
Pick up right where you are, whether you land on level 1, level 4 or anywhere in-between.
#3 Children are happy
Montessori teachers (at school and at home) feel an especially heavy burden in not knowing whether children are learning or not, whether they are progressing, if you are doing a good job and if you are not going to ruin the child.
Please, let me dispel those fears right now.
I want you to know that the Montessori educational method can be intimidating because it is so different and unique from the traditional education that we are used to.
But that is not a reason to freeze up, be insecure and wait until we know all the things to move forward.
Another reason why I don't worry about knowing everything about Montessori before applying it or doing it is because one of the biggest signs that you are doing a good job in the Montessori environment is that children are happy.
That is right! Happiness is a sign of success.
Happiness in The Montessori environment is different from outside happiness because the happiness you admire and witness in the child is directly related to the materials and works that you have set out for the child to choose from.
The fact that the children are happy is a sign that you hit the nail in the head, so be encouraged.
You don't have to wait until you know everything about the Montessori philosophy to start.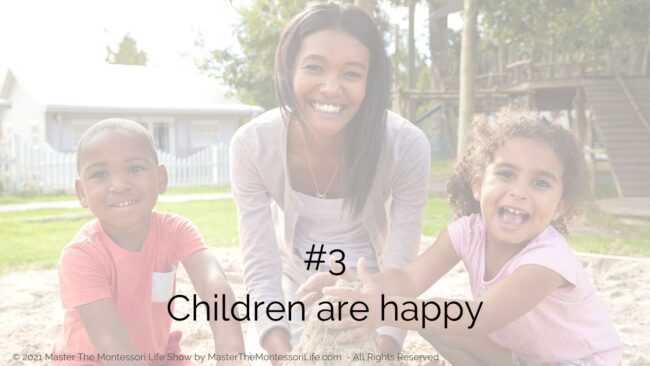 Key Takeaways
Consider taking The Montessori Assessment that I mentioned in Point #2.
Print out the Starter Kit (it will be emailed to you after you finish the assessment) and follow the 18 actionable steps to help you move forward in Your Montessori journey.
Remember to pay attention to children and make sure that the activities that you set out for your Montessori children to make sure that they are learning, that they are moving towards normalization and they are happy.
Relax and know that you can learn something new about Montessori and literally turn around and apply it now.
Trust me, I have 16 years of Montessori experience in teaching, coaching others and homeschooling my children and I STILL don't know everything.
I am a lifelong learner, so I still enjoy re-reading Maria Montessori's books and materials to learn more or to grasp something from a different angle.
Resources mentioned in training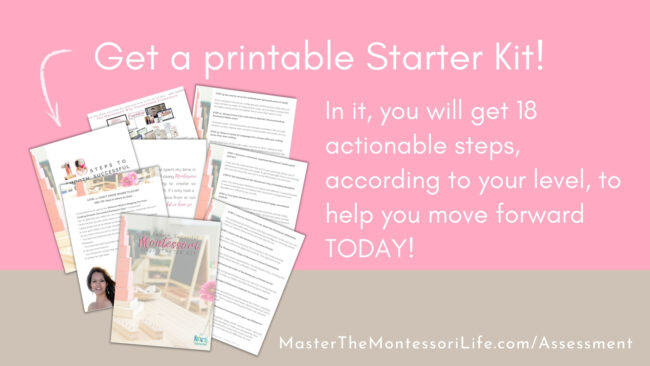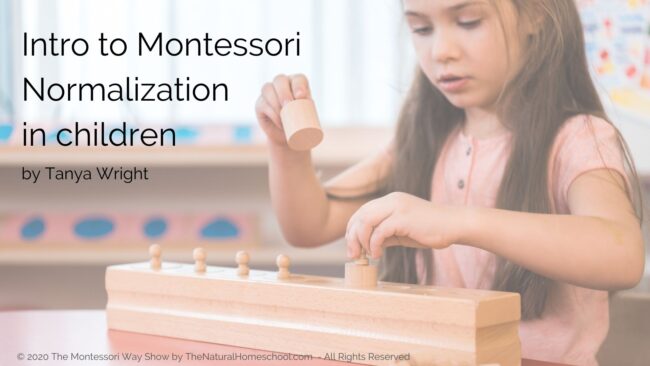 Like I said at the beginning of the show, I have a FB group for all things Montessori that you are welcome to join.
It is called The Montessori Way Prep Room.
If you want to join a homeschool Facebook community, then join The Natural Homeschool Community!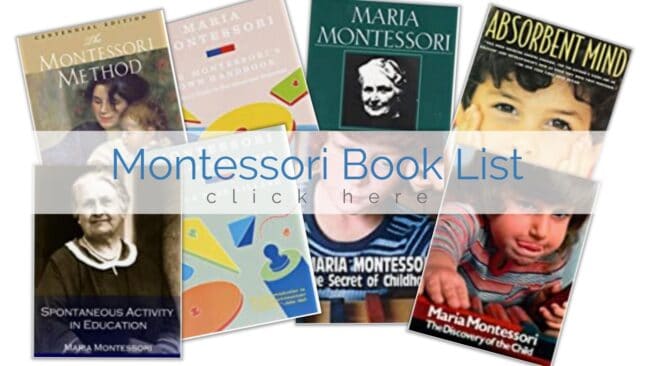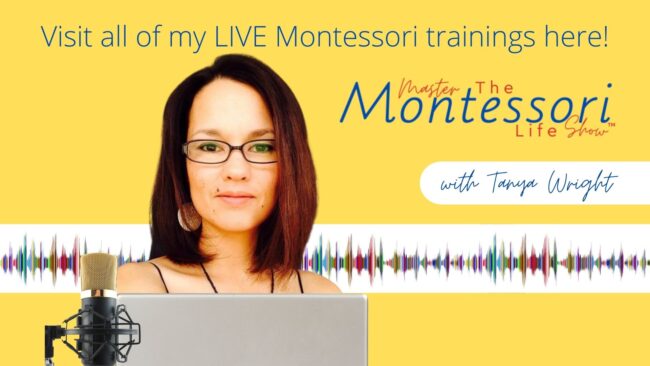 You May Also Benefit from these Important Montessori Topics:
As you learn more about Master The Montessori Life, you will realize just how much I strive to make your life easier.
I also seek to equip you, to inform you and to give you made-for-you options so you can keep moving forward on your Montessori journey without any speed bumps.
(no title)

Spread the love Are you excited to be getting a discount on some great educational homeschool resources? Well, head over to my shop to get 50% off all Bundles, Mega Bundles and Digital Books! Use Coupon Code: THANKSNOV Discount valid: November 23-29, 2021 Below are a few examples! Some Bundles…

Chores for Children the Montessori Way

Do you have family chores at home? What about individual ones for each child to do? Do you have several family members that have daily responsibilities in your home? Whether you have older kids or younger ones, we will be discussing what you can do to make chores easier and more doable.

3 Positive Outcomes for Children in the Montessori Environment

Come to learn about 3 positive outcomes for children in the Montessori environment that will either encourage you to try Montessori or to know that you are on the right track!