In this episode, let's discuss what Montessori normalization is, why it is important, what are some typical behaviors of normalized children and what are some things that you can do to help shortcut normalization in the children you work with.
---
Let's start out by making something very clear.
Neither the terms "Montessori Normalization" nor "Normalized Children" are intended to be derogatory in any way.
Because of the language used, they are conveying a misunderstanding.
Maria Montessori was primarily an Italian woman, and her works were written in her native language.
I understand that the term "normalization" is derived from the word "normal." But this does not imply that we are discussing whether a child is considered normal or not.
So, as is always the case, the first thing I want to do is define the terms so that we are all on the same page when we discuss this subject further.
Additionally, understanding what this extremely important term means. And also think about why it is used will make a world of difference in your Montessori experience.
If you are looking to become a centered, organized Montessori Guide, nurture happy, normalized children and want to create smooth, successful Montessori days, then you are in the right place!
Let me know in comments what you know about this topic, what you have applied and what you have tried that worked. Also, tell me what you have tried that didn't work and if you have questions as we get into this.
In this episode, let's discuss what Montessori normalization is and why it is important. Also, some typical behaviors of normalized children. Additionally, what are some things that you can do to help shortcut normalization in the children you work with.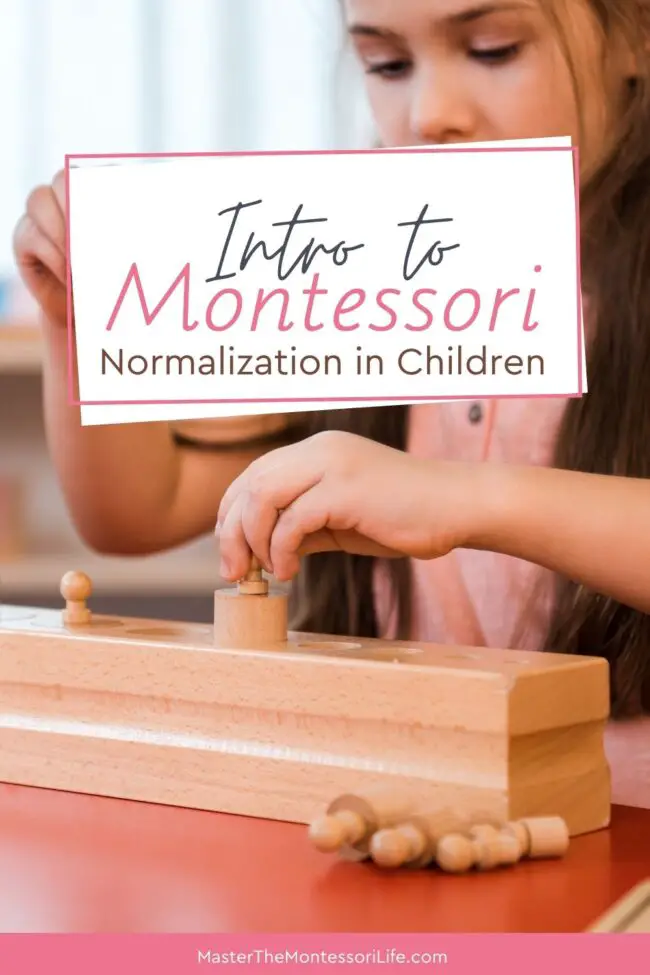 Watch & Listen to the Episode Here:
As you watch or listen to this training, know that you will be able to get more information than what is included in this blog post.
However, I really want to encourage you to take the time to watch or listen and take notes.
Importantly, this will be helpful to you now and in the future.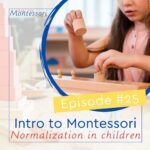 #1 What is Montessori Normalization?
It is critical to know and understand how children learn in the Montessori Method of education.
Normalization is an extremely important concept to keep in mind at all times.
When a child is well adjusted, comfortable, and confident in the Montessori environment, this is referred to as normalization.
This is much more than simply walking into and out of a room and declaring that you "own" the space.
Being a normalized child refers to a child who has learned and mastered the fundamentals of the Montessori educational environment.
This is beneficial to the child's development.
However, it is beneficial to the parent as well as the child.
It also has a positive impact on The Montessori Guide: YOU.
The reason for this is that normalized children reduce the need to micromanage children, to constantly put out proverbial fires, and to save time by not needing to repeat or correct behaviors.
Beyond Montessori materials, we must pay close attention to the Montessori sensitive periods that the children are going through at any given time.
Normalization and Sensitive Periods should be given top priority regardless of whether you are focusing on your Montessori homeschool kindergarten child or a 3-year-old who is barely walking.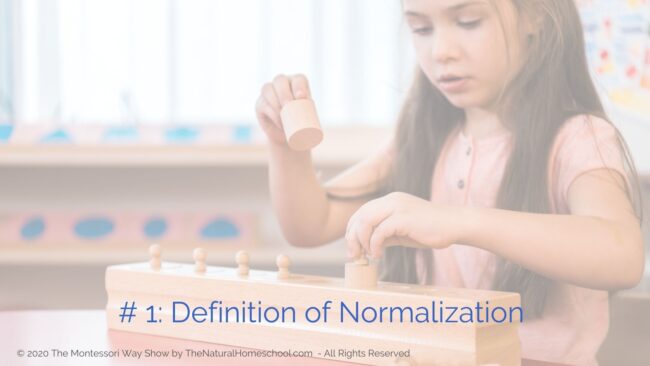 #2 Three Behaviors of Normalized Children
There are 14 behaviors that Maria Montessori has mentioned in books.
Here are 3 of the 14 behaviors:
1 A normalized child displays spontaneous and natural self-discipline.
No matter what a child's learning style is, normalization can be achieved in the Montessori environment.
Young children might seem to be lost and all over the place, but self-discipline is possible.
The child will develop a great love of work in the prepared environment.
2 A normalized child reaches amazing mental concentration.
A child has an amazing way in which it absorbs information.
But for this to happen right, there must be no interruptions.
Whether you notice that the child has an open Sensitive Period for order or not, you can definitely introduce activities that help normalization.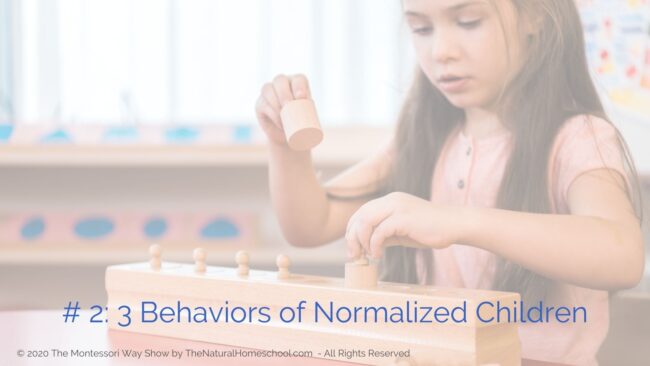 3 A normalized child nurtures a love of repetition.
Whether this is at a Montessori school or a Montessori classroom at home, this behavior of normalization is possible and observable.
Watch the children that you work with closely!
Pay attention especially when they are working with small objects, so every young child is safe.
But also pay attention to how much they love to do the same activity over and over!
They don't get tired of it and they actually enjoy focusing on the same task over and over.
#3 Three Things We can do to Help Children Reach Montessori Normalization
Here are three ways in which you can aid children in normalization:
1 Unleash their absorbent mind.
In comparison to adults, children have a very different perception of what it means to learn.
Allow the children to learn at their own pace and with their own interests.
They will learn more effectively if they are not pressured to learn what they should learn, when they should learn it, and how they should learn it.
Let the child work freely to discover their sense of order.
2 Capitalize on fine motor skills activities.
Fine motor skills are extremely important because they allow children to shorten the time it takes them to become self-sufficient.
List the fine motor skills that your child needs to develop, or look at the free PDF download at the end of this blog post for inspiration!
Practical Life activities are a great way to practice fine motor skills.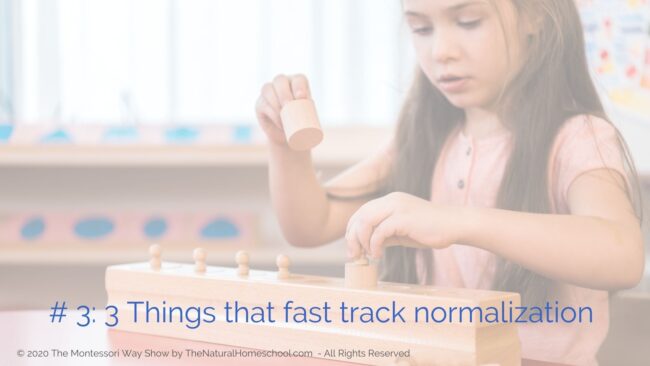 3 Include grace and courtesy lessons regularly into your schedule.
Grace and courtesy go beyond simply being courteous.
They cross over into the realms of empathy, mutual respect, and a deep appreciation for the natural world.
You can use resources such as Montessori grace and courtesy cards, role playing, and daily practice to help you along the way.
As the child is working on making sense of their world, we need to highlight the beautiful and the kind side as well.
Key Takeaways in Montessori Normalization
You should teach children how to incorporate grace and courtesy into their daily lives regardless of whether you are doing Montessori at home or in school.
The ability to use one's fine motor skills is extremely important.
Normalization is just as important as sensitive periods in terms of psychological well-being.
When it comes to living the Montessori way, follow the child's interests!
Resources mentioned in training
Like I said at the beginning of the show, I have a FB group for all things Montessori that you are welcome to join. 
It is called The Montessori Way Prep Room.
If you want to join a homeschool Facebook community, then join The Natural Homeschool Community!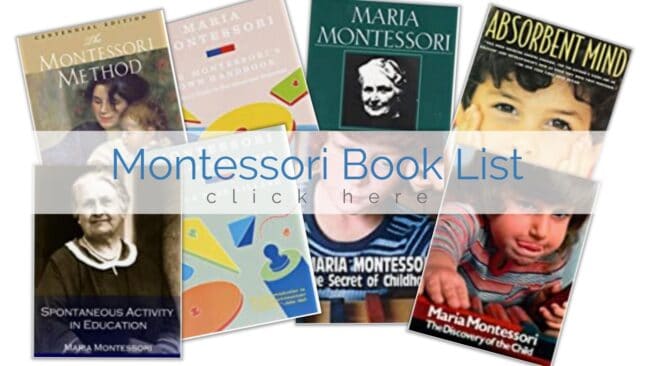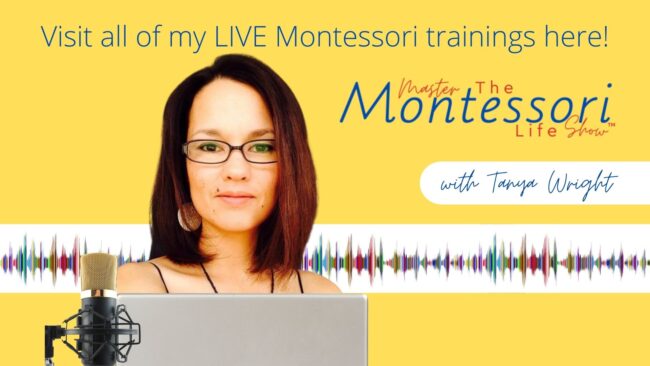 You May Also Benefit from these Important Montessori Topics:
As you learn more about Master The Montessori Life, you will realize just how much I strive to make your life easier.
I also seek to equip you, to inform you and to give you made-for-you options so you can keep moving forward on your Montessori journey without any speed bumps.